Top Olay Skin Care Products Review: All Of Olay's Best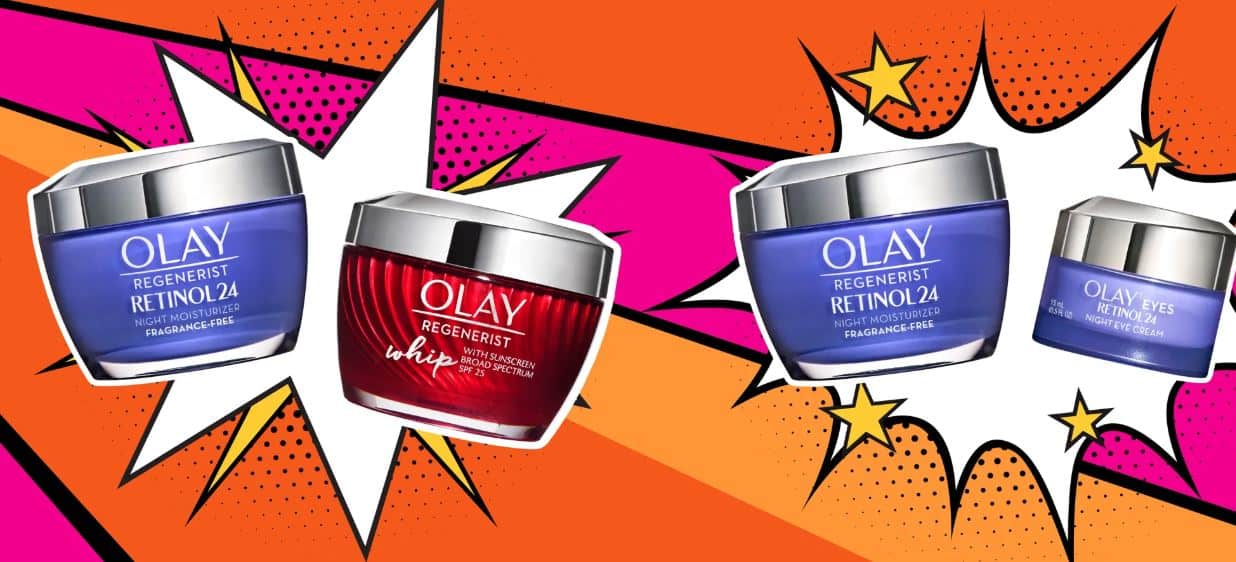 Olay is known for a few different things in the personal care products community. For starters, the company has established a rock-solid reputation as a developer of quality skin care products. This means that they're a step above many of the other big-name brands in the market who insist on pushing mass-produced treatments of an inferior stock onto their consumers.
Unfortunately, these kinds of practices are all too commonplace in the beauty industry: big-name brands filling their products with artificial ingredients, preservatives, and fillers in the name of saving a buck, all at the expense of the consumer.
Olay looks down on this kind of business, priding itself on the care and attention to quality in its formulas for the sake of helping consumers and earning their trust. Secondly, and perhaps just as importantly, Olay is known for the extensiveness of its quality selection of products. Olay's catalog is strictly skin-specific, so you're not going to be able to find products to help your damaged hair like you might at Lush or Neutrogena here in our Top Olay Skin Care Products Review.
In A Hurry? Find What You Need
Olay Skin Care Products Overview
Olay does have an extensive product line within the skin category, which breaks down as follows:
Facial Cleansers: Cleansing Brushes, Cream Cleansers, Exfoliating Scrubs & Cleansers, Facial Wipes & Towelettes, Facial Toners, Foaming Cleansers, Makeup Removing Cloths, Microdermabrasion Brushes.
Facial Moisturizers: BB & CC Creams, Daily Moisturizers, Lightweight Lotions, Night Creams, Serums, SPF Protection Moisturizers.
Facial & Eye Treatments: Eye Treatments, Facial Hair Removal, Facial Oils, Masks, Microdermabrasion, Pore Treatments, Acne Treatments, Skin Tone Treatments.
Body Care: Beauty Bars, Body Lotions, Body Washes, In-Shower Body Lotions.
This is not to mention the number of different products in development at Olay, which provides seasonal catalogue updates and releases for its consumers. With a relentless research and development team that works seemingly around-the-clock in order to provide the most advanced skin care possible, there's no telling what the company might come up with next. For now, however, we've compiled a list of our favorite Olay skin care products! Be aware, however, that this list could be time-sensitive: you never know what Olay might come up with next!
Take Me Straight To Buy Top Olay Skin Care Products
1. Olay Regenerist Micro-Sculpting Cream Face Moisturizer Review
With enough strength in the formula that Olay boasts it can delay the need for a cosmetic procedure, you'd be hard-pressed to find a more effective sculpting cream than Olay Regenerist. Intended to visibly reduce the appearance of wrinkles, Olay Regenerist Micro-Sculpting Cream Face Moisturizer (yes, the name is a bit of a mouthful) uses hyaluronic acid, amino-peptides, and vitamin-B3 to hydrate, lift, and firm skin.
Use of the cream has immediate tangible benefits, but you'll really start to take advantage of its effectiveness when using it over time – try a daily regimen for a few weeks and you'll really start to see those wrinkles fade. A 2004 study, published in the International Journal of Tissue Reactions, stated that "the effect of the collagen-like peptide on reducing the total and average length of wrinkles was also remarkable. This effect was statistically highly significant…moreover these results were supported by volunteer questionnaires and clinical observation. The results demonstrate that the collagen-like peptide acts deeply and intensely on wrinkles."
It should be noted, however, that you don't need to be suffering from aging effects in order to enjoy the effects of Olay Regenerist. Personally, I suffer from dry skin as much as I do from wrinkles or aging spots, and Olay Regenerist has been a miracle worker in that regard – my skin has never felt more consistently moisturized!
Take me to Amazon: Olay Regenerist Micro-Sculpting Cream
2. Olay Total Effects 7 In One Anti-Aging Moisturizer With SPF 15 Review
If you thought Olay Regenerist was something in terms of reducing the appearance of aging and moisturizing skin, you ain't seen nothing yet! Olay's 'Total Effects 7' branding boasts products with the ability to diminish the effects of the 7 age-related skin issues that Olay has identified.
These benefits are: to reduce the appearance of age spots, provide nourishing moisturization to the skin, reduce the appearance of facial lines and wrinkles, balance and even skin tone, balance and even skin texture, provide a healthy-looking glow to skin, and to reduce the appearance and size of pores.
I haven't given Total Effects 7 In One Anti Aging Moisturizer an extended look (I used the moisturizer daily over the course of one week), so I can't speak to its benefits with long term use, but I definitely experienced firming of my skin after a few days of use. The SPF 15 inclusion is a nice bonus – the moisturizer did give me protection from the sun, which is not something you'd expect from an anti-aging product intended for reducing wrinkles and pore size! It did so without turning me orange, to boot, which is always nice from a sun protector!
I want it: Total Effects 7 In One Anti Aging Moisturizer
3. Olay Regenerist Luminous Tone Perfecting Treatment Review
Skin problems are many and varied, and although the prior two products are best for wrinkles, it's time to tackle another skin-related sign of aging. For those who most primarily struggle with skin tone and dark spots, Regenerist Luminous Tone Perfecting Treatment is, well, perfect.
I've struggled with dark spots for my entire life, and I have had some stubborn ones that didn't fade or diminish over the course of dozens of different treatments ranging from over-the-counter, to prescription, to procedural. This tonal treatment from Olay did what all of those others could not; it successfully faded some of the most stubborn dark spots anyone could ever encounter!
Yes, I did keep up with a daily regimen of treatments for some time, and though the dark spots did not entirely clear, the results were more than I ever could have realistically hoped for. Simply put, I could not recommend this treatment enough – although please stick with a consistent regimen and give it a real chance if you want real results! Stubborn spots are not going to be eliminated in a single day with any one treatment.
4. Olay Ultra Moisture Moisturizing Body Wash with Shea Butter Review
Are bath and body products Olay's "specialty"? No, not necessarily. However, therein lies one of the many not-so-secret elements of Olay's success – when Olay develops a product, they make sure they do it properly. Most people who think of Olay think of facial skin treatments or out-of-the-shower applications, but it's time for people to become familiar with Olay body washes, and in particular, their Ultra Moisture Moisturizing Body Wash with Shea Butter.
While my facial skin problems are generally related to aging, or perhaps acne, the skin on my body at large most primarily suffers from a lack of moisture and nourishment. Boy, did Olay's shea butter-containing body washes turn things around for me! After showering in the morning and using this body wash (get it here), I could tell a difference in the feel of my skin on day one! It's hard to describe exactly, but I felt softer and more relaxed with my skin than I could ever remember feeling, and the moisturizing effect lasted all day long – an equally impressive feat! It goes without saying that Olay became my go-to body wash rather quickly.
5. Olay ProX Microdermabrasion Plus Advanced Cleansing System Review
Pro X and Microdermabrasion are two terms you'll see fairly often when browsing Olay's website or product line, and they may serve to confuse or turn off consumers who find them intimidating. Don't worry! Olay's Pro X series is simply dermatologist designed, and consists of treatments that are powerful enough to stand a step above creams, oils, and other Olay formulas. Microdermabrasion, on the other hand, involves non-invasive spraying of micro-crystals to remove the top layer of dry, dead skin in order to reveal the healthier, more youthful looking skin layer underneath.
Together, the two from an effective cleansing system in the ProX Microdermabrasion Plus Advanced. Included is a battery-operated polisher, as well as a renewal cleanser for application before cleaning. Together, the application of the cleanser and the microdermabrasion combine to form a treatment that is effective in eliminating dead, dry skin and nourishing the healthy skin underneath. Give this a try and you're sure to find results, regardless of how stubborn your skin problems seem to be!
There is a study conducted in
Take me to buy: ProX Microdermabrasion Plus Advanced
6. Olay Pro X Advanced Cleansing System with Facial Brush Review
Like the Pro X Dermabrasion kit, the Olay Pro X Advanced Cleansing System with Facial Brush isn't just a treatment or a topical application – it's a full-on, skin-changing system! Again like the microdermabrasion kit, the Olay cleansing system included a tool – in this instance, a cleansing brush – in order to get the job done.
Unlike the microdermabrasion kit, however, the main goal behind the advanced cleansing system is not to scrub away the top layer of dead, dull skin, but rather to cleanse the skin. Using the Pro X Exfoliating Renewal Cleanser included in combination with the effective cleansing brush makes for a thorough and effective cleansing experience. The bottom line is, if you're looking for cleaner skin, the advanced cleansing system will do the job for you!
In the Journal of Cosmetic and Laser Therapy, there was a 2014 study which came to the conclusion that "microdermabrasion had a positive skin structure, showing that a viable resource in promoting skin rejuvenation." Obviously, the conditions in the real world are not the same as those which exist in a laboratory or research facility. Nevertheless, the process of regular exfoliation and cleansing can do wonders for many individuals who are suffering from issues at the top levels of the skin.
I want it: Olay Pro X Advanced Cleansing System with Facial Brush 
7. Olay Regenerist Eye Lifting Eye Serum Review
Ready for yet another one of Olay's "specialty" items? When it comes to skin specialization, no one has Olay topped. Eyes are yet another area in which Olay's skin game is on point, as is apparent in the case of their Regenerist Eye Lifting Serum. Using a hydrating formula with amino-peptide and vitamin complex exfoliates, the eye lifting serum promotes skin surface turnover and works at the surface cellular skin cell level to visibly improve the appearance of the eyes.
Olay boasts that eye lines and wrinkles can be diminished in just two weeks, and I can back up this claim: although I haven't used the product, I did purchase it as a gift for my mother, who has used to it astonishing results! Her eyes seem brighter, smoother, and more vibrant than I can remember seeing them in years, and this was achieved after using less than a full tube of the 0.5 oz Olay serum. Get your own here.
8. Olay 4-in-1 Daily Facial Deep Clean Cloths Review
Cleaning facial cloths are a staple in the kit of any self-respecting skin care aficionado. It seems like virtually every beauty care company produces them, in addition to the abundance of generic brand cleaning cloths available from pharmacy and department stores. I can safely say, without a shadow of a doubt, that my personal favorite cleaning cloths come from Olay – in particular their 4-in-1 Daily Facial Deep Clean Cloths.
I should clarify that I use a different sort cleaning cloths from Olay for makeup removal, while I use the 4-in-1 for the recommended daily cleaning. Before discovering these, I used a cleaning scrub produced by another company, and these cloths do a better job of cleaning my skin with much less hassle – no rinsing or lathering needed!
In a 2016 publication titled Cosmetic Dermatology: Products and Procedures by Dr. Zoe Diana Draelos (a Consulting Professor of Dermatology at Duke University), the doctor writes: "The future of the facial cleansing category is bright. Significant innovation is expected to continue for the foreseeable future, particularly in substrate cleanser applications and formulations for  removing the new and more durable makeups and mascaras that are entering the market". Olay are certainly playing their part in ushering in these innovations, and they will  undoubtedly continue to do so.
Take me to Amazon: 4-in-1 Daily Facial Deep Clean Cloths
9. Olay Fresh Effects Clear Skin Acne Hater Deep Scrub Review
We've come all this way and we haven't even discussed any of Olay's excellent line of acne-related products – astonishing! Well, it must be noted that Olay's acne line is just as excellent and effective as any of their anti-aging, cleansing, or moisturizing products, if not more so! Olay Fresh Effects products like their Clear Skin Acne Hater Deep Scrub or Clear Skin 1-2-3 Acne Solution System are designed to not only eliminate existing acne, but to restore the skin underneath in a way that reduces the chance for acne rearing its ugly head once again.
The solution system comes with the Acne Hater Deep Scrub (step 1), Spot Zinger! (step 2), and Swirled Mattifier (step 3) to provide with a full 3-step skin program to target the most unfortunate acne victims. The Acne Hater Deep Scrub (get it here) is sold on its own as well, for the sake of providing a general acne scrub for those who are looking for general maintenance and repairs – nothing too extreme!
10.
Olay Regenerist Night Recovery Cream Review
To be honest, I've always been a little skeptical of night creams. The only thing that could really set them apart from your good ol' day cream is the fact that it doesn't contain SPF, right? Wrong. Olay's Regenerist Night Recovery Cream is specially designed to give your skin intense hydration while you sleep. The amino-peptide complex penetrates deep into the skin's surface. In fact, Olay claims that it can hit as deep as 10 surface layers of the skin, working to regenerate surface skin cells. It also contains hyaluronic acid and vitamin B3 which are essential skin nutrients that leave your skin plump and smooth.
Hyaluronic acid was a major point of discussion in the December 2018 edition of the International Journal of Biological Macromolecules. The journal presented a review of the recent updates in investigations relating to hyaluronic acid and its effects. The review found that "hyaluronic acid exhibits remarkable skin regenerating and collagen stimulating efficacy". The review goes on to state: "our critical analysis evidenced that application/administration of hyaluronic acid exhibits outstanding nutricosmetic efficacy and thus is warranted to be used as a prime component of cosmetic products."
Besides the wrinkle-reducing factor, the pure moisture that your skin receives from this night cream is something else. What's more is that the fact that it's free from fragrance, phthalates, or synthetic dyes means that it's great for in the most sensitive skin.
Learn more: Olay's Regenerist Night Recovery Cream
11.
Olay Quench Body Lotion Ultra Moisture with Shea Butter Review
In my humble opinion, anything that contains shea butter goes straight in the shopping cart. Shea butter contains high concentrations of fatty acids and vitamins which make it the perfect natural ingredient to leave your skin feeling oh-so-soft. And don't even get me started on the heavenly scent – like a mild, nutty summer vibe. Olay's Quench Ultra Moisture body lotion works to lock moisture into the skin for up to 24 hours. If your skin is particularly dry, a shea butter boost can often do the trick, and that's why this body lotion is a must-have for those whose skin is on the flaky side.
A 2018 study published in the International Journal of Molecular Sciences regarding inflammation and repair of skin tissue, cites shea butter, saying: "Shea butter is frequently used in the cosmetic industry due to its high percentage of the unsaponifiable fraction (e.g., triterpenes, tocopherol, phenols, and sterols), which possesses potent anti-inflammatory and antioxidant properties". In other words, it is used because in many cases – it works!
If your skin is dry and itchy, but not bad enough to need dermatological attention, this could be the perfect body lotion for you. It leaves your skin with a non-greasy feel and delivers hydration to skin that needs it. It should be noted that its heavy texture might be too much for skin that's not dry.
Possibly the only caveat that needs to be pointed out with this body lotion is the fact that it contains parabens. It's no small thing to consider, especially if you're hoping to stay on the more natural side of the skincare industry. However, this doesn't detract from Olay's Quench Ultra Moisture body lotion's ability to hydrate your skin.
12.
Olay Regenerist Retinol 24 Night Face Cream
Moisturizer Review
Touted as "Overnight Moisturizing Magic", Olay's Regenerist Retinol 24 Night Face Cream is the night cream you didn't know you needed. As I mentioned, I'm usually not the first person in line for a night cream but if you're looking for skin rejuvenation, retinol is one ingredient that packs a punch. The unique vitamin B3 and retinol complex in this face cream creates a skin-essential formula that just might lead to a brighter and smoother complexion. 
The texture of this cream is super heavy and velvety-rich but it absorbs nicely into the skin. Also, you should be using it at night (surprise) so the film it leaves shouldn't be too much of a bother as it would with a day cream. It's important to mention that if you have sensitive skin or are sensitive to retinol, this heavy night cream might not be for you.
This bundle also comes with a Whip face moisturizer in travel size so you can enjoy on-the-go hydration, day and night. Get your own here.
Conclusion
That does it for our top Olay list! It needs to be said again, however – Olay's entire product line and catalogue are huge! Although we're glad to have highlighted these ten different products for our consumers, this is just the tip of the iceberg when it comes to Olay skin care. Your best bet for finding the Olay skin care products that work for you is identifying your needs, and searching through Olay's products accordingly – they're sure to have something for everyone!
Up Next: Bumble & Bumble Company Review and Top Picks
Before You Go! Shop Our Picks on Amazon Now