Maybelline Baby Lips Review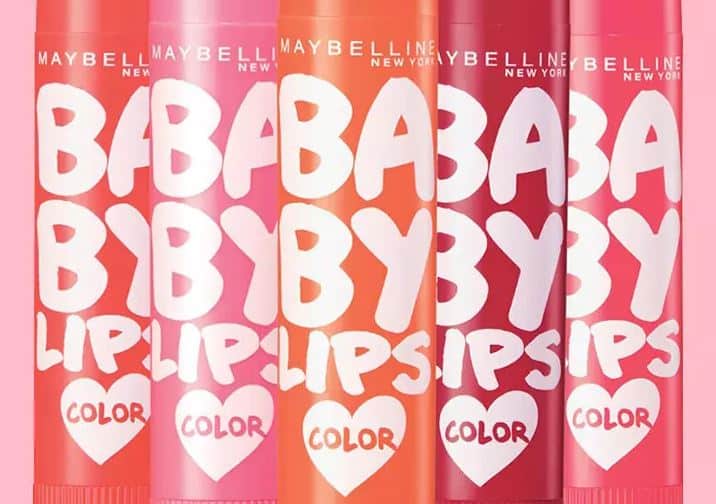 The first thing I associate with Maybelline is their awesome past slogan. That just shows you the power of great marketing, doesn't it? Later on, the company felt that the phrase didn't reach consumers in the same way it did back when they first created it, so they changed it. Slogans aside, this post is going to focus on the veteran company's Baby Lips series of lip balms, so pucker up and get ready for our Maybelline Baby Lips review.
This series of lip balms was first made available in Japan in 2010. After enjoying some success there, it crossed the Great Sea to reach the US in 2011. In 2013 the series was made available in certain areas of Europe. And some users still hail it as one of the best lip balms on the market today. 
Let's talk about Maybelline itself for a bit, before getting into the balms.
Maybelline Brand Overview
First off, Maybelline is a subsidiary of L'Oréal Paris, though that wasn't always the case. The history of the company dates back over 100 years, to 1915 (some say 1912). It was bought by L'Oréal in the mid-1990s, and since then the company has continued to grow steadily and innovate regularly. The Maybelline headquarters are in New York City. Although the company is officially Maybelline LLC, most know the Maybelline brand as Maybelline New York. That's also the name that appears on its packaging, the different tubes and bottles which house the products in question.
The brand offers a wide range of items in the eyes, lips, and face departments. They generally break down to the following:
Eyes – mascara, eyebrows, eyeliner, eyeshadow
Lips – lipstick, lip gloss, lip balm, lip liner
Face – foundation, primer, concealer, powder, contour, highlights, blush, bronzer, blemish balm cream
As with any cosmetics company, you may see some limited editions, special releases, collaborations, seasonal changes, surprises, etc. Overall, the brand's permanent range is solid and diverse enough to be a viable go-to cosmetics company for many consumers.
Over the years, people have criticized the brand for testing on animals. Maybelline products continue to be sold in mainland China, which means that their products are indeed tested on animals (since it is the law in the Chinese market for any foreign products). While Maybelline and L'Oréal Paris don't conduct testing themselves, the distribution in China means that there are others who carry it out prior to the products' placement on the shelves or in warehouses.
Maybelline is an everyday drugstore brand, which means that its prices are relatively affordable and that its products are highly accessible. They are inexpensive, certainly when compared to high-end products, and they are considered a great option for the average consumer.
Baby Lips Colors
There is a regular selection of 4-6 Baby Lips colors which alternate over time. Nowadays these include Quenched, Peppermint, Cherry Me, and Pink Punch. The rest of them are limited editions or other kinds of special options. In the past, there were ones like Too Cool, Crystal Kiss, Grape Vine, Peach Kiss, and others which were part of the regular collection for a time.
Notable limited editions include Color Bloom and even the Love Color series. There is also the Bright Out Loud series and many others.
Is Maybelline Baby Lips Good For Chapped Lips?
There is some controversy over whether or not Maybelline's Baby Lips is actually good for extraordinarily chapped lips. On paper, it all seems to point to a big YES. Baby Lips' formula has shea butter which softens the lips, Centella which is used to plump them up, and vitamins which are there to condition the lips. On top of all that, there is SPF protection so that your lips aren't fried by the sun's rays. If your lips are dry or only a bit chapped, this could be a real asset to your arsenal. If they are super chapped and borderline bloody, I'm not convinced that you'll want to begin treating the issue with this product, but you can choose to introduce it later on.
There is a reason why the Baby Lips series is called a moisturizing lip balm, after all. The company states that relief from chapped lips can be achieved in a week. Maybelline also says that their Baby Lips lip balms are good for up to eight hours, although in that department I can already say that most people find the need to re-apply before eight hours are up.
The folks at Maybelline worked the formula so that it's able to work as a standalone product. But it can also work underneath lip gloss or lipstick. Dry and chapped lips can be a hassle, but the formula which Maybelline's R&D guys managed to whip up is something else. The company advertises it not merely as a run-of-the-mill lip balm, but as a lip renewer. Noticeable after one week, they say.
The problem which some consumers have faced is what happens after you stop using the product, following a period of using it on the daily. 
Which Maybelline Baby Lips Is The Best?
So, which Maybelline Baby Lips is the best? As expected, there is no one way to know which one would be the best for you. Aside from the permanent collection, it seems that the company is constantly releasing new and exciting shades and themes. I have really fond memories of the Candy Wow series and the Electro Pop series, though I don't think I got to sample them all at the time.
I am more of a reddish lip balm fan, so the very sheer ones and the light orange or yellow ones were never my personal taste. But the more reddish ones, like the berries and cherry in the Candy series, were fantastic. I enjoyed them very much for the time that they were around. Actually, one from the permanent collection which I adore is the peppermint one. Indeed, I like many peppermint-related things, and I find the fondness increases over time.
Natural Alternatives To Chemical Chapsticks
Now, here's the flip side. Baby Lips lip balms contain not only vitamins, honey, shea, aloe, and Centella. They also make use of a host of ingredients that are significantly less natural than those. Different products use fragrances, petroleum, dyes, pigments, and more. So, quite understandably, there are those who desire more natural alternatives to chemical chapsticks and lip balms.
Here are a few suggestions for different products which are more "Mama Earth" than ordinary chapstick or lip balm. Not to belittle the more industrial products or their efficacy, but some consumers just want to keep things closer to home.
All-natural factory-made lip balms. They do exist

DIY-style lip balms and sticks. Some recipes are seriously simple and minimalistic. 

Hydrate – not so much an alternative as a healthier life choice in general, as is…

Diet – as cliche as it sounds, it's true. Give your body what it truly needs, and do so in moderation, and it will reward you.
Lip strength or susceptibility also has a genetic factor thrown into the mix. And the weather also plays no small role. Like any other physical condition – from the most subtle and benign to the most annoying and noticeable – there is more to it than meets the eye. It could be that you make a serious attempt to do everything right, and still your lips will remain as sensitive as they were before. But even if that is the case, there is a good chance you will be able to find a natural substance that brings relief. 
Conclusion
Our lips are a part of what makes us human. They serve as the most readily-visible area of our mouth. They're a part of that which allows us to speak and articulate ourselves. Plus – lest we forget – they are a seriously erogenous zone. They're sensitive, sensual, and potentially very sexual. Baby Lips lip balms have been around for almost a decade. They have earned a place in many people's purses, bags, and medicine cabinets.
Winter, spring, summer, or fall – lip balm is something which many of us carry at some point or another. Like any cosmetics product, especially those which are applied topically, it should be used in moderation. Regardless of the cool shades, scents, and looks, you should keep an eye on how your lips react to the Baby Lips formula. It won't fit everyone's situation, but many users and reviewers have approved of it.
Maybelline is over 100 years old. A company doesn't reach such a respected age without doing some things correctly and proving itself. It's the market, not the marketers, which make or break the company. And Maybelline, even though it was bought and sold several times over the years, has remained fairly consistent with its output and with the value that it provides its customers.
Whatever state your lips are in, consider adding a tube of Baby Lips to your everyday bag or back pocket. Whether it's a glossy and shiny neon or the more subdued nude colors, each person will be able to find what they're looking for. You know what they say: maybe you're born with great lips, maybe it's Maybelline.