Bumble and bumble Company + Products Review: No Bumbling Here!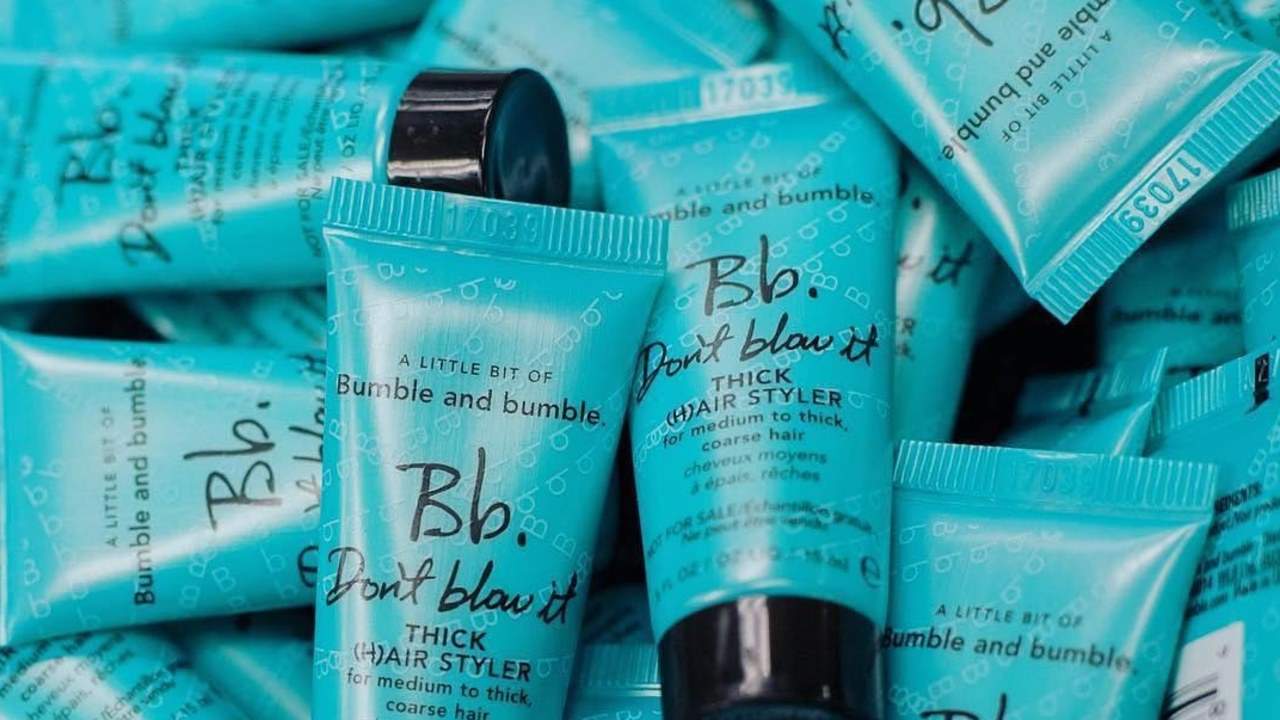 Hair seems to have its own personality sometimes, doesn't it? Whether you've got the most polished, refined strands or the wildest curl patterns, hair can accentuate your own personality or help play up a different side of you. I love Bumble and bumble and their product formulas because there is so much room to play and explore!
The company allows you to try out different personal styles and looks thanks to its impressive catalogue of products. From shampoos, to conditioners, to styling, there's so much to be gained from Bumble and bumble – so much, in fact, that we've prepared this new Bumble and bumble review! Enjoy!
In A Hurry? Find What You Need
Bumble and bumble Background And History
B&b was originally a sole hair salon in New York City in 1977, founded by hair legend and entrepreneur Michael Gordon. From inception, Bumble and bumble was a trailblazer in the hair world, and Gordon's ideas have inspired and have been imitated over and over again. Almost every hair care company I can think of sells some version of Bumble and bumble's cult-fave Surf Spray which the company has since upgraded to give your hair that amazing beach-wave texture.
In 2000, cosmetics industry giant Estée Lauder Companies, Inc. purchased a majority stake in the company and Gordon stayed on at first, managing US based operations while the parent company worked on establishing B&b's international presence. But Gordon wasn't willing to conform to the restrictions and corporate practices that Estée Lauder introduced, and sold his remaining shares in 2006. Today the company is still closely related to the fashion and editorial worlds and continues to introduce products that both consumers and hairdressers love.


Bumble and bumble Salon Review
Bumble and bumble was named to characterize the original salon as a lighthearted, welcoming atmosphere where real women could come and feel confident rather than intimidated. This is a culture which, thankfully, is still felt today! The salons are bright and inviting, and the stylists listen closely to what their clients are looking for.
Every stylist working at B&b salons has gone through a rigorous training program where they practice on volunteer models – unlike many programs which use plastic dummies for practicing. B&b stylists learn how to collaborate with clientele and customize looks to their lifestyle right off the bat!
There are two official Bumble and bumble salons, and both are located in New York City. One is Uptown in the "House of Bumble" which they describe as "A center for the craft, culture and commerce of hairdressing." This is also where the company works on product creation and promotion.
The other salon is located in the Meatpacking District. The secondary salon receives slightly higher ratings, but both salons are beautifully designed, calming spaces with skilled hair professionals on staff.
Globally there are plenty of salons which carry the full B&b line of products and have been given the official Bumble and bumble stamp of approval. The Bumble and bumble network of affiliate salons are educated by senior stylists and are generally respected and well-received.
Bumble and bumble Products Overview
The company line of products are very editorially inspired, focusing on the styling aspect of hair care more than anything. Their products are very versatile, can be used together to different affects and contain hair benefiting ingredients. They make shampoos and conditioners for various hair types and goals, classic styling products with an added twist (such as a hairspray that volumizes and protects, salt spray that also conditions, a dry shampoo that texturizes and more), and some more unexpected products like the Bb.
Shop Hair Care Best Sellers on Amazon!
Color Stick which is basically a lipstick for your grown-in roots that looks surprisingly natural and blends in seamlessly. Additionally, Bumble and bumble has a complete men's line and the products smell fresh and perform really well!
Bumble and bumble Thickening Shampoo And Conditioner Review
The Thickening shampoo and conditioner system is designed for thin, oil-prone hair. Bumble and bumble offers lightweight conditioning and give lift and volume without weighing hair down.
One of their powerful ingredients includes Aloe Vera Leaf Juice which a 2019 study of the importance and properties of aloe vera in shampoo revealed to stimulate hair growth, prevent hair loss, and generally maintain overall hair health. Other notable ingredients include Pro-Vitamin B5 (supports collagen production), Soy Protein (conditions), Silk Powder (helps with fullness and adds shine) and Hydroxyethylcellulose (thickens and volumizes) and Vitamin E (an antioxidant and repairs damage). Because this product is best suited for oily hair, it's not really conditioning enough for normal or dry hair.
Take me to Amazon: Thickening Shampoo And Conditioner
Bumble and bumble Color Minded Shampoo Review
This mild, sulfate-free shampoo formula maintains true color tone and prevents color stripping while cleaning. Color Minded Shampoo is gentle on color and hair, preventing further damage and locking in color brilliance and shine.  A  study of the side effects of chemical hair dyes revealed that it increased hair porosity and brittleness which this shampoo hopes to repair. The reduced inclusion of damaging, color-stripping detergents impacts the shampoos lather.
Therefore, don't expect a heavy lather for this one if that's something you look for. It works for all hair types and ensures your dye job lasts as long as possible. Get your own here.
Bumble and bumble Thickening Hairspray Review
Bumble and bumble Thickening Hairspray is a 4-in-1 product that gives you a ton of bang for your buck. It can be sprayed into damp hair evenly for volume or into the roots for lift, it is a heat protectant that will keep your hair healthy and your blow-dry looking awesome, and also works to set dry hair without leaving behind residue or a sticky texture.
It gives hair amazing body and makes it look really lovely and voluminous, so I'd definitely recommend trying it out if you have fine, limp hair or if you want that big, bombshell hair.
Shop now: Thickening Hairspray
Bumble and bumble Hair Powder (Dry Shampoo) Review
Dare I say that Bumble and bumble Hair Powder is one of the best dry shampoo products on the market right now. The ultra-fine powder doesn't make hair feel sticky or dehydrated like other dry shampoos tend to. Additionally, it can be massaged into the darkest of hair without leaving a trace of white residue. The hair powder offers a variety of great uses for any hair type—it absorbs excess oil, it can be used to add volume to hair, to add texture, to help style ultra-clean hair, etc.
To use, you can shake out the powder onto your roots and work it in as you would a shampoo to add lift and reduce oil on the scalp. You can also rub some between your hands and apply it to the rest of your hair. This gives a really great, tousled texture! It can also be sprinkled onto a brush and worked through hair evenly like. Lastly, the hair powder features a soft, clean scent (get it here).
Bumble and bumble Invisible Oil Review
The Hairdresser's Invisible Oil by Bumble and bumble is one of the truly revolutionary products of the company. The blend of six oils, each a powerhouse in its own right, is lightweight and leaves hair feeling and looking hydrated and soft. The product is one of Bumble and bumble's top-five selling products and is so beloved by customers that it inspired an entire line of products featuring this blend. This conditioner is a serious frizz eliminator, smoothing and softening hair very effectively.
The conditioner is a heat and UV protectant, while the Invisible Oil line is sulfate-free. This means that it's gentler on hair and suitable for colored or chemically treated hair. It goes without saying, but if you have very oily hair, you'll want to avoid this one. The rich blend of grapeseed, safflower seed, sweet almond, macadamia nut, argan, and coconut oil can do wonders for your hair, helping you get that silky soft look going.
Bumble and bumble Styling and Grooming Creme Reviews
The Bumble and bumble Cremes are extremely versatile. They can be used on damp or dry hair to reduce frizz, set styles into place, define curls, and to increase manageability. The Styling Crème has stronger hold for more slick, defined looks.
Meanwhile, the Grooming Crème helps keep things together, but has less hold and works to achieve a more lived-in look. With either product you can start with a small amount and increase until you get the control and hold you want. They work for both men and women and won't make your hair sticky, shiny or crunchy.
Order now on Amazon: Styling and Grooming Creme
Is Bumble and bumble Cruelty Free? Does Bumble and bumble Test On Animals?
Bumble and bumble has one of those tricky grey-area animal testing policies which is upsetting but better than nothing. They explicitly state that they do not test products or ingredients on animals…. unless required by law. Essentially, in order to sell their products in countries like China which enforce animal testing by law, the company allows for, and likely pays for, animal testing.
Need a better way to spend that #luggagefee? Our friends @Allure_magazine have a great idea: https://t.co/hiF6NIMnwv pic.twitter.com/ZVJMOnI4VP

— Bumble and bumble. (@bumbleandbumble) December 4, 2015
Conclusion
Michael Gordon is currently spearheading a new company called Hairstory. His new venture is working to eliminate the use of damaging detergent shampoos entirely by developing an alternative hair cleaning solution. Speaking about how damaging unsafe shampoo can be, Gordon mentioned that Bumble and bumble was his response to this daily damage we all inflict on our hair, and that the products work to reverse that damage.
While we still do use shampoo as a society, it's important to look for products that are nourishing, healing and reversing damage. The fact that Bumble and bumble products all work towards that goal of  healthy hair – while styling- is wonderful!
Up Next: Head & Shoulders Review: Head And Shoulders Above The Rest!