Lush Face Masks Review: Can Lush Face Masks Save Your Skin?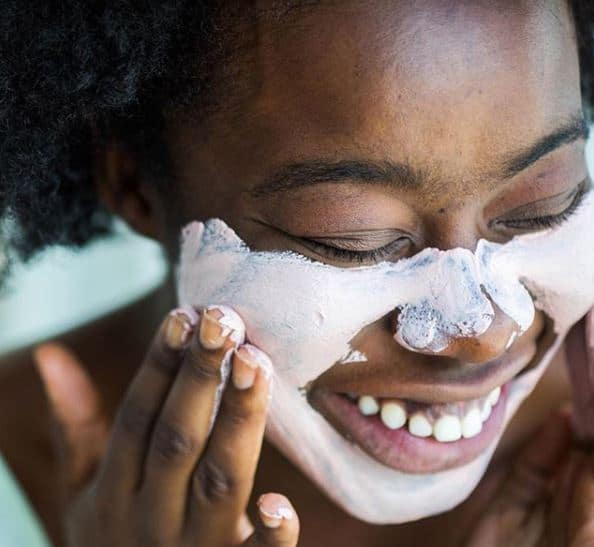 If you don't have the time (or money) to splurge on a proper spa day, then Lush's face masks might be the saving grace you've been searching for. You'll get a deep, natural cleanse that you don't get from other masks. Drugstore-bought face masks are usually packed with chemicals to give you quick results. This can lead to breakouts or skin irritations. Not exactly the pampering I'm looking for. Although they're cheap, its worth investing when it comes to things we put on our skin – and our face in particular.
Self-care to me means a full-blown spa day with mud masks, massage oils and candles – or at least an echo of that in my own bathroom. However, it's hard to find the quality I'm looking for in a drugstore face mask. And like I said, it's really not the most nourishing option. Face masks are a huge part of my skin care routine.
Even if you regularly wash your face with a cleanser and moisturize religiously, there's some dirt that needs that extra nudge. Face masks are crucial for that deep cleanse your skin craves. That's why I decided to do an extensive search into exactly what kind of natural face masks there are out there and what makes them so great. Lush and its Face Mask are some of the most popular – so let's dive into them today!
The Benefits Of Face Masks Explained
Let's take a look at some of the benefits of face masks. Face masks are easily considered one of the simplest ways to revive your skin with almost immediate results. The fact you have to leave them on your face for a while means they (should) really draw out any stubborn impurities and pollutants. It's like a face detox.
As I mentioned earlier, for me, face masks are all about the self-care. I think its important to take the time out of our busy lives and not just be looking after our skin for the sake of looking after our skin. Aromatherapy is a huge part of that. Whether it's calming rosemary or relaxing lavender essential oils, I think the scented blends that come with wearing a face mask play a huge role in the benefits they reap. Not only are these essential oils good for your actual body, but they are great for rewiring the mind.
Another benefit of using a face mask is that it allows for other skin care products to be more effective. How do you expect your cleanser or moisturizer to work when you're applying the product to clogged pores? Your skin can't absorb all the required nutrients if they're being applied over the debris on your skin. It sounds gross, and honestly, it's as bad as it sounds. Just because you can't necessarily see it doesn't mean your skin doesn't need that extra-good clean.
This is why you see quick results with face masks – because your skin is being genuinely cleaned. It's no surprise it's going to come out looking fresher instantaneously. And where better to get 'fresh' results than Lush?
1. Lush Cupcake Face Mask Review
Covering my face in a cupcake formula to get smooth skin? Where do I sign up? This Cupcake face mask smells as good as it feels. If you have acne-prone skin you'll be glad to know that this face mask contains mint extracts, which are great for targeting those red spots. It's tingling, refreshing, and really gives your skin that deep clean.
Mint isn't the active ingredient, though. That would be the Rhassoul mud. This ancient natural clay is used to purify pores, reduce oily skin and exfoliate dead skin cells. It leaves skin feeling soft and clean. Pro tip: try not to eat the mask as you go…yes, it smells that good.
2. Lush Rosy Cheeks Face Mask Review
For all of you millennial's out there, this rosy cheeks face mask is for you. It's the perfect shade of pink that you didn't know you were missing in your life. On a less superficial note, the Turkish rose oil extracts really calm the skin by reducing inflammation and soothing skin irritations.
This mask is great if you've just been to the gym and need to really get into those sweaty pores. The rose clay not only picks up your senses but really removes those oils from your skin. After I washed it off, my face felt matte and oil-free but not overly dry. I'd follow up with a moisturizer, though, just to brighten my complexion.
3. Lush Cup O'Coffee Face Mask Review
If you thought your daily morning coffee was the only fix you could get for that wake-me-up, think again. Lush's Cup O'Coffee face mask is that extra boost of caffeine in your day. I use this mask on those days when one cup of coffee just doesn't cut it. The grit does hurt your skin a little as you apply it, but I guess that's just part of the wake up process? The coffee grounds accelerate tissue repair as well as enhance your blood circulation. Meanwhile, the Kaolin clay purifies the pores, leaving your skin not only feeling but also looking brighter.
4. Lush Mask of Magnaminty Face Mask Review
This is the mask you need to really pull out those impurities. If you want to fight those recurring breakouts, use the Mask of Magnaminty face mask once a week and you'll see a noticeable difference. I say once a week because it gives such a deep cleanse that it's a little too strong to be using daily.
The peppermint stimulates your blood circulation and leaves your skin feeling fresh. The honey extracts also soothe irritated skin, leaving your face smooth and deeply cleansed. Meanwhile the exfoliant, adzuki beans, buff away dead skin cells to leave your face with a healthy glow. Basically, this face mask is packed with the ingredients that will give you guaranteed results.
5. Lush Brazened Honey Face Mask Review
Hands up if the recommended 7-9 hours of sleep sounds like a myth to you. If your hand is up, then this Brazened Honey face mask was made for you. It brightens and exfoliates tired-looking skin. This is mostly thanks to the presence of ginger root, which is an anti-inflammatory. The addition of honey softens and lifts your bedraggled complexion whilst leaving your skin smelling sweet.
The Lush Brazened Honey Mask is packed with antiseptic ingredients like clove bud oil, juniper infusion and lemon juice to really lift your dull-looking skin. My face looked brighter and more radiant – the perfect combo to fool everyone into thinking that I got a good night's sleep.
6. Lush Just to Clarify Jelly Face Mask Review
This is one of those face masks that's great for a girls' pampering night.  The texture of the Just to Clarify jelly face mask is even, and the jelly is easy to work into a paste. Papaya is renowned for its repairing, exfoliating and hydrating qualities. For those of you who love those fruity smells – this one's for you. Take a decent amount into your hand and lather it up between your fingertips.
It applies smoothly and thinly. The jelly masks are better than the fresh masks in the sense that they last 4 months (as opposed to the fresh masks which last 2 weeks and have to be refrigerated). My skin looked significantly clearer after using this Jelly mask.
7. Lush Bunny Moon Jelly Face Mask Review
Is your dry skin in need of that moisturizing boost? If your skin is feeling a bit sensitive, then treat it with this gentle Bunny Moon jelly mask. The honey locks in moisture and the chamomile extract soothes any skin irritations. It has a super slimy texture which applies smoothly and just feels like a second skin. The best part is that there's nothing wrong with leaving it on for longer than the allotted time! Although you wont necessarily be able to see a difference in your skin, you'll definitely be able to feel one.
8. Lush Cosmetic Warrior Fresh Face Mask Review
Do you hate having to deal with that occasional breakout? Just whip on this face mask and you're good to go. The Cosmetic Warrior face mask is renowned for its garlic smell (not ideal if you plan on going out later), but the benefits cannot be overlooked. Allicin, a chemical compound found in garlic, contains antimicrobial properties that reduce redness and spot size. It also contains ginger as an anti-inflammatory and tea tree oil, which is an antiseptic.
Your skin is left feeling cleansed but not stripped. Although the smell isn't the best I've experienced, I respect that Lush isn't artificial. Garlic is good for you. Get over it. And your skin will thank you for it.
9. Lush Oatfix Face Mask Review
Rejuvenate dry skin with this Oatfix mask. The blend of oats, which reduce inflammation and irritations, as well as softened bananas to slough away those dead skin cells, is a no brainer. Although this mask looks similar to an Oliver Twist porridge, your skin will thank you for this gentle formula generated to lock moisture into your face. Just use a brush to apply if you're struggling to use your fingers with such a runny mixture.
10. Lush Don't Look at Me Face Mask Review
This Instagram-worthy face mask will exfoliate those dead skin cells in one easy application. Ironically named Don't Look at Me, this vivid blue face mask will have heads turning in your direction. The murumuru butter locks in moisture and nourishes your skin with multivitamins and omega fatty acids. Meanwhile, the organic silken tofu softens your skin while the ground rice provides a gentle exfoliant. Your skin will look and feel brighter – how could it not, with those powerhouses of ingredients?
DIY Natural Face Mask Recipe And Guide
I'm a huge advocate for at-home remedies. I think a lot of the products that we assume we have to buy in stores can be replicated in the kitchen. There's something that puts me at ease when I know exactly what's going into what I'm putting on myself.
When it comes to face masks in particular, I get faint PTSD to being twelve and applying banana-scented mush all over my face – resulting in a hideous breakout the next morning. However, I think the benefits of using the proper raw ingredients in the right way cannot be overlooked. So, here's a DIY natural face mask recipe and guide to try for clearer, plumper skin.
Start by mixing together 1 teaspoon of spirulina powder (which is packed with chlorophyll to strengthen skin tissue) and ¼ teaspoon of water. Then add 1 teaspoon of honey. Honey hydrates the skin and brightens your overall complexion. Blend well until a green paste forms. This makes the right amount for one person, so if you're having a pampering evening with friends you might want to double or triple accordingly.
Apply the paste to clean skin and leave on for twenty minutes. Rinse off with warm water and feel how tingly-clean your skin is underneath! This mask soothes sensitive skin and is rich in antioxidants. If you're looking for an easy place to start with home remedies, this face mask has got your back.
Conclusion
Face masks have undeniable benefits for your skin. Whether it's removing dead skin cells so your skin can regenerate or just providing a quality pampering session, they're a necessary addition to your routine. It means your skin is more open to absorbing the nutrients from other skin care products and can renew effectively. Where better to get that natural-based, light but effective care that I need than Lush?
There are so many different Lush masks to choose from, each with their own unique benefits. Want a pick-me-up? Go for the Cup O'Coffee. If you need a classic deep clean, try the Mask of Magnaminty. And there's many more where that came from. Whether you need the relaxation, the aromatherapy or the undeniable results, Lush has got you covered. Ingredients like rhassoul mud, honey and ginger mean you're guaranteed results.
That being said, I'm a recent fan of home-made face masks. Only you know what your skin really needs (and what it doesn't). So, what better way to nourish it than with a DIY face mask tailored to your skin's needs? Just try the one above for clearer skin and add anything else your skin might be lacking into the mix!