Best Lush Makeup and Perfume Review: Lusting For Lush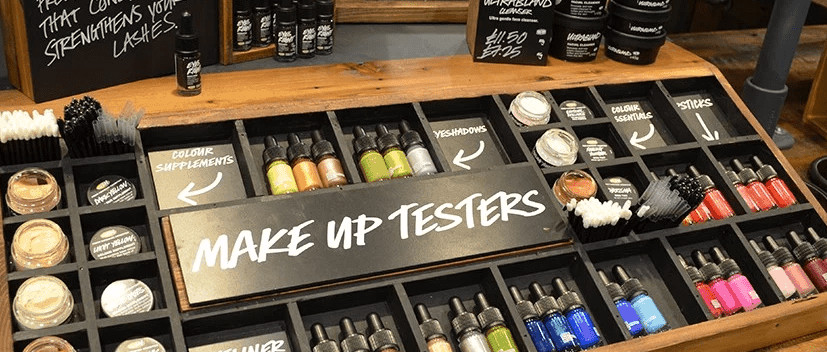 It's funny, there are some people who seem to value natural, safe ingredients in their cleansers, washes, and soaps while disregarding these qualities in their makeup. I guess the thinking goes that in terms of cleansers, natural ingredients are your best bet as far as penetrating and moisturizing, while makeup stands to benefit from artificial ingredients when sitting on top of the outermost layer of skin.
To be frank, this is some crazy logic! Using natural and organic makeup and perfume, or other aesthetic enhancers is just as important as using any other kind of natural personal care product. Unsafe makeup using unsafe ingredients can irritate skin just as much as soaps or cleansers can, if not more so – it's all coming into contact with your skin.
Therefore, the buck doesn't stop at soaps and cleansers – in order to take the best care of your skin, all of your beauty and personal care products should be safe and natural. Luckily Lush, one of the best personal care product purveyor's around, offers makeup and perfume in addition to their highly successful line of personal care products.
Lush makeup follows the same principles as the rest of its brand – natural and safe ingredients, handmade products, and no artificial fillers or additives! We'll get into the full range of Lush makeup (as we have done with Lush bath bombs, shower products, hair products, face products, and body products) in this, our Best Best Lush Makeup and Perfume Review feature!
Lush Eye Makeup Review
Regardless of the product line we're discussing, all of Lush's great products seem to carry the same excellent Lush qualities – originality, natural composition, and effectiveness. These qualities shine through vividly in their eye makeup line. For starters, in terms of originality, Lush offers bold and exciting colors of eyeliner and eyeshadow in addition to the more conventional colors which one would expect.
This allows consumers to have their reliable and familiar colors available while also adding some excitement to their repertoire – you can have your cake, and eat it too! Another defining quality of Lush's makeup line is a focus on products that feel as good as they look. Many women make their eye makeup choices, especially mascara, based on which products they find to be the least irritable or painful.
Noting this, Lush has developed gentle eye makeup which does its job while feeling good, too. Once again, Lush's line here is vast and diverse enough to have something for everyone – give the full slate a look to find something that will work for you! These are just a few of our favorites:
Lush Eyes Right Mascara Review
Eyes Right is where Lush really took concerns about mascara discomfort to heart. Designed with this concern most primarily in mind, Eyes Right uses a wheatgrass base in order to create a dark mascara that is gentle, yet strong. This is a delicate balance to strike, and yet Lush does so seamlessly. Eyes Right even has good hold, or staying power – after a full day of use, Eyes Right did not show much, if any fade when I looked in the mirror at the end of the day. Japan and Carnauba waxes round-out the formula and help protect against running in the rain or due to sweat.
Lush Independent Eyeliner Review
Jet-black and ultra-cool, Independent is the ideal go-to eyeliner that could become the foundation of your entire eye makeup kit – pun intended. Versatile enough to work whether applied in thin or thick lines, Independent takes advantage of the same run-proof formulaic benefits as Eyes Right. That means that even after a day of hectic use, and through contact with moisture, Independent keeps doing its job.
The color is also striking enough to stand on its own, which makes the name utterly fitting. Organic Jojoba Oil and Fair Trade Aloe Vera Gel are just two of the elements that help make the Independent formula so excellent and reliable.
Lush Sophisticated Eyeshadow Review
Unlike the other two Lush eye makeup products that we have highlighted, Sophisticated offers flash in addition to substance. A shimmering taupe cream eyeshadow, Sophisticated draws rave reviews for its versatility, which I can attest to the usefulness of. I've used Sophisticated as shadow, liner, and successfully blended it with other colors and products from Lush and other makeup outlets.
Rose Petal Infusion helps Lush achieve a natural, vibrant color that any makeup enthusiast would be glad to own, although your love for Sophisticated may depend on its compatibility with your skin tone.
Lush Skin Makeup Review
Using its expertise in natural personal care product development, Lush really gets to flexing its muscles in terms of its natural ingredient specialization when it comes to their skin makeup. From tints to bases, and yes, to powders (Lush powders – can't live without em'!), Lush provides a full range of skin makeup that is as safe as they are useful.
Using mass-produced, machine-manufactured skin makeup means running the risk of encountering unsafe and irritable ingredients that can harm rather than hurt your skin. Save for specific allergies, you will run no such risk when using Lush skin makeup.
Not only are they safe to use, but the skin makeup line from Lush hits on every end of the complexion spectrum. This ensures that regardless of your skin color, you're sure to find a color supplement that works for you – find your Lush color today!
Lush Feeling Younger Skin Tint Review
Looking to channel some youthful vibes, and give your complexion the vibrant, light look that it has been missing? Feeling Younger is the skin tint for you. The tint blends in a pigment which reflects light, which in turn brightens your complexion, and gives your cheek bones, brow bones, eyelids, and more a youthful sheen. Natural ingredients such a Jojoba Oil, Almond Oil, Cocoa Butter, and Orange Flower Water make up much of this natural formula.
Lush Jackie Oates Color Supplement Review
As previously stated, Lush's skin makeup comes in an assortment of different colors in order to accommodate folks of all different skin colors. This means that as you run down the line of different Lush skin makeup products, your preferences will largely be dictated by your personal skin and the compatibility of a select product with it (or lack thereof).
Jackie Oates happens to work as a base for skin that is pale and features cooler undertones, which it counteracts wonderfully. For me personally, Jackie Oates does a great job of this, giving my naturally paler skin a lovely porcelain look. Soothing oats and honey make up a part of this wonderful formula, which works to hydrate skin as well as aesthetically improve it.
Lush Light Yellow Color Supplement Review
While Light Yellow is not the skin supplement for me, that doesn't mean that it doesn't do extraordinary things for others. Designed to complement the skin of those with medium warm skin tones, Light Yellow doubles as an excellent makeup for olive skinned folks who don't have that summertime tan working for them. Try Light Yellow if it sounds like these qualities describe your skin color – it just might change the way you approach your makeup routine!
Lush Lipstick and Lip Makeup Review
While skin makeup choices can come down to skin tone compatibility, lipstick choices are just a little more subjective. Okay, okay – a lot more subjective. When it comes to lipstick, women generally have different taste that follows no kind of pattern or predictable template – women like what they like.
Thankfully, Lush lipstick is available in a wide variety of colors; from the safe and sensible to the bold and exciting. This ensures that, as we see from the other Lush makeup categories, all consumers will have their needs and desires fully accounted for. It should go without saying at this point that yes, Lush lipsticks are made with safe and natural ingredients.
Lush Perspective Lipstick Review
Not only does Perspective make for one of the longest lasting lipsticks I've ever experienced, it ensures that lips stay hydrated as well – an impressive feat for a lovely lipstick. Perspective is one of the most versatile products that Lush has to offer, as a light application can offer a natural, neutral look while heavier use makes for a more striking pout. Rose wax and Jojoba Oil help make the lipstick long-lasting enough to keep you covered for your entire day – at least.
Lush Decisive Lipstick Review
Another lipstick that features a long-lasting base with Rose Wax and Jojoba Oil, Decisive is a bold and striking color that makes a serious statement. A vintage cherry color, Decisive even works well in a pinch in order to add some rosiness to your cheeks – that's how attractive and versatile the color is, even while maintaining a striking quality about it.
Lush Confident Lipstick Review
Neutral and cherry colors aren't the most exciting or unconventional when it comes to lipsticks, so it's only right that we cover a new and exciting shade in our third mini-review – Confident. A deep, plum color, Confident is different enough to stand out but pretty enough to have customers wondering why this shade hadn't already gone mainstream a long time ago. Rose Wax and Jojoba Oil do the job again for Confident in terms of long-lasting applications, and this will help as you'll find yourself wanting to order this one again before too long!
Looking to create a Halloween look, while using cruelty free makeup? We have a wide range of colors to help complete the perfect look! pic.twitter.com/Zz8hVSJjun

— LUSH Brandon (@LUSHBrandon) October 4, 2016
Lush Perfume Review
I've been singing Lush's deserved praises for the entirety of this feature and in quite a shameless manner! The Lush makeup line combines the best in quality, natural ingredients, and inventiveness to warrant unadulterated praise-singing – it's just that good, one of the best makeup lines you'll find.
However, when it comes to Lush's perfume selection, I am admittedly slightly more lukewarm in terms of my feelings towards it (as always, full disclosure!). Lush does admirably use natural ingredients when crafting their perfumes in order to develop formulas that are both safe for users and the environment.
Perfumed scents are so purely subjective, that I found myself not loving most of the perfumes I have sampled from Lush. It should come as no surprise to anyone who has experienced the powerful aroma within Lush stores that Lush perfumes are not exactly mild. However, this may be viewed more favorably by others than it is by little old me!
The bottom line is; Lush perfumes are just a little too pricey for my taste given the fact that I don't care for most of the scents that they provide. Some are pleasant enough, but another inevitable shortcoming in terms of buying perfumes is that there's no way to try them in any way except for by physically visiting a Lush store.
Makeup and color palates can be experienced visually on Lush's websites, but scents cannot. Dear John, Dad's Garden Lemon Tree, and Death & Decay were three of the best perfumes I've sampled, but I highly suggest visiting a Lush store for yourself to see if the scents work for you!
Stay tuned for more reviews of top beauty brands here at Maple Holistics!
Conclusion
Well, there you have it. The Lush makeup and perfume line isn't all smooth sailing, but at the very least, one thing we can say for the full slate of products is that they are indeed safe. Using Lush makeup or perfume will not compromise you, your skin, your hair, or the environment.
This should be a leading factor for consumers in the market for effective makeup products. If we all make an effort to be safer and environmentally conscious when purchasing personal care products, it will go a long way towards reducing the number of unsafe, artificial products being churned out by big-money manufacturers. You may not care for all of the Lush makeup formulas, colors, and products offered, but you can rest assured of their effectiveness, safety, and diversity in terms of the offerings.
Visit a Lush store or peruse the Lush website and its respective categories in order to see what interests you – the one person who knows for a certainty what kind of makeup you'll like best is always going to be you!