Women's Rogaine Review: Rogaine Your Confidence Today!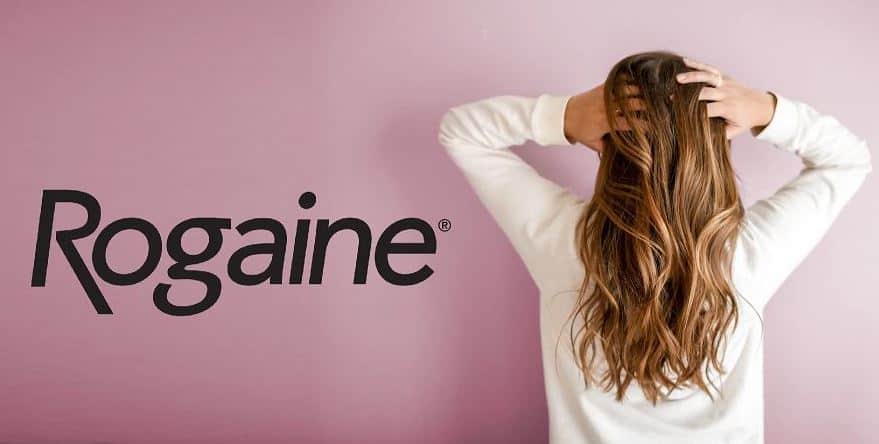 Hair loss and thinning can have dramatic effects on a woman's confidence. While it's easy for women to feel alone in suffering from hair loss, 1 in 4 women actually experience hereditary hair loss. It is most common in women during and post-menopause, but can begin as early as a woman's 20's as well.
It's important to begin treatment as soon as you start to notice thinning, as most medications are shown to be most effective at the earliest stages of hair loss. Women's Rogaine actually has the same formula as the men's products, but in minoxidil percentages and recommended dosages change to accommodate the differences in male and female sensitivity to the drug.
The American Hair Loss Institute has shown that minoxidil is often much more effective in women than in men, meaning that women need less to see growth. Women are also more vulnerable to negative side effects, necessitating smaller dosages.
Rogaine Company Background And History
Rogaine's success and ability to give confidence to so many men and women is the result of one of life's happy accidents. Minoxidil was originally a drug in pill form called "Loniten" used to treat high blood pressure. Patients prescribed this medication noticed increased hair growth and regrowth in areas of the scalp that had been completely bald for some time.
By turning minoxidil into a topical product, the researchers behind Rogaine were able to isolate the hair growth benefit to intended areas without noticeably affecting hair growth on the arms, back, chest, etc. The product was launched in 1988 and Women's Rogaine was introduced in 1992. The products have since become approved for over-the-counter use and become even more potent and effective.
What Does Women's Rogaine Do?
The active ingredient in Rogaine for Women is Minoxidil, which widens blood vessels and opens potassium channels, sending more oxygen, blood and nutrients to the hair follicles. This can stimulate inactive hair follicles, promoting growth and strengthening hair. It is generally more effective at the earlier stages of hair loss, so try to start treatment as you as you notice that you are losing hair. This product works for people with hereditary hair loss and not meant for treatment of other causes of hair loss.
Women's Rogaine Ingredients Breakdown
Active Ingredient:
Minoxidil 2% or 5%: FDA-approved hair treatment, for regrowing and strengthening hair follicles.
Inactive Ingredients:
Butane: A gas present in canisters of all kinds.
Butylated Hydroxytoluene: Antioxidant and preservative.
Cetyl Alcohol: Foam booster and fragrance agent.
Citric acid: The acid of citrus fruits, which is either derived naturally or synthesized.
Glycerin: A heavy liquid which is used as a solvent.
Isobutane: Second canister gas.
Lactic Acid: Areservative which is also sometimes used as a flavoring additive.
Polysorbate 60: A liquid designed to join various ingredients together.
Propane: Propellant in canisters, like shaving cream and air freshener.
Purified Water: Water which has been filtered for industrial use.
SD Alcohol 40-B: An alcohol used as a solvent and astringent.
Stearyl Alcohol: An alcohol which soothes and softens.
Some of these inactive ingredients are not the friendliest, it's true. There are healthier alternatives, however the product as a whole lives up to the FDA's strict standards, and as such is considered safe and effective for the public.
The alcohols, gases, and preservatives which are present in women's Rogaine are used across the board, from the the food and cosmetics industry, to camping and the great outdoors.
Obviously, if you have a history of adverse reactions to any of these ingredients, consult your physician before beginning treatment. Remember, though: the main reason why this is an over-the-counter hair treatment – rather than prescription-only medication – is precisely because it is safe and it gets the job done.
Women's Rogaine Product Overview
There are two solution choices when embarking on a Rogaine journey. The original product is a liquid topical solution with Minoxidil 2%, which is applied by a dropper twice a day. The newer version is Women's Rogaine Foam, a stronger supplement featuring 5% Minoxidil. The Women's foam is applied once daily. Both products can be purchased with a 1 or 2 month supply to try it out the first time, or a 4, 6 or 8 month supply more practical for continued use.
The topical solution has a more precise applicator and can be applied without having to touch the product with your hands. The foam amount has to be eyeballed and applied with hands necessitating thorough washing after every application, but it only has to be applied once a day which gives it a huge leg up from the liquid Rogaine and the preferable version for me.
Women's Rogaine Review: Before And After
My mom has very thin, fine hair, so I always knew there was a strong chance I'd experience thinning and hair loss as well. But I didn't expect it to happen so early. I first noticed hair thinning at 24 which was, and remains, very upsetting and frustrating.
If you're here you probably already know how it is. I was honestly a little nervous to start out on Rogaine and tried more natural remedies at first, but they didn't work for me. I finally decided to try it out, and I'm so glad that I did.
They say that the earlier you start the more effective Rogaine will be. I actually saw baby hairs start to grow after just one month of use! When I finished my two month supply, I knew I had found my lifesaver! Now, after about 8 months of daily use, I can part my hair any which way I please, and those baby hairs have gotten thicker and long enough to blend into the rest of my hair.
A huge moment for me was being able to put my hair up into a ponytail without being nervous about gaps in my hairline at the temples. I have seen really amazing progress and could not be happier with my results. The formula itself is lightweight and dries down like water, so it doesn't make your hair feel greasy or dirty. Using the once a day foam, I was able to slip this into my nighttime routine so easily and conveniently.
Related: Check out our features on hair care brands like Lush, Head & Shoulders, and Herbal Essences!
Are There Women's Rogaine Side Effects?
One common side effect of Rogaine is minimal shedding during the first two weeks or so of treatment. This can be demoralizing, but it's normal and temporary. "Shedding" is actually a sign that the product is working! Old, dead hair you would have lost anyway is falling out to make room for new, healthy strands.
There is also a possibility of unwanted increased hair growth in other areas of the body. However, this is rare and usually avoided by making sure not to let the liquid drip down the face or come into contact with any other part of the body.
Irregular side effects include lowered blood pressure, a light headed feeling, chest pain and skin irritation. Discontinue use if you experience anything like that and consult your doctor right away. It goes without saying because I'm still using the product, but I did not experience anything of the sort, and to my understanding these side effects are fairly rare.
Is Rogaine Cruelty Free?
Rogaine is not cruelty-free. They test their ingredients, minoxidil potency and final products on animals to make sure that they are safe for human use. The products are also on sale in China where animal testing is conducted before any product can hit the market.
Conclusion
Rogaine for Women won't work for everyone. However, growth should occur in the first 3 months if the product is destined to work well for you. Rogaine even offers a perfectly timed 12 week satisfaction, money-back guarantee. Basically, trying it out is virtually risk-free! I strongly encourage you to test it out for yourself.
As with most rewarding things, consistency is key with Rogaine. Keep up with it daily, and assuming you're in the lucky 80% of people who respond well to the drug, you'll be enjoying a fuller head of hair before you know it!