Head & Shoulders Review: Head And Shoulders Above The Rest!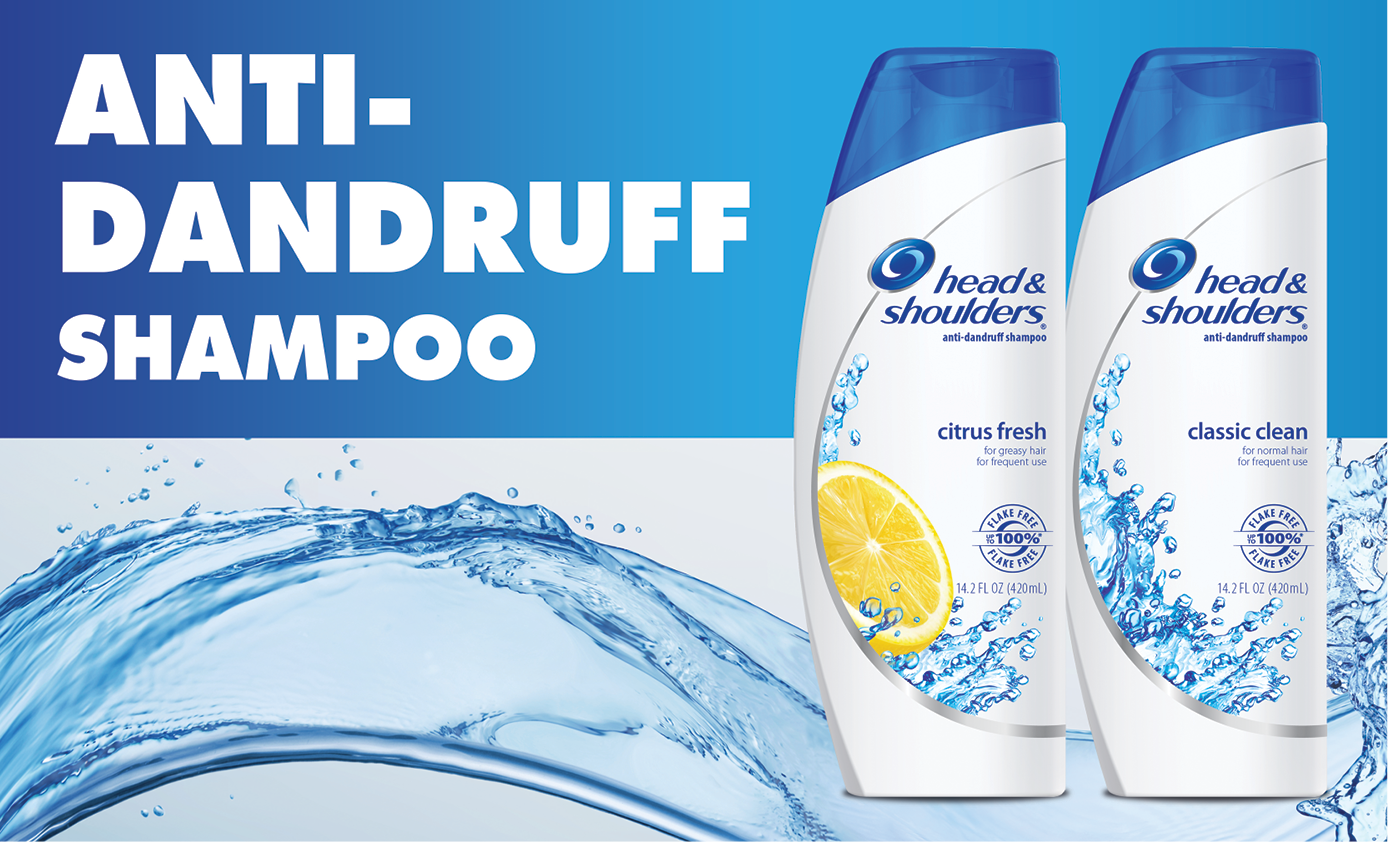 Head & Shoulders is one of the oldest shampoo companies boasting one of the oldest dandruff shampoos, and has remained a leader in hair care since the company's inception. A Head & Shoulders review is simply no easy thing to pen when looking that all that the company has accomplished!
They have put their products through the ringer with all sorts of clinical tests, which have confirmed that the H&S products reduce or eliminate dandruff and its symptoms, clean and clarify hair well, and nourish the scalp and hair.
The brand association that Head and Shoulders has achieved with dandruff or flaky scalps is remarkable and well-earned: the company has done right by its customers in providing them with the very best in hair care for generations. On a personal note, I must thank Head and Shoulders for helping me make it through my dry-scalp riddled teen years – the company is truly a life saver. According to a study from 2006, "dandruff is a common complaint and is suffered by as many as 50% of the population at some time during their life". So I know that I'm not alone!
In A Hurry? Find What You Need
Head & Shoulders History And Background
Head and Shoulders was created by Procter & Gamble in 1961 after a whopping ten years of scientific research conducted by the company to find an answer to dry scalp and dandruff. This is a problem that was not being effectively catered to at the time. With over 50% of the population experiencing scalp issues to some degree, P&G capitalized on that by giving the public an anti-dandruff shampoo that actually worked, building a billion-dollar company in the process.
Their researchers discovered the dandruff-treating abilities of pyrithione zinc, the primary active ingredient in H&S shampoos, and created a formula that attacks dandruff at the root rather than mask its surface level symptoms. They have been developing and perfecting the formula ever since, and Head and Shoulders is now considered the #1 brand in anti-dandruff hair care.
Head & Shoulders Products Overview
The active ingredient in Head and Shoulders hair care products (with the exception of the Clinical Strength Shampoo) is pyrithione zinc, or ZPT.  ZPT has antibacterial and anti-fungal properties which helps the problem at the source because dandruff is usually caused by a surplus of a fungus called Malassezia, which is present on all scalps but is problematic in excess. A 2018 study also found that "herbal zinc pyrithione shampoo and scalp lotion provided improvement in the main symptoms of seborrheic dermatitis".
Head and Shoulders makes shampoos, conditioners, 2-1 shampoo and conditioners, a hair thickening treatment and a scalp soothing treatment, a cleansing conditioner for dandruff eliminating co-washing, and a line of more intense shampoos for relentless dandruff or seborrheic dermatitis.
Head & Shoulders 2-in-1 Dandruff Shampoo And Conditioner Review
This Classic Clean shampoo/conditioner combo condenses dandruff fighting hair care into one quick step, and is great for people who want to keep their hair routine simple and low-maintenance. It is pH balanced for a healthier scalp, and it effectively controls dandruff, oil and scalp itchiness.
The conditioner softens hair more than a shampoo-only routine would and without any greasiness or increase in oiliness. A downside of this is that the conditioning aspect is not necessarily powerful enough to compare to a top-shelf conditioner, but it's moisturizing enough for someone with very fine or oily hair.
Take me to Amazon: Classic Clean 2-in-1 Dandruff Shampoo And Conditioner
Head & Shoulders Dry Scalp Care With Almond Oil Shampoo Review
Pyrithione zinc, the active ingredient in Head and Shoulders shampoos, can be drying, as are all anti-dandruff ingredients. However, the use of heavy conditioners and oils can make flaking worse, so this shampoo is a really good option for combating dryness and keeping your scalp clear.
Almond oil is rich in vitamin E which is soothing and fights against free radicals, as well as other vitamins, minerals and fatty acids which all improve the overall health and appearance of the scalp and hair.
Check it out: Dry Scalp Care With Almond Oil Shampoo
Head & Shoulders Clinical Strength Dandruff And Seborrheic Dermatitis Shampoo Review
Head and Shoulders is generally known to be a gentler treatment for those with milder dandruff. This Clinical Strength Dandruff And Seborrheic Dermatitis shampoo is clinically proven to help severe dandruff and seborrheic dermatitis, which has been a godsend for many people who have tried a bunch of different shampoo treatments and found that this one actually works (get it here!).  Its active ingredient is selenium sulfide (1%), an anti-infective that has been shown to offer real relief without the terrible smell and drying effects of some other clinical strength solutions.
Head & Shoulders Green Apple 2-in-1 Dandruff Shampoo And Conditioner Review
The Classic Clean 2-in-1 has been a staple for many people, but some have complained that it has a slightly medicinal scent. The company heard them loud and clear, especially because they have been trying to move public perception of Head and Shoulders to a trendier, sexier shampoo used by the likes of celebrity bombshell Sofia Vergara, the newest face of the brand.
The Green Apple offers the same great benefits as the original, soothing itchiness and doing away with visible flakes, but it smells crisp and sweet, appealing to those who would usually gravitate towards a more scent-driven shampoo but also struggle with dandruff.
Order now on Amazon: Green Apple 2-in-1 Dandruff Shampoo And Conditioner
Head & Shoulders Old Spice For Men 2-in-1 Shampoo And Conditioner Review
Old Spice and Head and Shoulders are both part of the same P&G family, and they have teamed up for this product line to provide a dandruff solution with a "manly man" scent so, as the mashup ad says, you can "Live flake free. And smell handsome." The Old Spice signature scent is a classic, as is the Head and Shoulders 2-1, so together the Head & Shoulders Old Spice For Men 2-in-1 Shampoo And Conditioner is a real force to be reckoned with.
I want it: Old Spice For Men 2-in-1 Shampoo And Conditioner
Head & Shoulders Full And Thick 2-in-1 Shampoo And Conditioner Review
This shampoo and conditioner does a really good job preventing and controlling itchiness and flaking, and it hydrates hair adequately in one shot. Be patient if you're looking to make hair noticeably thicker or become more volumized – in time, the results will come. I will say that alongside the Full and Strong Advanced Thickening Treatment, hair does really seem to get fuller and stronger as advertised. Get your own here.
Don't necessarily expect any hair growth miracles with this one, but it has a nice scent which is why some prefer it to the Classic Clean 2-in-1, which is very similar in formulation.
Head & Shoulders Green Apple Dandruff Conditioner Review
Many dandruff sufferers have excess oil in their scalp and hair, which is why the Head and Shoulders conditioners are generally very lightweight. This conditioner is good, smells really nice and furthers the anti-dandruff action of the shampoo, but it is not softening enough for those who have dry or damaged hair. The Green Apple Dandruff Conditioner is a good option for anyone who wants hydrated, moisturized hair that is still free of rich buildup and feels super clean.
Order now on Amazon: Green Apple Dandruff Conditioner
Head And Shoulders Shampoo Side Effects Explained
I'm not going to lie, I was a huge fan of this brand for a very long time. Head and Shoulders was one of my go-to brands for as long as I can remember and I used to love nearly everything about 'em. From their packaging to the smell and easy lathering, if a supermarket didn't have head and shoulders – I wouldn't choose another brand at all. A real fanatic.
However, when I began my journey down the path to a more holistically centered lifestyle, I started re-evaluating all of the products that I used on a regular basis. From food to personal care – everything was open to scrutiny and sadly, once I turned my attention to my shampoo collection, I had to chuck nearly everything out.
While it certainly may be true that Head and Shoulders is a highly effective shampoo, the problem is that it is loaded with some potentially harmful chemical ingredients. My rule of thumb for shampoos or personal care products is that if it's not good enough to eat – it's not good enough to put on your skin. The reason for this is largely because our skin is porous – which means that whatever goes on it eventually winds up in our skin. If you wouldn't eat Head and Shoulders (which you shouldn't), then why would you want it on your skin or scalp for that matter?
That being said, there have been a few reported side effects to using Head and Shoulders shampoo over time. Due to the high content of zinc pyrithione, a chemical known for drying out the skin, many have reported that by using Head and Shoulders over time has lead to the formation of a dry itchy scalp – which may ultimately worsen the effects of dandruff (ironically). On top of that, many of the chemicals in the Head and Shoulders recipe (SLS, Parabens, alcohol-based solvents and 'fragrances' to name a few) have been linked to hair loss.
Due to the fact that we tend to wash our hair with shampoos quite regularly, the effects of these chemicals can be worsened on our scalp. By regularly using the shampoo, we actively strip the natural oils and proteins from our hair follicles that keep them naturally hydrated. This can cause them to dry out and become weakened over time, leading to brittle, frizzy hair and eventually hair loss.
My rule of thumb is to stick to shampoos that are made from purely natural ingredients, as these are a lot friendlier to our scalps and hair in general. Hair loss is really difficult to treat, but preventing the effects of it is a lot easier when you use the correct products more often.


Is Head & Shoulders Shampoo Sulfate Free?
Head and Shoulders shampoos are not sulfate free, which is an immediate deterrent for many who have been taught that people with dandruff should avoid sulfates at all costs. Sodium Lauryl Sulfate is a strong cleanser which makes it effective but also a bit harsh. That's why sulfate-free products are recommended for dyed or treated hair, because SLS can clean the additives away so to speak, and why sulfates can be somewhat drying. One cause of dandruff is dry skin which is why flaking can worsen in the winter when skin is most dry, and in those cases sulfates should be avoided.
However, most of the time dandruff is caused by an excess of certain fungi and oil which build up and irritate the scalp, and sulfates can actually help clear away sebum and oil or product buildup, thereby helping the situation for certain people.
In short, Head and Shoulders shampoos contain sulfates which practically means that if your dandruff is caused by dry skin, or if you know your skin to be sensitive to sulfates, you'll want to try something else. Most people don't know what the root source of their dandruff is, so it's worth trying different brands and types of dandruff shampoos until you find something that works for you.
Is Head & Shoulders Cruelty Free? Does Head And Shoulders Test On Animals?
Head and Shoulders follows the animal testing practices of their holding company, Procter and Gamble, which is a leading researcher in dependable alternatives to animal-testing, and have funded and conducted research that has marked milestones towards animal-free research.
However, a company that sells their product in China cannot technically be considered cruelty-free because all products must legally be tested on animals before they can be sold in the country.
Conclusion
Head and Shoulders products are very well formulated and have helped people with dandruff stay flake-free for many years. And now with the scent upgrade they've given to some of their classic products, having a clear scalp doesn't mean compromising in that department.
These products are generally gentle enough to be used for daily use, but all anti-dandruff ingredients are at least a little drying, so you may want to alternate using them and a non-medicated shampoo or even using them only once a week if you have very light flaking.
Another tip is to switch up dandruff shampoos regularly because you can become more immune to a certain ingredient over time. Head and Shoulders utilizes pyrithione zinc, so purchase another one with active ingredient selenium sulfide, or salicylic acid to keep your scalp guessing and keep your dandruff away.
I'd definitely recommend including Head and Shoulders in that rotation because these products have been scientifically shown to be powerful against dandruff, and that's only been further confirmed by the many loyal consumers that they've worked for.
Up Next: Top Olay Skin Care Products Review: All Of Olay's Best
Before You Go! Shop Our Picks on Amazon Now