Pass That Herb! Herbal Essences Company And Products Review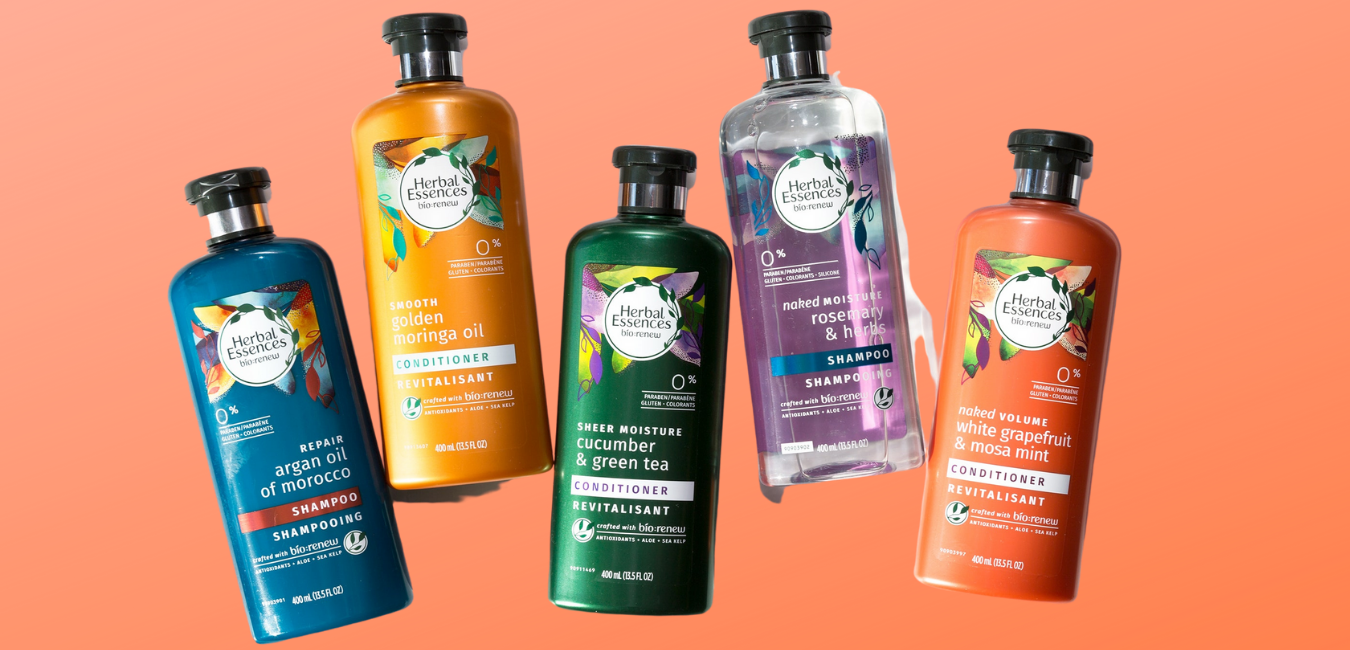 Can we just start by talking about the most recent Herbal Essences ads? The voice-over boldly says "Take your hair to paradise." The voice over follows by saying, "go buy our shampoo." It's one of the cheekiest lines in advertising right now. I love the cheekiness, and it nicely sums up Herbal Essences.
The brand is the perfect balance between playful and luxurious. The packaging is always super artsy and bright, and the product itself is full of pretty serious ingredients like coconut milk, argan oil, and sea kelp. These products have some of the best (if not the best) scents at the drug store. Along with the antioxidant rich, soothing formulas can make your morning shower feel like a miniature spa experience!
Get ready to get a feel for the essence behind Herbal Essences in our Herbal Essences Company and Products Review!
In A Hurry? Find What You Need
Herbal Essences History And Background
Introduced in 1972 as one shampoo called Clairol Herbal Essences Shampoo, Herbal Essences has transformed over time into a major player in the hair-care market. Herbal Essences was purchased by Procter and Gamble in 2001, and they managed to revive what, at the time, was a brand on a continuous decline in terms of both market value and customer response.
They revamped packaging gave collections funky names to appeal to audiences such as millennials. The company focused on what sets them apart in their sphere: layered scents and their commitment to natural, herbal ingredients.
Overview Of Herbal Essences Products
The Herbal Essence products are divided into cohesive lines and are meant to be used in tandem with one another. The shape of the shampoo and conditioner bottles fit together. Conditioner sales rose significantly after this change because it demonstrates that they work best when used concurrently.
[Side note: this is obviously a marketing technique, but research facilities do actually test out the products with the ones they are designed to be paired with and tweak them accordingly, so partner products often are most effective when used together.] Some of the collections to choose from are Body Envy (for volume), Totally Twisted (for curly hair) and Honey I'm Strong (for strengthening hair). They all smell awesome and deliver the benefits they claim to.
Take Me Straight To Buy Top Herbal Essences Products
Herbal Essences Naked Review
The Naked collection is the ultimate embodiment of the principles at the brand's core. That collection attracted people to Herbal Essences in the first place. The products do not contain parabens, silicones, gluten or colorants. These also happen to be some of my personal favorite scents from Herbal Essences. Of course, that factor comes down to individual preference.
The White Grapefruit & Mosa Mint Shampoo and Conditioner are moisturizing, but are not greasy at all, and give nice volume and body to the hair. The mint makes them really refreshing and gives you a subtle tingling sensation that stimulate the scalp and hair growth. Hair looks thicker and healthier, and feels softer.
In a 2019 article published in the Asian Journal of Beauty and Cosmetology, the authors took a look at mint and cinnamon extracts for hair care. The study concluded that "The mixed extract of mint and cinnamon had the higher anti-oxidant and antibacterial effects than mint and cinnamon extracts. The measurement of the temperature stability and pH change in the manufactured shampoo showed constant pH and temperature with no significant change, thus confirming the stability of the shampoo."
The Rosemary & Herbs Shampoo and Conditioner smells like rosemary, mint and sandalwood which is earthy and calming. These are very similar to the White Grapefruit and Mosa Mint products, without the volumizing effect. The Rosemary & Herb products are called Naked Moisture, and they condition the hair beautifully without weighing it down.
Both of these sets are formulated with Herbal Essences' signature bio: renew which is a blend of antioxidants, aloe and sea kelp that helps wake up dull hair, reverse the appearance of ageing, strengthen the hair and guards against UV damage. It's full of vitamin A, B1, B2, C, D, and E, as well as the minerals zinc, iodine, magnesium, iron, copper and potassium. As you can see, the bio-renew products offer a multitude of benefits and nourish the hair.
In an article from way back in 2001, published in the bimonthly journal Clinics in Dermatology, the authors state: "we now have products that renew, restore, and rejuvenate—not just cleanse, protect, and moisturize. There is probably no greater focus of interest currently than the incorporation of vitamins and antioxidants in skin care products. There are considerable data to suggest the benefits of such ingredients in cosmetics."
This remains true for the scalp and the hair strands, and there is no doubt that Herbal Essences is an industry leader and innovator.


Herbal Essences Dry Shampoo Review
The White Grapefruit & Mosa Mint Dry Shampoo is pretty darn amazing. It has a clean, fresh scent. This is important for a dry shampoo because you put more of it in your hair. The peppermint feels refreshing on the scalp, and it doesn't weigh down your hair. The product does not leave a white cast or any residue in the hair.
When it comes to Herbal Essences dry shampoo, the Cucumber and Green Tea Dry Shampoo is also part of the Naturals collection. It is paraben-, silicone- and colorant-free and includes the bio: renew blend. It works really well absorbing any greasiness and reducing buildup. The Color Me Happy Dry Shampoo is one I do not recommend. It goes on with a tacky, hairspray-like feel to it, and it leaves lots of buildup. The buildup just get worse throughout the day.
A 2015 article that was published in Korean Chemical Engineering Research reviewed the characteristics of several botanical extracts – including green tea – and their possible uses in the world of hair care and shampoo. The authors conclude by saying: "Shampoo containing botanical extract was stable for 3 months, however, it showed considerable variation in pH and viscosity. In conclusion, shampoo containing botanical extract shows strong possibility for natural shampoo if the formulation is modified."
In other words – when it is part of the right formulation, green tea can be a powerful hair care ingredient.
Take me to Amazon: Herbal Essences Dry Shampoo
Herbal Essences Color Me Happy Shampoo Review
Color Me Happy is a great shampoo in general. The botanical silk and lovely Moroccan Rose essence makes hair look shiny and healthy. However, the claims to be color safe are questionable. Many with colored hair seem to say that this shampoo prevents hair dye from bleeding out in the shower and from discoloration or fading, but this shampoo is not sulfate-free.
A 2008 article which appeared in the journal Korean Society for Biotechnology and Bioengineering researched the effects of hair cosmetics which includes silk peptide components. The authors wrote: "Silk Peptide Treatment was effectively penetrated into the hair which has been damaged by chemical treatments, increased the hair weight, thickness and hair moisture value and also recovered the cuticle of the hair. Thus, the treatment of hair with silk peptide hydrolysate would be effective to recover the damaged hair into the normal conditions."
Sulfates are strong cleansers that strip hair dye from the hair, causing it to fade faster than it would otherwise. So if you color treat your hair, avoid all products that contain sulfates. Use this shampoo if you like the scent and want a gentler cleanser.
Check it out: Herbal Essences Color Me Happy Shampoo
Herbal Essences Cleansing Conditioner Review
Cleansing conditioners are very popular for people with very dry or curly hair who want to clean their hair without removing its oils and further drying it out with shampoo. It's especially beneficial during the winter months when the scalp and hair get extra dry.
Co-washing, or conditioner only washing, can be done with any conditioner. The best results are achieved with a cleansing conditioner which have a bit of lather and include gentle cleansing ingredients.
To use, apply generously as you would a shampoo, working the product into the scalp and through all your hair. You can section it off before co-washing to make it easier to reach every part of your hair thoroughly.
The Herbal Essences cleansing conditioner is a very popular co-washing choice. It's less expensive than some other cleansing conditioners but the results are incredible. Additionally, the conditioner will restore moisture, loosen tangles, and leave your hair feeling fresh and clean.
I want it: Herbal Essences Cleansing Conditioner
Herbal Essences Detangler Review
Wet hair is very vulnerable and prone to breakage. Being too aggressive when de-tangling your hair when wet can be extremely damaging. If you've got curly hair, chances are that you can only brush it while wet, when it's more vulnerable. A product that aids in the de-tangling process can be helpful in keeping your hair strong and saving you time.
The Totally Twisted Curl Silkening Detangler spray (get it here) softens and smooths hair, makes it more manageable, and help knots loosen themselves. This allows you to be gentler and nicer to your hair.
New Wild Naturals is full of Cassia and other jungle-y things.https://t.co/M2SKfEv8RA

— Herbal Essences (@herbalessences) March 17, 2015
Herbal Essences Hello Hydration Products Review
Herbal's Hello Hydration line is incredible for dry hair! These products soften, they condition, they revitalize brittle hair… it's pretty amazing. They are infused with coconut essences which smell buttery and tropical. The coconut is part of what makes these so effectively moisturizing.
I will say that if you have oily or fine hair these are way too heavy for you. For everyone else, these are your new best friends.
The line includes the Hello Hydration Moisturizing Shampoo, the Hello Hydration Moisturizing Conditioner, and the Hello Hydration 2 in 1 Moisturizing Shampoo & Conditioner.
Herbal Essences Totally Twisted Mousse Review
The totally twisted mousse for curly hair maintains frizz and defines curls. It has a level-3 hold which is substantial but isn't too stiff for soft curls or beachy waves. It gives your hair really nice texture and protects from humidity all day long. Still, you won't have an easy time finding a mousse out there that make your curls more defined and soft! It is a good, reliable mousse that is well worth the price.
Learn more: Herbal Essences Totally Twisted Mousse
Herbal Essences Body Envy Volumizing Hairspray Review
This hairspray has a level-4 strong hold, but hair-sprayed hair still feels flexible enough and awesomely bouncy. It gives really great volume to the hair and leaves a soft citrus scent behind.
Order now on Amazon: Herbal Essences Body Envy Volumizing Hairspray
Herbal Essences Long Term Relationship Conditioner Review
When it comes to selecting a conditioner, many of us will try a variety of  brands and products. It takes time to find one that works for us and our specific hair type. So if you're feeling  overwhelmed by the volume of products available, don't worry – that's what we're here for.
Due to the nature of my job, I have tested a variety of shampoos and conditioners on a regular basis. There are always a few that tend to stick out as being worthwhile investments. Ultimately, I tend to use those more often than not.
When it came to reviewing the Herbal Essences Long Term Relationship Conditioner, I didn't really get my hopes up. I thought it would simply be another cheap, off-the-counter bottle of shampoo. One you find in the 'affordable' section of the hair care aisle at the grocery store. However, I was pleasantly surprised by the efficacy of this conditioner and it's overall ease of use.
In terms of conditioning, the Herbal Essences Long Term Relationship Conditioner is much like the Herbal Essences Totally Twisted Curl Silkening Detangler. However, unlike the Herbal Essences Detangler, the conditioner is more effective in the shower. The conditioner's naturally infused blend of satin and red raspberry extracts helps hydrate your hair follicles.
The products are loaded with natural antioxidants. Antioxidants help to clear the scalp of any bacteria or toxins that may cause inflammation and ultimately dryness. Dryness tends to be the cause of dandruff. By preventing this, you can ensure that your scalp remains clear, hydrated and that your hair stays silky and smooth.
As far as conditioners go,  the Herbal Essences Long Term Relationship Conditioner is pretty versatile. It has a really delicious scent (that has only helped me to calm down during showers). The conditioner also acts as a shaving cream. It's price makes it a great product in case of an emergency or if you want to save some cash.
Herbal Essences Long Term Relationship Conditioner: Results
However, I found that after using this conditioner more thatn 3 times a week, my hair becomes frizzy again. I did not use any heat drying or styling. I think this is due to the chemicals contained in shampoo. One in particular that should be noted is Methylchloroisothiazolinone. It was originally created as a biocide and is used to increase the shelf-life of the conditioner. In addition, this chemical will kill any microbes, germs or bacteria that may linger on the scalp.
Some suggest it is less toxic for two reasons. First, the dosage used is limited. Second, we rinse it off. However, research carried out by the European Scientific Committee on Cosmetic Products and Non-Food Products Intended for Consumers (SCCNFP), found that even in small doses (and with rinsing off), the volatile nature of 'MIT' should be limited to around 0.01% in the ingredients list.
However, companies in the US do not have to follow these recommendations. They're free to put as much of the stuff in their products as they want (within reason of course).
So because of this, and a few other chemical additions to the conditioner, I wouldn't recommend using it too often. Herbal Essences Long Term Relationship Conditioner is great if you're low on cash or need a conditioner right away. For long term use, I think the conditioner will cause frizz or dryness – unless you use it very sparingly.
I would suggest using a natural or purely herbal conditioner to ensure the best for your hair health. It is also much better for the environment. But if you're in need of a conditioner on the fly, or need a more mild shaving cream for your legs – then the Herbal Essences Long Term Relationship Conditioner is well worth a try.
Is Herbal Essences Cruelty Free? Does Herbal Essences Test On Animals?
Herbal Essences is a subsidiary of P&G, which is not a certified cruelty-free company. In their defense, Procter and Gamble pours a substantial amount of money into researching ingredient testing methods that don't involve animals or humans, namely in vitro (test tube) testing and computerized simulations.
They use these methods most of the time, but they sell their products in China. In China, products must be animal-tested to be sold legally. It is the only country in the world that has this law. This means that ultimately, most of their products are put through animal-testing.
Conclusion
Herbal Essences is one of my favorite hair care brands at the drugstore. The shampoo and conditioner smell so great—not too chemically or sweet like some of the others. And, they make my hair feel soft and strong. And I like knowing that my scalp and hair are benefiting from natural, botanical ingredients. Importantly, ingredients which are proven to make a difference in hair and overall health.
Up Next: Head & Shoulders Review: Head And Shoulders Above The Rest!
Before You Go! Shop Our Picks on Amazon Now