Top L'Oréal Skin Care Products Review: Loving L'Oréal!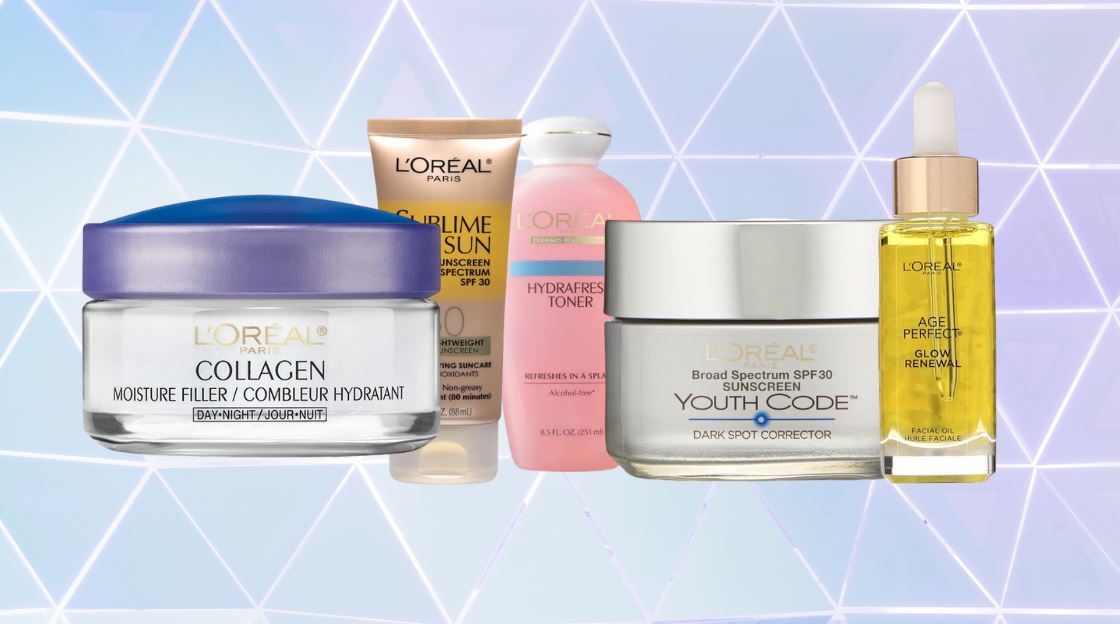 Unfortunately, I've dealt with my fair share of skin problems. Acne, dryness, aging spots, dullness, you name it and I've suffered from it – thanks for the genes, Mom and Dad! But seriously, everyone has their own skin issues to contend with, and winning this battle is all about finding the products that work best for you. So what about L'Oreal?
Now, some people may not take skin care as seriously as I do, which means that some people may not have the most extensive experience with trying all of the different kinds of skin care brands, products, and treatments available.
Thankfully for the skin-neglectful, I do have this experience! I've spent what feels like a lifetime exploring the full range of consumer skin care products available in an attempt to find the brands and products that work best at curing my skin woes. After having gone through all of this experimentation and trial-and-error, I'm here to deliver one definitive conclusion: L'Oréal has got the goods!
So without further ado, please enjoy our L'Oréal Skin Care Products Review!
In A Hurry? Find What You Need
1. L'Oréal Age Perfect Night Cream Review
As far as I'm concerned, there are two different categories of skin care products that most companies, L'Oréal included, produce: those used for maintenance and general skin care, and those used for specific problems. L'Oréal Age Perfect Night Cream falls under the former category – it's a nightly moisturizer used not only to keep skin hydrated and fresh, but to improve skin elasticity, tone, and to strengthen the skin. I'm kicking things off with Age Perfect Night Cream because it's a product that virtually anyone can stand to benefit from.
I don't care who you are or how elastic or strong your skin may seem, skin elasticity is completely finite, and pre-emptive care is one of the best ways to ensure its longevity. The unique formula uses soy seed proteins to accomplish this skin-enhancing effects – give it a try and it just might work its way into your nighttime routine.
Take me to Amazon: Age Perfect Night Cream
2. L'Oréal RevitaLift Anti-Wrinkle + Firming Eye Cream Review
Now we're moving on to a product that does in fact address a specific problem – wrinkles! No one likes seeing wrinkles become more and more defined and prevalent as the years go by – it's one of the most sobering aspects of aging. Unsurprisingly, one of the most popular sorts of skin care is wrinkle care – a category that L'Oréal sets the standard in, at least in my humble opinion.
Leading the charge for L'Oréal in wrinkle care is Revitalift and the RevitaLift Anti-Wrinkle + Firming Eye Cream. Pro-Retinol A and Stimuplex work to increase cell turnover, reduce wrinkles, and firm skin – all of which the cream does very effectively if I do say so myself.
Shop now: RevitaLift Anti-Wrinkle + Firming Eye Cream
3. L'Oréal HydraFresh Toner Review
There are a number of adjectives associated with having quality skin – supple, soft, smooth, toned, and yes, hydrated. L'Oréal HydraFresh Toner is designed to instantly hydrate skin while also keeping it moist over an extended period of time – an impressive dual-purpose effect. Most hydrators and moisturizers provide just one or the other – a fleeting kick of moisture, or a moisturizing treatment that takes time to show an effect on the skin.
L'Oréal accomplishes this thanks to its patented formula, which contains beta hydroxy acid in order to clear away dull skin and pro-vitamin B5 to preserve existing moisture while building new moisture. I personally use HydraFresh for my moisturizing needs, and it has improved my skin the point that I no longer require daily treatments in order to keep my skin hydrated. Get your own here.
4. L'Oréal Pure Clay Masks Review
Clay masks tend to get a bad rap in the skin care community, or at least among my friends and fellow skincare aficionados. I believe this to stem from its association with 'gimmicky' brands and companies which are all flash and no substance, providing products that look good but fail to deliver. Unsurprisingly, L'Oréal seems primed to undo this stereotype with their quality Pure Clay Masks.
Available in Detox and Brighten, Exfoliate and Refine, and Purify and Mattify versions, L'Oréal Clay Masks are designed to treat a variety of skin woes and provide a number of great benefits using different ratios of clay ingredients which are each tailored for ideal absorption time. I can't recommend them highly enough – try Exfoliate and Refine, my personal favorite!
Order now on Amazon: Pure Clay Masks
5. L'Oréal Men Expert Vita Lift Moisturizer Review
All too often skin care gets put inside of a feminine box, which is just not fair – men's skin needs some love and care too! As always, L'Oréal is here to answer the call with a full range of products designed to care for men's skin, and in particular with their Men Expert Vita Lift Moisturizer. A reality that all too many people seem intent on denying is that men and women are dimorphic, which manifests in the skin and skin care requirements of both genders.
Just as women shouldn't be using men's products in order to care for their skin, men shouldn't be using women's products – regardless of their greater availability. If you're a man looking to hydrate your skin, look no further than Expert Vita Lift.
Check it out: Men Expert Vita Lift Moisturizer
6. L'Oréal RevitaLift Reveal Brightening Daily Scrub Cleanser Review
Maybe the most commonly used kind of product in the world of skin care is the daily cleanser. While it's true that Neutrogena is probably the current market leader in terms of cleansers, L'Oréal does a bang-up job at producing them as well. My personal favorite of L'Oréal's skin cleansers is their RevitaLift Reveal Brightening Daily Scrub Cleanser.
Using natural volcanic particles, glycolic acid, vitamin-C, and glycerin, L'Oréal's foaming scrub exfoliates as well as cleanses in order to buff away dead and dull skin and reveal smooth, clean skin underneath. This isn't my personal choice of daily skin cleanser, but it is a great one – use it for either instant cleansing results or long-term skin improvement.
I want it: RevitaLift Reveal Brightening Daily Scrub Cleanser
7. L'Oréal RevitaLift Bright Reveal Peel Pads Review
Another L'Oréal RevitaLift product – are we starting to notice a trend? Well, this time it isn't a cream, cleanser, gel we're dealing with, it's a pad! A peeling pad, to be exact. L'Oréal's Bright Reveal Peel Pads. For daily or sporadic use, these pads can be applied and peeled away to eliminate dull, uneven skin tones, reveal brighter skin hiding underneath the surface, and even reduce wrinkles with consistent, regimented use.
It is vital to clarify that these pads are not intended to be used for cleaning, or to replace any kind of cleaning treatment! If anything, skin should be cleaned after use of the Bright Reveal Peel Pads in order to maximize the effect – but don't stop cleaning if you've started to use these excellent pads (get it here).
8. L'Oréal Youth Code Dark Spot Facial Serum Corrector Review
I don't mean to sound dramatic, but dark spots just might be the bane of my existence. I've tried every kind of over-the-counter treatment or home remedy you can think of – lemon juice, potato, turmeric, aloe vera, papaya, onion juice, jojoba oil – you name it, I've tried it, and almost none of it has worked! Finally, I started to use L'Oréal Youth Code Dark Spot Facial Serum Corrector, and in the interest of full disclosure, I must confess that this corrector did not *fully* correct my dark spot issues, but it has made more progress than any other product I've tried.
Ultimately my dark spots have faded some, though not fully, but I've really enjoyed the illuminating effect that Youth Code Dark Spot has had on the rest of my skin in addition to the dark spot targeting. Overall, I'll keep using it until I find a miracle cure, and I definitely recommend it.
Take me to Amazon: Youth Code Dark Spot Facial Serum Corrector
9. L'Oréal Sublime Sun Advanced Suncare SPF 30 Sunscreen Review
Sunscreen happens to be of great importance to me personally – I happen to have a very pale complexion, and very easily burned skin! Additionally, I'm something of an outdoors lover, and living in a warm-weather city, I find myself in danger of the sun's rays quite often.
Therefore, my choice in sunscreen matters and the bottom line is that my choice every time is L'Oréal. Not only can L'Oréal sunscreen (get it here) do an excellent job of protecting the skin, but it also does so with a formula that doesn't use harmful chemicals and is environmentally safe, which is something of a rarity these days (unfortunately).
L'Oréal Sublime Sun Advanced Suncare SPF 30 has become my go-to sunscreen of late, but the entire slate of L'Oréal sunscreens is worth investigating – give it a look to fun a sunscreen that suits you.
10. L'Oréal Glow Renewal Facial Oil Review
There are some tragic misconceptions regarding skin and oil in the personal care community. However, if you've been paying attention to us here at Maple Holistics, you know we do our best to debunk every last one of them. From Castor to Avocado, to Coconut, to Sunflower, we've gone to great lengths to build up oils that are replete with great benefits for the skin. L'Oréal agrees with our oil-friendly message, producing their very own oil blend for skin – Glow Renewal Facial Oil.
Deeply nourishing skin with a unique blend of 8 essential oils, this shockingly non-greasy and lightweight formula applies easily to the skin. The oil helps to maintain moisture, promote skin health, and hydrate skin. An ideal maintenance product, L'Oréal Glow Renewal Facial Oil can be applied daily and ideally supplements any skin care routine!
Check it out on Amazon: Glow Renewal Facial Oil
11. Collagen Face Moisturizer Review
There are few better ways to give your skin the hydration boost it craves than with good ol' collagen. L'Oreals' Collagen Moisture Filler cream can be used both day and night to give your skin the intense moisture it's been craving.  This moisturizer is especially useful for aging skin, as collagen naturally decreases with age. To this end, L'oreal has created a daily skincare solution to leave your skin with that coveted youthful glow. Collagen works to reduce the appearance of fine lines and wrinkles and is readily absorbed by the skin.
One of the best things about this moisturizer is despite the fact that it's pretty rich in texture, it's suitable for all skin types including sensitive skin. It doesn't weigh on the skin, sinks in quickly and leaves your complexion looking and feeling super smooth!
Shop now: Collagen Face Moisturizer
Is L'Oreal Cruelty Free? Does L'Oreal Test on Animals?
This is probably one of the more frequently asked questions we get as reviewers and sometimes it's not as easy as a yes/no question. With regards to L'Oreal as a brand – they claim that they do not test their products or ingredients on animals. However, what I found seems to be the case with regards to most of the larger brands on the market today is that they claim that they are a 'cruelty-free' brand, yet continue selling their products to countries such as China – where animal testing is required by law.
So what this means is that, rather plainly, L'Oreal is in fact not a cruelty-free brand until they stop selling their products to China or other countries where animal testing is still required by law, or until those laws themselves change.


Is L'Oreal Vegan?
While I'd like to say that the majority of products that I use today are vegan-friendly, the truth is that most of them aren't. L'Oreal is no different in this regard and in fact, has been known to use animal-derived products in almost every formula.
Generally, if you're looking for a truly vegan-friendly option, I would recommend using your own DIY recipes as this is the best way to control what goes into your final product. Plus you'll save yourself a tonne of money by doing so and learn a thing or two about how to create your own products.
Conclusion
L'Oréal may have gotten its start in hair coloring, but its brand was popularized and tempered by the rise of the awesome L'Oréal skin line, a skin line that I now turn to for most of my skin care needs. However, it needs to be stated: what works for some may not work for you. The key to building a successful skin care regimen is to find the products that work best for you personally. With that being said, when building your own regimen, L'Oréal is a great place to start.
It makes products that are safe, tested, and celebrated – you're sure to find at least some L'Oréal skin products that can work wonders for you!
Up Next: Top Olay Skin Care Products Review
Before You Go! Shop Our Picks on Amazon Now