The Body Shop Company & Products Review: Beauty From The Body Shop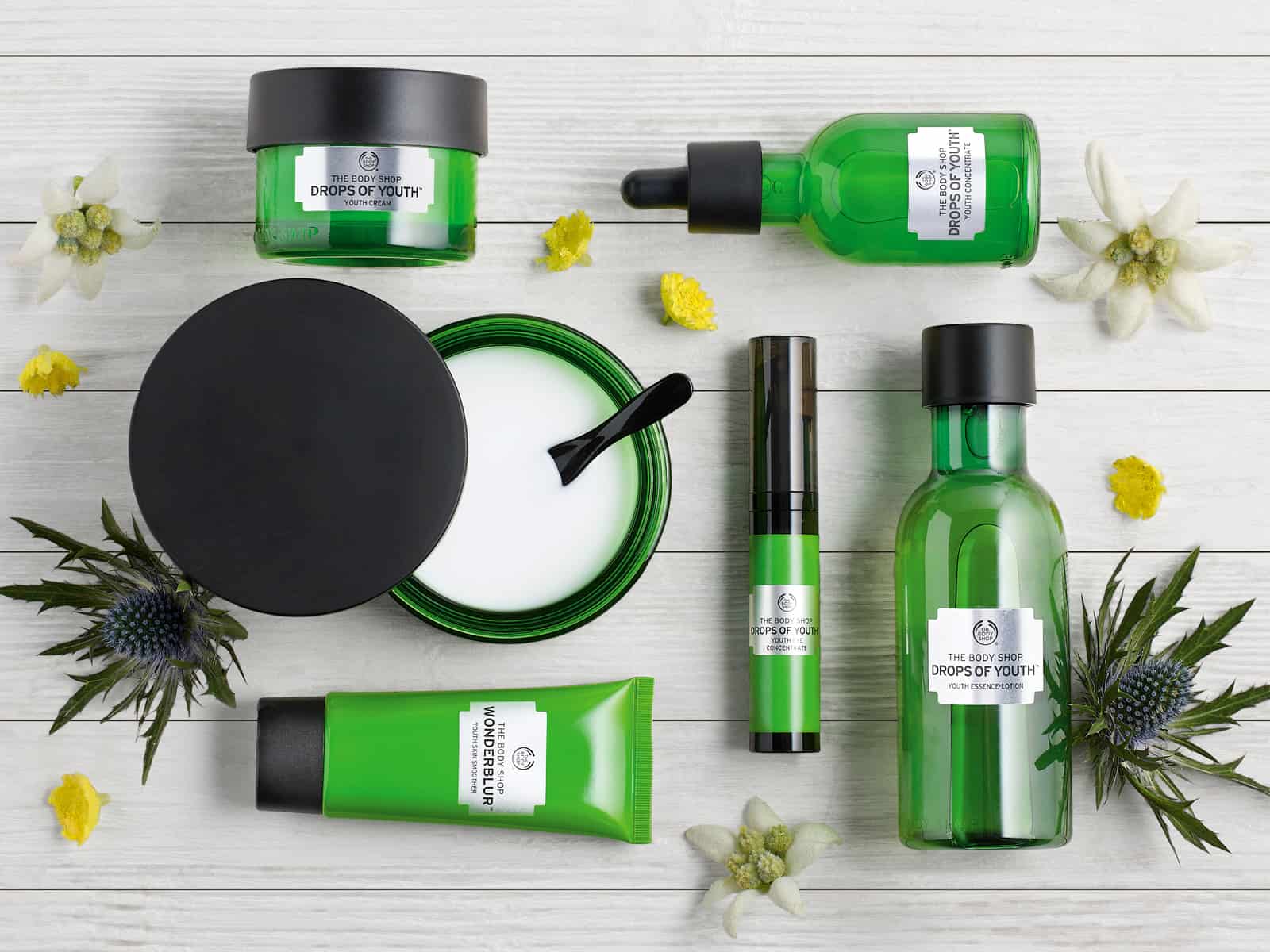 The cosmetics and personal care market is overflowing with goodness these days. There are many companies making high quality, high functioning products. The Body Shop is definitely competitive with the quality and functionality of its products, but what really makes it special to me is its recognition that a large company can make a discernible impact on things like fair trade and animal welfare, and have made ethical consciousness a strong part of the company culture.
They also keep their products as natural as possible, so I can feel good using them knowing that they are good for my skin and good for the world at large. Aside from all that, The Body Shop happens to make some of my favorite skincare products. I hope you check them out and enjoy them as much as I do!
The Body Shop Company History & Background
The Body Shop's beginning is one of my favorites because it is essentially a love story with a splash of empowering female entrepreneurialism. Anita Roddick's husband had a dream to travel from Buenos Aires to New York on horseback, and she supported him to the fullest. "It blissed me out to have a partner who said 'I've got to do this. I've got to be remarkable," she's said. They sold their restaurant to pay for his trip, and she started selling her homemade, natural cosmetics at a small shop in Brighton, England to support herself and her daughter for the duration of his trip.
With her passion for the products and flair for unconventional advertising, the shop's popularity boomed and she opened the second location of what would one day become a worldwide phenomenon. Today the company is owned by L'Oreal and has a strong presence in over 60 countries.
The Body Shop Products Overview
Most people know The Body Shop for their Body Butters and moisturizers. They do incredible things in that sphere, but their other product areas offer some greatness as well. I was pleasantly surprised trying out their makeup, and I've been using their Fresh Nude Foundation and Honey Bronze Bronzing Powder almost every day. The makeup products feel really nice and lightweight on the skin and offer beautiful and natural results.
If you're familiar with Body Shop Body Butters, you know that these people know their fragrances, so I'd definitely recommend checking out some of their perfumes and body mists. They've also got some really nice shampoos, conditioners, hair styling products and hair treatments. I love the Ginger Scalp Care Shampoo and the Grapeseed Glossing Serum! They also make lovely facial cleansers and treatments catering to the needs of different skin types.
Body Butter is one of the products that The Body Shop is most famous for. They are intensely hydrating and the scents are divine! The Shea Butter is a nice option – especially for very dehydrated skin, because it's thicker than the others.
Some of my other favorites are the Italian Summer Fig, the Olive Nourishing Body Butter and the Vineyard Peach. Mmmm, so good. I like to massage this onto my entire body after showering, choosing the scent that I'm in the mood of for that day, and I feel like it works very well to soften and beautify skin.
This product is so lovely for a natural looking bronzing. It isn't orangey and isn't all sparkly, so it just makes skin look naturally tanned. There are three available shades which could suit a wide variety of skin tones. Not to mention, the packaging is absolutely adorable! It's a strong compact with a mirror and a reflective honeycomb pattern on the outside. For some extra glow, pair this bronzer with the Honey Bronze Highlighting Dome. It illuminates with a subtle pink tone and the dome shape makes it really enjoyable and quick to apply to cheeks, cheekbones, collarbones or shoulders (it's a bit too shiny to highlighting your nose with).
This mask and I have a love-hate relationship going on. It really does rid your skin of impurities, and I have definitely noticed that my face has been much clearer since I started using this. I enjoy the tingling feeling of the tea tree essential oil and other cleansing ingredients going to work, and it rinses off easily. The thing is, it can be drying, and for someone with combination skin that is a pretty big deterrent for me. If you have strictly oily skin though, this product is one that I'd highly recommend trying out.
The White Musk scent is a Body Shop favorite. It is a light, fresh garden scent with notes of musk, florals, peach and vanilla. I can't get enough of this smell, I think it is perfect for both day to day and event wear and I seem to reach for it again and again.
This scent is available in an Eau de Parfum, a Frangrance Mist, a deodorant, a tougher sport deodorant, a body lotion, a body wash, a hand cream and a body cream–they are basically enabling my addiction of this scent and I can't say I'm complaining.
I'm not obsessed with the deodorant because it has a strong alcohol scent, but it keeps odors away and lasts all day. My favorites are the classic perfume which is long lasting and delicious, and the body cream which is made with fair trade Shea Butter and makes my skin feel amazing.
The Body Shop BB Cream Review
This amazing company makes three BB Creams and they are all extremely well thought-out and formulated in my opinion. There are three in total, and they seem to be divided by skin type: the Vitamin E Cool for dry skin, the All-in-One for normal or combination skin, and the Tea Tree Flawless BB Cream for oily, acne-prone skin.
They all apply very evenly, although the Tea Tree does cling to dry patches – so it's better geared for oily skin. The tea tree has a mattifying finish and medium coverage, the Vitamin-E has light/medium coverage and a luminous finish, and the All-in-One has a satin, natural finish and very light coverage.
This bath milk gently cleanses the skin and simultaneously moisturizes with castor oil, almond oil, and honey. It calms, softens and hydrates the skin and it's wonderful for dry or sensitive skin in particular. I love to use this product as a substitute for body wash in the winter months when my skin can really benefit from some extra moisture.
[maxbutton id="14″]
The Drops of Youth Liquid Peel is seriously impressive. It has a lightweight, non-sticky feeling, and is a shockingly effective, non-abrasive exfoliator. As I massaged it into my face I could see any dead skin peeling off, so that was a little gross but in a pretty cool way because it was very apparent that it was working. After rinsing, my skin felt baby soft and refreshed, and I've now introduced it religiously into my weekly skincare regimen.
Really love this hand and nail cream by The Body Shop. Light and smooth 🙂 @preendotme #TheBodyShop #skincare pic.twitter.com/VdbTt1S9GB

— Cláudia Martins (@1111_claudia) March 28, 2017
Is The Body Shop Cruelty Free? Does The Body Shop Test on Animals?
The Body Shop is about as cruelty-free as you can get. They have been committed to animal welfare since the first Body Shop opened in 1977, when animal testing was not nearly on the map the way it is today. None of their ingredients have ever been tested on animals and they only purchase from suppliers who are also certified cruelty free. They have been Leaping Bunny certified, and were actually the first to ever receive this internationally recognized cruelty-free assurance in 1997, and were the first company to ever be given the Leaping Bunny certification.
Not only has The Body Shop remained committed to creating products without any animal testing, they have fought to end animal testing in other companies as well. They have campaigned governments to influence legal change on the matter and have directly contributed to the betterment of animal treatment in the cosmetic world.
Conclusion
I don't know if it's the amazing scents, the ethical practices, the cute as hell packaging or the soothing feel of the actual products but I just get such great vibes from The Body Shop. I love supporting a company that supports the community, and these products smell, feel and work fantastically so it is more than a pleasure to do so.