The Definitive Paul Mitchell Tea Tree Special Review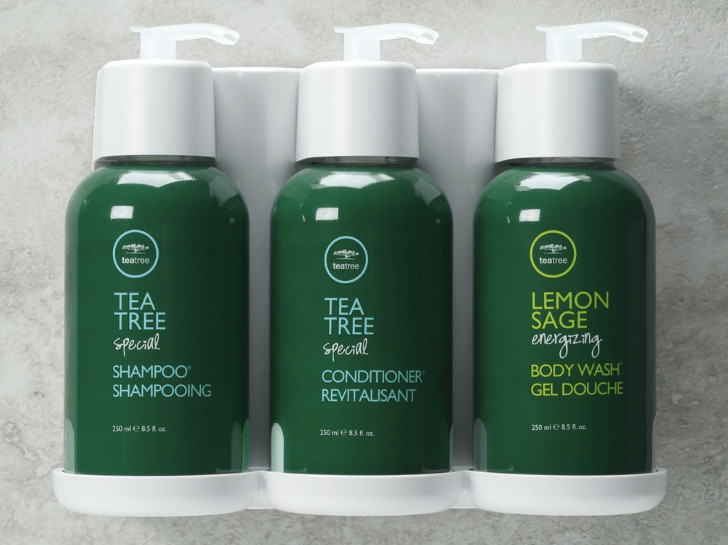 I've done so much work and so much damage to my hair. Whether it's straightening, curling, coloring, my hair has been through it all. At some point I felt like I really needed a deep treatment on my hair. Otherwise, I would just have to cut it.
Paul Mitchell Shampoos Breakdown
John Paul Mitchell System is an American company and a veteran of cosmetics production on the market. It was founded in 1979 in the U.S. As happens often in the beauty industry, a new brand was born. This was due to the partnership of two extremely talented and creative people: an entrepreneur named John Paul Dejoria and a professional hairdresser named Paul Mitchell.
Back in the 80's, people didn't have a big choice of hair products for different hair types. The industry offered quite a limited number of shampoos and conditioners. Most of the products were made out of synthetic and chemical ingredients, while the natural ones were rarely used and not known.
A young company, John Paul Mitchell Systems®, appeared on the market offering a new and unique product – the Tea Tree Shampoo. This discovery made a revolution in the area of hair hygiene. It turned out that using tea tree extract in hair care was a very smart idea because of its rejuvenating and antiseptic activities. It helped to restore the hair after different aggressive treatments which were very popular back then. This includes perms, coloring, bleaching, and so on.
The competitors did not hold out for too long. Very soon, most of the products on the market contained tea tree oil and other tea tree components. Paul Mitchell Shampoos became the first ones to help with restoring and toning the scalp and hair, while not exposing health to any risks. The company formed the slogan right away and it remains relevant to present days: "…reduce, reuse, recycle and respect."
All of the components used in creation of the Paul Mitchell products are of a purely natural character, which minimizes the amount of polluting substances and takes care of the environment. All basic ingredients for the Paul Mitchell shampoos are grown on the company's own farms in Hawaii, USA.
Paul Mitchell Tea Tree Shampoo and Conditioner contain the Australian tea tree oil, which is famous for numerous vitamins and nutrients, which help our hair to grow and strengthen the curls. This concentrated tea tree oil does not leave any greasy residue on the strands and is totally weightless. This means that you can freely use this treatment without worrying about it being seen on the hair after drying.
It is also worth noting that tea tree oil is absorbed by the scalp and hair very well, which improves the effectiveness of this product greatly. If you are ready to transform your hair, bring the shine and color back, increase the volume, then using Paul Mitchell's Tea Tree Special Shampoo and Conditioner is simply the best solution. After using it for some time and doing more research on the product, I honestly believe that these products are amazing.
Moreover, they were specially designed to revitalize and refresh your hair, filling it with endless energy at the same time. It truly helped me to emphasize and increase the vitality and radiance of my curls, which were already losing hope.
Take Me Straight To Buy Top Paul Mitchell Tea Tree Products
The Paul Mitchell Tea Tree Spa Effect
Another distinctive feature, which I never came across in other products, is the SPA effect. My routine hair cleansing procedures turned into relaxing ME time. If you leave the shampoo or the conditioner in for a few minutes, you will feel the chilling effect on your scalp. It is amazing! It invigorates and refreshes in the morning and even takes away the fatigue and heaviness in the evening. However, be careful, don't get carried away, a shampoo is a shampoo and has to be washed off before it takes out natural greases from your hair.
Paul Mitchell Tea Tree Special Shampoo and Conditioner work perfectly in duet and did the trick for me. I have been using it for about two weeks now and can already totally see the difference in the tangling and the maintenance. If you have any sort of damage to the hair and are looking for a good treatment which is not too expensive, than this is definitely the one you should go for. Besides, it suits all hair types equally well.
Learn more: Paul Mitchell Tea Tree Special Conditioner
Tea Tree Oil In Cosmetics And Hair Products
Hair is your best accessory given by nature. Beautiful hair is a key element of the perfect image. And Paul Mitchell Tea Tree Special shampoo and conditioner should become your must-have tools in achieving that perfect image. Thick, soft and shiny hair is without a doubt every woman's dream. However, most of us do not take proper care of it. Sometimes we just lack the time. But in most of the cases we just don't know how to do it properly and which treatment suits our hair type the best.
Moreover, experimenting with colors, curls and lamination's causes substantial damage. As a result, hair becomes dull, brittle and lifeless, and you get to know what dandruff and split ends are.


However, we might have lost the fight, but not the war. What are the ways to preserve and protect our hair? The health of our hair depends on such a basic procedure as washing. So choosing the right shampoo is the first step to health and beauty. Paul Mitchell Tea Tree Special Shampoo and Conditioner provide that much-needed perfect cleansing effect for the  hair and scalp. They give it all the necessary nutrition and hydration, restoring damaged hair at the same time.
People have been using tea tree oil in cosmetology and medicine for years. It can treat infections and burns. It is also being added to skin care products. Face creams with the addition of tea tree oil have a rejuvenating effect. Hair care products with this component make your hair soft and silky and help it to recover from the effects of an aggressive environment.
More On Paul Mitchell Tea Tree Oil Shampoos
The basis of Paul Mitchell Tea Tree Special Shampoo and Conditioner is Australian tea tree oil hair benefits. It's a unique blend of 48 organic elements, which have beneficial effect on the damaged hair structure, restoring and nourishing it. Tea tree oil is not toxic. It has tremendous healing properties, and its texture is weightless, while wonderful absorbency prevents hair from being "heavy".
Both the shampoo and the conditioner are suitable for all hair types. They can help to smooth and renew any kind of curls, retaining valuable moisture inside each hair. If you ever wondered what would your hair look and feel like if it was elastic, silky, soft and smooth – these two products will provide you with that experience of healthy and rested hair.
It is worth mentioning that the tea tree has that amazing and highly effective antiseptic action. This normalizes the natural grease secretion and soothes the scalp. The active foaming agents in the shampoo make it very economical. So you don't need to apply a lot in order to clean your hair from different types of dirt, grease or dust particles.
Tea tree oil uses also include dandruff prevention. So if you have this problem, you should not think twice and try this not only as a cosmetic product, but also a cure for your hair and scalp. We all know that the main purpose of any shampoo is to clean your hair. After shampooing the hair and rinsing the shampoo off, you will immediately feel the freshness and cleanliness.
Unlike many other active hair products, Paul Mitchell Tea Tree Special Shampoo cleanses it thoroughly but gently. Most of us have experienced the feeling of dry hair right after washing it. The silkiness disappears and it doesn't feel very smooth, even while still wet. Well, this is not the case with this shampoo.
Lather, Rinse, Repeat, Bliss!
To use: apply the necessary amount of the shampoo evenly and massage into hair, rinse with water thoroughly. After rinsing the shampoo off, apply the necessary amount of conditioner, don't try too hard on the roots, let most of it get into the length of your hair. Leave in for 3-5 minutes, enjoy the tingling effect and delicious scent, wash thoroughly. Voila! Your luxurious and revitalized hair will thank you!
Up Next: Pass That Herb! Herbal Essences Company And Products Review