DIY Dog Shampoo Recipes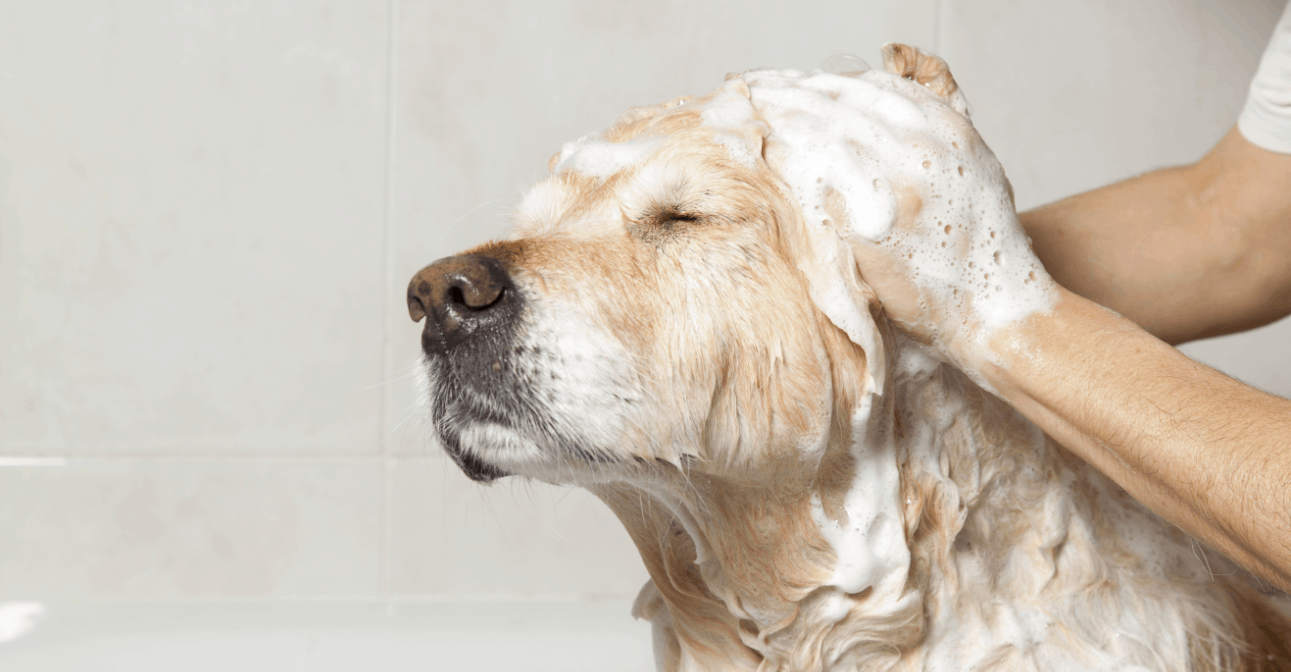 If you're a pet lover and more specifically, a dog owner, then you've probably been into a pet store a handful of times to buy your dog food, a treat or one of the other products available from the cornucopia on offer these days.
The shampoo market, specifically for dog shampoo, has grown tremendously in recent years with new formulas, techniques and innovations happening on a regular basis. This means that, as consumers, we essentially have more products to choose from when it comes to cleaning our pets. But is this a good thing or a bad thing?

One would think that more choice is always a good thing. That for some reason more choice means more options or different outcomes. The reality is that most of the products available on the market today basically offer the same results under a different label. So it's important to know why you're buying the products and how it will affect your pet.

Parabens, sulfates, petro-products and phthalates are considered bad for humans because of the damage they do within our bodies and to the surface of our skin over time. Dogs (and pets in general) are just as vulnerable to the harmful effects of these chemicals as us or any form of organic life for that matter. And where do we generally find these ingredients being used on a regular basis in such concentrated amounts? Our shampoo of course!

The Importance Of Using Chemical-Free Dog Shampoo Explained
One of the trends that has really grown in popularity over recent years in a variety of sectors is the rise of 'natural' or 'organic' products. While at face value this may seem like a good thing, the reality of the matter is that a lot of brands often use the term as a marketing gimmick to make their products seem natural and healthier.
Ultimately it will widen their market share as a great deal of people have woken up to harsh realities of using products that contain harmful chemical ingredients.

This makes it more of a challenge for us as consumers to really find what it is we're looking for – in this case, a natural alternative to the chemical shampoos of the past. Ultimately, this means that we have to put in a little more work to get what we really want or rather to know what to look out for or avoid.

In most cases, a product that claims to be organic, or uses natural products in their formula are not lying – but rather not telling us the whole truth. What this means is that whilst it may be true that their formula does contain certain natural products or even organic ingredients, they are often also adulterated (mixed) with other chemical ingredients. This makes their formulas cost-effective for large-scale manufacturing and to increase overall effectiveness.

This may be good for us as consumers on the one hand because the products we buy become cheaper and more effective. The downside comes with the various health-hazards that form in our body due to constant exposure to these chemicals over time. The same applies to our dogs. They are just as vulnerable to cellular damage as a result of exposure to chemicals as we are, if not more so. And as anyone who's ever had a sick pet will know, going to the vet is a difficult and often also expensive process.

The short answer to why you should use chemical free, natural products for your pets is because they're healthier! And if your pet's health means anything to you, then the reasons for making the natural choice are self-evident. Having the knowledge to make the right decision is up to you though, and that's where we come in.
Lavender Essential Oil For Dogs
Lavender essential oil is one of the more popular essential oils used in treating pets on a regular basis. This is largely because, when diluted properly, it's mild and gentle on the skin, yet highly effective.

Besides being a source of rich natural antioxidants, the oil also helps to calm both animals and humans because it has such an alluring and calming scent. This is especially useful for helping dogs remain calm whilst bathing and can help to let an anxious dog rest. Simply apply a few drops to the dog bath or dilute with a carrier oil for best results. 
Finally, the strong smell that comes from lavender is not only useful in making your pet (and ultimately your home) smell better, but it acts as a natural insect repellent as well. This means that you can help to get rid of fleas and ticks in your dog's coat and keep them at bay whilst using the oil. Lavender has been used as a natural pest repellent for centuries and was often grown around vegetable gardens as a means of deterring bugs from eating plants and vegetables.
While it is true that the essential oils are generally a lot safer for your pet in the long run, the reality is that overusing them or misusing them can still be dangerous. Always be sure to monitor your dog closely when using lavender oil and check for any allergic reactions or skin irritation. As always, check with your vet before going ahead. 
DIY Recipe For Dog Shampoo
When it comes to keeping your pet clean, there's nothing better than a natural shampoo to do the trick. Anyone who's ever owned a pet will know how expensive pet-related products can be. Whether it's a new food, a chew-toy or dog shampoo – dog's can be costly pets. So, if you don't want to sacrifice the quality of your dog's health, yet you also don't want to spend exorbitant amounts of money on expensive products, then going the DIY route is probably the best option for you.

Luckily, pets aren't as picky as humans, so the recipe is pretty straightforward and shouldn't take as much time as making a shampoo for yourself would. However, if you're not picky about how you wash your hair (some of us aren't), then you'll be happy to know that the recipe is mild enough for you to use as well. So you can make healthier soap that costs less and works just as well, if not better than the conventional products you may already be using. What you will need:

5 TBSP of Liquid Castile Soap.

3 Cups of Water.

2 Fresh Sprigs of Rosemary.

2 Teaspoons of Coconut Oil.

5-7 drops of Lavender Essential Oil. 

Glass Mason Jar.

Mesh Strainer.



This is a simple recipe that shouldn't take you more than an hour to make. First, place a bowl on the stove with the water and bring to a boil. Once boiling, add the Rosemary sprigs and cover the bowl. Drop the temperature to a low heat and allow the water to simmer for 10 minutes.

Once the time has elapsed, simply place the strainer on the top of your mason jar and filter the water through the strainer. Once the water is in the jar, simply add the Liquid Castile Soap, the Coconut oil and the lavender drops. Once you've done this, be sure to stir the mixture for a good 2 minutes to ensure that all the ingredients mix well. It's best to add the other ingredients while the water is still hot so they blend better.

Once this is done, seal the lid tightly and be sure to store the shampoo in a cool area out of direct sunlight – probably in a bathroom cupboard or on a shelf. When washing your dog, it's important to ensure that you've wet the whole body before applying the shampoo – as this makes it easier to rinse out.

As a final precaution before using this recipe at home (or any dog shampoo for that matter) learn to be careful when using it. For instance, it's important not to get the shampoo into your dog's eyes or mouth as it may burn or cause irritation and discomfort when ingested. Should this happen it would be advisable to take your dog to the vet before the problem gets any worse.
DIY recipes for natural dog shampoo https://t.co/G0xZAMzpkD pic.twitter.com/IwMNChSj0F

— The Dollar Stretcher (@dollarstretch) July 12, 2017
Conclusion
I've been using this recipe now for 3 months and I haven't had any issues with it. One jar lasts me a full month as I only wash my dog once or maybe twice a week at best. It smells great and leaves his fur soft, clean and fresh. Plus I haven't had any issues with fleas or ticks since using it – so it's an all-round winner in my books.

What's great is that if you leave the Castile Soap and the Coconut oil out of the recipe and switch it with a few drops of lemon juice and 1 or 2 drops of extra essential oil – you can make a great, travel friendly dog shampoo. This stuff isn't as effective as the original recipe but it does the trick for those long road trips with the family (and pooch) or to neutralize a nasty odor in the interim. You and your dog will be a lot happier after using this recipe and a happy dog makes for a happy owner in my experience.