How To Dilute Essential Oils: Essential Oil Dilution Guide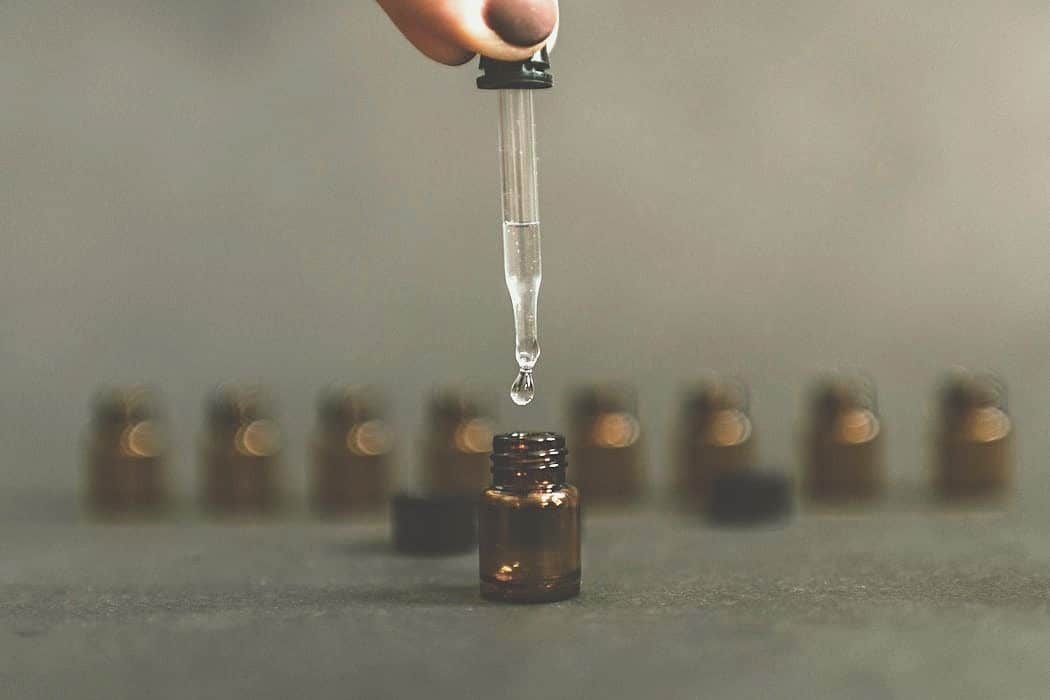 So you're just starting out on your holistic journey and you've begun to experiment with essential oils? Or you can confidently claim that you're fluent in everything you need to know about even the most complex EO blends but you're just here to double-check the facts.  Whichever way you look at it, knowing how to dilute these potent oils is essential (sorry, I had to). 
Essential oils are concentrated and volatile substances which means that more often than not they need to be diluted with a carrier oil such as coconut oil or sweet almond oil. This ensures their safe and effective use. But dilution is more than just a guessing game. In fact, there are some pretty basic rules that you need to follow. Let's take a closer look at why diluting essential oils is so important. 
Diluting Essential Oils Explained
It's a harsh truth that naturally-derived ingredients aren't necessarily safe for your skin in their natural state. The problem is that many people translate "natural" as "gentle" when this is often far from the truth. Although it's true that natural solutions will be more gentle on the skin than harsh chemical options, this doesn't mean that the natural option is kind to your skin in every way, no matter the formulation.
With this in mind, the potency of essential oils means that dilution is almost always necessary.  You may have noticed that most DIY recipes that incorporate essential oils will include a carrier oil or two. This is because when you're applying essential oils topically, there are numerous risk factors to your skin. Applying essential oils to your skin undiluted can result in a burning sensation, skin sensitivity, and the risk of a rash. 
How To Mix Essential Oils With Carrier Oils 
When it comes to diluting your essential oils, the most likely dilution partner is a carrier oil. The truth is that this can sometimes be a little overwhelming. With so many carrier oils available on the market, how are you supposed to know which one is right for your unique needs, and how exactly do you mix the two components? 
First things first, whenever possible make sure that you're purchasing pure, cold-pressed carrier oils. This ensures that you're only exposing your skin to the purest form of the oil without hidden additives or fillers. If you're applying the oil topically – which you probably are if you're diluting the essential oil – be sure to perform a patch test of the carrier oil on your skin. Give your skin a 24-hour test-period and look out for any signs of reaction before going ahead with the dilution. 
When you're mixing essential oils with carrier oils it's important to be aware of the ideal carrier oil to essential oil ratio to avoid any adverse reactions. Before we take a closer look at the dilution ratio chart, there are some basic rates to be aware of. For example, kids younger than 6 years old should be using a 0.25% dilution. Older kids, pregnant women, those with sensitive skin, and elderly individuals should use a 1% dilution. The average dilution rate for adults is 2% in most cases. For more serious short-term health issues you can go as high as 10-25% dilution, but you should proceed with caution. 
Essential Oil Dilution Chart Explored 
If you're not sure where to start on the essential oil dilution ratio chart, fear not. Let's walk through a basic dilution. Firstly, determine the size of the container or bottle that you wish to use. This is essentially the amount of carrier oil that you want, and you'll find it at the top of the chart. You then need to know the dilution rate that you want to use (I recommended starting with a low ratio before jumping in the deep end unless you're well-versed in your unique dilution needs). The square where those two numbers meet on the chart is the number of essential oil drops that you need to use. It's important to remember that this number is the total number of drops, so if you're combining multiple oils you need to divide this number between the essential oils. 
What Essential Oils Blend Well? Essential Oil Blending Chart Explained
Beyond dilution lies the world of essential oil blends. With each essential oil offering unique properties and aromas, there are certain oils that blend together particularly well to create a powerful concoction. For example, lavender essential oil is touted for its calming qualities, chamomile has a soothing effect, and cedarwood produces earthy tones that ground your mind. When combined together you maximize the benefits of each oil!
When it comes to essential oil blends it can be hard to know which oils go together. Although you can't technically go wrong with blending, it will be pretty clear when you've combined oils that don't match. This is why an essential oil blending chart can be so useful for any aromatherapy-lovers. The chart provides the ingredients for the blends. The number shown by each essential oil is the number of drops that need to be placed in a diffuser. If you're using this chart in conjunction with the dilution chart for topical use, then don't forget that the combination of oils gives you the total number of drops for your rate of dilution. With all this in mind, let's take a closer look at some popular essential oils diffuser blends recipes. 
6 DIY Essential Oil Diffuser Blends Recipe & Guide
1. Sleep Blend: Essential Oils For Sleep 
So, what essential oils are good for sleep? Truth be told, when it comes to essential oils for sleep, there are plenty of soothing oils to choose from. It can be overwhelming to know which one's to go for so we've picked three of the best essential oils for sleep to help you slip into a peaceful slumber. Although lavender pairs well with a range of EO's, chamomile and cedarwood contain particularly grounding and serene tones to aid sleep. There are many variations when it comes to essential oil blends for sleep, but if you're not sure where to start, this is the recipe to try. 
Combine:
3 drops of Lavender Essential Oil
3 drops of Chamomile Essential Oil
2 drops of Cedarwood Essential Oil
2. Breathe Blend: Essential Oils To Help Breathing
You might be wondering why you need something like a breath essential oil blend. Whether you're suffering from the flu or just seasonal allergies, one of the worst symptoms can be the effect on your breathing. Luckily, there are essential oils to help breathing which you can diffuse and inhale to clear your nasal pathway. Minty oils are often the go-to here, so you'll find that these cleansing and clearing essential oils revive your senses in this blend. You can use this essential oil blend for cough or colds too. 
Combine:
3 drops of Eucalyptus Essential Oil
3 drops of Rosemary Essential Oil
2 drops of Peppermint Essential Oil
3. Calm Blend: Essential Oils For Stress
In our never-stopping lives, many of us are experiencing the daily wear-and-tear of stress. A calming essential oil blend may be just what you need to soothe your anxiety. Essential oil blends for anxiety and panic attacks might not be at the top of your list when you're experiencing either of the two, but diffusing a blend in your home can really help to relax your racing your mind. The best essential oils for stress and anxiety vary but lavender, ylang ylang, and clary sage often come out on top. With this in mind, an ideal stress relief essential oil blend contains these calming and graceful oils to produce one of the best essential oil blends for anxiety. 
Combine:
3 drops of Lavender Essential Oil
2 drops of Ylang Ylang Essential Oil
2 drops of Clary Sage Essential Oil
4. Concentrate Blend: Essential Oils For Focus
Feeling lethargic might just be a symptom of our fast-paced society, but did you know that there were essential oils for energy? The best essential oils for focus and a much-needed energy boost are a minty and grounding combination of rosemary, peppermint, and cinnamon essential oils. You can use these perfect essential oils for studying to create your very own energy essential oil blend. I'd never recommended pulling an all-nighter, but if you need essential oils for concentration, this is the EO blend for you.  
Combine:
3 drops of Peppermint Essential Oil
2 drops of Rosemary Essential Oil
2 drops of Cinnamon Essential Oil
5. Immune System Blend: Essential Oils For Immunity
When it comes to essential oils for immune support, some people lift a skeptical eyebrow. Nevertheless, research reveals that potent essential oils such as eucalyptus essential oil contain antimicrobial effects against numerous toxins and bacteria through inhalation devices. This results in immune-modifying effects on the body. To this end, combining eucalyptus oil with other essential oils for immunity such as lemon and rosemary can create a powerful immune essential oil blend. 
Combine:
2 drops of Lemon Essential Oil
2 drops of Eucalyptus Essential Oil
1 drop of Rosemary Essential Oil
6. Mood Blend: Essential Oils For Happiness 
Nothing lifts your mood like the scent of citrus. Revive both your senses and your mind by using essential oils for happiness. Combining a range of citrus-based oils can create the perfect happy essential oil blend. In fact, lemon essential oil has been shown to have mood-boosting properties! True, this blend won't cure any long-term mood conditions, but if you're looking for a quick-fix for a bad day, this blend could be for you. 
Combine:
2 drops of Orange Essential Oil
2 drops of Lemon Essential Oil
3 drops of Bergamot Essential Oil
Conclusion
Let's face it – once you start your essential oil DIY journey, it can be hard to stop. Nevertheless, no matter your pro-level, it's important to know the rules of the game to ensure that you're giving your body the best that it deserves. By carefully utilizing an essential oil dilution chart you can rest assured that your DIY solution is safe for you and the family. Once you know how to dilute your EO's, you can move onto the exciting world of essential oil blends!
Although it's true that blends are a bit more of a free-for-all playing field, the sheer variety of oils can be overwhelming. It's with this in mind that a blending chart can be so useful. Not sure where to start with aromatherapy but you know what effect you're looking for? Pull up an essential oil blending chart, and you've got half the work spelled out for you. 
So, what do you need to get started on your diluting and blending journey? A clean bottle, some EO's, a carrier oil or two, and a diffuser. What are you waiting for? Get creative!