Top CeraVe Skin Care Products Review: Find What Works For You!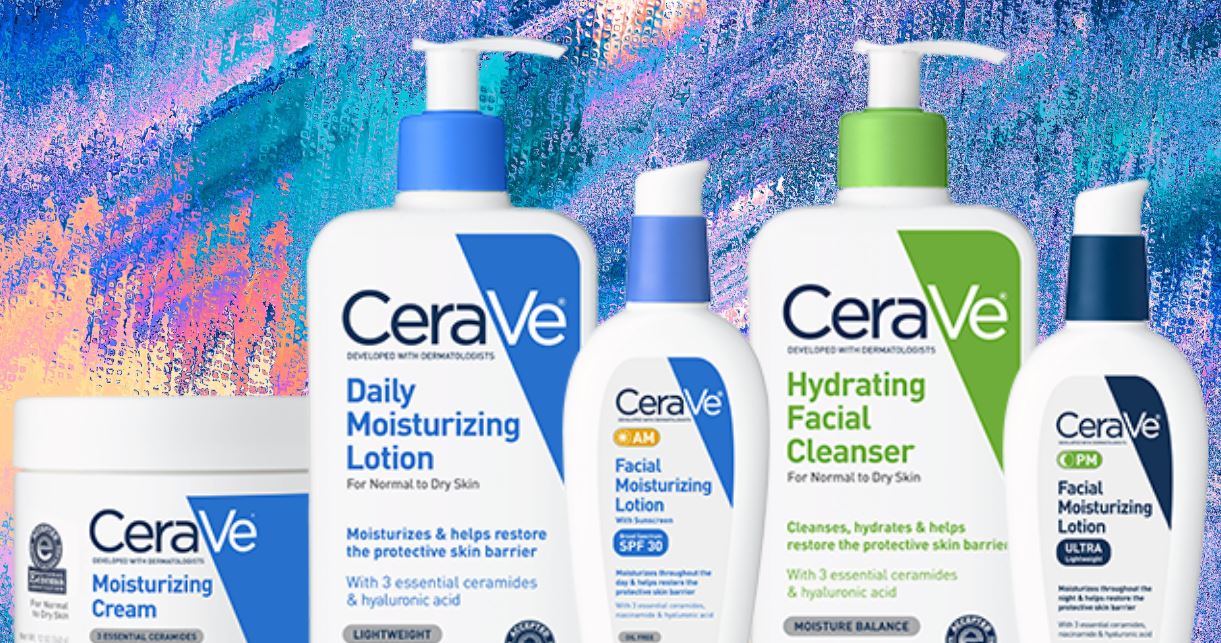 CeraVe who? There are so many skin care companies out there that it can make your brain spin. You probably have the one that you've been using since you were young, then there's the one that your friend swears by, and then there's that one that you've always wanted to try but never had the guts to purchase. So, how are you to choose?
Let's face it, many of us don't take proper care of our skin. It's the biggest organ in the body, yet it doesn't always get the TLC it craves. During the winter months, our skin needs some extra hydration, and during the summer months, it needs protection from the sun. And all year long, it needs to be cleansed and taken care of.
Does CeraVe deliver what your skin craves? Is this brand good for people of any age? Who's to say that you should swap out your other skincare products for the CeraVe line? Keep on reading to learn more as we present you with our CeraVe review.
In A Hurry? Find What You Need
What Is CeraVe Skin Care?
You might say that CeraVe is a newbie in the skin care industry. In 2005 the company's dermatologists created a line of skin care products using their special blend in order to repair and strengthen skin. These dermatologists developed the MultiVescular Emulsion Technology (MVE), which lets products release moisture throughout the day, reaching each layer of your skin. The company found that a specific mix of essential ceramides (which protect and moisturize skin), fatty acids, and other lipids were an ideal combo for skin.
After getting the ball rolling, CeraVe opened up shop in 2006 with 3 core products. These were their moisturizing cream, moisturizing lotion, and hydrating cleanser. Today, the company boasts over 70 items. It prides itself on offering affordable, easy-to-access, and quality goods. Its mission is to "provide therapeutic skincare for all".
Take Me Straight To Buy CeraVe Skin Care Products!
CeraVe Lotion Review
First up to bat is the CeraVe Daily Moisturizing lotion. I think that moisturizing our skin is often one of the most basic skin care steps that gets routinely overlooked. Unless skin is so dry and chapped that it's bleeding, many people won't even realize that they should be moisturizing their skin daily.
But hopefully, the neglect stops here. This lotion is perfect for normal to dry skin, and its goal is to moisturize your skin and restore your protective skin barrier. The CeraVe Moisturizing lotion is oil-free, so no need to worry about it clogging pores and causing acne and breakouts. As you might have guessed, it contains 3 essential ceramides as well as hyaluronic acid (which is also good for hydration). It's also great for sensitive skin, as this formula is hypoallergenic and non-irritating. And if you were in doubt, this lotion (among other CeraVe products) is accepted by the National Eczema Association (get it here).
The good – and possibly the best – news about this lotion is that it's good for both your face and the rest of your body. Now, you can basically always use your face moisturizer on the rest of your body, but not vice versa. I personally don't, as most face moisturizer brands charge an arm and a leg for their goods, so I try to use as little as possible. However, CeraVe recommends using this moisturizer for all areas of your body. So with the CeraVe Face lotion being the same as the lotion for the rest of your body, your life becomes easier as you don't have to fret about shelling out tons of dollars for a little tube of face cream.
CeraVe Face Wash Review
If you think a facial cleanser should be all about stripping things off of your face, think again. As the name suggests, the CeraVe Hydrating Facial Cleanser doesn't just clean your face, but it also moisturizes it in the process. And that's what helps your skin find the perfect balance to keep feeling and looking healthy.
The CeraVe Hydrating Cleanser is great for normal to dry skin. It promises to remove dirt, makeup, and debris, all while being gentle on your skin. The intention of this product is to cleanse and refresh your skin without over-stripping it or leaving it tight and dry. It uses CeraVe's special blend of ingredients to hydrate and balance your skin, while it uses CeraVe's MVE to hydrate your skin steadily throughout the day and night.
To use the face wash, simply start by wetting your skin with warm water. Then massage the cleanser into your skin gently, using circular motions. Once you've done this, just rinse off and you're all set.
Check it out on Amazon: CeraVe Face Wash
CeraVe Moisturizing Cream Review
When it comes to plain and simple hydration, the CeraVe moisturizer is truly wonderful. It's formulated for normal to very dry skin. And the CeraVe cream ingredients include the company's signature blend of hyaluronic acid and ceramides. It also includes Petrolatum, the "gold standard" of occlusive ingredients because it creates a barrier that prevents your skin from losing moisture. It also does not contain fragrances, parabens, or oil and is hypoallergenic.
CeraVe understands that a skin barrier without proper protection can lead to dryness and itching or even aggravate skin conditions such as eczema and psoriasis. The CeraVe cream, therefore, hydrates the skin as it restores the protective barrier. Similar to the lotion, the CeraVe face moisturizer can also be used for your entire body. At $15.95 for a 19-ounce jar, you get a good bang for your buck.
I want it: CeraVe Moisturizing Cream


CeraVe Foaming Cleanser Review
There's nothing that I like more than a foaming cleanser. The fluff feels gentle on my skin, so I prefer to use it in the mornings when I only need something lighter on my face. If you're into suds like me, you might want to check out the CeraVe Foaming cleanser. Designed for normal to oily skin, the goal of this product is to remove oil, dirt, and makeup from your face without messing with your skin's natural protective barrier.
Aside from the staple ingredients of hyaluronic acid and ceramides, this CeraVe facial cleanser includes niacinamide. Niacinamide also goes by the name vitamin B3, and it's a popular skin care ingredient because of its ability to soothe and restore the skin barrier.
The CeraVe cleanser will cleanse your skin, remove extra oil, and leave your skin refreshed, all without over-stripping it or making it feel dry and tight. It's a gel-based foaming cleanser that won't irritate your skin, so you don't have to worry about any morning redness.  
CeraVe Body Wash Review
When it comes to body washes, CeraVe's got what to choose from. Let's get started with the Hydrating body wash. It has a gentle foaming formula and is good for people with normal to dry skin. CeraVe believes that body washes don't have to be harsh and that the purpose should not be to simply cleanse, but also to nourish. This is exactly why this body wash contains emollients, which will work to moisturize and soften your skin throughout the day. The cleansing elements are non-irritating, making it great for sensitive skin.
Depending on your skin needs, you might opt to check out the CeraVe SA Body Wash for Rough & Bumpy Skin instead. The "SA" stands for salicylic acid, which is a gentle yet effective exfoliating agent. Exfoliation is a great way to improve the texture of your skin, making it softer and smoother. And it does so without any harsh microbeads that could scratch you or somehow stay on your skin even after you're done washing. (Erm, not that that's ever happened to me…) Plus, the niacinamide in the body wash helps to calm skin. Get your own here. 
CeraVe Am Facial Moisturizing Lotion Review
If there's one thing my mom taught me, it's that you should not leave home in the morning without putting on moisturizer! It's one of those golden rules you apparently learn in Mommy school that you must pass down to your children, lest they sin and leave in a rush without moisturizing. So in case you missed the memo, here it is.
As most companies know to do nowadays, the CeraVe AM Facial Moisturizing lotion contains sunscreen to not just moisturize your skin but also protect it from potential sun damage. UV rays can lead to fine lines, wrinkles, sun spots, and even risk of cancer.
Let's start with the basics. This product includes many of the wonderful ingredients we've covered in other CeraVe products, including hyaluronic acid, niacinamide, ceramides, and MVE. Aside from the addition of SPF it also includes InVisibleZincTM technology, which is microfine zinc oxide. This helps the CeraVE AM Moisturizer spread evenly and easily without leaving any residue. This product is great for all skin types and won't clog your pores. You can have some peace of mind knowing that it's recommended by The Skin Cancer Foundation.
Shop now on Amazon: CeraVe Am Facial Moisturizing Lotion
CeraVe Night Cream Review
Ever wonder what your skin is doing while you're sleeping? It's some great downtime for your skin, but what exactly occurs to give you that morning glow?
Well, with the CeraVe Skin Renewing Night Cream, you'll be giving your skin the extra support that it needs to rejuvenate and replenish overnight. Perfect for all skin types, it includes a special complex of biomimetic peptides. These help to make tired-looking skin appear refreshed while the other go-to CeraVe ingredients work their magic in other ways. Use this cream if you want to reduce the appearance of wrinkles and fine lines and wake up with a fresh face. Just use it before going to bed, applying it in small dots on the areas of your face that need it.
Take me to Amazon: CeraVe Night Cream
CeraVe Resurfacing Retinol Serum Review
There's nothing worse than experiencing acne. Oh wait, there is- the scarring that comes afterward, a reminder for days, weeks, or even months of your unwelcomed visitors. That's where the CeraVe Retinol Serum comes into play.
If you're looking to minimize post-inflammatory hyperpigmentation (acne marks) and the appearance of pores, this serum can refine your skin without damaging its protective barrier. The ingredients include encapsulated retinol to resurface the skin, and the serum also contains licorice root extract to brighten skin. It's lightweight and fast-absorbing, helping to even out your skin tone and improve complexion. Get your own here. 
To use the CeraVe Resurfacing Retinol Serum, apply it each day to your face evenly (but avoid your eyes and lips!). You might need to give yourself some time to adjust, so if you notice any sensitivity to the serum you'll want to use it less frequently at first. Also, make sure to use a sunscreen while using the serum so that you're covered from potential sun damage.
CeraVe Acne Cleanser Review
Teens and adults alike are at risk for acne, which I'm sure you didn't need me to tell you. It's honestly one of the worst surprises to wake up to in the morning, whether it's just a little dot or one of those zits that hurts to the touch. Which is why companies search far and wide to find the perfect acne product.
The CeraVe Acne Cleanser is worth checking out, but it won't be sufficient on its own if you suffer from more serious acne. It will help clear pimples and blackheads on your face and prevent new ones from popping up. And the benzoyl peroxide can help blemishes heal while still protecting your skin's barrier.
In order to reap the most benefits, you'll want to use this product each morning and night. Just use enough to amount to the size of a dime on skin that's damp and gently massage the serum into your skin, taking care to avoid your eye area. Then rinse it off fully. Start off by using this serum once a day, then building up to twice a day if it's needed and you feel that doing so will not dry out your skin too much. If you do notice excessive drying out, go back to using the serum only once a day, or even once every other day if necessary.
Order now on Amazon: CeraVe Acne Cleanser
CeraVe Sunscreen Review
Long walks on the beach, a pool party with friends, outdoor dining – all of these are activities that require proper sun protection. In situations such as these, a moisturizer with a little SPF thrown in just won't do. No, you'll need something stronger if you want to be sun smart. And that's why CeraVe makes sunscreens separate from their SPF-infused moisturizers and creams.
The CeraVe Hydrating sunscreen is designed for your whole body and provides a lightweight, non-greasy feel. There's a separate sunscreen for your face and for the rest of the body, which will help prevent your pores from getting clogged. This CeraVe Mineral sunscreen has titanium dioxide and zinc oxide, which form a protective barrier to protect skin from UVA and UVB rays without irritating skin that is sensitive.
When applying this sunscreen, you might notice that there's some white residue that remains. Quite annoying, I know. It basically happens because a mineral sunscreen stays on the surface of the skin in order to better protect it. By rubbing it in thoroughly, you should be properly protected without anyone being able to see any of the product on you. There's CeraVe SPF 30 or SPF 50 for you to choose from. In addition, CeraVe makes another version of sunscreen for babies, and it's water-resistant for up to 80 minutes.
I want it: CeraVe Sunscreen
CeraVe Eye Repair Cream Review
You've got a 6AM alarm set, giving you the gift of puffy eyes and dark circles. Mondays stink. But they can stink a bit less with the CeraVe Eye Cream. It can soothe and brighten delicate skin, all while being safe to use around the eyes thanks to the ophthalmologist-approved formula.  
This cream uses a Marine & Botanical Complex to accomplish the task of minimizing dark circles, reducing puffiness, and brightening the area around your eyes. It's great for all skin types and is fragrance-free, making it a no-frills product that anyone can enjoy. Sure, there are plenty of well-respected companies that sell this type of product. And some of them are pretty high-end. But since the CeraVe cream only costs $10.77 a pop, I think it's worth checking out (get it here).
CeraVe Vitamin C Serum Review
We've all heard about how great vitamin C is, but we don't all meet our daily recommended quota of it. Vitamin C is a great antioxidant that not only protects us against environmental damage but also minimizes the appearance of fine lines and wrinkles and helps even out skin tone. The CeraVe vitamin C serum is a great anti-aging tool that helps protect against free radical damage that can lead to premature skin aging. It can also boost the skin's radiance and make it look healthy.
The CeraVe serum has 10% pure vitamin C as well as other ingredients including vitamin B5, which soothes skin and improves skin texture, boosts hydration, and protects the skin's protective barrier. The serum actually comes in protective packaging, which helps prevent oxidation from happening so that the product will continue to perform well. 
Take me to Amazon: CeraVe Vitamin C Serum
Is CeraVe Cruelty Free? Does CeraVe Test On Animals?
Is CeraVe cruelty-free? It's a tricky question, but when it comes down to it the answer is no. Most of their products are vegan, and all of their products will be within a few months' time. CeraVe's parent company, L'Oréal, stopped testing products on animals in 1989, yet CeraVe still sells in China. The problem here is that China requires many cosmetics products to be tested on animals, so any company which sells its goods there can't be considered cruelty-free.
CeraVe Vs Cetaphil Explained
If you've been hemming and hawing about buying CeraVe or Cetaphil, you're not alone. They're both popular skin care brands, and they're both pretty affordable. Furthermore, they make similar products that are irritant-free, making the decision even tougher. (Check out Cetaphil products here).
Each company is great. But when it comes to individual products, everyone has different preferences and needs. Some prefer one fragrance over another. Some like a thicker moisturizer, while others like a lighter one. So my recommendation is that if you're in the market for something specific, do your research before you make your decision. Both companies' products are dermatologist-recommended, but ultimately CeraVe wins out because of its hyaluronic formula, ceramides, and cholesterol.
Conclusion
It's no wonder that people rave about CeraVe. Its gentle yet effective formula permeates all of its products, making for a quality line that you can rely on. CeraVe seems to take what it does seriously, and I appreciate that in a brand. I know that they take moisture and hydration as an ultimate priority when it comes to skincare, which is something many people struggle with year-round. So if this speaks to you, run out and get your CeraVe products today!
Up Next: Top Olay Skin Care Products Review: All Of Olay's Best
Before You Go! Shop Our Picks on Amazon Now