Aveeno Baby Wash And Shampoo Review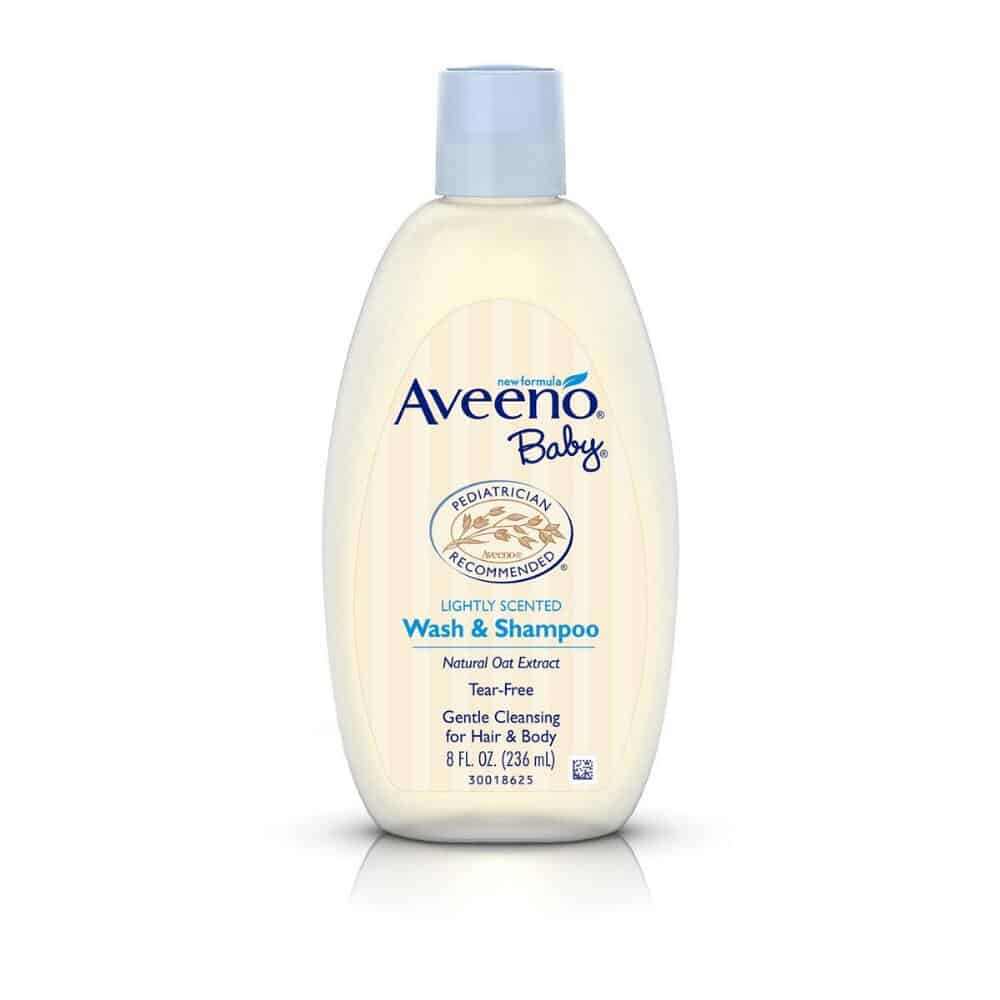 As a new parent, my little girl's very first baby bath time never scared me. Maybe it's because I have lots of nieces and nephews that I gladly helped out with along the years. Maybe it was all the babysitting I did when I was a teen to save up to buy some cute clothes. Regardless, I had always looked forward to that special bonding time between parent and child.  I also came to that bath time armed with some knowledge gained from the aforementioned reasons about which baby products to use.
When it comes to keeping your baby clean, there's a mind-boggling array of options to choose from, whether it is baby soaps, shampoos, conditioners or body washes. So how do you pick the best one? Well it's difficult to say that there actually is a "best," that suits everyone.
When looking for a shampoo for babies and children, parents should seek a product that will clean their children's hair and scalp without drying out their skin and without containing a truckload of harmful ingredients. According to research from 2015, amphoteric detergents are ideal for baby shampoos because "they don't cause stinging in the eyes of children, foam well and leave hair in manageable state".
This might seem obvious to you, but as you will soon see, even products that are considered safe and marketed as natural often have SOME ingredients which are not so great. This is our Aveeno Baby Wash & Shampoo Review.
Unless you've been raising your kids on a remote island with no internet access, you've heard of Aveeno products for children. In 1945 Aveeno, now owned by Johnson & Johnson, was founded and they first introduced a Soothing Bath Treatment that contained colloidal oatmeal. According to another 2015 study, "Oat (Avena sativa) in colloidal form is a centuries-old topical treatment for a variety of skin conditions, including skin rashes, erythema, burns, itch, and eczema". All of Aveeno's products since have contained oat extract and/or colloidal oats. In 2000, Aveeno launched their own line of baby products meant to gently clean, moisturize, and protect a baby's sensitive skin.
The oat ingredients are supposed to provide a soothing effect while gently nourishing delicate skin. My siblings have been using Aveeno's products for years and my nieces and nephews all seem to enjoy them, so with that resounding recommendation I tried it as well with mostly positive results. 
Aveeno Baby Wash Natural Oat Extract
The product has a pleasant fresh scent that is not overpowering, and it lathers nicely to create fun bubbles for a child to play with. My daughter likes the scent and especially the bubbly bath water. This two-in-one product takes care of the head-to-toe cleansing without stripping the skin of its natural oils, and babies do not sweat as much or get very dirty, so there really is no need to spend your money on more than one product (and expose your child to even more chemicals).
Pediatricians generally recommend this product. This is due to its blending of natural oat extract in a soap-free, paraben-free, and tear-free formula. It rinses off easily and doesn't leave the baby's skin tight and dry. Aveeno Baby Wash & Shampoo is also hypoallergenic, suitable for sensitive skin, and can be used every day. It can even be used on newborns, providing the gentlest cleansing for both body and hair.
Bathing A Baby Explained
According to a 2012 study, "Infant skin is different from adult in structure, function, and composition." The oat kernel extract has hydrating properties, which is why it is so effective in preventing drying. Though if your child has extremely dry skin, you might still need extra moisturizer. It is a soothing cleanser for babies and kids (and in a pinch, it even works well for adults).
Until a baby starts moving around on the ground and really getting dirty, a daily bath isn't usually needed. That is, assuming you're quick with clean diapers, messy feedings and spits-ups. You should already be cleaning the parts that really need attention: the face, neck and diaper area. Infants will only really need a bath two or three times a week.
At first a sponge bath, until their umbilical cord stump heals roughly one to four weeks after birth. Then a baby tub bath. Eventually a regular tub bath, after the baby can sit up on their own and outgrows the small baby tub. This will leave your baby's skin clean, soft, moisturized and healthy.
Bathing a baby more than two or three times a week can be problematic because our skin excretes a layer of oily substance, called sebum that serves to lubricate and waterproof. And since baby wash and shampoo are surfactants, it breaks down these oils that are needed to protect the skin from drying out.
This is especially crucial when it comes to washing little private parts. If you browse reviews online, nearly every shampoo has negative comments from parents complaining that their baby's skin was dried out from the shampoo, and while I have no doubt that there are times when the shampoo is to blame, over-washing is more likely the reason.
What's In The Bottle
I think Aveeno, like many other personal care and cosmetics companies, is leading the consumer on a bit about how natural and healthy their products are. This product looks and sounds pure and harmless enough. It even says "Pediatrician Recommended," yet somehow I've seen that on other products which have been proven to contain unsafe ingredients. While it undoubtedly has less harmful ingredients than some other similar products, a closer look at the label still yields some concerning items:
Ingredients– Water, Cocamidopropyl Betaine, Peg80 Sorbitan Laurate, Sodium Laureth Sulfate, Sodium Chloride, Peg150 Distearate, Sodium Benzoate, Tetrasodium Edta, Fragrance, Polyquaternium10, Butylene Glycol, Avena Sativa (Oat) Kernel Extract. May Also Contain Citric Acid.
PEGs (polyethylene glycols) are petroleum-based compounds. Depending on manufacturing processes, PEGs can be contaminated with measurable amounts of ethylene oxide and 1,4-dioxane, which are possible human carcinogens. Ethylene oxide can also harm the nervous system. 1,4-dioxane is also persistent. In other words, it doesn't easily degrade and can remain in the environment long after it is rinsed down the shower drain, and there are two PEG ingredients here.  
Cocamidopropyl betaine is a chemical that is derived from coconuts and is used to make products produce more foam. Because cocamidopropyl betaine is produced from coconut oil, even some personal care products labeled as natural still contain it. Although the government regards the ingredient as safe, some people do have negative reactions after exposure to it


Tetrasodium EDTA is a water-soluble ingredient used as a "chelator," which means it binds to certain mineral ions to inactivate them. Through this action, it can prevent the deterioration of products, as it stops the growth of mold and other microorganisms. Tetrasodium EDTA also helps maintain clarity, protect fragrance compounds, and prevent rancidity. One of its main uses is to help personal care products work better in hard water. This used to be on my top "avoid" list, however, as more information has become available, it appears to be a lower risk ingredient. While it does have a dubious history in the way it's made, the final chemical is not a carcinogen.
Sodium Laureth Sulfate –Most people know to look for sulfate-free products if possible. They are somewhat harsh chemical cleansing agents that are often used in industrial cleaning products. Sodium Laureth Sulfate is also very bad for the environment and has been shown to be lethal to aquatic animals. Even though sulfates themselves are no longer believed to cause cancer, when they are combined with other compounds, they can be quite hazardous.
Finally, Butylene Glycol is a known form of alcohol. Those that suffer from eczema should do a test run to see if there is any allergic reaction to this product. Though these are all very commonly used in personal care, parents should be aware of them and the potential effects they may cause.
So, Are The Ingredients Safe?
I want to stress that I'm not saying this product is dangerous. If it were, I certainly would not be using it. However, it bothers me when companies portray their products to be something they are not. Aveeno Baby Wash & Shampoo certainly isn't as "natural" as Aveeno would have you believe.
Another aspect about this product that I'm unhappy with is the bottle itself, it does not offer a good grip, especially for slippery hands.  I also prefer a pump top to get an exact amount (and it is easier to use when holding the baby with one hand).
Why I Still Use Aveeno
The market is chock-full of baby care options all vying for your attention with attractive labels that make them appear 100% baby friendly. You need to wise up and make sure you know what you're buying. While buying baby care products, it is very important to keep in mind the sensitive skin of your child. Choose only products which are specially formulated for babies. The chances of your baby getting skin irritation and/or infections are reduced as the ingredients used in these products are gentler as compared to regular products for adults.
However, gentler doesn't always mean risk – or chemical-free. You need to always check the ingredients label to make sure you're using a safe product. Now, we're not trying to make anyone paranoid. Rather, we'd like to educate you regarding which ingredients are most optimal, and which should be avoided.
There is no one product that is perfect for every skin type. However, this shampoo may be as close as you can get. That is, when you're looking for a name-brand baby wash that is generally safe for all skin types. Though I'm not overly happy about some of their ingredients, the results seem to speak for themselves. I do have several other Aveeno products in my household, and they work well too. They seem to be less harmful than many other similar products.  
Using Chemical-Free Products
There is no such thing as a personal care product that is chemical-free, because they all contain chemicals. The closest you can get to natural is using plant based chemicals. These are better than artificial ones, but also need to be checked carefully for side-effects.
Slowly but surely my family and I are switching over to organic brands of toiletries, including children's personal care products. You can usually find a good variety at either your local health food store, or by searching online. They tend to be more expensive, but I prefer not having to worry about any negative health effects.
Keep in mind that not all products marked "natural" or "organic" are in fact wholly natural or organic. I have no doubt in my mind that a true organic and natural shampoo would be a better alternative. I have yet to find one that works as well. When I do, I'll likely switch over to it. Till then I will continue to use this product. It might not be the best at the end, but it's been the best so far.
Aveeno Baby Wash Pros and Cons
Aveeno Baby Wash and Shampoo Pros
Blends into a nice lather that gently cleans your baby's delicate skin and hair. Doesn't dry hair out.

Formulated with hydrating oat kernel extract, this product keeps your baby's skin and hair soft and soothed.

The light fresh scent is not too strong.

Tear-free, paraben-free, soap-free, and hypoallergenic.
Aveeno Baby Wash and Shampoo Cons
Is not as natural as it portrays itself to be. Some of the ingredients are less than optimal, especially in a baby product.

The bottle itself is not made in a way that affords a good grip for slippery hands.

A pump-top would have been much easier to use and to get the exact amount out of.

Some people prefer unscented products.
Please note, baby products should not cause any allergy or irritation to your baby. If you observe any rash developing on your baby's body, stop using it immediately. Consult a doctor in the case of an incident like this.
Conclusion
A baby's scalp and hair can be maintained with relative ease. Make sure to clean baby's hair and scalp every two or three days or so, and everything should work out fine. Unless some medical condition is involved, your little one's locks can be taken care of with the help of products formulated especially for babies. It's best to use products with mild ingredients, and to use them less frequently. Babies have skin which is more sensitive than adults, so it's best to not overwhelm it. Natural ingredients, plant extracts, and gentler application – this is pretty much all you need in order to keep baby's head safe and sound.
Aveeno has been supplying top-shelf baby products for a long time. Their baby wash and shampoo is one which is used all around the world. It has its potential drawbacks, like any other products, but you – like so many others – may find that the advantages and benefits outweigh the minuses. It's definitely a baby wash which is worth a try.
Up Next: Dove Company History And Review: Real Beauty, Real Soap!