Cetaphil Baby Wash And Shampoo With Organic Calendula Review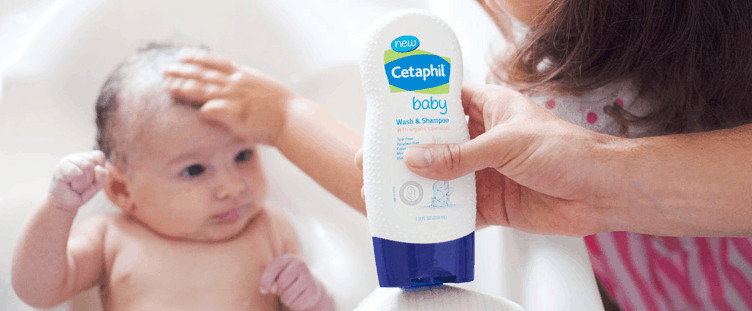 As a parent, you know that the health and well-being of your children come before anything else, even yourself. For first time parents, baby bath time can be a bit tricky in terms of figuring out when what and how. This isn't a guide to baby bath time, although I will mention it briefly to explain how I utilize a product that has quickly become a favorite in my family: Cetaphil Baby Wash and Shampoo with Organic Calendula.
Babies don't actually need a bath every day. As long as you clean change their diapers frequently and clean their spit up, they don't need regular baths until they are moving around. In the beginning, they only get a sponge bath once or twice a week until their umbilical cord heals and comes out. After that first week or two, they can be moved to a bath and then eventually the regular bathtub when they can sit up on their own.
When Should You Use Baby Wash and Shampoo?
At the very start of a baby's life, they do not require wash or shampoo. Heck, they might not even have any hair for a while, and just a gentle cleaning with warm water should be fine. However, if they haven't used it until then, parents generally will want a gentle wash and shampoo once their baby begins moving around and can get into things.
What Should You Look For In a Baby Wash and Shampoo?
Many soaps and shampoos, even those made for babies, contain ingredients that can have long-term, harmful effects on children. So with that in mind, my husband and I put safety at the top of our criteria and looked for soaps free of harmful chemicals, added fragrances, and unnecessary dyes.
We're not anti-chemical, since, after all, everything contains at least some sort of chemical, but we lean towards products that are as gentle and safe as we can find. The delicate hair of a baby must be given a mild shampoo that will keep the scalp clean and moisturized.
An adult shampoo has sulfates and many other chemicals that are not suitable for a baby's hair and skin. A high PH-level in the shampoo is also harmful because it causes the hair to tangle. We came across many baby products on the market that claimed to be "baby safe" and "natural," whether in the product name, packaging or advertising, but just because it says "natural" on the label doesn't mean it's safe. Companies use a lot of wiggle room in labeling, and the term "natural" isn't globally regulated.
As I said above, it's difficult to find a cleaning product without chemicals these days. The best you can do is find a product that uses chemicals that are plant-based. Be sure to check their side effects though. Look for a combination of shampoo and wash. Babies do not sweat much or get very dirty, so there really is no need to spend your money on more than one product (and expose your child to even more chemicals).
Charlie's sensitive skin would like to thank #Cetaphil for making baby products. More my blog! #ad #CetaphilMomSquad https://t.co/hpuBi3nIqY pic.twitter.com/ycL6745M2Z

— Shannon Willardson (@shanwillardson) September 12, 2017
Over-Washing Babies, It's A Real Thing!
Babies are obviously reliant on their caretakers for even the most basic of needs, and new parents are often left wondering if they are doing everything right. Many times, that translates into going a bit overboard. Whether worrying that every cry might be something serious, changing barely damp diapers, or excessive burping, it often takes weeks if not months for new parents to get the feel of things. While most of the anxious hovering makes no difference to a baby, over-washing can lead to health concerns.
Some babies enjoy being carefully placed in warm water right from the start, while others need a little bit of time to get used to new sensations on their skin. Bathing your new baby is also usually about much more than just cleanliness. Giving your baby a bath can be a lovely way to strengthen your bond, and because of this you may want to wash the baby more often than is needed. Plus, let us admit, there's nothing cuter than seeing a baby splashing in the bath, soapy suds bubbling all over their chubby folds, arms and legs!
Why can this be harmful? Our skin excretes a layer of oily substance, called sebum, that serves to lubricate and waterproof. And since baby wash and shampoo are surfactants, it breaks down these oils that are needed to protect the skin from drying out. This is especially crucial when it comes to washing little private parts. If you browse reviews online, nearly every shampoo has negative comments from parents complaining that their baby's skin was dried out from the shampoo, and while I have no doubt that there are shampoos to blame, over-washing is more likely the reason.
Cetaphil Baby Wash And Shampoo With Organic Calendula Review
Cetaphil Baby Gentle Wash & Shampoo with Organic Calendula is dermatologically tested and recommended by pediatricians. It is a safe, soothing, tear-free cleanser for babies and kids (and in a pinch, even works well for adults). It contains moisturizing organic calendula, and aloe, is hypoallergenic, and does not contain parabens, mineral oil, or artificial colors. It has a sweet, flowery scent that is really yummy and not at all overpowering.
The previous formulations of this product, which lacked the Calendula and had various other compounds, was less liked by my older siblings for their kids, but when this came out, I decided to try it for my little Ashley, and it was a home-run. This two-in-one wash and shampoo for my baby's bath time lathers up beautifully on my daughter's blonde hair, leaving it soft to the touch and wonderfully clean smelling.
She has nearly shoulder-length thick hair, and with Cetaphil Baby Gentle Wash & Shampoo, I don't need to use any conditioner to keep her hair tangle-free.
She loves splashing around in the bath and she never suffered from dry skin or irritation from the product, so it is definitely a tear-free formula (though we still try to keep it out of her eyes as much as possible). As a body wash, it has a good consistency and isn't too runny. It spreads well on her skin and is easy to rinse off. It doesn't produce a ton of lather, which in my opinion is a good thing for a baby.
Cleansing products don't need a lot of lather to get the job done properly and it means there are less slathering agents in the product. This will gently cleanse my daughter's delicate skin and hair without drying them out.
Though I prefer a pump top to get an exact amount (and it is easier to use when holding the baby with one hand), I did like the thoughtful anti-slip packaging of the bottle. It has dots on the sides which, along with the figure eight shape, help to prevent it from slipping off your wet hands. It also has a stopper at the opening of the bottle, so the liquid wash doesn't flow out unless you squeeze the bottle.
This is great for preventing spillage if the bottle tips over. The dots also help little hands get a grip on the bottle for those little tots who enjoy playing with the bottle.
What Is Calendula?
Calendula is a plant, the flower of which is used for various medicinal purposes. Among other things, Calendula is applied to the skin to reduce pain and swelling.
Pros
Dermatologist tested and recommended by pediatricians.

Gentle wash and shampoo combination that creates a nice lather that doesn't dry out your baby's skin or hair while washing.

Formulated with calming organic calendula, it keeps your baby's hair and skin smooth and moisturized

The flowery scent isn't too strong.

Tear-free, paraben-free, colorant-free, oil-free and hypoallergenic.

Has a good non-slip shape and cap that prevents spillage.
Cons
I would have prefered a pump top.

Some may prefer their products be unscented (because little babies generally smell yummy on their own).
Conclusion
Two thumbs up. I have even used the shampoo myself after I had run out of my own shampoo. You can check out the other four Cetaphil Baby line products that all use organic calendula extract to moisturize, soothe and nourish babies sensitive skins without parabens, mineral oils or dyes: Baby Ultra Moisturizing Wash, Baby Diaper Cream, Baby Daily Lotion, and Baby Moisturizing Oil.  They are all hypoallergenic and highly recommended by dermatologists. Cetaphil offers a product that takes care of your baby's cleansing needs all while being gentle and soothing.