20 Tips For Hair Care Defense From The Summer Sun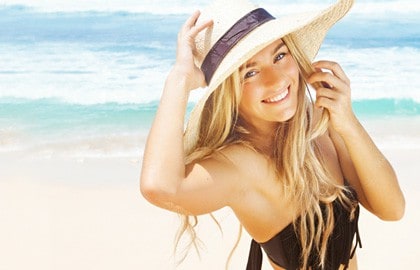 Summer time is here and whether we're hitting the pool , or  just walking around in the sunshine, we want hair that it is healthy, shiny and radiant. This is not unachievable. Summertime brings about its own unique challenges to hair care. The following tips will help you keep your tresses looking their best and give your hair care defense from the summer sun!
20 Summer Hair Care Tips
1. Keep split ends at bay, start your summer with a trim
The drying summer heat can bring about much more split ends than you're used to the rest of the year. By starting out with a trim, you'll get rid of any split ends that you have now and refresh your style.  Your hair goes through cycles of growth and rest. During the summer and spring months there are hormones your body releases that tend to kick hair growth into high gear. So keep in mind that you might need a mid-season trim, too.
2. Shampoo your hair more frequently (but not too frequently), using a gentle shampoo
You will produce more sweat and oils in your scalp in the summer, so if you have naturally oily hair, then you may need to shampoo every other day. Washing more often regularly strips your hair of the essential oils that moisturize it naturally. Use a gentle, natural shampoo to nourish your hair.
3. Conditioning is a must
The humid weather can cause all sorts of trouble for your hair.  In order to prevent your hair from getting frizzy don't forget to use a good moisturizing natural hair conditioner. Some people recommend using a serious deep moisturizing conditioner at least once a week on top of the normal conditioner use.
4. Give your hair a break from chemicals and go natural
Summer time is when you want to replenish the vitality of your hair and give it a rest from the chemicals you use throughout the year in your hair care products. Look for natural products with the tags hydrating, replenishing, and moisturizing. Avoid any styling product that has formaldehyde (alcohol) and the products that come with the tags "Volumizing" or "Bouncy." They dry out the hair.
You'll want to leave the hair spray alone as well. Typical spray ingredients like alcohol and ethanol can be very damaging to your hair because they dry it out, causing it to snap or break very easily. If you must use hair spray, try using one that contains natural ingredients and conditioners, as they are not as bad.
5. Keep your hair moisturized for frizz control
This will be one of your main challenges. Humidity makes hair prone to frizzing, even if your tresses aren't normally vulnerable, because parched hair soaks up the extra moisture in the air, causing the shaft to swell and leading to breaks in the cuticle. Your hair will puff up in every way except smoothly.
Besides for good moisturizing shampoos and conditioners, hair masks and treatments are much thicker in their consistency and they will penetrate deeper into the hair follicle. (There is a great Karetese hair mask that we reviewed a while back.)
6. Leave the dryer alone
Your hair will be dealing with plenty of heat and dryness in the summer without blowing more hot air on it, plus you'll likely sweat more when blow-drying which will make your hair oily. Blow-drying also can contribute to your hair frizzing up, so resort instead to air-drying as much as possible. You can towel-dry, but don't be overly aggressive (or it might become knotty) and remember that a shorter mane will dry quicker.
7. Avoid using hot tools
Heat styling is bad for the hair, period. But like many things that are bad for us, we stick with it because they make us feel and look good. In the summer try giving your hair a break from flat irons, and curling irons. Instead, wash your hair at night and pile it up in a bun, a braid, or ponytail before you head to bed, and when you get up in the morning, you should have a nice wave. It's the perfect look to add accessories like a thin headband or pretty barrettes.
8. When your hair is dry, use fingers or a wide-tooth comb instead of a brush
Be patient. Avoid pulling anything through your hair when it's wet, because that's when it's most prone to breaking. When your hair is dry, your fingers or a wide-tooth comb will be the most gentle for untangling hair, as brushes can pull and tear when they snag tangled strands.
9. Stay hydrated with lots of fluids 
Replenish the fluids you need for healthy hair from the inside! Staying hydrated is just as important for your hair as it is for your body.
10. Eat Right
It is so tempting to go crazy during the summer and pig-out, especially if you're on vacation, but your hair is also a reflection of your lifestyle, which is why a balanced diet and healthy exercise regimen is needed to keep the sheen in your hair. Dark green fruits and veggies like broccoli and kale are really good for hair health.
Carrots contain vitamin A, citrus fruits are rich in anti-oxidants and vitamin C, and many nuts are chock full of zinc. Studies have shown that omega-3 fatty acids which are found in foods such as salmon, spinach, and eggs, can keep your hair strong and looking healthy and shiny, so eat-up and eat right!
11. Occasionally apply Essential Oil massages to your scalp
An Essential Oil scalp massage from time to time can improve the blood circulation of your scalp, strengthen the hair's roots while nourishing your mind.
Summer sun and fun can be rough on your hair color. Check out these tips to prevent fading. https://t.co/hIjUgtB3ig

— LeMetric Hair Design Studio (@LeMetric) July 14, 2017
12. Hair-dos
You might want to utilize summertime to flaunt all sorts of new hair-dos, but some do better than others in this weather. A loose braid is ideal for keeping your hair under control and minimizing exposure to the sun. Keeping your hair in a loose hairstyle works wonders as it helps air out your locks and prevents the accumulation of sweat. Tight hairstyles can be damaging because they tend to pull and tear hair, especially if your hair is fighting summer dryness.
13. Cover up when you can to avoid direct sunshine
UV rays are not only damaging to your skin but to your hair as well. When you can, use stylish wide-brimmed hats and scarfs to compliment your summer look, rather than leaving your head bare. Not only will it keep your hair fro frying, it will also protect your scalp and ears, areas that are particularly vulnerable to skin cancer. The risk of some hat-hair is worth it when weighed against the potential sun damage. If you're worried about sweating too much, using a light cotton scarf or hat with tiny holes.
14. Protect your hair when it is uncovered
Yes, even your hair needs sunscreen. Whether it comes in spray, gel, or cream form, make it a daily habit to apply a hair care product that contains UV filters. These products protect hair from sun damage and help keep color-processed hair from fading.
15. Avoid coloring your hair in the summer if you can
When you color your hair in the summer, you won't be able to go in a pool, sit in the sun, or do plenty of other things that could ruin your newly dyed hair. Sunlight bleaches hair whether it's dyed or not. Chlorine, salt, and sun are your hairs worst enemy, so just trust us on this one. If you do want to color your hair, stick with an easily maintainable one.
16. Keep your hair protected before, during and after a swim
Swimming can really take a toll on your hair. Take a plunge in a pool and while you're doing the breaststroke, chlorine is stripping your hair of its natural protective oils. If you're lighter-haired or a blonde, you may find your locks taking on an unflattering greenish hue, not because of the chlorine, but because of the algecide, which stops algae from growing in pools and other pool chemicals that bind to the protein in your hair shafts.
A dip in the ocean stresses hair in another way. The heavy salt content in seawater draws water out of your hair and skin. We end up with prune-y fingers and parched hair. Luckily there are ways of mitigating and even avoiding altogether these problems. Saturate your hair before jumping into the water. When your hair is drenched with clean water or leave-in conditioner, it doesn't absorb as much pool chemicals or saltwater. It's also a good idea to try to rinse your hair right after a swim.
If there isn't a shower nearby, keep a spray bottle filled with fresh water (and even a little Essential Oil). After a swim, prevent green hair and chlorine build-up by rinsing your tresses with sparkling mineral water. The fizz has sufficient surface tension to help wash out the gook. Then, once every two weeks, treat yourself to a spa day at home: Use a good cleansing shampoo (the bottle should say cleansing or chelating), then coat your hair with a thick, deep conditioner.
17. You might want to try some tea time
Don't dismiss this as an old wives tale. For stronger, softer and shinier hair (among other benefits), try a cool herbal tea rinse for your hair. You'll find that it can be a great way to boost your hair's natural highlights! Many teas have benefits for your hair, so you should research this topic. Some common teas that are used are lemon or chamomile for blond hair, black tea for brown or black hair, or red zinger for copper or red hair.
All you need to do is boil a gallon of water, add four tea bags, and let them steep for a few minutes in a large bowl. Then let the water cool to room temperature (you certainly don't want to burn yourself). Lean over the sink, flipping your hair over your head. Pour the tea over your hair and let it drip down. Then put a shower cap over your hair and let the tea sit for 10 minutes before rinsing, shampooing, and conditioning as usual.
It might sound a bit strange, but not half as strange as many of the other beauty routines you do, and you will likely be pleasantly surprised at the natural benefits this can give.
18. Be careful with accessories
Since your hair is already vulnerable and more brittle than usual because of the heat, take special care of it and use hair accessories that won't damage your locks even further. Good accessories to help prevent further breakage and avoid snagging are fabric headbands that move with your hair, barrettes with smooth edges and clasps, and ponytail holders without metal closures.
19. A word to Blondes
Spending time in the sun this summer will naturally lighten your hair. Your hair may get brassy very quickly. Purple shampoo can help prevent the brassy look. Get regular trims since your hair will be more prone to breakage. Bleach sucks out moisture, which is why blonde hair tends to be dryer than brunette. Do overdo it with the hair masks. They can cause more harm than help. Use a deep conditioner often and a leave-in conditioner once in a while. It will help keep your hair moisturized.
20. Don't stress
This is good advice throughout the year, but you certainly need every advantage you can in the summer. In addition to all the other problems stress causes, it can also lead to hair loss; so please, now that you're armed with all these tips, stay calm and try to enjoy the summer!
Final Thoughts
The summer months may be about relaxing and letting it all hang out, but when it comes to your hair, a careless approach will only set you up for failure. By bearing these essential tips in mind, you'll ensure your hair stays healthy and beautiful no matter how hot and humid it gets. Now go out and have fun, it is summertime!