Kerastase Nutritive Masquintense Thick Hair Review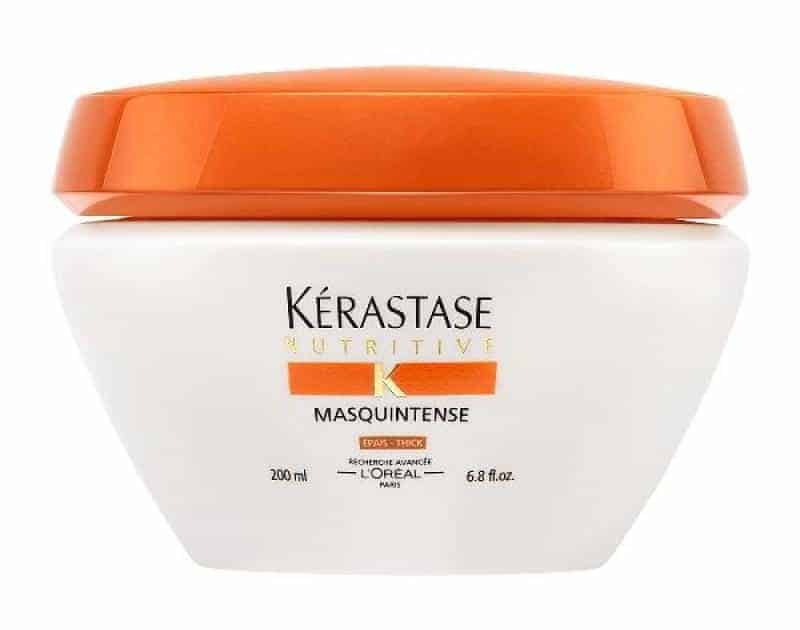 Dry hair is awful. It's impossible to manage and makes for less-than-pretty morning hair. Armed with Kerastase Nutritive Masquintense deep conditioning nourishing treatment, I decided to tackle the issue head-on. It went so well that I decided not writing a Kerastase Nutritive Masquintense Thick Hair Review would be a sin.
The Dry And Damaged Hair Conundrum
Dry hair can occur when the scalp doesn't produce enough natural oil, or, when the natural oil is not present due to treatments and washing. When the hair is overexposed to the sun, over washed, doused in chemical products, or fried with hot irons, the cuticle of the hair stand can become damaged. This allows the moisture and natural oils to seep out which can cause dry hair.
This damage also prevents the hair from properly reflecting light, and is why dry hair can appear dull and lifeless.
One of my biggest issues is that I live a 'normal lifestyle'. I'm out in the sun, I love to swim, and so on. This exposes my hair to damaging environments. The fact that I color treat and occasionally use thermal styling tools only adds to my hair's distress.
My lifestyle caused my hair to become frizzy, dull, and difficult to manage. After tying all kinds of products and homemade potions, I took the leap and purchased a jar of Kerastase Nutritive Masquintense. Life has never been the same since.
Repairing Dry Or Damaged Hair With Kerastase Nutritive Masquintense
Kerastase Nutritive Masquintense nourishing treatment – which some simply call "Kerastase Mask"- provides hair with a concentrated dose of hydration and nourishment. It was created for individuals with dry or overly sensitized hair. Karastase Nutritive Masquintense treatment is one of the best hair rejuvenation conditioners available. This deep conditioning product is advertised as a complete solution. The mask provides deep moisturizing penetration, hair nourishment, protection against dryness, and much more.
The company also states that the formula is weightless and will not affect styling. There are two different kinds of Kerastase Masquintense, one for thick hair and the other for fine hair. My hair is on the thicker side, so I naturally like to test the mask for thicker hair. Kerastase advertises the same benefits for both types, so I assume the difference is in the weight of the formula. During use, I took note of the following categories:
Ingredients.
Texture & Scent.
Price.
Effectiveness.
Overall value.
I gathered information on each of these areas so that this review would be transparent and usable.
Kerastase Nutritive Masquintense Ingredients Summary
A hair care product is only as good as its ingredients. For example, an expensive hair care product laden with harsh chemicals is a dead giveaway of poor quality. For this reason, I look for specific ingredients and make note of the good, the bad, and the ugly. I also explore ingredients that I do not immediately recognize.
This allows me to provide a much clearer picture of whether or not the product will achieve its stated goal, and what the potential trade-offs will be. Below are several ingredients that piqued my interest:
Isopropyl Alcohol.
Hydrolyzed Wheat Protein.
Helianthus Annuus (Sunflower Seed Oil).
Glyceryl Oleate.
Amodimethicone.
Kerastase Nutritive Masquintense's second listed ingredient is Cetearyl Alcohol. Although it sounds like something you'd want to avoid putting into your hair, Cetearyl Alcohol is surprisingly beneficial. This is because it is a long-chain fatty alcohol. It helps draw moisture to the hair and thickens hair care product formulas. Cetearyl Alcohol is not drying and contains emollient-like properties to help condition and improve moisture retention. For this reason, Kerastase Nutritive Masquintense is advertised as being able to protect the hair for a short period of time after each treatment.
#body Kerastase Nutritive Masquintense with Irisome 6.8 oz Hair Thick Mask https://t.co/evL4KVKqeN pic.twitter.com/4y76r98FSu

— My Make Up (@ynocchai86) September 15, 2017
One of the ingredients that specifically caught attention was Isopropyl Alcohol. Isopropyl Alcohol is often used in finishing hairsprays and is known for causing dryness. Unlike Cetearly Alcohol, Isopropyl evaporates quickly and can cause frizzy hair. This begs the question: what is this ingredient doing in Kerastase Masquintense? The conditioning treatment is supposed to improve dryness? Truth be told, I'm not really sure. It could be related to the chemical structure of the formula.
Nutritive Masquintense's nourishing magic is provided by Hydrolyzed Wheat Protein. Applying hydrolyzed proteins to the hair helps strengthen the hair strands and improve moisture capabilities. This helps manageability and improves the fullness of the hair, all while reducing the possibility of breakage. If you have protein sensitive hair, I recommend patch testing Kerastase Nutritive Masquintense before applying it.
One of my favorite ingredients in Kerastase Masquintense is Sunflower Oil, an emollient carrier oil rich in vitamin E. Sunflower Oil helps the hair and scalp retain moisture and provides protection against free radical damage (from UV rays). Unlike many other natural oils, hair naturally absorbs sunflower oil and does not leave greasy residue. This is a great addition to the Kerastase Nutritive Masquintense formula because it naturally improves sheen, protection, and moisture retention.
Amodimethicone is a silicone that seals in moisture and provides a smooth combing experience. It is a very common ingredient in hair conditioning products. Unlike other silicone additives, Amodimethicone does not cause buildup with recurring use. This makes it safe for individuals who like using shampoo without sulfates which are required for heavy silicone removal. Amodimethicone also helps add a layer of thermal fortification to protect against damage caused by curling irons and blow dryers.
Glyceryl Oleate is a naturally derived emollient and key emulsion ingredient found in many beauty products. It is normally sourced from plants containing higher concentrations of oleic acid. The FDA approved the use of Glyceryl Oleate for cosmetics, and independent studies have concluded that it is completely safe and non-irritating to the skin. This ingredient helps naturally improve the consistency and texture of the Kerastase Nutritive Masquintense formula.
Kerastase Nutritive Masquintense Ingredients Explained
The ingredients listed in Kerastase Nutritive Masquintense are definitely not harmful. I personally believe that the formula is MUCH cleaner than most hair care products on the market (not counting natural products of course). I was happy that it did not contain anything harsh or overtly useless. The only ingredient that bothered me was the Isopropyl Alcohol. I'm sure it has some significance, but it's pointless to have a drying ingredient in a product that is supposed to promote moisture. It's akin to cleaning dishes with a dirty rag: it will take twice as long and the results may vary.
Kerastase Nutritive Masquintense Texture & Scent
The first time I removed the signature orange lid on a fresh jar of Kerastase Nutritive Masquintense, the scent of roses tinged with baby oil wafted up to greet my overeager nostrils. Okay, that is a mildly weird description, but the cream smelled like fresh sunscreen surrounded by a bouquet of roses. It is evident, and will linger for a short period of time after each use.
If you are sensitive, it may bother you. It is my belief that the texture of a hair care product is important to the application process and overall experience. Kerastase Nutritive Masquintense did not disappoint. It had a creamy, thick texture, and applied with such ease that I shed a tear of joy. No complaints here.
Kerastase Nutritive Masquintense Price
Are you sitting down? A 6.8 fl oz (200 ml) of Kerastase Nutritive Masquintense Thick can be purchased for roughly $38.00. That translates to $5.59 per ounce. Compared to other hair conditioners on the market, Kerastase Mask is definitely not the cheapest option. The good news is that the small jar can last quite a while if used properly (which I will discuss later). Consumers can also choose to purchase larger sizes at a discount. At that price, it may be worth looking into a a more soothing, natural conditioner.
Kerastase Nutritive Masquintense Effectiveness
Kerastase Masquintense performed like a champ. I used the deep conditioning cream for three weeks, during which I applied it a total of 9 times. After each use, my hair was noticeably more responsive and lively. Each morning I'd wake up with progressively silkier and shinier hair. This made prepping for work much easier and less time consuming. The sheen of my hair improved as well, but it took about 3 applications before I saw a very noticeable difference in luster.
However, up until that point, my hair was obviously regaining moisture and vitality with each use. Towards the end of the second week my hair was catching and reflecting light much better than it had in months! After the third week, my hair looked fantastic. Existing frizz was eliminated and my ends looked flawless. Manageability was incredible and I was extremely pleased. The Kerastase Mask did the job effectively without harsh chemicals.
Kerastase Nutritive Masquintense Overall Value
I was very pleased with the results I got from Kerastase Masquintense. The big question is: Is it worth spending almost $40 on a deep-conditioning hair care product?
Absolutely.
In the past I tried improving my dry hair on the cheap, but the results were unsatisfactory. I'm not saying cheaper options don't exist, but rather, it's a smarter use of my time and money. Kerastase simply works. It is one of the few products that improved my hair condition and I feel great once again. No more morning struggles and date night worries. Kerastase Nutritive Masquintense made my hair look great!
Kerastase Nutritive Masquintense Directions For Application
The key to getting the best results from Kerastase Nutritive Masquintense is in the application of the product. Below is a combination of the official directions and my own special application method. Although this method worked for me, please use it at your own discretion.
Section your hair (best after a wash).
Gather a small amount (quarter or nickel size) of cream in your palm.
Apply to the hair sections, paying special attention to the ends and middle length of the hair. Avoid roots if possible (can cause greasiness).
After application, wrap in cling film to facilitate better saturation and absorption.
Leave in for a minimum of 25-30 minutes.
After treatment, remove wrap and rinse hair thoroughly.
2018 Update: How Is the Kerastase Mask Treating Me Now?
It's been a while since I learned of the magic of the Kerastase Nutritive Masquintense. Since, I've tried different products and learned of various ingredients. I would still recommend keeping this baby around. Additionally, I definitely recommend that people learn about the ingredients in their cosmetics.
I currently use the Nutritive Masquintense, but not as often. The reason for is because my hair is now healthier. When people feel how soft and moist my hair is (which sounds weirder than it is) I credit this fantastic product. It has remained a must-have in my collection of cosmetics for when my hair needs a little moisture boost. Hairfinity gets some credit, too, but Kerastase is a life saver.
For example, I love swimming in the ocean, but I find my hair becoming dry and gross from the salt. This is when I keep my Nutritive Masquintense on hand. This product has generally given me so much security. I can do whatever I want to my hair and it will save the day. Did I mention that I've cut down my conditioner use significantly? Even when I am using conditioner, it's usually home made and chemical-free.
If you really want to know if a product is valuable, keep it around and see how often you use it. This has rung true with this product. I've always been able to find good uses for it.  Nutritive Masquintense is additionally so treasured for the security as I mentioned before.  The knowledge that I could play around with my hair and have a product which helps it stay healthy and hydrated gives me peace of mind.
High or low price, I'm gonna buy a product like the Kerastase Nutritive Masquintense because I know its true value.
Conclusion
Dry and damaged hair can add undue difficultly to anybody's day. Simple styling and overall maintenance can be difficult and overwhelming to deal with. I personally dealt with dry and damaged hair for months, so I know what it's like. I've tested oils, conditioners, leave-in conditioners, and many other homemade concoctions and other hair remedies for dry hair before deciding my salvation might require a premium product.
Kerastase stands out because it doesn't use harsh chemicals and actually provides amazing results. I've become a huge fan of Kerastase Nutritive Masquintense because it works for my hair, and I've learned how to make it last. If you have the money to invest in yourself, give it a try. You may just be the next member joining the Kerastase fan club!