The Safest Shampoos For Color Treated Hair Explained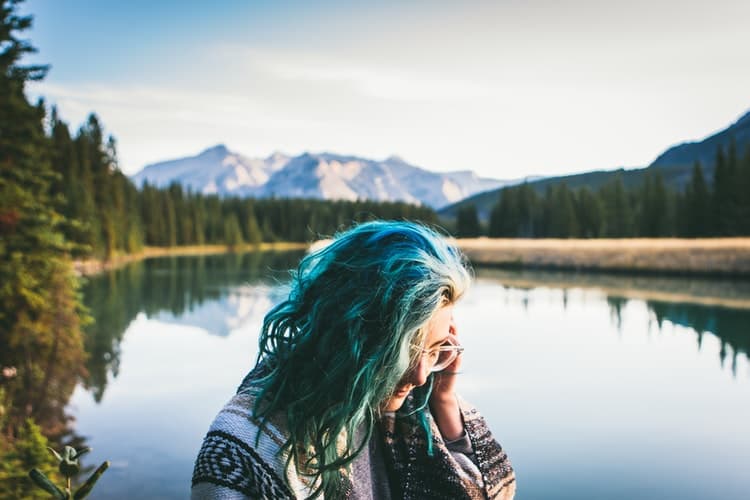 Shampoo is about cleaning your hair and scalp. Okay, simple enough, right? However, everyone is different and different shampoos cater to the wonder that is your individual hair needs. When you color your hair you've put out a pretty penny to invest in your look, but under that look is your old buddy that's been there with you from the beginning, screaming for attention. It's just about being your best you, really.
People chemically dye their hair for all different reasons, but the bottom line is, colored hair required special hair treatment. Our hair wasn't meant to be dyed or influenced by chemicals, but that's actually what we're doing when we chemically dye our hair.
We are stripping our strands of their natural protective agents and invading, altering and manipulating them to our particular needs and desires. Not that there's anything wrong with that, of course! But when you do choose to color your hair, you have to be smart about it, and that means using the proper kind of shampoo to ensure safe color treated hair care.
The Importance Of Using the Right Shampoo
If you're a human being on this earth, you've probably tried different skin care routines until you settled on the right one for you. Some made your skin break out, some made it over dry, until you found the one that was just right. Everyone's skin is different and has different needs to live it's best life. The same goes for hair.
Hair is a living, breathing part of us that needs care and attention to be the best that it can be. For skin, 'the best' means well hydrated with no build up of oils. For hair, it's pretty much a similar. Instead of suffering from pimples however, you'll get oily hair or hair breakage. With healthy hair, you'll get strong, glowing locks.
Just like our skin dictates that we keep to a natural and proper routine in order to prevent breakouts, so too does our hair demand care and attention to stay looking its best. Neglect your hair and your hair will become damaged. Treat your hair properly and it will flourish.
Top Ingredients To Look For In Shampoo For Color Treated Hair
When you're looking for products you're generally looking for what they put in them that makes them great, but in the case of color stripping, it's what you don't want to see in the ingredients list that counts. Sulfates: Ammonium Lauryl Sulfate and Sodium Laureth Sulfate, specifically. This can be listed as SLES, so look out for that too. Why these guys? Well, they come from a family of very strong detergents. This is great for stripping oils from your hair and other gunk, but also color.
Top 5 Shampoos For Color Treated Hair Reviewed
This shampoo is better traveled than I, more educated than I, and honestly, smells better, too. It's made from Hibiscus extract from Egypt, Pea extract, from India, Rice Extract from Brazil and Golden Root, from Sweden. This Shampoo's passport is lit. Aside from sounding bougie as, these ingredients are incredible hair savers.
My personal favorite is golden root as it's one of nature's youth fountains, and basically turns everything it touches into gold with it's restorative properties. Hibiscus is also high up there in my favorite natural ingredients for its relaxing properties and high amounts of antioxidants. All these elements and more means that this shampoo locks in color and protects against heat, so your color is protected even after your wash. Also it's pretty.
How do these guys do it? Well let me tell you, they aren't just in the shampoo business for the money. Of which there is lots. But R+co is actually a collective of three stylists, each the top in their specialty, focusing on product, branding and education. They even have an app where you can get tips and info on everything hair. So, if this piece didn't do it for you, you know where to go. I won't even be offended.
I have a funny relationship with L'Oreal Paris. As a child I thought they were top of the line because I saw them everywhere, the power of marketing. As I got older I found that they have such a wide range of products that can take you to the higher end of the price range, but was really surprised to find how affordable their hair products were.
That's the thing with cosmetics though, it's not the price tag that informs the quality, it's all bigger picture. In your local supermarket you'll find a whole range of different shampoos by L'Oreal. For the price of one bottle of high end shampoo, you can purchase a quality line of color safe products from L'Oreal. Each one working to protect your strands, keeping them hydrated, soft and color safe.
Fancy to say, fancy to use. Kerastase doesn't just give you a color treatment range, they give you a shampoo color treatment range. If you're bad with decisions, buckle up, because they are all great. These are an investment, but basically turn your bathroom into a salon. You've got your choice between the Bain Chromatique, Bain Chromatique Riche, and the Bain Chromatique Sulfate Free Delux Shampoos. If it sounds indulgent and feels indulgent, then it's pretty indulgent, am I right?
These guys all use Kerastase' unique protective technology that not only seals in your color but it actually protects your hair from the water you shower with. Did I not mention that? The water in our showers are treated. Different countries use different formulas to treat their water, this is why your hair may change when you travel. So this product fights against that.
That means that not only is the shampoo safe for your color, it's protecting your from external factors as well. Speaking of external factors, there are also UV deflecting technologies coming into play here, so the sun won't fade your color either. Then you got your yummy natural oils, like linseed, rice and vitamin E; as well as lychee extract and a bunch of other goodies for strengthening and resilience.
Sometimes I cheat a little and only use the color protective shampoo every second or third wash. Obviously it's the most effective if you use it every wash, but this can get expensive. That's what I love about the Aveda line. They are available in so many different sizes to suit your pocket. In an ideal world I could afford a lifetime supply of Aveda, but personally, this is a treat for both me and my hair. We're fans. I've always been a fan of Aveda, as I've written many, many times. They're a tried and true natural brand with natural intentions.
Their Color Conserve range is straightforward: a shampoo, a conditioner, a treatment, and a color booster. Simple, clean and good for you. Just like Aveda. This one is interesting because it does actually contain the cleaning agents mentioned earlier, but it's packed with antioxidants to combat the harshness. So, just this once you can disregard that. This is the exception to the rule, and its exceptional.
This brand is huge in the salons, it's just been around forever and is a staple on the salon scene. Most products go for a packaging reboot every few cycles, but Redken has basically looked the same for my whole life. This seems like innocuous information, but if you think about it, you don't change something that's working, and Redken is a classic. You don't mess with a classic.
When it comes to colored hair they've got your back. They have shampoos for all colors, and specific products for blondes. Honestly, blondes are a whole other conversation, but if you're going down that path, you already know that. For general color care there's the Color Extend Rich, but I want to focus on Color Extend Magnetics.
The Magnetics range is a three part-er: shampoo, conditioner and mask. They're all made on a base of three proteins: soy, arginine and sepicap. These guys protect your color but also do all the other things you associate with proteins. If you're anything like me, protein equals muscle and body builders. If you're not… protein makes things strong. That's what you need to know. And it does the same for your hair. I'm unsure why they called it magnetics, but it's catchy, pretty, and really it's what's inside the bottle that counts anyway.
Conclusion
You wouldn't use perfume as deodorant, and you wouldn't use hair color as a treatment. I mean, both those things are beautiful and add to your all over vibe, but they ignore your basic hygiene needs. While you're investing in your look, don't forget to invest in yourself. Your hair deserves the best. So take the time to understand your hair needs and give it the moisture and love it deserves with the right color safe shampoo.
Sometimes in life we do things we know are not the best because the end result is oh, so sweet. So the question then becomes: how can we curb the damage? Let's at least take responsibility for our rebellious nature and do our best in the aftercare. Also, let's be real, the better care we take of our color, the less often we'll find ourselves back in that salon chair.