Simple Mills Snacks Review: Simple Ingredients For Superb Snacks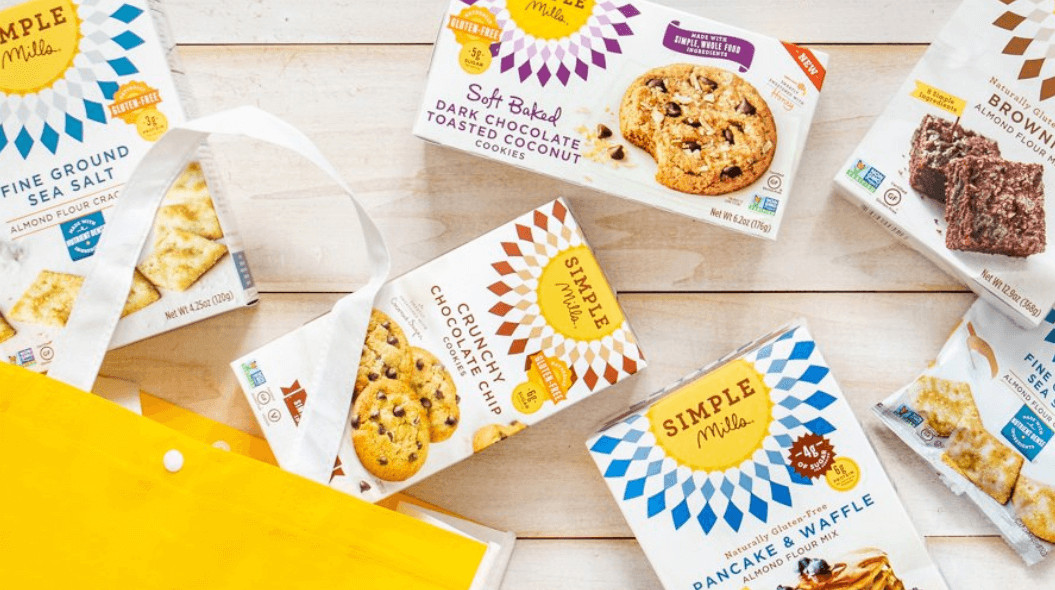 The struggle is real between wanting to eat foods that are healthy for your body and being tempted by the many unhealthy foods and snacks that are so available to eat. On the one hand, fruits, veggies and grains are delicious, and we feel good when we eat them.
On the other hand, it takes a lot of time to prepare healthy food. Grabbing an unhealthy snack is often so much simpler, requiring no effort or thought! Similarly, baking a cake from scratch, especially a healthier one, takes a lot more time than whipping up a cake mix from a box.
With Simple Mills, you can have your cake and eat it, too. That is, you can enjoy a tasty and healthy cake, but with the ease of a regular baking mix. Their crackers are just as delicious as any unhealthy snack, but they are far better for your body.
And they leave you feeling satisfied instead of guilty. Simple Mills' mission is to provide us with healthy alternatives to popular unhealthy snacks and foods. And trust us, they do a good job- you don't want to pass them up!
Top 5 Ingredients To Avoid In Your Snack Foods
The problem with snacks is, of course, their ingredients. While there are a lot of ingredients out there that we should not be putting in our bodies, we've narrowed it down and created a list of the top 5 ingredients to avoid in your snack foods.
1. Hydrogenated Oils
You probably know these as trans fats, and these are one of the worst things you can ingest. Hydrogenated oils are oils that have had chemicals added to them in order to make them solid at room temperature. Trans fats not only raise your LDL ('bad') cholesterol levels, they also lower your HDL ('good') cholesterol levels. This puts you more at risk of suffering a heart attack or a stroke. Trans fats are also a known inflammatory. This increases your risk of developing many diseases, including heart disease and cancer. Healthy oils like avocado oil or coconut oil are always welcome alternatives!
2. High-Fructose Corn Syrup
The reason companies tend to use high-fructose corn syrup in their products over white sugar is not because they have your best interests at heart. Quite the opposite, in fact. High-fructose corn syrup is cheaper and sweeter than sugar, which makes it a perfect substitute in the eyes of snack companies.
But you might want to keep in mind that high-fructose corn syrup can cause insulin resistance. This leads to high blood pressure and Type 2 diabetes. It can also cause obesity, cancer, liver failure, dementia, and heart disease. Oh yeah, and it's not doing your teeth any favors either.
3. Artificial Colors
Unless you're about 5 years old, you probably don't find neon-colored foods to be tempting. And that's a good thing, because they are absolute poison. Unfortunately, though, colorful snacks are generally targeted at children. And the problem is that most kids don't mind the unnatural-looking, bright green lollipop or hot pink soda. Food dyes, particularly Yellow 5 and 6 and Red 40, contain compounds that have been linked to cancer.
Have you ever noticed that after eating colored sweets or soft drinks, kids become out of control? You're not imagining it. Food dyes negatively affect children's learning abilities and cause irritability, hyperactivity and aggressiveness.
4. Artificial Sweeteners
You've probably heard people tell their children (and perhaps you do the same), "No, you can't have that, honey. It's diet – it has chemicals in it that aren't for children." That statement is both right – and wrong. It's right, because yes, 'diet' foods contain artificial sweeteners that should not be eaten by children. But it's also wrong, because not only should your children not be eating that stuff, you shouldn't be eating it either.
Artificial sweeteners have been linked to heart disease, and they can make you crave sweetness. They can ruin your taste for foods which are naturally sweet such as raw honey or fruits, making the foods no longer taste good to you because you're used to fake sweetness. And not only do artificially sweetened foods not aid in weight loss, but they've actually been linked to obesity and have been proven to cause weight gain in the long run. If you want an occasional treat, eat a small, non-dietetic one – the sugar is better for you than the artificial stuff.
5. MSG    
Monosodium glutamate, which is more commonly known as MSG, is often touted as the evil of all evils (when it comes to food additives, at least). It's famous for being a possible carcinogen, and it's linked to many neurological disorders. It can also lead to many other side effects when you eat it in large amounts. These include IBS, skin rashes, and changes in mood.
What Is Simple Mills?
So what exactly is Simple Mills? The name says it all. The company is all about baked goods, but with simple, natural ingredients. Simple Mills' mission is 'if you don't recognize an ingredient….your body won't, either'. All of their products reflect this with their easy, recognizable ingredients.
Simple Mills Products Breakdown
Simple Mills products are delicious, healthy, and gluten-free. And Simple Mills caters to people with many different dietary needs. They're your one-stop-shop for every kind of bread mix, cake mix, cookie mix or crackers.
Their bread mixes include their Artisan Bread Mix, which has just six ingredients and is only 100 calories per serving. This is especially great if you compare it to the almost 250 calories per serving of regular whole wheat bread. And they also make a Pizza Dough Mix. The bread mixes are easy to make, and they're much better for you than regular packet mixes. There's also the Pancake & Waffle Mix, which is naturally sweetened with coconut sugar for a healthy, sweet treat for the entire family.
Simple Mills has many different kinds of cake and cupcake mixes, as well as cookie mixes in various flavors. And if you want to go all the way, you can also buy their frosting in chocolate or vanilla flavor. It's creamy, dairy-free and just plain yummy! It can be a bit hard to spread at room temperature, so you may need to warm it in the microwave for about 10 seconds before using.
And we can't forget about Simple Mills' almond flour crackers! With six delicious flavors to choose from, you'll have a hard time picking your favorite. There are also sprouted seed crackers, which are available in four flavors.
Simple Mills Crackers, Cookies And Baking Mixes Review
Baking mixes are usually full of preservatives, unnatural colors and flavorings. Yet they are easier to make than regular cakes, so we use them anyway. But with Simple Mills, you needn't worry about all the fake stuff. Their ingredients are natural and real. Whip up their pizza dough mix, make your own pizza sauce and add some shredded mozzarella along with all your favorite veggies.
For a simple, classic dessert, you can whip up one of Simple Mills' cake mixes. They come in chocolate, vanilla, banana and pumpkin, and they can also be made into muffins. They're gluten-free, not too sweet, and basically an all-round better option for a cake mix. If you're a cookie fan, Simple Mills has both chewy and crunchy cookie options. You can choose from chocolate chip, toasted pecan, cinnamon, double chocolate, peanut butter, snickerdoodle, and dark-chocolate-toasted-coconut flavors.
And then there's the crackers. Crackers are one of the easiest grab-n-go snacks. They're perfect for an extended day at the office or a trip to the park with the kids. But unfortunately, they're generally full of MSG and trans fats, not to mention calories. It's not a good feeling when you look down and realize that you've finished a whole packet of crackers while waiting for the traffic to move.
Luckily for us, Simple Mills has delicious cracker varieties – without all the nastiness! The cheddar and sea salt flavor crackers even come in individual snack bags, perfect for when you want to keep the snacking under control. Try Simple Mills crackers with your favorite toppings for a satisfying and guilt-free (or mostly guilt-free) snack. Peanut butter, smoked salmon, spreadable cheese, guacamole and tuna are just some ideas that work well. But by all means, get creative!
Conclusion   
Life can't be all about raw vegetables, all the time. But that doesn't mean that as soon as we feel like snacking we can throw nutrition out the window and eat anything, no matter how unhealthy. Even a little food dye or MSG can have a negative effect. And honestly, when there is a company like Simple Mills, whose food is jut as delicious as the fake stuff, then who needs the negative ingredients? When you choose Simple Mills you are choosing to keep your body healthy and safe, even when you are snacking. Their products are easy, yummy and good for you – the perfect combination!