Olay Body Wash Review And Breakdown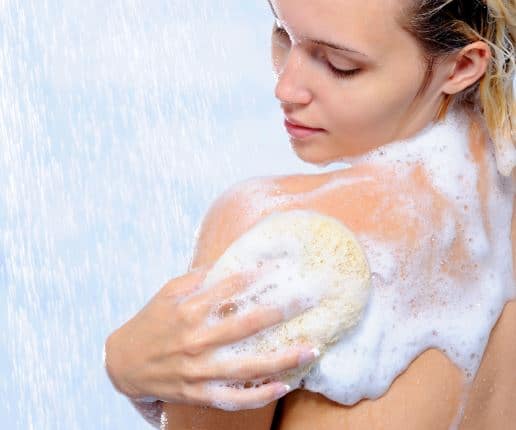 Most of us know by now that bar soap is the medieval great, great grandma of body washing. Infamous for drying out skin and collecting bacteria (as well as spreading it!), bar soap has pretty much been abandoned. Body wash is the new and improved body soap. It's a milder product than other cleansing options due to its liquid form (you get more for your squeeze).
While some soap bars leave your skin feeling red or dry, body washes are less abrasive. Personally, I feel that using body wash makes for a richer shower experience than using a soap bar. A bar does the trick, but a wash lathers luxuriously so you really feel that deep clean.
For those of us who are environmentally conscious, there seems to be a never-ending battle between the use of body wash versus bar soap. While body washes are seemingly the 'cleaner' option, bar soaps are proven to be more sustainable. Olay even offers both options! The bars are long-lasting, have less plastic packaging and are easier to naturally source.
Despite this, there are ways to find more natural body washes – you just need to take the time to read ingredient labels. I can hear some of you rolling your eyes and saying, "Who cares?" I used to think the same thing, but using body washes with natural ingredients cannot be undervalued.
In A Hurry? Find What You Need
The Importance Of Using Body Wash With Natural Ingredients
If you're actively trying to minimize the amount of chemicals entering your body then, surprisingly, body wash is the place to start. Most of us try to eat clean food, drink plenty of water and maybe even cover our faces when walking past a particularly polluted area of town.
But for some reason, when it comes to what we put on our body we're just not as aware of the importance of using body wash with natural ingredients. What we expose our body to is absorbed into our bloodstream, and that includes the stuff we put on our body consciously. This means that the use of harsh products can somewhat counteract all our other efforts to protect our insides from damage.
Natural ingredients are not only less processed, but if you go for organic (I know I'm sounding extreme now, but it's for your own good!) you're also minimizing the amount of pesticides and herbicides your body is consuming. Plant-derived ingredients harness the Earth's innate healing properties.
Basically, naturally sourced products are invaluable for your skin and don't use the harmful chemicals you find in most body products. If you want to truly nourish your body from the outside in, then the importance of using a body wash with natural ingredients cannot be overlooked. Be mindful of what you're applying on your body and notice what you're 'feeding' it.
Olay Body Wash Line Flavors Overview
Once known simply for their quality serums and creams, in recent years Olay has jumped to the front of the line when it comes to body washes. If you're looking for a good body wash but want to switch things up when it comes to scents, then you've come to the right place. Olay has an extensive range of body washes, with each offering a different flavor and benefit. Some body wash brands have the tendency to stick to one particular scent, but Olay has blown that stereotype out of the water.
The scents range from calming tones like hibiscus, shea, and lavender, to fresh fragrances such as mint, lime or ginger. The benefits of these sensual substances vary. If you need added moisture, extra freshness or just a neutralizing pH balancer, Olay offers the body wash for you. Depending on what your skin needs to thrive, these body washes come in different ranges to help you decide.
There's the Fresh Outlast range (perfect for that morning pick-me-up shower), the Olay Ultra Moisture range and a Moisture Ribbons range which will guarantee you skin feeling as silky as ever. If you're searching for a (visibly) anti-aging body wash, then the active ingredients in Olay's Age Defying formula have undeniable results!  Olay promises to appeal to your sensual shower needs while restoring your skin from the source.
Take Me Straight To Buy Top Olay Products
Top 5 Olay Body Washes Reviewed
1. Age Defying
The Age Defying Olay body wash contains the secret ingredient vitamin E. This vitamin contains not only antioxidants (to replenish your naturally produced collagen) but also skin-healing properties. Collagen is the substance in your body that provides its strength and structure. With age, the production of collagen declines. So using a product that replenishes your collagen production is an anti-aging no-brainer. As if it couldn't get any better – Vitamin E is also great for removing scarring tissue. In fact, according to a study done on patients with burns, there is research to support the fact that vitamin E supplements care effectively in supporting the healing process of your skin. These factors are what it makes it a great 'age-defying' substance. It nourishes your skin from within, regenerating new skin cells.
The fact that vitamin E is essentially an oil means that Olay's Age Defying body wash is significantly moisturizing. The problem with most super-moisturizing body washes is that they leave your body feeling kind of tacky after. This body wash is unlike others in that respect. Although I didn't get that full lather when using it, this also meant it didn't result in an unnecessarily lotion-y texture. My skin felt super soft after use – I didn't even use my usual body lotion after. I just didn't need to!
I want it: Olay Age Defying Body Wash
2. Shea Butter
If I see a product that contains shea butter, I don't know what comes over me, but I have to purchase it. I'm a sucker for that sickly-sweet smell! Combine the scent with the fact the shea butter contains highly moisturizing fatty acids and strengthening components to protect the skin's natural oils – what's not to love?
I was not disappointed when using this Shea Butter formula. It lathers up quickly and leaves skin feeling silky. My skin becomes particularly dry and flaky during those harsh winter months, so I think the Olay Shea Butter body wash is going to become a winter staple for my shower routine. It noticeably nourishes your skin long after you've dried off. Get it here.

3. Sensitive Skin
I personally find that when I try to use sensitive-skin products, my skin dries out. It's difficult to get that moisture when using 'light' ingredients. This is not the case with Olay's Sensitive Skin Unscented body wash.
"So how does it provide me with the moisture?" I hear you skeptics ask. Petrolatum, derived from petroleum, is used as a deep moisturizing agent. It creates a water-repellent film on the skin. Essentially, this means that a barrier is formed to prevent the evaporation of your skin's moisture.
If you're constantly trying to soothe your skin, then Olay's Sensitive Skin formula might just be your answer! This body wash is dermatologically tested to ensure a gentle but thorough cleanse. Sensitive skin usually reacts negatively to fragrances, so the fact that this formula is unscented means it's extra mild on the skin. I wouldn't say it's fragrance-free, but it's definitely a fainter odor than most body washes. It left my skin feeling soft and refreshed without feeling irritated.
Take me to Amazon: Olay Sensitive Skin Unscented Body Wash
4. Fresh Outlast
The Olay Fresh Outlast body wash is intended to work with your body's natural pH balance. The body wash comes in different 'flavors', all dedicated to "A fresh clean that outlasts your day", according to the bottles.
If you need a body wash that will put that spring in your step, then Olay's Fresh Outlast range is for you. Starting the morning with a rejuvenating shower experience paves the way for a good day in my books.
I used the Energizing Lime and White Tea flavor. I found that it's not only refreshing (as the bottle promises), but that these ingredients are also crucial for your skin's rejuvenation.
Citric acid in the lime peel restores your skin, removing dead skin cells and leaving your skin looking and feeling radiant. Meanwhile, the white tea is packed with polyphenols. These are plant-based antioxidants which help to prevent skin damage and reviving the skin. You can't go wrong adding this to your skin care routine. It left my skin glowing and feeling fresh. Just how I like to start my day.
5. Quench
First and foremost, this is a soap-free formula – it reduces the amount of natural oils stripped from your skin. By minimizing the skin's natural dryness, Olay's Quench body wash encourages the body's innate moisture to play its role.  It stops the body's cycle of dry skin. The active ingredient, guar gum, provides a natural emulsifier and film former. A2014 review of the ingredient reveals it's exceptional hydration and conditioning properties. Film formers create a moisture lock on the skin, which means the body is forced to nourish itself from the inside out. Guar gum also contains conditioning agents. So your skin will get that moisture kick it needs.
For those of us who prefer a scent that is not as overwhelming as some of the other products Olay has to offer, then this Quench body wash has got you covered. It smells good but doesn't attack the senses. For me, the smell is what makes a good body wash. I need that aromatic spa experience to feel like my body is getting what it needs.


However, when I'm looking for a body wash that just does the job, Olay's Quench body wash is my go-to. In terms of 'quenching' your body, I would be hard-pressed deciding between the Shea Butter and the Quench. It's ultra-moisturizing and concentrated, so you don't have to use a lot to reap results. I lathered up a small amount, used it all over my body and noticed visible results on my skin after just one use!
Learn more: Olay Quench Body Wash
Conclusion
Now that you know you can find those more naturally sourced products in your body wash, it might be time to make the bar-to-wash switch. Not only can soap bars leave your skin feeling drier, but the bacteria-breeding opportunities are much greater than a fresh body wash.
I'm always searching for cleaner, natural ways to nourish my skin. And when searching for the perfect skin boost, you can't overlook Olay's extensive body wash range. I don't want a product that only superficially leaves my skin feeling better. I'm constantly looking for that body wash that will get to the root of my problem. If you want something that doesn't just clean the outside, then Olay's body washes are the way forward.
The key is to read the ingredients on your product bottle – and know which ingredients will benefit your skin. I know it's not the most exciting prospect. Just think of it as reading the ingredients on your food labels. You should be just as aware of what you're putting on your body.
My only hamartia with Olay products is that they're not cruelty-free. While the brand itself does not test on animals, their products are subject to animal testing where required by law. So, if they send their products to China, for example, in sticking to government regulations, they will be tested on animals. Having said that, I still use Olay products in the hope that they will soon eliminate animal testing even where required by law. One can dare to dream when the results are this good!
Up Next: Neutrogena History And Products Overview: Clean and Clear