John Frieda Company and Products Review 2023: The Hair Of Your Dreams!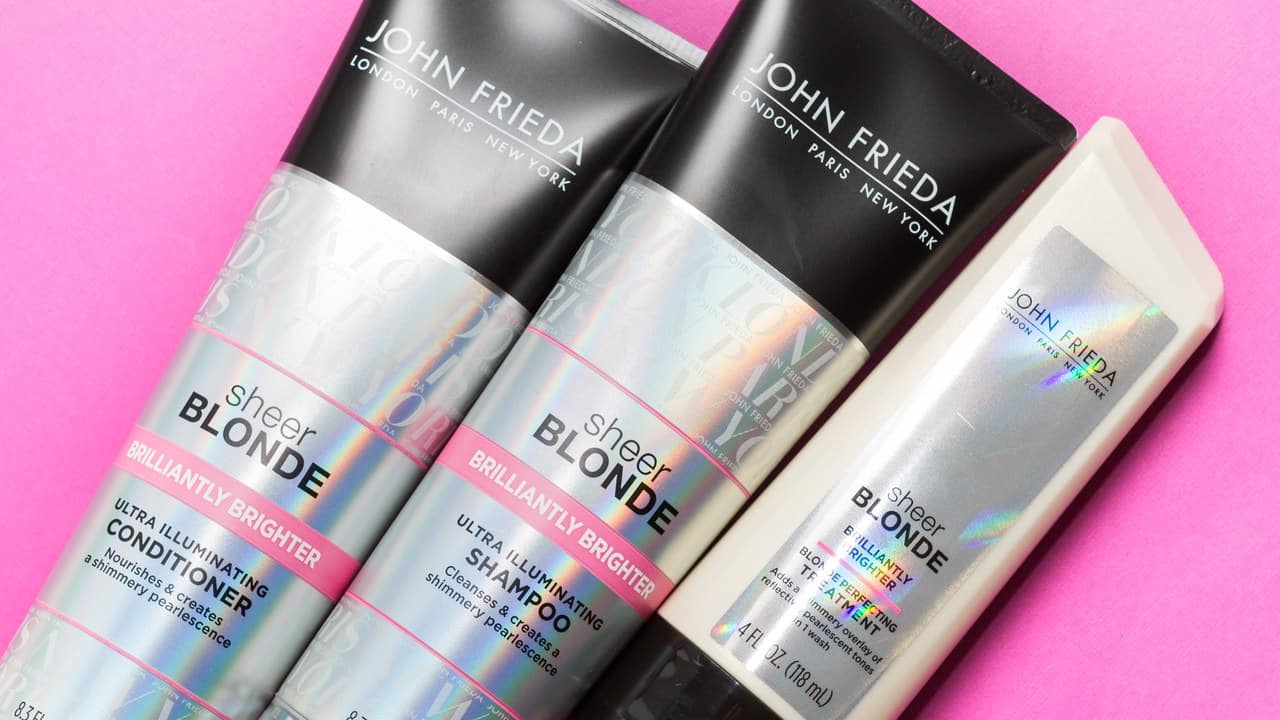 I play around with a lot of different hair products, and there a few go-to brands that I find myself repurchasing all of the time. I have dry, curly hair that I dye blonde and the John Frieda Frizz Ease Serum and the John Frieda Go Blonder Controlled Lightening Spray have been on that list for quite some time. This review is a long time coming as I have really like what this brand has to offer. I hope you find it useful!
In A Hurry? Find What You Need
Who Is John Frieda? Company History & Background
John Frieda is a celebrated hair stylist who has been working in the field since he was in high school, in the tradition of both his father and grandfather who both worked with hair. They say you need 10,000 hours of continued study to master anything, which takes an estimated ten years of constant practice, and John Frieda has more than double that under his belt qualifying him as somewhat of a hair guru. His close familiarity with hair is apparent in the expert craftsmanship of his styling products, which he originally designed for his salon use.
As Frieda's salons grew and grew, he recognized the demand for his products to be made available to the public. In 2002, he sold the company to KAO Group for $450 million. Needless to say he doesn't need to cut hair for a living anymore, but he still does on occasion and maintains ownership of a few salons – unsurprising given his unwavering passion for the craft.
John Frieda Company Products Overview
John Frieda's range of products features hair care and styling sets for different types of hair. Each includes a shampoo, a conditioner, styling products and treatments to target different hair annoyances like frizz or fading color. The color lines can completely revitalize tired dye jobs in Sheer Blonde, Brilliant Brunette or Radiant Red. There are also particular styling and treatment products and styling tools for any hair type, giving the full, glossy, hydrated hair that so many people want.
Shop Top John Frieda Products on Amazon
John Frieda Color Refreshing Gloss Review
For the majority of us who get our hair dyed regularly, frequent salon visits aren't compatible with either time or money management. In between coloring, hair can start to dull, roots stand out in a contrasting stark line and color can begin to develop brassy tones. The Color Refreshing Gloss is a very effective way to keep hair looking freshly done and shiny all the time, helping bright, glossy hair to be attainable and affordable.
This product works shockingly well, but there are downsides to it. It doesn't have the greatest smell – though that is subjective, and it's not unpleasant or anything. And this can't really be faulted in a product that is supposed to color, but the gel can stain skin and clothes, especially if you're using a darker tone. When I apply it, I make sure to wear an old t-shirt and gloves.
Shop Now: John Frida Color Refreshing Gloss
John Frieda Rotating Hot Air Brush Review
I have always been jealous and slightly in awe of these ambidextrous girls who can give themselves a fantastic blowout, brushing hair with one hand and managing to hit their hair evenly in the proper direction with a blow dryer in the other hand.
This Hot Air Brush gives you a ton of control and makes blow drying so freaking easy, and I can finally achieve the sleek, wavy look I love on my own. The product is very versatile and can be used to completely straighten hair or to give it some body, movement and curl. Get yours here.
John Frieda Frizz Ease Line Review
The Frizz Ease original formula serum was one of those products that people swore by, that transformed and tamed frizzy hair, that was reliable in the most humid of climates. The new formula definitely carries on the magic, but it's sadly just not up to par with the OG serum.
I'd say the main difference is that it's more conditioning, which is better for some people, but can make certain hair types look a little greasy. It receives extremely mixed reviews which makes sense if it's well suited for some hair types but not others.
This incredible serum has spawned an entire line of products for people with frizzy, brittle hair including the Daily Nourishment Shampoo and conditioners, the Miraculous Recovery Deep Conditioner, and the Beyond Smooth Frizz Immunity Primer. The Frizz Ease line is not for everyone, but for those whom it suits, it's a veritable lifesaver (or hairsaver). Learn more here.
John Frieda Glaze Line Review
John Frieda's Luminous Glaze is really something special. This product has a patented formula, receives gushing reviews, and its ammonia and peroxide free so it's completely non-damaging. The results are fantastic, leaving you with vibrant, silky, shiny hair which is totally comparable to the look you'd get with an expensive salon gloss treatment. It's a clear gel so it won't mess with hair color, and it works well for natural or color treated hair.
The glaze can be applied once a week on dry hair and left in for about 20 minutes, or every time you shower on damp hair and left on for about five minutes. You can determine whichever works better for your hair and lifestyle, but I'm confident that you will see amazing results with either method.
Order Now on Amazon: John Frieda Luminous Glaze Clear Shine Gloss
John Frieda Luxurious Volume Review
Keeping things short and sweet, the Luxurious Volume products work! They lift and volumize like they say they will, and don't leave hair greasy, sticky or weighed down. I hate to use this term, but these products are "must-haves" for flat or thin hair.
As someone with hair that's on the thicker side, I still love these for that big bouncy salon hair look. Some of my favorites are the Luxurious Volume Perfectly Full Mousse and the Luxurious Volume Root Booster Blow-Dry Lotion, which I use almost every time I blow dry my hair.
Get more info on the full collection here.
John Frieda Styling Products Review
The John Frieda Full Volume Hair Dryer has a ridiculous amount of power for this price range and still isn't loud, which is a rare combo, and it has a sleek, lightweight body. There are three heat settings, including a cool shot setting for locking styles into place, and two speed settings, and it comes with three styling attachments (a diffuser and two concentrators).
The ionic, titanium ceramic coating helps distribute heat evenly and shortens drying time, minimizing damage and frizz. The only downside of this dryer is that the controller buttons aren't placed in the best spot, so it's easy to accidentally change settings while drying.
I'd say that the John Frieda Curling Iron is the best of the bunch, and it is truly a value item at a relatively low cost. I have the 1 1/4 inch barrel which creates effortless looking waves or curls, and the curls really seem to last awhile when I use this curling iron. It heats up to 400 degrees Fahrenheit in 30 seconds which is nice for rushed mornings or when you just need to do a quick touch up.
The ionic ceramic coated barrel help curl efficiently and cuts down on heat damage. It's got a swivel chord which is especially helpful for a curling iron, and a cool tip so you can balance the iron without burning yourself. Speaking of the cool tip, my only critique of the iron is that it's a bit shorter than I'd like – be careful when styling!
I don't have too much experience with the John Frieda Sleek Finish Flat Iron, but if the company's other styling products are of any indication, it's probably right up there with the best of them.
Is John Frieda Cruelty Free?
In an email response addressing their animal testing practices, John Frieda's parent company KAO Group said that they do not test their products on animals, but failed to mention animal testing on individual ingredients. John Frieda's website doesn't outline their animal toasting policy, and PETA's website says that KAO does test on animals, so it seems that they do. It's always saddening and tough when I get to this part of my research and I've been raving about products that I know aren't cruelty free.
Conclusion
John Frieda's products are so highly recommended because they bring salon quality products to a nice median price point. However, if cruelty-free practices are something that are important to you, it is critical to note this shortcoming of John Frieda's which, frankly, is difficult to overlook! For quality products and salon tresses, John Frieda may get the job done, but it does not necessarily do so with ethical practices and love.
Up Next: Oribe Haircare Company And Products Review: Orly Oribe?
Before You Go! Shop Our Picks on Amazon Now