10 Best Deep Conditioners For Every Hair Type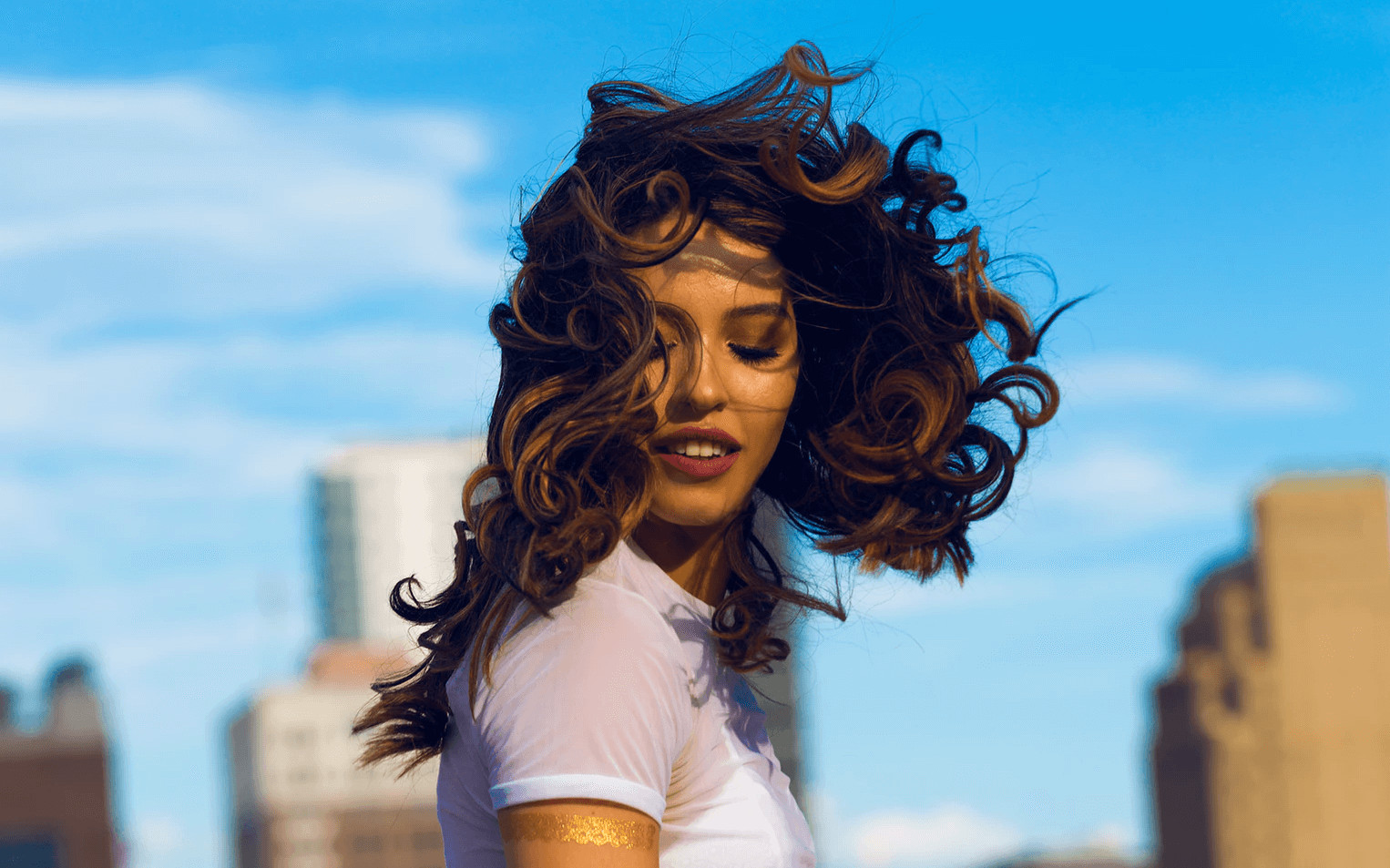 Conditioners are primarily meant to enhance the appearance and increase the manageability of hair. There are those that are geared more towards one hair type or another, but the general idea is that the conditioner penetrates the hair shaft and nourishes it. It's primarily used to prevent damage and to improve the hair's elasticity, and it's also used to untangle hair, so as to allow for easier brushing, combing, and styling.
Conditioners come in many shapes and forms, and one of those is that of a deep conditioner. Many hair care products damage your hair: substances of all kinds, hot irons, colors, bleaches, dry shampoo. Often, without realizing it, you expose your hair to the elements or hostile environments. Sometimes you misuse standard hair products, resulting in your strands becoming frail and somewhat lifeless. Even the best shampoo is likely to strip some oil from your hair through the cleansing process, which is why a restorative conditioner can help. Sometimes your diet is what is contributing to your hair's condition. Whatever the cause, you need something to help your hair get that bounce back. Using the weekly treatment of a deep conditioner allows you to replenish your supply of nutrients and beneficial ingredients to your scalp and hair.
What Is Deep Conditioner?
A deep conditioner is the name given to the group of hair care products that are meant to be left in the hair for more than a few minutes, but not as an overnight leave-in product. Usually, you need to leave a deep conditioner for 10-30 minutes before rinsing it out.
This type of treatment aims to deliver nutrients that a daily conditioner cannot. Because a daily conditioner is meant to be rinsed out with greater ease, some of its ingredients are more, shall we say, "lightweight." But with a deep conditioner, you can add other types of ingredients to the formula because it's often meant to be left in for a solid chunk of time. Specifically, the kind of ingredients that require time to penetrate the hairs and affect them. This is not always the case, however. Some deep conditioners instruct you to leave it in for only a few minutes longer than a daily conditioner. This means that you have the option to discover the perfect deep conditioner for your needs.
Who Should Be Using Deep Conditioner?
Anyone who feels as though their hair is looking and feeling broken, brittle, and lacking in vitality can use a deep conditioner. You can't usually use a deep conditioner to prevent hair issues, but rather as a reactive substance. A solution to a problem. While there are those who use it on a regular once-a-week basis, it is important to remember that there is a reason why this is not a daily treatment. Too much of a good thing can also be harmful. If your hair is feeling lifeless, damaged, and dried out, then a deep conditioner may be just what the hair doctor ordered.
DIY Deep Conditioner Recipe
So, what is it exactly that you are looking for in a deep conditioner? Some are looking to use it for detangling while others need it for strengthening and moisturizing. Others still might be looking for a deep conditioner which will simply aid them in managing their hair. A very popular DIY recipe consists of coconut oil, honey, and avocados. All of these natural ingredients are touted for their intense hydrating and moisturizing properties. Your hair won't know what's hit it with this nourishing trio.
Blend together 1 overripe avocado (one which is easy to handle), 2 tablespoons of raw honey, and 4 tablespoons of extra virgin coconut oil. You need to warm up the oil, and one way to get that done is by pouring it in a cup and placing that cup in a bowl of hot (not boiling) water. After a few minutes, add the rest of the ingredients. Apply to clean, preferably-shampooed hair, and cover it up with a shower cap and a towel. Let it sit for 10-20 minutes, and rinse out. You can choose to leave a small amount of the mixture in your hair if you like, to give it that extra boost.  Other ingredients which are often used are olive oil, aloe vera, shea butter, apple cider vinegar, and castor oil. Feel free to experiment and see what works for you.
Top 10 Deep Conditioners Reviewed
This is a mask formulated for damaged hair, which is designed to repair and restore the hair's life and luster. The Arvazallia Professional Series Hydrating Argan Oil Mask is thick and rich enough, but it simply didn't do it for me, personally. I can see how with certain types of damage it would be more effective, though. Argan oil is great for untangling hair strands and helping proper growth.
Of the three, the It's a 10 Miracle Deep Conditioner Plus Keratin is the one which stood out the most for me. I felt that after two applications I was able to sense a real difference in my hair's manageability and look. It also happens to be one of the more expensive products on this shortlist. Nevertheless, since you don't need to use it as frequently, you can make it last. Worth the money, as far as I am concerned.
One of the best weekly-use products for hair that needs to get back to its roots (ha!) is Neutrogena Triple Moisture deep conditioner. The various ingredients come together to not only help the appearance of the hair but also to repair damage in the scalp, providing it with a boost of hydration which enables its proper function (secretion of natural oils, healthy growth, etc.). This is the ideal hair mask if you're not sure of your specific hair type, as it's suitable for pretty much everyone!
This is the ideal deep conditioner for hair that needs an extra, extra boost. We've all been there. Your hair is so dry and damaged that it might just take a big chop to restore it to its former glory. The Raw Shea Butter Restorative Conditioner by Shea Moisture is a leave-in or rinse out conditioner that revives transitioning hair. Personally, this is the conditioner that leaves your hair looking like you just left a hair stylist. Enriched with olive oil and kelp extract, the hair restoration is inevitable with this conditioner.
If frizz is your dry hair's concern, then this smoothing deep conditioner has got you covered. Ideal for wavy and curly hair, this Farewell Frizz Smoothing Conditioner by Briogeo protects your hair from free-radical damage. Powered by moisturizing botanicals like rosehip oil, argan oil, and coconut oil, you can't go wrong. The conditioner penetrates deep into the hair shaft to revive and protect each strand. If you feel like this mask isn't for you, you can also try the Briogeo Don't Despair mask for a fortifying treatment that soothes frizzy hair. You can purchase it pretty much anywhere, but Sephora is always a safe bet for good quality products.
This leave-in deep conditioner delivers moisture to lackluster hair. For a deep conditioning treatment that restores split ends and breakage, there's no better solution than this Cold Processed Hair Conditioner by Act+Acre. This conditioner smoothes down the hair cuticle with botanicals. When your hair needs a thorough moisture boost, gentle yet effective natural ingredients like ylang-ylang oil and moringa oil step in to save the day. There's no better way to moisturize your strands than with plant-powered ingredients, and Act+Acre deliver. This restores your natural hair back to its natural moisture levels.
For a rich treatment that leaves the curliest of hair dripping moisture without the added weight, look no further than this matcha butter conditioning mask by DevaCurl. After shampooing your hair, run the Melt Into Moisture conditioner into your hair strands and leave for 3 minutes. If your hair is longing for a more intense hydration boost you can leave it on for as long as 20 minutes in a shower cap before rinsing out thoroughly. You should only need to use it once a week to replenish your hair.
The Treatment Masque by Ouai is a healing, deep conditioning mask to bring out your best hair. The deep treatment repairs damaged hair in mere minutes. The formula is gentle enough for fine hair, leaving your strands shinier and your hair color intact. Apply this leave-in conditioner to your hair and leave for 5 to 10 minutes for hair that is almost as good as new. It's not a miracle, it's powerful natural substances, like artichoke leaf extract, that do all the hard work.
Kerastase is often touted for having the best deep conditioner for damaged hair. The resistance mask contains fiber which improves your hairs strength and elasticity. The best part about this mask is that it infuses your hair with such deep moisture that it's able to prevent future breakage. The resistance range consists of a three-step program including a texturizing jelly, hair mask, and serum that gives you soft, supple tresses.
Whether your curls are loose or coiled, the Curl Immersion Triple Threat deep conditioner has all your curly hairstyles covered. It nourishes each strand with coconut and avocado oils. These hydrating oils work in synergy to leave curls strong, supple, and most importantly, frizz-free. The plant-based oils not only leave hair conditioned but also promote hair growth and the strength of each strand. To really make the most of this conditioner, use a hair dryer with a diffuser to separate and de-frizz each curl.
Conclusion
Our hair is part of our identity, to some degree. There is a reason why evolution left us the hair on our heads, right? We can shape our hair, play with it, style it, and manipulate it in all sorts of ways. It can help us to look good and feel good, and let's face it – sometimes having a "good hair day" can really lift your spirits. We've only looked at ten deep conditioners for an insight but there are many more to try if these don't tickle your fancy. Other worthwhile brands include L'Oreal, Carol's Daughter, Mielle Organics (their Mint Deep Conditioner is pretty up there), Olaplex, and Aussie. With so many options and variations to try from, you're bound to find the treatment for your hair.
Does everyone need a deep conditioning? No. There are some who use their regular conditioner, daily or semi-daily because for them that is enough. If, however, you feel that your hair is too damaged and too overly-managed, providing it with a boost of hydration and nourishment can be just the thing to get it back into place. Many people view their hair as an extension of themselves and their identity. Make sure your hair is shiny, clean, and healthy, by treating it to a deep conditioning once every week or two. Whether it's with a natural oil like coconut oil or babassu oil or with a mask from Ouai, Pantene Pro-V, or Kerastase, the options are endless to leave your hair nourished, hydrated, and restored. What are you waiting for? Healthy hair is just a conditioning treatment away.