Drunk Elephant Skincare Review: 12 Best Drunk Elephant Products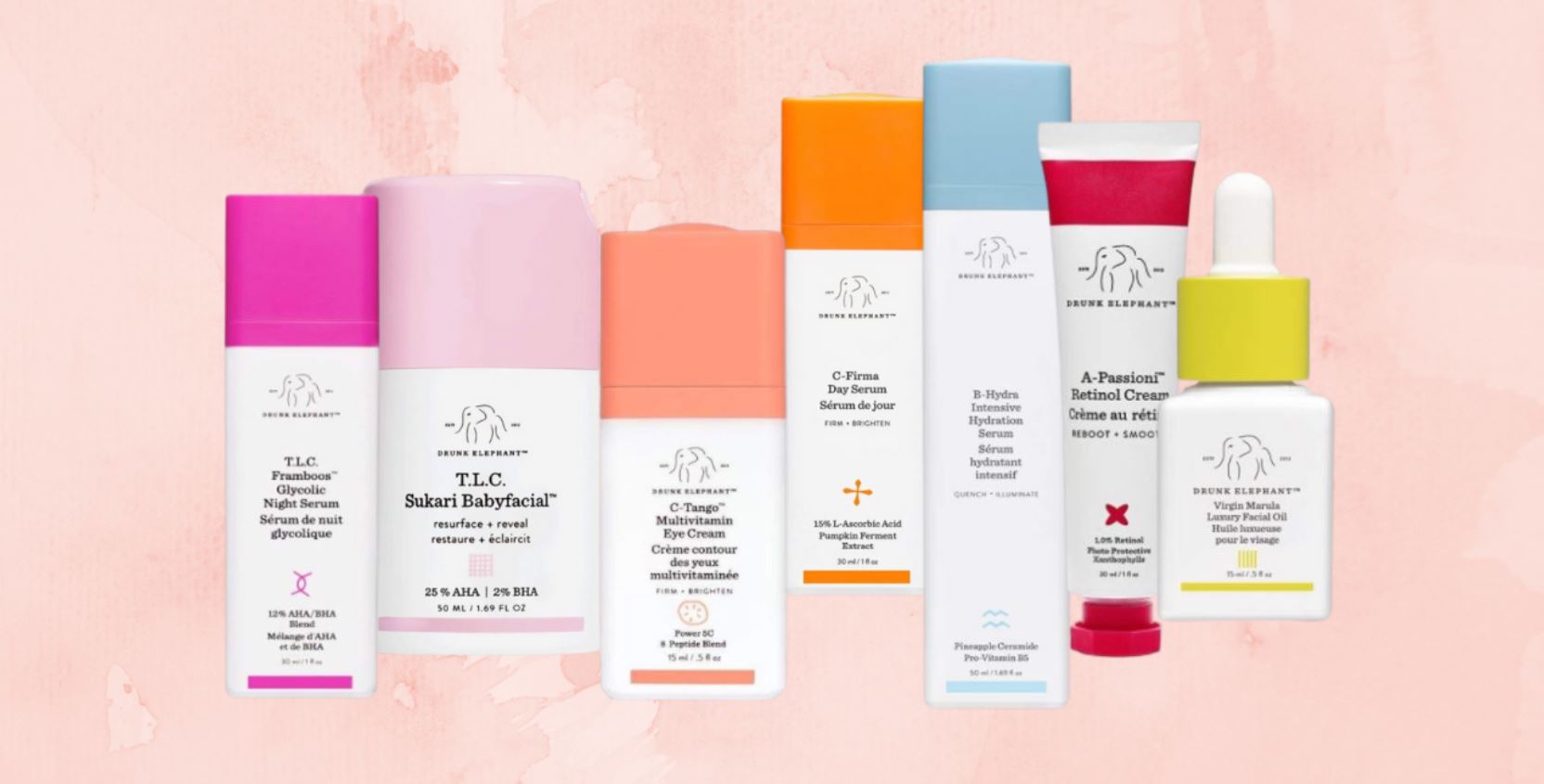 First things first. Let's not ignore the elephant in the room, the name of this brand. Drunk Elephant. I must admit, every time I think about it I giggle like a little kid. I mean, for starters, who doesn't love elephants? And I'm certainly a fan of a nice glass of wine or champagne. So the thought of the two of those things together…let's just say, this company has certainly got my attention.
Drunk Elephant is a relatively newer company, founded in 2012. The brains – and the beauty – behind the brand is Tiffany Masterson, who created the company after years of dealing with skin issues. Trying to find products to help and getting frustrated in the process, she started selling a bar cleanser on the side while trying to learn all about different skin products. And this, my friends, is how Drunk Elephant was born. If you've been meaning to find some Drunk Elephant reviews to learn more about the company and its products, today is your lucky day.
In A Hurry? Find What You Need
Drunk Elephant Sukari Baby Facial Review 
 Okay, "drunk", "elephant" and "baby" all in one title- this company slays me. But I digress. When it comes to the Drunk Elephant Sukari Baby Facial, the first thing to know is that it's a pro-quality AHA/BHA facial that "resurfaces to reveal greater clarity, improved skin texture and tone, and a more youthful-looking radiance."
 The Drunk Elephant TLC Sukari Babyfacial provides an extra nudge for stubborn skin that's also dull. It will exfoliate your skin and the pore lining and rid you of dead skin cells. Thanks to its blend of glycolic, tartaric, lactic, citric, and salicylic acids, this product will smooth your texture. At the same time, the Drunk Elephant Babyfacial will reduce the appearance of fine lines, wrinkles, and pores. It also contains chickpea extract, pumpkin ferment, and a combo of matcha tea, milk thistle, and apple. It's a recipe for success which lets the product provide you with brightening and enzymatic action, improve skin elasticity, and leave you with a softer and more radiant look.
Shop now: Drunk Elephant Sukari Baby Facial
The company claims that they have created the Drunk Elephant TLC to be at "the ideal pH of 3.5" so that you can experience an effective product without having to experience any redness or sensitivity.
 Drunk Elephant Protini Review
 Next at-bat is the Drunk Elephant Protini Polypeptide Cream. The "breakthrough protein moisturizer combines an unprecedented array and concentration of signal peptides, growth factors, supportive amino acids, and pygmy waterlily" in order to immediately help with your skin tone, texture, and firmness.
 The Drunk Elephant Polypeptide Cream recipe promises to revive your skin for a younger look from the very first use. It will reduce the appearance of fine lines, wrinkles, and sun damage while strengthening and hydrating your skin.
Check it out: Drunk Elephant Protini Polypeptide Cream
This product contains plenty of proteins and nutrients to replenish and restore your skin. To reap its benefits, simply use it morning and night after cleansing and drying your skin. Ingredients like nine signal peptides help hydration stick to your skin, making it plumper and firmer. The pygmy waterlily stem cell extract is a great source of antioxidants and nutrients, thereby supporting healthy skin. Lastly, the soybean folic acid ferment extract is a B vitamin that is essential for maintaining your skin's youthful glow.
 Drunk Elephant Retinol Review
The Drunk Elephant A Passioni Retinol Cream is "retinol reimagined". It involves a special formula made up of 1% vegan retinol as well as nourishing, superfood-rich ingredients to reduce the appearance of wrinkles, fine lines, and sun damage. The retinol and supportive peptides in the Drunk Elephant Cream "restore bounce, resilience, and a brighter clarity to skin while helping to even skin tone and texture – without the associated redness and irritation." The formula includes vitamin F as well as passionfruit, apricot, marula, and jojoba oils to restore essential lipids and hydration. Ingredients high in antioxidants, such as kale, winter cherry, and xanthophylls help protect your skin from environmental stressors. The company claims that using this product is like rebooting your skin back to its healthiest self.
The Drunk Elephant Face Cream comes in packaging which protects the stability and potency of its light and air-sensitive ingredients. When you want to use it, simply apply a pea-size amount to clean and dry skin. Start by using it only once or twice a week, and gradually build up to using it every day.
Drunk Elephant Jelly Cleanser Review
The Drunk Elephant Beste Jelly Cleanser is sure to become your new bestie. It promises to remove all makeup residue, excess oil, pollution, and dirt that you might have accumulated on your face during the day. The Drunk Elephant Cleanser contains a blend of mild surfactants and emollients which dissolve makeup. Once you rinse it off your skin it will not leave any residue, leaving you with clean and soft skin.
Take me to Amazon: Drunk Elephant Beste Jelly Cleanser
This product is good for all skin types. It's formulated to have a pH of 5.5, meaning that it won't be harsh on your skin. You can apply the Drunk Elephant Face Wash to skin that's wet or dry, and then you just gently massage it into the skin. Lather with water as you would other face cleansers. The company actually recommends only cleansing at night, but you do you.
Drunk Elephant C Firma Day Serum Review
 If you want to "C" differences in your skin (sorry, not sorry), check out the Drunk Elephant Vitamin C Serum. It's a powerful serum with vitamin C that also includes an antioxidant complex, nutrients, and fruit enzymes. This blend of ingredients works together to firm and brighten the appearance of your skin while helping with signs of photoaging.
Check it out on Amazon: Drunk Elephant Vitamin C Serum
The Drunk Elephant Serum contains I-ascorbic and ferulic acid to brighten, firm, and even out your complexion. The pumpkin ferment extract and sodium hyaluronate crosspolymer in the formula help to "enzymatically dissolve surface dead skin cells" as the serum hydrates your face. After using the Drunk Elephant C Firma you'll be left with skin that reveals fewer signs of aging and photodamage, and you'll instead experience radiant skin. You should know that this product will stay active on your skin for up to three days and cannot be washed off.
Drunk Elephant Eye Cream Review
When it comes to eye products, this company has got you covered with two different options. First, is the Drunk Elephant C Tango Multivitamin Eye Cream, which is a restorative eye cream. It packs a mix of eight peptides, 5 different forms of vitamin C, and cucumber extract. All of this delivers firmer, stronger-looking skin by the eyes. This serum includes antioxidants, ceramides, and plant oils, as well as soothing actives. This serves to refresh your skin and restore radiance.
Shop now: Drunk Elephant C Tango Multivitamin Eye Cream
There's also the Drunk Elephant Eye Serum. The Shaba Complex Eye Serum is a "satiny eye serum formulated with powerhouse ingredients to tackle the major signs of aging under and around the eyes, such as fine lines, wrinkles, and sun damage." Its formula includes strong doses of black tea ferment, niacinamide, copper peptides, and edelweiss stem cells (shout-out to all the fellow The Sound of Music fans). They work together to smooth out the area by your eyes, giving you a younger look.
Drunk Elephant Facial Oil Review
The company calls their Drunk Elephant Virgin Marula Oil "rehab for your skin". It's jam-packed with antioxidants, omega-6, and omega-9 to nourish and balance your skin while giving you a young look.
The marula oil for this Drunk Elephant Oil comes from the pip of the marula fruit. It's an oil that your body can quickly absorb, so it will easily help minimize the appearance of fine lines and wrinkles.
In order to extract the oil, the company uses a raw, cold-press extraction and filtration process. This results in an extremely pure and concentrated form of the oil. It also means that your body can absorb the oil quite easily, with its antioxidant polyphenols and barrier-supportive fatty acids preserved. The high levels of polyphenol in the oil mean that the Drunk Elephant Marula Oil provides a powerful antioxidant defense against pollution and free radicals.
Drunk Elephant B Hydra Review
The Drunk Elephant Hydration Serum will do just what you'd expect. It hydrates your skin while improving your complexion, skin tone, and texture.
The formula includes pro-vitamin B5 and pineapple ceramide to leave your skin looking healthy and radiant. It also contains a unique lentil-apple-watermelon complex and will reduce drabness, dryness, and the appearance of fine lines. With every use, your skin will look younger and brighter. And the great news is that this product is good for all skin types.
Learn more: Drunk Elephant Hydration Serum
The Drunk Elephant B Hydra is biocompatible, meaning that it can easily penetrate your skin without upsetting its balance. To use it, simply apply it to your face, neck, chest, hands, or any place that needs some extra moisture. 


Drunk Elephant Lala Retro Whipped Cream Review
They had me at "drunk" and "whipped cream". This Drunk Elephant Whipped Cream "provides replenishing barrier support by reinforcing skin's acid mantle and defending against the effects of everyday stressors." It's just what tired, dry skin needs. Get yours here.
The cream is infused with 6 African oils (marula, mongongo, baobab, Kalahari melon, ximenia, and passionfruit) and a plant ceramide complex. The sodium hyaluronate crosspolymer will seep into your skin in order to deliver moisture, and the antioxidant-rich fermented green tea helps fight against signs of aging. The Drunk Elephant Moisturizer helps skin hold onto moisture that lasts, creating a protective layer for your skin. It also includes phytosphingosine, which is a plant-derived lipid with strong soothing and restorative qualities. The ceramides come from plant sources and they help to soothe and maintain the balance of moisture in your skin while also preventing the loss of hydration.
Drunk Elephant Lippe Balm Review
The beauty issue that I most suffer from in life is chapped lips, which is why I was especially interested in getting to know the Drunk Elephant Lippe Balm. It will provide your lips with moisture and volume (turns out that volume is not just for hair!) while rejuvenating and nourishing them.
The lip balm contains an antioxidant-rich blend of avocado and mongongo nut oils. It also includes a tripeptide and sea fern algae. All of this will help your lips look plumper and give them more definition. Say goodbye to rough, dry lips with this product.
I want it: Drunk Elephant Lippe Balm
The Drunk Elephant Lippe Balm also contains antioxidant-rich green tea leaf and vitamin C. This helps it neutralize free radicals and pollutants that can cause early signs of aging. You can use it alone as a lip balm or even under lipstick. Yet you can also use it around your eyes to moisturize and smooth crow's feet.
Drunk Elephant Framboos Review
Enter the Drunk Elephant Glycolic Night Serum into the mix. It's a high-tech AHA/BHA gel that resurfaces dull, congested skin. It does so by gently lifting away dead skin cells, significantly boosting the appearance of skin's tone and texture, fine lines, wrinkles, and pores.
The serum is made up of glycolic, tartaric, lactic, citric, and salicylic acids. It's also blended with raspberry extract and horse chestnut. All of this helps to stop excess oiliness while revealing greater clarity and luminosity. By improving your skin's ability to absorb, this serum will also make your other facial products more effective.
Take me to Amazon: Drunk Elephant Glycolic Night Serum
You'll definitely notice the Drunk Elephant Night Serum before and after effects. It delivers an effective level of chemical exfoliation – without any harsh side effects like dryness or sensitivity. This will leave you looking more radiant pretty quickly.
Drunk Elephant Bamboo Booster Review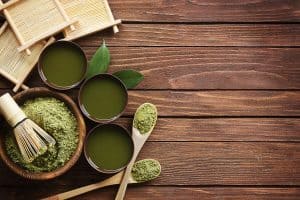 The Drunk Elephant Cleansing Balm and Bamboo Booster should definitely be on your radar. The makeup-melting butter cleanser is a cleansing balm that melts away dirt, makeup, and sunscreen from your skin. Once it comes into contact with water it transforms from oil to milk. The ingredients include antioxidant-rich fruit extracts and oils to soothe skin, as well as a combo of African oils to gently cleanse and hydrate.
Check it out: Drunk Elephant Cleansing Balm and Bamboo Booster
To use, simply apply a spoonful to dry skin using dry fingertips. Then massage it in circular motions over your face. Lastly, add water in order to activate the product and continue to massage it, later rinsing it off well and patting your skin dry. At night you can use it to cleanse to eliminate makeup and dirt, while in the morning you can use the bamboo booster to exfoliate, slough, and refine your skin. The tiny, ultrafine bamboo and charcoal spheres gently exfoliate, leaving you with healthier skin.
Is Drunk Elephant Cruelty Free? Is Drunk Elephant Vegan?
This is something that I don't get to say about companies often enough, so it's amazing to know that Drunk Elephant Skin Care is cruelty free. The company does not test any products or ingredients on animals, and their suppliers and their third parties don't either. Furthermore, Drunk Elephant does not sell its products in any country which requires animal testing, a true commitment to being cruelty free. I will note that the company is owned by Shiseido, which is guilty of not being cruelty free, but I am happy that Drunk Elephant has still taken this important stand. The company even gets a little cheeky with this issue, stating on their website "No, we do not test our products on animals, including elephants… although we think they could use the help!"
Not all Drunk Elephant products are vegan. After all, the company does use ingredients such as honey in some of its products (but not all!). The brand recommends reading the ingredients label of each product before purchasing if you want to make sure to only buy vegan goods.
Sunday Riley Vs Drunk Elephant: Is Drunk Elephant Worth It?
Sunday Riley and Drunk Elephant- two brands that are not your mainstream classics but which still have captivated consumers since their creation. Overall, I can honestly say that both of these companies are great. So when it comes to comparing the two brands, it might be better to stick to comparing their products one by one.
For instance, let's take the Sunday Riley Good Genes and the Drunk Elephant T.L.C. Framboos Glycolic Night Serum. The Good Genes product is best for dry and sensitive skin, while the T.L.C. is best for oily and non-sensitive skin. When talking about moisturizers, the Drunk Elephant Protini beats out the Sunday Riley Tidal moisturizer. That's because Tidal can leave a greasy residue on any skin type- and it's certainly not for oily skin.
Take Me To Buy Sunday Riley Products!
Yet when it comes to a vitamin C serum, Sunday Riley takes the orange. Their C.E.O. serum has a formula that will make its quality last longer than the Drunk Elephant C-Firma serum, so you know that you're getting the biggest bang for your buck. So while you now have the lowdown on the products, know that these are both great brands to be working with. You can buy them for yourself or make a Drunk Elephant set or Sunday Riley set to give a friend. Even better- make a combo set to get the best of both worlds!
Conclusion
As if you needed another reason to love elephants so much! The Drunk Elephant line of products is your one-stop-shop for cleansing, moisturizing, and balancing your skin. This company certainly knows what it's doing, and it has its wonderful founder to thank for that. Between its wonderful blend of ingredients and its focus on hydration and pH, this company really sets the bar with its products. Which might explain why it's called Drunk Elephant!
Before You Go! Shop Our Picks on Amazon Now