Dermalogica Skin Care Review: The Best Dermalogica Products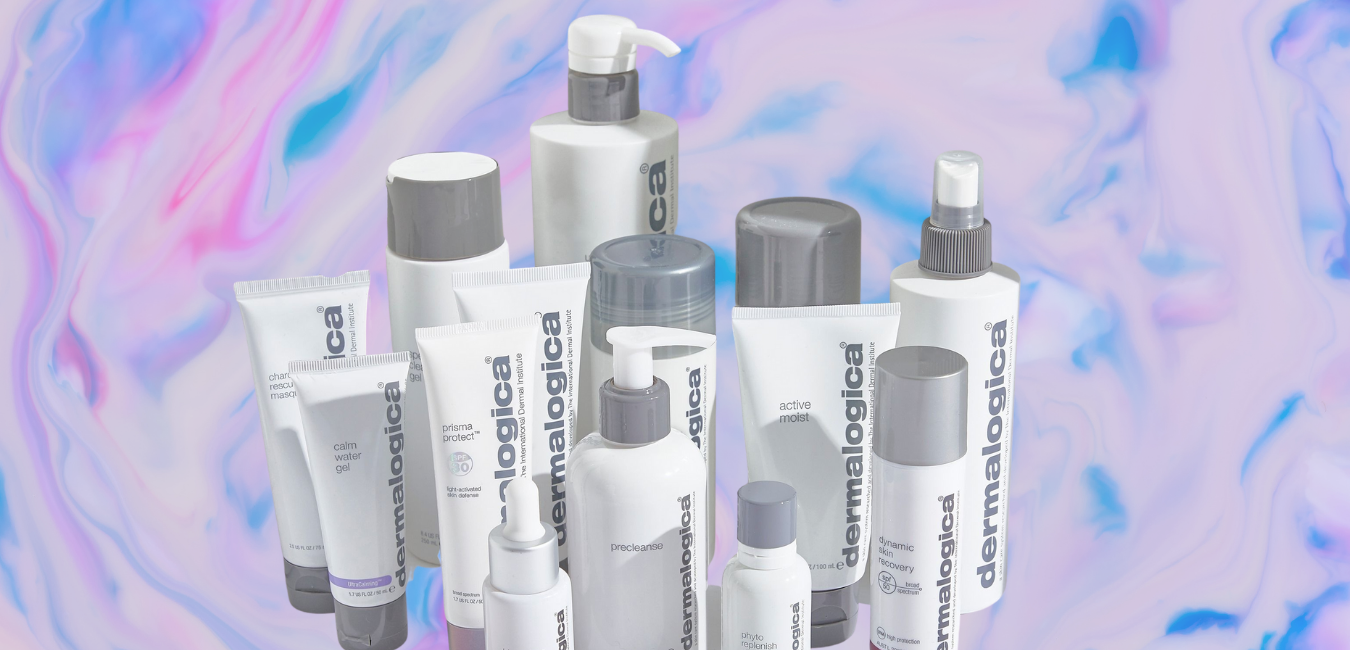 Maybe it's just me, but I like the idea of using a skin care company that has "derm" in its name. Since "derm" refers to skin, I feel like it implies that the company takes what it does seriously and doesn't feel the need for frills- just practicality. A skin therapist created the brand in 1986, and the company offers skin care education, products, and services. The company has reached over 100 countries due to its commitment to good skin with a personalized approach. We've compiled our favorite products for a super-comprehensive review, so keep reading to learn about a large array of products in the Dermalogica line.
In A Hurry? Find What You Need
Dermalogica Daily Microfoliant Review
The Dermalogica microfoliant is "a gentle, rice-based powder exfoliant that visibly brightens, improves the look of skin's texture, and clears pores." It's great for people of all skin types, including dry, oily, combination, and normal. This Dermalogica exfoliant will help target pores, uneven texture, wrinkles, and fine lines.
Among its highly effective ingredients are licorice, grapefruit, and phytic acid from rice bran, which help to even out skin tone. Papain enzymes and salicylic acid help bring out excess oil, boosting the look of your pores and your skin's texture. And lastly, colloidal oatmeal moisturizes and helps minimize redness.
Check it out on Amazon: Dermalogica Daily Microfoliant
Alternatively, there's the Dermalogica daily superfoliant. It is "a resurfacing powder that helps fight toxins and environmental triggers known to accelerate skin aging." It's also for all skin types, and it will treat pores, dullness, uneven texture, fine lines, and wrinkles.
The activated charcoal in the Dermalogica superfoliant helps clear toxins from your skin. The niacinamide minimizes the appearance of pores, and the lavender works to soothe your skin.
None of these should be confused with the Dermalogica gentle cream exfoliant. It's a gentle treatment which can help boost your skin's texture, while exfoliating, moisturizing and smoothing. All you have to do is apply a thin layer over cleansed skin and let it do its thing for about 15 minutes. Then you just have to rinse, repeating this process twice a week.
Dermalogica Precleanse Review
This Dermalogica precleanse cleansing oil is a must-have, in my humble opinion. It's a deep-cleansing oil that will remove makeup and other impurities from your skin. It will address concerns relating to oiliness, pores, dullness, and uneven texture.
The oil includes Vitamin E, which will nourish and protect your skin from damage. The rice bran will exfoliate your skin without being too harsh, and the rosemary will defend your skin against damage.
The Dermalogica precleanse oil is good for all skin types. The product is vegan, which is great for the animal lovers out there. It's also free of potentially harmful ingredients such as SLS and parabens.
Shop now: Dermalogica Precleanse
Not to be confused with the oil, there's also the Dermalogica precleansing balm. The deep-cleansing balm-to-oil "melts away impurities and make-up from skin". It will give you cleaner, healthier-looking skin by deconstructing layers of excess sebum, pollution, and cosmetics on your skin.
The Botanical Biolipid Complex in this balm seals in moisture and strengthens the skin barrier. At the same time, apricot kernel oil nourishes your skin. This product comes with a cleansing mitt to clean debris from your skin, thereby making your cleanser even more effective.
Dermalogica Special Cleansing Gel Review
Dermalogica sees the cleansing of your skin as one of the most important factors out there. With the Dermalogica cleansing gel, you'll enjoy a nice lather that will eliminate impurities while not upsetting your skin's natural moisture balance. It's a soap-free foaming gel that will leave your skin feeling both smooth and clean. The Dermalogica cleanser is lightweight and mild so you can use it on your skin every day, and the balm mint and lavender extracts help soothe your skin. Plus, the Quilllaja Saponaria bark extract works to naturally foam and cleanse your skin. Get yours here. 
Next on the list is the Dermalogica ultra calming cleanser, which is a gentle cleansing gel/cream for reactive skin. This cleanser does not foam, and it is pH-balanced. It helps to calm and cool reactive, sensitized, and overprocessed skin. It will strengthen your skin's protective barrier without irritating your skin, and it will easily wash away when you're done.
The last thing to potentially add to your at-home Dermalogical facial from the company's cleansers is the Dermalogica calm water gel. It's a light, hyaluronic acid water-gel moisturizer that's perfect for dry, sensitive skin. It will reach different layers of your skin to boost moisture and keep it in, giving you a young and healthy look. It will help alleviate redness, dryness, dullness, and uneven texture. The apple fruit extract helps soften the skin, the hyaluronic acid hydrates, and the cactus pear soothes.
Dermalogica Clearing Skin Wash Review
But wait, there's more! Lest you think that the company was done with being concerned about the cleanliness of your face, they've also come out with Dermalogica face wash. It's a "non-irritating, naturally-foaming cleanser that helps clear skin and minimizes signs of aging."
The beta hydroxy acid salicyclic acid encourages natural exfoliation in order to clear follicles that are clogged and smooth dullness. The inclusion of menthol and camphor cool inflammation, while balm mint, eucalyptus, and tea tree also work their magic in this formula.
In order to use this product, just lather a pea-sized amount in your wet hands. Apply it to your damp face and neck, massaging it in circular motions while focusing on areas that are particularly oily.
Take me to Amazon: Dermalogica Clearing Skin Wash
Dermalogica Overnight Clearing Gel Review
The Dermalogica Overnight Clearing Gel seems like the real MVP of the line. Not only does it help clear congestion, but it will also help prevent future breakouts. All while noticeably minimizing signs of aging.
The salicylic acid will clear pores that are clogged, while green tea and hyaluronic acid soothe and moisturize your skin as you sleep. Furthermore, the tea tree oil steps in to get rid of bacteria, while the niacinamide both brightens and moisturizes. Biotin, zinc gluconate, and caffeine, as well as meadowsweet, yeast, and licorice extracts also help this product achieve top results. You can either apply the gel all over your face or only to the specific areas that seem to need it the most.  
Learn more: Dermalogica Overnight Clearing Gel
Dermalogica Rapid Reveal Peel Review
Looking to renew your cells and achieve a poreless, glass skin complexion? Then look no further than this Dermalogica peeling product. It's a high-strength exfoliant that yields powerful results. The formula for this peel includes phytoactive AHA extracts, lactic acid, and fermented plant enzymes. This allows it to help you have firmer skin and fewer lines and wrinkles by clearing debris on your skin without leading to dehydration. 
The pumpkin fruit enzyme and rice bran extract even your skin tone by resurfacing the skin and encouraging cell turnover. Lastly, Australian caviar lime extract makes the skin brighter and more radiant.
Check it out: Dermalogica Rapid Reveal Peel
In order to reap the benefits, just place some of the product in your hand and lightly massage it into your face, chest, and neck in a circular motion. Depending on how sensitive your skin is, you'll want to wait 3-7 minutes to let the product activate. During this time, don't be concerned if you experience mild tingling or warming. Afterward, simply rinse it off with cold water or wipe it off with a washcloth. This product is best for use in the evenings.


Dermalogica Age Bright Clearing Serum Review
In this case only, I give you permission to judge a book by its cover, as the name pretty much makes it clear that this product is for anti-aging benefits. The Dermalogica Age Smart Clearing Serum is a two-in-one serum that clears and helps prevent breakouts while minimizing signs of aging on your skin. This formula will exfoliate your skin in order to help with acne woes while accelerating cell turnover in order to reduce signs of aging.
This product's AGE Bright™ Complex "works with the skin's natural microbiome for clearer, brighter skin." Phytoactives (cosmetics which use plant parts) from resurrection plant help to moisturize and smooth out your skin. Niacinamide, which as you by now know is popular in Dermalogica products, works with white shiitake mushroom to deliver a brighter, more even skin tone.
Shop now: Dermalogica Age Bright Clearing Serum
Dermalogica Multi Active Toner Review
The Dermalogica toner actually comes in spray form. It hydrates and refreshes skin of all types. Similar to many other Dermalogica products, the multi active toner will address redness, dryness, dullness, and uneven texture.
The toner includes lavender, which works to soothe skin. Humectants keep your skin hydrated, while arnica can soothe and provide anti-inflammatory properties. The toner helps condition and prepare your skin for proper moisture absorption when you spray it. It will help with the appearance of your pores and smooth the look of your skin's surface. Get yours here.
After cleansing your skin, simply spray the toner (make sure to close your eyes while you do so!). Then use a moisturizer in order to get the full effect.  
Dermalogica Biolumin C Serum Review
Say hello to this high-performance serum. The Dermalogica serum enhances the skin's natural defense system to brighten, firm, and significantly reduce the appearance of fine lines and wrinkles.
The advanced biotechnology and ultra-stable vitamin C complex work together to help fight oxidative stress and signs of aging before they start. Peptides and AHA result in brighter, firmer, and more radiant skin. The serum will exfoliate unbalanced pigmentation, minimize the appearance of fine lines and wrinkles, and protect against free radical damage.
I want it: Dermalogica Biolumin C Serum
But if you're looking for something different, check out the Phyto Nature Firming Serum. This advanced, dual-phase serum mixes effective botanicals with biomimetric technology to minimize signs of aging and reawaken younger-looking skin. Even after only one use, you will already see a difference in the appearance of fine lines on your face. After 4 weeks of use, you'll see a noticeable difference in wrinkles, and upon first use, you'll instantly see a boost in your skin's luminosity.
Dermalogica Eye Cream Review 
Now let's explore some of the products in the Dermalogica eye cream line. First up is the multivitamin power firm, which targets lines around your eyes. The antioxidant-rich vitamins C and E defend against free radical damage, while they also act as a barrier against future potential damage. The cream's botanical extracts help firm and smooth skin texture while reducing the appearance of fine lines. This product is ideal to use before applying concealer.
There's also the total eye care with SPF 15. In addition to protecting your skin from the sun, it will also protect against dark circles. It promises to smooth and retexturize, thanks in part to alpha hydroxy acids and plant extracts. These ingredients also let it reduce the appearance of puffiness and fine lines. Dermalogica also includes optical light diffusers to help hide dark circles. And of course, with the SPF feature, it also acts as a sunscreen to protect you from skin damage.
Dermalogica Active Moist Review
The worst thing about some moisturizers is that they leave you feeling greasy and gross afterward. Well, not with this Dermalogica moisturizer. The Active Moist is a lightweight, non-greasy, oil-free moisturizer that will deliver hydration to your skin without clogging your pores. The not-so-secret ingredients that help this product work their magic are the Prebiotic Moisture Complex and a blend of plant extracts. These help improve your skin's surface texture and target dehydration. Lemon, cucumber, and burdock extract help refine your skin. In addition, the lactic acid moisturizes and helps with cell turnover, and the silk amino acids help with skin texture. Get it here. 
There's also the Dermalogica skin smoothing cream to check out. Its formula includes a hyaluronic acid complex as well as mallow (for hydration), cucumber, and arnica (which has anti-inflammatory properties). Its special ingredients help both minimize moisture loss and deliver moisture throughout the day. Great for your face and neck, this moisturizer has natural antioxidant grape seed extract and vitamins C and E to provide a smoothing effect. All while protecting skin from the damaging effects of free radical damage and stress. After using this product, you'll enjoy a plump and supple complexion. It will address your concerns of fine lines and wrinkles, dryness, dullness, and uneven texture. Get it here. 
Dermalogica Intensive Moisture Balance Review
Next up: Intensive Moisture Balance. I feel like these products keep getting more and more intense in their commitment to hydration (see what I did there?). The Dermalogica intensive moisture balance "restores lipid balance to dry, depleted skin for optimal barrier performance."
The prebiotic Chlorella Algae complex helps to restore balance in the skin's natural microbiome to give you healthier skin. The combination of hyaluronic acid, Echinacea, Centella Asiatica, and aloe vera keep in moisture, reducing the appearance of fine lines.
Shop now: Dermalogica Intensive Moisture Balance
This product will strengthen the skin's lipid barrier, help rebalance the skin's microbiome, and deliver serious moisture to skin. Simply apply it to your face and neck in gentle, upward strokes after you've cleansed and toned your skin. You can use it both morning and night in order to reap the full benefits.
Dermalogica Barrier Repair Review
While the name of this product might sound clinical, the description sounds heavenly. This "velvety moisturizer" helps strengthen sensitized skin whose barrier has been damaged. Ironically, this Barrier Repair moisturizer contains no water. It's best to use after you've used toner, in order to protect against skin stress triggers.
The company's unique UltraCalming Complex includes oat and botanical actives in order to reduce discomfort. The barrier repair will, as you guessed, help rejuvenate your skin's barrier function while fighting off free radicals and the damage they can cause by using evening primrose oil, borage seed oil, and vitamins C and E. In addition to all of the other benefits that come from this product, it also creates a smooth, even base on your skin which will make your makeup application all the more effective and flawless.
Check it out on Amazon: Dermalogica Barrier Repair
Is Dermalogica Cruelty Free? 
I am happy to report that Dermalogica has the cruelty-free seal of approval from PETA and Leaping Bunny. Honestly, it's nice to be able to say that about a company when so many companies are not fully there yet or decide to sell in countries that mandate animal testing. Furthermore, the company is proud that its products are made locally and do not contain artificial colors or fragrances.
Not only that, but the company has gone vegan on all but five of its products. The ones that aren't included in the vegan list are the Active Moist, Sheer Tint SPF 20, Skin Perfect Primer SPF 30, Soothing Eye Makeup Remover, and the MultiVitamin Power Serum.
Conclusion 
All in all, this is a company that truly has your skin's health in mind. From the unique ingredients to the company's passion for hydrating and strengthening your skin, using Dermalogica products is certainly a win. I appreciate a company that is no-frills and is straight to the point in terms of what it does and how it does it. So if you want to get back to basics while also getting back to healthier skin, you should certainly give this line a try. 
Up Next: Philosophy Skin Care Review
Before You Go! Shop Our Picks on Amazon Now