The Truth About Hairfinity By Brock Beauty: Is It Safe?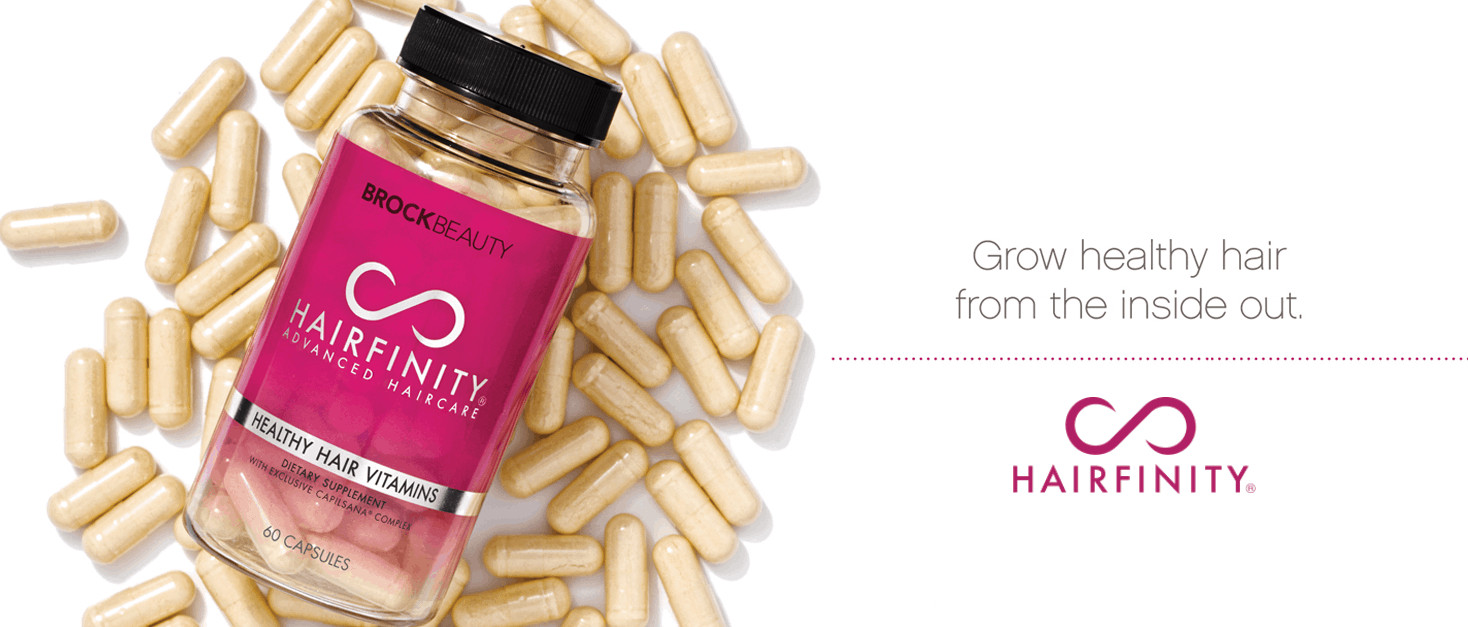 Traditionally, the clichéd line of thinking is that women obsess over their hair and men are indifferent about theirs. Women supposedly take a long time prepping themselves and their hair for the day, while men seemingly roll out of bed and walk through front door without so much as a glance at a mirror.
In 2019, we can safely put this stereotype to rest. There's no doubt that women do care about their hair and want it to look amazing. And that probably won't ever change. But nowadays men seem to care about their mane just as much, if not more than, women. It's true! This has been apparent for some time, but a recent hair care boom has taken men's hair care to new heights; the men's grooming industry grossed a record $21 billion in 2017. No longer are women the sole focus of hair care product companies. The industry is now recognizing that men want nice hair and that they want products which will help them achieve this.
Clearly, in this day and age, everyone cares about their hair. People will go to great lengths (pun awesomely intended) to make sure their hair is the healthiest that it can possibly be. This has led to a proportionate uptick in the number of hair care companies and products that are designed to help consumers reach their full 'hair potential.' Brock Beauty is one of those companies. This is our Brock Beauty Hairfinity Hair Vitamin Review. Keep on reading if you want to discover if these vitamins are safe and helpful.
Brock Beauty And Hairfinity History
Brock Beauty was founded in 2004 by Brock Lawrence and his wife Tai when the couple noted a gap in the hair and cosmetics industry. The company strives to provide effective hair and skin care products backed by safe and natural formulas. This is unlike the major players in the industry who sometimes only claim to provide "all-natural" products. Specifically, the couple recognized that there was a lack of safe, reliable supplements available that were designed to improve hair growth and health. Hair pills and supplements were either expensive, unsafe and unreliable, or all of the above. This led to the creation of Hairfinity dietary supplement, the flagship offering of Brock Beauty and one of the most widely-used and acclaimed hair care products available in the world today.
Shop Hairfinity Products on Amazon
Born largely out of Tai's desire to create a solution that solved her own hair growth problems, the Hairfinity dietary supplement is designed to fill in the gaps in a regular diet. It provides you body with the nutrition that it needs (but may be lacking) for healthy hair growth and maintenance. The dietary supplement is part of the larger Hairfinity family and brand. Hairfinity also offers shampoo, conditioner, a strengthening amino masque, nourishing oil, and infinite edges serum spray, all designed to promote the strengthening and improvement of hair. Using only the safest and most effective natural ingredients and nutrients, Hairfinity products have been universally praised for their effectiveness, natural formula, and affordability. This is especially the case when compared to many other popular hair solutions on the market.
Shop Now: Hairfinity Dietary Supplement 
How Do Hairfinity Supplements Work?
How Strong Is Your Hair? https://t.co/aHpnYsczIG pic.twitter.com/a0Sxlmcqq0

— Hairfinity (@hairfinity) September 11, 2017
Hairfinity's dietary supplement is generally proven effective for both women and men. It works to boost hair from the inside out. It boasts an exclusive capilsana complex which provides the hair with its naturally occurring building blocks through the strengthening of necessary hair-friendly vitamins and nutrients. The Hairfinity vitamins don't need be taken in conjunction with any of the other products in the Hairfinity family. The shampoo and other topical supplements are just there to strengthen and compliment the dietary supplement.
A commonly encountered problem in the hair growth supplement market has been that of pills that promote hair growth on various parts of the body. Hairfinity multivitamins are not formulated for stimulation of follicles on any hairless or unwanted areas. There will be no ill effects if and when someone stops taking the vitamins, which are manufactured in FDA-certified facilities that adhere to the requirements of the United States Food and Drug Administration.
Brockbeauty Hairfinity Ingredients: Full Disclosure
Some companies provide hair supplements that are deliberately unclear in terms of key ingredients and composition. Brock Beauty, however, lays it all out on the line with their Hairfinity ingredients. The formula is composed of such ingredients as hyrdrolyzed collagen, which is made of a blend of amino acids that formulates new collagen to strengthen the hair strands and shaft.
Also included is MSM, a sulfur-rich compound that promotes vitality, horsetail and silica. These are known for their boosting and fortifying powers. MSM also includes biotin, which promotes growth of existing hair and produces keratin. This keratin production works to increase hair elasticity, a win for all.
Vitamin C has antioxidant properties which help protect your skin and hair. Vitamins A and D also provide antioxidant protection to promote hair and scalp health, plus Vitamin D acts as a volume builder by preventing hair shedding. Niacin promotes healthy blood circulation to the scalp, folic acid enables healthy cell growth, Vitamin B12 helps deliver much-needed oxygen to hair follicles and the scalp, and pantothenic acid strengthens and nourishes the hair follicle. These additional ingredients form an ideal hair care supplement which can help hair of all kinds. Man or woman, young or old, it makes no difference. Everyone stands to benefit from Brock Beauty's Hairfinity.
Hairfinity Hair Supplement Before And After Results
I've spent most of my adult life hiding under hats or strategically styling my natural hair to diminish the thinning look of it. Believe me, it hasn't been easy nor has it been pleasant. Looking at some of my friends and their gorgeous hair made me wonder why I couldn't have their hair types. It certainly wasn't for lack of trying! About a year ago, however, I found Hairfinity, and life hasn't been the same since!
Initially introduced to me by a male co-worker, Hairfinity has been, in short, a life saver. I was skeptical of the product at first given that all I knew of it was that it was working for a man who I worked with. But after researching the product, I actually found out that more women use Hairfinity than men. I started with a one-month supply of sixty pills and followed the regimen religiously, taking one pill twice a day after eating.
Unfortunately, during the first couple of weeks I saw little to no progress. I chalked up the product as another failure in my ongoing struggle. I kept up with the regimen given that I already paid for the product, and finally, towards the end of the month, I saw some improvement in my hair. My Hairfinity review began looking up! My hair seemed softer and thicker than before. This represented more progress already than I'd seen in several more expensive supplements.
Brockbeauty Hairfinity Results After 1 Month
I decided to pay for month two, and the progress never slowed down. My hair grew softer, grew longer (finally!), thickened, and even seemed to give off a shinier, more vibrant look! Month two of Hairfinity was definitely one of the better months of my life.
I haven't stopped taking the pill since. My hair used to stop growing at a length a few inches above the shoulder, which was quite (read: very) annoying. It now falls past my shoulder blade, a welcomed change. It's softer, stronger, and healthier hair than I've ever had in my life! No more breakages!
This might seem like an exaggeration, but taking Hairfinity was one of the better decisions I've ever made. The compliments I have been receiving have done wonders for my confidence. I'm just a happier person knowing that my hair is finally growing in the way that I want it to. If their complex formula worked miracles for me, after I tried and failed to improve my hair with countless other hair care products, I can't imagine it not working for most everyone else. In fact, customer reviews seem to indicate that indeed this product does work amazingly on many people's hair!
2019 Hairfinity Review Update: Still Working?
I am still using the Hairfinity dietary supplement, and it still works its magic on me and my hair. It really is amazing; when certain things fall into place, so many others seem to follow suit. I mentioned the boost of confidence I experienced with Hairfinity, and that confidence has grown and blossomed.
I'm happy I made it through that initial period of apparent failure. It's strange. You wouldn't necessarily think that a supplement, of all things, will solve your hair trouble. I know we are all different, and this is definitely not the route which everyone needs to take. That said, it continues to work for me, and it makes me happier. To Hairfinity – and beyond!
Sugar Bear Hair vs. Hairfinity
Since the Kardashian's can't seem to keep their hands off the Sugar Bear Hair gummy vitamins, let's take a minute to compare them to Hairfinity. I think that the best way to objectively compare products is to look at the ingredients alone. With this in mind, the active minerals and vitamins in the Sugar Bear Hair gummies look like they're just what your hair needs for that added boost. Vitamins A, C and a multitude of B vitamins are included, as well as some other beneficial minerals. While this is all well and good, there were a few notable ingredients that I was surprised to see. The use of "color added" and "natural flavors" should always catch your eye when scanning ingredients labels. Both of these are not ingredients in their own right. These code names are often used as a loophole to sneak in potentially harmful ingredients.
Meanwhile, the main ingredients in Hairfinity, such as MSM, hydrolyzed collagen and horsetail, work together to boost hair strength and encourage growth. What you see is pretty much what you get, which is exactly the way I like my ingredients labels. That being said, although the ingredients are behind them, unlike Sugar Bear Hair, Hairfinity is not certified vegan. This might be a deal breaker for some consumers.
Hairfinity Side Effects Explained
There is great debate as to whether Hairfinity side effects are specific to the supplement or are simply considered part and parcel of taking any supplements. The side effects that you might experience are pretty standard and shouldn't flag any major concerns, so don't be too worried. Digestive issues, frequent urination and a subtle change in appetite are natural side effects of the supplements. If any of these issues present themselves beyond what you consider normal, for example you experience a burning sensation while you urinate, check in with your doctor. But otherwise, it's nothing to be alarmed about.


That being said, the speculation surrounding Hairfinity side effects is real. Rumors have spread like wildfire that one of the main side effects of this hair growth supplement is hair loss. The explanation given was that the pills work to remove your hair in order to allow for healthy hair to regrow. The truth is that infrequent hair loss is something that we all have to deal with from time to time. Noticing a few extra hairs in the drain shouldn't be alarming. It happens to the best of us. It's definitely not a reason to consider your hair loss to be related to Hairfinity specifically. If you notice more hair loss than usual, you should consult with your doctor on whether these supplements are the right route for you.
Conclusion
There is nothing like a strong, healthy, attractive head of hair. It's crazy how much impact one "simple" thing can have on a person's mind and body. Men and women alike want great hair and will do whatever it takes to have it. Some people boast genetics that provide stronger hair naturally. But I am not one of them. So for most of us, hair can be a struggle – and a frustrating one at that!
There's no limit to the range of hair care products available designed to improve hair appearance and health. Although, none combine safe, natural ingredients with affordability and effectiveness like Brock Beauty does. And luckily, Brock Beauty keeps coming out with new products. You can check out the Hairfinity Candilocks Chewable Hair Vitamins, the Damage Defense Collagen Booster, and the Volume Builder Amino Acid Booster. If you've been looking for that perfect solution to your hair woes, look no further. If Hairfinity can work for me, and I can provide a positive Hairfinity review, it can work for you!