SugarBearHair Vitamins Review: Are There SugarBearHair Side Effects?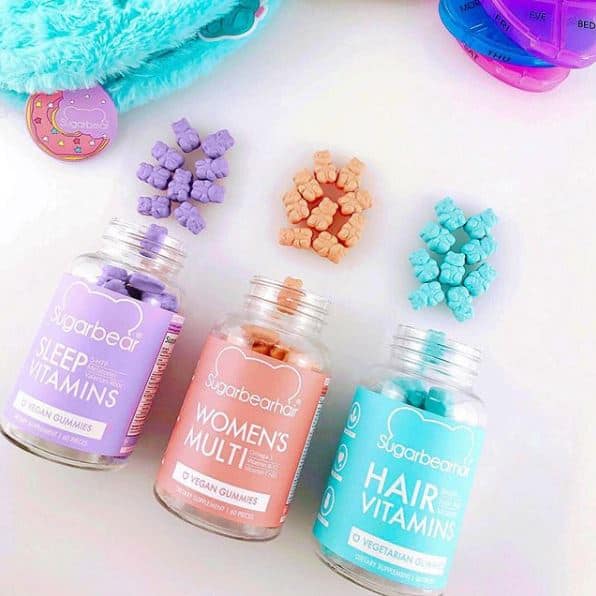 As someone with a sweet tooth, I sometimes find it difficult to hold myself back from sugary things. I'm also a bit of a health fanatic. The duality is something that I've had to deal with for a number of years. As we all know, sugar is a harmful thing to include in our diet. It's linked to a number of beauty problems, such as hair loss to wrinkles to acne.
The best advice I've heard came from a dietitian friend of mine. She made it very clear to me that you can use as many different hair and skin care products as you like, but if you don't eat healthily and exercise regularly, you'll have less noticeable results over a longer period of time. You're essentially wasting your money.
Hearing this made me rethink how I view beauty treatments. It really is true that beauty starts from within. But how was I going to fulfill my sweet tooth knowing all this? I started doing a little research. Which is when I stumbled upon SugarBearHair – a brand that's revolutionized the way we see both sweets and hair care altogether.
I was so excited to find this company, as the product and their ethos are definitely worth investigating! They've done so much in such a short span of time. In fact, I was surprised that it took me so long to find out about them, as they've been causing quite the stir since their inception in 2015. Celebrities like Khloe Kardashian have started products in a similar vein, obviously taking cues from this amazing, young startup. Keep reading, as the information in this article is likely to help you achieve an amazingly vibrant and youthful hairdo. All while giving you a healthy alternative for your sugar cravings!
SugarBearHair Company Background and History Explained
The brand name, Sugar Bear Hair, was trademarked by the Florida-based BeSweet Creations company in 2016. BeSweet Creations was established in the spring of 2015 by Nicole Christine Johnson (aka Nicole Nightly) and Daniel Morris. Before BeSweet took off and started the Sugar Bear craze, Nightly tried a couple of different things: she attempted to make it as a beauty blogger, but was unsuccessful – presumably since it is such a highly-saturated niche, positively flooded with bloggers. It's not easy to stand out in such a dense crowd, even if you do know what you're talking about!
Next she founded the company Pretty Fox in 2013 (also based in Florida). From there, creating the Skinny Fox Detox weight loss program. It is a method based on tea (and sympathy!) which has enjoyed some measure of success. You can always count on herbal teas to get you moving when you feel stuck. There are some who finds this regimen to be just the ticket for motivation. Using it got back down to their ideal weight.
After Skinny Fox Detox, Johnson and Morris founded BeSweet Creations, and began the production of their highly-successful line of gummies. First came the Sugar Bear Hair which we will discuss more in-depth. After that, the company came out with a multivitamin gummy aimed specifically at women. Recently, in 2019, BeSweet added Sugarbear sleep vitamins to their lineup – a gummy meant to enhance sleep and promote healthy cycles of sweet slumber. As you can see, it is a relatively young company, but that doesn't stop it from being worth many millions. The sugar bear started it all, but what exactly is in that cute little gummy?
SugarBearHair Hair Vitamins Explained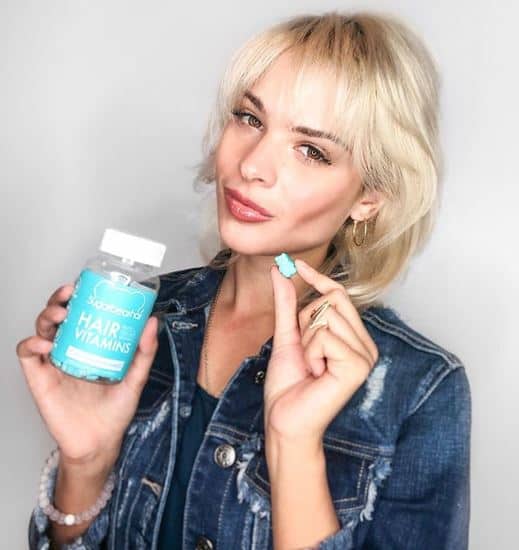 SugarBearHair is a young and dynamic company that was started by 22-year-old Tara Bosch in 2015. She was in the process of researching sugar and the effects it has on our immune system when she was struck with the idea of creating healthy, sugar-free sweets.
The statistics I found while researching this article and company were quite surprising. According to the UCFS report, the American consumes 152 pounds of sugar a year! It's no wonder diabetes can be found in over 9.4% of the American population – roughly 30.3 million people!
Unfortunately, everyday products such as ketchup and seemingly healthy fruit juice are actually loaded with sugar. This means that it's very difficult for us to keep track of the sugar we eat. So Bosch decided to start experimenting in her kitchen with gummy bear molds that she bought online.
Bosch admits that at first, she had no idea what she was doing. During her experiments, she was surprised to find that she created a product that was a low-sugar sweet yet also had ingredients that made it a potent health supplement. This idea intrigued her, and she kept experimenting until she had the perfect recipe!
The result was a gummy bear like no other. It's not only a healthy and delicious vitamin supplement, but it's also great for your hair. The product can strengthen your hair follicles and promote oil production from the roots of your hair. It can also add a natural energy booster to your diet, improve your immune system, and cut down on your sugar intake!
The best part of the tasty hair supplements is that they work! After a month of using them, I noticed some significant changes in my hair. Which is why I'd like to share this review with you!
Get it on Amazon: SugarBearHair Vitamins, Vegetarian Gummy Hair Vitamins
SugarBearHair Ingredients Breakdown
This product was created with your overall health, but more specifically, your hair health, in mind. So the company has adapted the recipe to avoid many of the harmful, overly sweet ingredients that regular gummy bear recipes typically include. So the SugarBearHair Vitamin Gummies are safe to consume and are actually good for you.
I really love reviewing the ingredients in this product, as it seems as though Bosch went to so much trouble to ensure that you get nothing but the best for your health with each and every gummy bear! Some of the main ingredients include: vitamins A, C, D, E, B-6, and B-12, folic acid, biotin, pantothenic acid, iodine, zinc, choline and inositol. 
Vitamins In SugarBearHair Vitamin Gummies
Vitamin A promotes your blood's oxygen circulation. This helps feed your scalp the vital nutrients your hair needs for longer and stronger hair. This marvelous vitamin has antioxidant properties that protect your hair follicles from problems like excessive shedding. If you suffer from a dry scalp, you'll love Vitamin A for its ability to moisturize the scalp by supporting your body's natural oil production.
A 2017 study researching the mechanisms and clinical applications of vitamin c found that Vitamin C can improve hair growth. Vitamin C is vital for your body to develop collagen, which helps hair grow stronger. This antioxidant protects your scalp from damage by combating free radicals, which can cause hair loss over time. All successful hair care formulas contain Vitamin C due to its amazing hair-growing properties.
Vitamin E is essential for blood circulation. It helps bring enough oxygen to your scalp to promote healthy hair growth. This rich antioxidant also acts as a safeguard against damage to your hair follicles. When taken in combination with Vitamin C, your hair can improve its strength and elasticity.
Vitamin B-6 is a great vitamin to take for hair loss. By helping your body to form cells and bring oxygen to your scalp, your hair follicles will be able to produce healthier hair. Foods such as sunflower seeds, chicken, and tuna contain Vitamin B-6. When taken with zinc, the two work together to help block a substance in our bodies called DHT, which can cause hair loss.
Vitamin B-12 gives an amazing boost to your hair growth by supporting your body's energy process and helping to form red blood cells. Red blood cells are responsible for feeding oxygen to your scalp, which helps your hair grow longer. 
Other Ingredients In SugarBearHair Vitamin Gummies
Folic acid is crucial for your body to repair DNA. It actively supports cell division so that your hair follicles can produce healthy, fuller hair. For optimal results, take folic acid with vitamin B-12. Having a deficiency in one of these vitamins can cause excessive breakage or hair loss. So make sure to take them together!
Biotin is one of the most important vitamins you can take to promote hair growth. It supports the health of your scalp by producing fatty acids. A deficiency in essential fatty acids produces symptoms such as dry, scaly or flaky skin, dandruff, brittle hair or eczema, all of which may lead to hair loss. Eating foods high in biotin or taking a biotin supplement will help combat hair loss.
When you take biotin, you're also supporting your hair's keratin, making your hair stronger. Keratin is what your hair, skin and nails are made of. Taking biotin with other B vitamins will create a powerful combination to help combat hair loss. And if you're prone to breakouts, we recommend taking a biotin supplement with pantothenic acid (vitamin B-5). This will help reduce the chances of acne or breakouts in the skin.
Pantothenic acid stimulates hair growth by supporting your hair's natural keratin. It helps replace hair that was lost due to excessive shedding or breakage. Without pantothenic acid, it would be difficult for your hair to grow at a steady rate. The structure of your hair and skin depends on this wonderful vitamin to stay healthy. Pantothenic acid is responsible for the shine and luster of your hair.
I don't think I need to argue any more of the benefits of these amazing sweets! That makes Tara Bosch the sugar-momma of sugarless sweets – no doubt about it!
SugarBearHair Results: Before And After
When it comes to using supplements, I would recommend waiting at least 2-4 weeks before determining the results. However, there are a lot of factors which determine the efficacy of your dietary supplements. If you don't follow a careful and balanced diet while utilizing these supplements, their health effects will largely be lost on you. Eating tons of unhealthy food can counter any healthy properties that the supplement provides for your body.
That being said, I noticed some pretty drastic changes in the quality and strength of my hair after using a month-long trial of SugarBearHair vitamin gummies. My hair felt less brittle and seemed to stay moisturized for longer. Even when I once forget to use a moisturizer during the day, my hair felt moisturized and soft. I also love how tasty and easy to use these supplements are! They're really more like a treat than a hair supplement. 
Like I said, these vitamin supplements have a great effect on the overall quality of your hair and health. That is, as long as you use them safely and within a balanced diet. Don't start eating them and then think that it's okay to start eating fast-food on a regular basis. That totally defeats the purpose of using the health supplements.
The same applies to your hair. While these supplements are pretty good, taking them doesn't mean that you can stop washing and conditioning. You still have to take care of your hair as you normally would – but you notice some great improvements when combining your regular treatments with these amazing vitamin gummy supplements.
SugarBearHair Vitamins Side Effects Explained
The beauty of these tasty SugarBearHair vitamin gummies is that they're free of many of the artificial colorants and flavorings that are commonly found in gummy bears of this nature. This means that they're largely made up of purely natural ingredients and are, on top of that, vegetarian!
A lot of time has been put into ensuring that these products are only healthy for you – otherwise they wouldn't really be health supplements! To date, I haven't heard of any adverse reactions to these tasty health supplements, and the internet seems to come up dry with any reports of negative side effects.
The only thing I would pay attention to is the inclusion of biotin in the ingredients list. While biotin is largely considered a proponent of healthy hair, the truth is that having too much of it can do damage to hair and skin. Like anything in life, too much of a good thing winds up being bad for you. Because of that, I would recommend that you stick to one or maybe two health supplements a day – but certainly no more than 3 max.
Because you'll be using these on daily basis, you need to give your body time to process and utilize the biotin in each gummy bear. If you add too much to your system, you'll wind up reducing the amount of oil that your body produces. This will lead to dry skin and brittle hair. So best to stick to the recommended dosage if you want to ensure the best possible results.
Conclusion
Ultimately, I would highly recommend adding these healthy and tasty gummy bear supplements to your diet. Not only because they'll give you great, shiny and strong hair, but largely because they're good for your overall health as well. Plus, they're tasty, near sugar-free alternatives to regular sweets. Which means you can satisfy your sweet tooth without risking any additional damage to your health.
The success of Bosch's company is a testament to how popular these supplements have become. At the moment, they're shipped to a number of different countries all over the world – and loved by each and every user. Adding these to your hair care routine isn't only a nice idea – it's a necessity, and your health will thank you for it just as much!
Up Next: Head & Shoulders Review: Head and Shoulders Above The Rest!