Avon Skin So Soft Bath Oil Review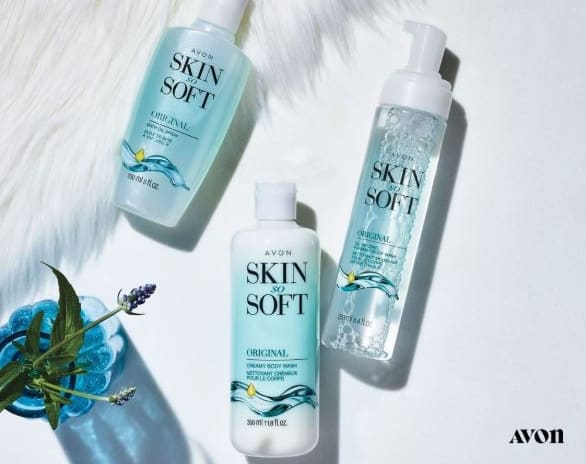 There's nothing better than having a relaxing bath after a long week of work. There's just something about unwinding in warm water that really lets you feel renewed. On top of that, adding a variety of different soothing skin products to your bathwater will make you and your skin grateful that you did. The warm water allows our muscles to relax and unwind. It's a great way to relieve stress and tension while also opening our pores and allowing us to sweat out all the toxins that gather in our skin over the course of the week.
This means that not only is bathing good for our minds, but it's tremendously beneficial for our health. By lowering our overall cortisol levels, we allow our bodies to regulate our hormones more readily, ensuring that our immune system is at its best for longer.
Research has proven that taking a bath causes our brain to release melatonin, a hormone that's directly responsible for allowing us to sleep at night. The better your night's sleep, the more refreshed your body will be and the healthier you're likely to be over time.
The best way to improve your bathing experience is with the use of bath oils. It's well known that the active ingredients in a number of different botanicals are augmented when they're added to warm water. This is because warm water helps to increase the rate at which our skin absorbs the helpful natural chemical components found in the organic material. And this allows the healing potential to be maximized. On top of that, the steam that we inhale while bathing helps deliver healing phytochemicals directly to our olfactory gland. This, in turn, helps to combat the release of cortisol in our brains, thereby calming us down.
What Is Bath Oil?
Bath oil has been around for a very long time. In fact, the ancient Egyptians were the first to really experiment with the healing benefits of bathing well over 4,000 years ago. The now famed Queen Cleopatra, known for her beauty, was said to have taken baths made up of donkey milk and honey.
Bathing in donkey milk isn't totally feasible by today's standards. Yet, many ancient beauty techniques have persisted through the ages. They've given credence to the efficacy of taking a bath regularly for beautiful, more radiant skin.
Over time, we've developed techniques to distill the essential nutrients and phytochemical components of  a variety of different botanical ingredients. This process, known as steam distillation, lead to the development of essential oils. They're natural products that can be used as medicinal products and marvelous skin treatments.
It wasn't long before we started experimenting with them in our bathing routines. The common practice was to add a few drops of essential oil to your bath or to include the essential oil in a carrier oil, such as argan or olive oil. You would then either apply that to the surface of the skin while bathing, or add it to the bath. This would improve the aromatic properties of the bathing experience, as well as the effects of the bath on the user's skin.
While bathing in warm water alone is good for skin, adding a few healthy natural products to the bath adds extra benefits. There are tons of products on the market to help improve your bathing experience. But we're going to focus on Avon's Skin So Soft line. I'll give you my opinion on the product line as well as how to use it in your bathing routine. So keep reading!
Avon Skin So Soft Bath Line Breakdown
The Avon Skin So Soft line is well-known among bath and beauty enthusiasts. There's a lot to love about this line, and it has a lot of products to offer. They'll significantly improve the quality of your bathing experience, and they'll increase the luxury level of every bath.
The products are designed to cater to every single need your skin may have over the course of the day. They're based on the premise of affordable luxury and effective protection – a winning combination every time. The Avon Skin So Soft line is a definite must-have for any regular bathers out there. It's also great for those who want smoother, silkier skin in a short space of time and at a fair price.
The current Avon Skin So Soft line has been updated to include a new formula and fragrance range, but the standing product line consists of:
Avon Skin So Soft Original Bath Oil Spray Review
The Avon Skin So Soft Bath Oil product has been one of Avon's most popular items. It really managed to enhance the bathing experience with its wonderful floral fragrance and natural emollients. These ensured softer and smoother skin after every wash. Because so many people loved this product, the company decided to produce a more user-friendly spray-on version too.
The result of this new change or addition is the Avon Skin So Soft Original Bath Oil Spray. In essence, it's a watered-down version of the bath oil. This allows it to be more portable and readily usable at any point during the day. The recipe for the bath oil hasn't changed much. It's simply been repurposed to ensure that it's safer and easier to use on your skin.
In order to use the product, simply spray the moisture on the desired area (usually one or two sprays is enough). Then gently massage the oil into your skin. In next to no time your skin will feel softer and smoother.
The spray also has a wonderful, light floral odor. It's enhanced with a small amount of jojoba oil, making it a powerful, natural anti-inflammatory and antibacterial agent as well. I would definitely recommend using this product on drier skin types. But because it's mild, it's suitable for all skin types at any time during the day. It won't leave a greasy or sticky layer on the surface of the skin.
For such a high-quality product, the spray is also really well-priced. It's only $6.99 per 5-oz bottle. I would recommend purchasing the product through the Avon Online Store as this helps save a lot of money and makes it easier to buy in bulk.
DIY Bath Oil Recipe And Guide
While I would highly recommend investing in the Skin So Soft product line simply because it's such a great line of products and the effects on your skin will be noticeable after the first use – I always encourage people to try their own DIY recipes as well. The amount of money you can save by creating your own products is amazing (on average, you can save up to $500 in products in a year). Plus, there's a real sense of satisfaction you get from creating your own products as well.
The best thing to do is to buy a product from a well-known, conventional brand. Then create your own version of the product in order to see how well your DIY product does when compared to the brand-based one. While some products are simply too difficult to replicate at home, you'd be surprised to see the quality you can get in your own kitchen. Thankfully, bath oil is actually quite easy to make yourself.
DIY Bath Oil Steps
Here's what you'll need:
2 oz plastic container with sealable lid

¼ cup of carrier oil such as jojoba or argan oil

12 drops of lavender essential oil

12 drops of rosemary oil
Note that you can use your own combinations as well – so don't be afraid to experiment! I also like rose and lavender, bergamot and lemon or witch hazel and rose.
To make the bath oil, simply pour the carrier oil of your choice into the plastic container. Then carefully add the blend of essential oils one at a time. It's best to use a pipet to do this so that you reduce the spillage (essential oils are expensive, after all). Once you've done this, put the lid back on the bottle and secure it tightly. Then shake the bottle a few times while ensuring that you turn it upside down a few times during the process. This ensures a good mixture.
When using the bath oil in your bathing routine, be sure to add 1-2 tablespoons of the oil to your bath while running the warm water. Swirl the water so that the oil mixes in well with the bath. This helps to release the rich aromatic properties of the essential oil. It also ensures that the oil is effective during your bathing routine.
I've found this to be a really helpful recipe when I run out of product or during those months when expenses run high and I simply can't afford a more costly brand product. Plus, the ingredients will last you a while. So buying them ensures that you have more than one container's worth for a good few months.
Conclusion
I've been using the Avon Skin So Soft Line for a long time and was really glad to hear that they updated the product line recently. The new products hold true to the classic features we all know and love about this range. And some have reduced the overly-scented recipes that were common in some of the older products.
This means that you can use the products without worrying about having any conflicting odors with your deodorant or perfume. Yet you can still smell great over the course of the day! And, of course, you'll have soft, silky-smooth skin after every single bath or shower. Just be sure to rinse!