Redken Extreme Shampoo And Conditioner Review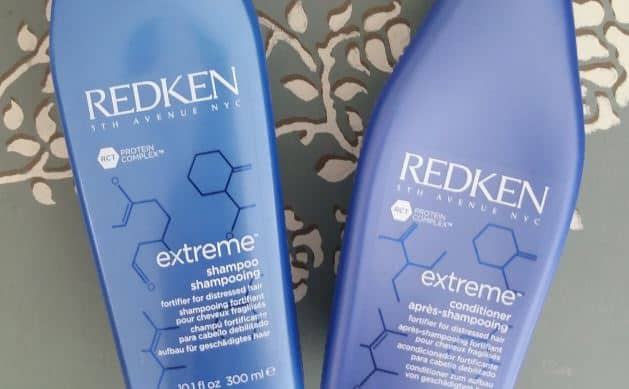 Has your hair experienced just about every hair styling and coloring treatment out there? Welcome to the "hair guru club," where curling irons, salon bleaching treatments, and home-kit coloring tools are part of your daily routine. We all secretly accept that there's a deception game going on of convincing others you naturally have a luscious, golden blonde beach wave. But, as most hair masters know, the not-so-glamorous side effects come along for the ride. All the chemical treatments, intense heating methods and hair products that we apply to our hair cause it to be dry, thin and coarse, just to name a few. Cardboard hair never goes in-style.
How can you fix your hair from the damages that these treatments cause and get that TV-commercial kind of hair we all fantasize about? To revive lush and rich hair that displays the perfect amount of shine from core to tip, Redken Extreme Shampoo and Redken Extreme Conditioner are the perfect solutions. When you use these sister products together, they provide the best results for strengthening weak hair, restoring injured strands, and reviving dull colors. 
Redken Company Overview
Redken was founded in 1960 by Jheri Redding and Paula Kent. The company's name is actually a combination of the names of the two founders!
Redken is committed to making top-quality hair products for consumers. Its cutting-edge chemical makeup is comprised of three proteins to tackle all three levels of the hair – root, core, and tip. This technology allows hair to receive the specific rejuvenation it needs to become refreshed, strong, and supple. So, wave the stress away from caressing your coarse hair; the solution is as simple as these two tried-and-true products.
Take Me Straight To Buy Top Redken Products
What Is Redken Extreme Shampoo? Who Should Use It?
So what is Redken's Extreme Shampoo? Redken's Extreme Strengthening Shampoo, part of the SMART Haircare line of products, is one of Redken's superstars. The SMART Haircare line addresses all the TLC your hair needs with its innovative, customized technology. This original formula works on improving the nourishment of your hair from the root, through the core and ending with the tip. Using Redken Extreme Shampoo and Redken Extreme Conditioner can fortify hair up to 15 times stronger and can minimize hair breakage by 75%.
When the Redken Extreme Shampoo is used in conjunction with Redken Extreme Conditioner and the Anti-Snap leave-in treatment, it works against 5 types of wreckage: chemical, thermal, mechanical, surface and hair breakage.
Chemical damage occurs when hair is treated with coloring dyes, such as bleaching methods, perms or hair relaxants. Perms and relaxants work by breaking down the chemical bonds in your hair to manipulate them into forming a new shape.
Thermal damage mainly results from heating methods like tools used to straighten, curl, wave or crimp your hair.
Mechanical damage is generated from rough methods of handling your hair, such as tight ponytails, coiled twists, and harsh hair-brushing practices.
Surface damage is when cracks develop on the cuticle, or outside layer, of the hair. Typical culprits include over-shampooing, excessive hairstyling or constant tight clips.
Hair breakage occurs after over-using heat styling products, chemical-filled solutions or coarse hair brushes. This causes split ends and shorter hair strands to develop. Time for some damage control.
Order now on Amazon: Redken Extreme Shampoo
Redken Extreme Shampoo Ingredients Breakdown
Redken Extreme Shampoo possesses its hair-transforming ability due to its special formula. Its unique makeup includes an RCT Protein Complex, which stands for "root, core, tip." This is a highly appropriate name, as the shampoo treats the hair from the root level, moving through the core, and ending with the tip of the hair strand for lasting softness. This system contains 3 proteins that act on different sections of the hair to target the specific composition at each point, making it most effective. So here is the Redken Extreme Shampoo Ingredients Breakdown.


Soy Protein
The first key player is soy protein, which has wondrous effects on improving and rejuvenating damaged hair. This featured element in the complex allows hair to gain a revival of structure. Soy protein works by locking in moisture to hydrolyze your hair. It promotes increased body, allowing for firmer hair, originating from the level of your scalp. Things are getting deep.
Arginine
The next runner up is arginine. Arginine is beneficial to hair follicles and promotes hair growth. When your hair receives a conditioning effect from arginine, it keeps the core healthy and is responsible for soft-to-the-touch kind of hair. In this case, we could all use a little softness at our core.
Sepicap
Lastly in this RCT protein complex, we have sepicap. Sepicap offers that final touch to produce the smooth effect. Sepicap returns the appearance to the ends of the hair, receiving the intensive care they need to be strengthened and resistant to hair damage. Who knew hair was so needy of TLC?
Additional Ingredients
Two other key ingredients in the Redken Extreme Shampoo are the 18-MEA and ceramide. That natural shine that glistens in the sun is provided by 18-MEA, which protects hair by limiting excess water from entering. This creates softness, elasticity, and shimmer. Ceramides work by maintaining a flat cuticle in the hair, allowing for a smooth effect and a lasting shine to remain over time. They produce strong hair fibers that are resistant to breakage and work to counteract deterioration. For hair that's experienced coloring, bleaching, and heating methods, ceramides are your rescuing element! 
With these additional ingredients and the RCT protein complex, your hair gets the improvement it needs for a complete revival to be strong, smooth and rejuvenated. Each ingredient is a team player in building your hair back up. We're rooting for you!
Redken Extreme Shampoo Review
For those "hair gurus" who use a straightening iron daily, apply color treatments weekly, and get a perm occasionally, Redken Extreme Shampoo is your new BFF.
Users report a revival of hair softness, firmness, and shine within just 2 washes of using Redken Extreme Shampoo! Hair regained its fullness and smooth effect, especially for dry, bleached hair. 
What Is Redken Extreme Conditioner? Who Should Use It?
As much as the Redken Extreme Shampoo does wonders, every superhero needs its sidekick. This is where the Redken Extreme Conditioner comes into play. With the same RCT Protein Complex that's found in the shampoo, Redken Extreme Conditioner similarly strengthens damaged and injured hair. But, like every OOTD needs the perfect earrings to complete the savvy look, every hair needs a conditioning agent to add that strong finishing touch. This conditioner produces that healthy, shiny finish that makes your look flawless.
Redken Extreme Conditioner detangles, conditions and strengthens damaged or dry hair. It's best used in conjunction with RCT Protein Complex Shampoo to get optimal results. They're the most effective coworkers out there! 
Redken Extreme Conditioner Ingredients Breakdown
The secret to how this conditioner does its magic is all in the formula. Redken Extreme Conditioner's ingenious ingredient makeup allows for its products in the SMART Haircare line to work its wonders. The Redken Extreme Conditioner includes ingredients that cover hair with proteins and protective lipids. This transforms weak hair strands into shiny and workable hair. 
Like the Redken Extreme Shampoo, the featured ingredients in the conditioner include the RCT protein complex, which is made up of 3 proteins that focus on where the hair needs the most nourishment. The soy protein assists by adding structure and locking in the moisture and body. The arginine conditions the hair by activating the scalp. And the sepicap enhances the look of the ends. Each hair deserves a full-course treatment! 
Redken Extreme Conditioner Review
You're sure to receive compliments after just 2 hair washes with Redken's Extreme Conditioner. As another top-selling product from the SMART Haircare line, users agree that Redken Extreme Conditioner does wonders. Besides for the shiny, smooth appearance it adds, this conditioner makes managing tangled, knotted hair a breeze. Let's be real, we all want to limit the time spent with the hairbrush trying to get through knots. With just a drop of Redken Extreme Conditioner, you can detangle your hair without feeling oily. 
As Redken Extreme Conditioner strengthens hair, offers shine and repairs hair damage, users have claimed it is life-transforming. This conditioner is very hydrating but not too heavy. It is particularly effective for blonde or color-treated hair. It works well with hair prone to breakage that's dry. Users even commented that they noticed regrowth of hair from places that they had lost. Shiny with a chance of extra hair, please!
Not only will you get compliments on the external look, but the scent that Redken Extreme Conditioner provides is noteworthy. There's nothing like running your hands through your smooth, bouncy hair with a whiff of a fresh scent as a bonus. Users admire the light and clean aroma that generates after using the conditioner.
Conclusion
After all the hair treatments your hair goes through, trying to repair dull, damaged, and breaking hair can be daunting. Redken's SMART Haircare line, including the Redken Extreme Shampoo and Redken Extreme Conditioner, makes life a bit simpler, healthier, and smoother. With its highly advanced formula breakdown, the RCT Complex includes 3 proteins that target the main aspects of the hair. This highly advanced formula focuses on achieving strong, healthy hair from the root, through the core and finishing with the tip. If only there was such a simple solution to all of life's problems!