Old Spice Review: Old Spice For A Fresh Smell!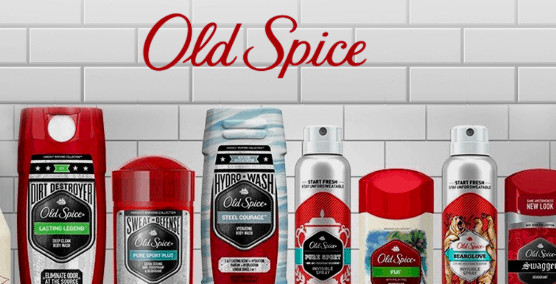 As exemplified by their cheeky tagline, "If your grandfather hadn't worn it, you wouldn't exist," Old Spice is both sexy and a classic. Over time they have held on to the original beloved scents and products that propelled their popularity in the first place, while developing new fragrances and formulas to stay fresh and modern. Old Spice products are some of the best smelling in their price bracket and keep the wearer fresh, clean and smelling awesome.
Old Spice has got basically everything a man needs to make sure he's always looking and smelling great. They make a whole bunch of antiperspirants and deodorants with a large variety of scents to choose from including the Original Solid deodorant, the Steel Courage Sweat Defense Soft Solid Antiperspirant, and the Pure Sport High Endurance Antiperspirant Clear Gel.
Smell even better by starting off with one of their body washes or soap bars and completing the manly smell extravaganza with one of their body sprays of colognes.
The Old Spice 2-1 Shampoo and Conditioners are available in seven different scents, and Old Spice has got your hair styling needs covered too with their Putty, Paste, Pomade, Swagger Gel or Swagger Fiber Wax. You can also share your Old Spice enthusiasm with the world by sporting their red logo socks or the Old Spice MANCARD, a credit card shaped beer bottle opener. Obviously a total must-have.
Bearglove is a really nice scent, just not the woodsy, musky scent you'd expect with the name and packaging. It's hard to explain, but this deodorant smells very masculine, but also pretty sweet with hints of fresh fruit.
The solid antiperspirant can leave a very slight white residue on dark clothing, and I personally feel that the gel deodorant version is more comfortable and preferable if you just want to eliminate odor and don't worry about staying dry (it's healthier to allow your body sweat anyhow!). In general, if you gravitate towards sweeter scents, this product works well and has a unique smell to it.
Once you find a scent you love, get the whole line so that different smells don't contradict each other. This body wash is for those Bearglove enthusiasts, and there seems to be a lot of you. It lathers up and cleanses well, and it is quite moisturizing so it is a good one for dry skin. This body wash leaves a stronger, noticeable scent than some of the others and it lasts for hours.
Old Spice Cologne Line Review
Old Spice is known for their iconic, complex scents, but they come off too subtle in their everyday products like deodorant and body wash to really enjoy all day. The colognes are a nice way to kick the fragrance up a notch and really command a room with your great smell. Cologne is a greatway to accentuate a certain part of your personality and can be so empowering like that.
Going on a business interview? Wear the Classic Cologne or Aftershave and bring out a strong, stable confidence. Hot Date? Try the alluring Wolfthorn Cologne Spray. Night out with the boys? Put on the lighthearted, fresh Pure Sport Aftershave. Whatever direction you go in, you're guaranteed to smell pretty fantastic. The only critique I have is that the aftershaves don't have a very long lasting scent, but the colognes do linger well.
Body language is overrated. Shut up, body. pic.twitter.com/d2kFcXUqcr

— Old Spice (@OldSpice) January 3, 2017
Wolfthorn is a very unique scent that smells absolutely amazing in my opinion. It features a somewhat sweet, yet intriguing, blend of citrus, mango, vanilla and musk which gives it some depth. Citrusy, sweet and fresh, this stuff is great for the guy who isn't afraid to get in touch with his more feminine side. It is available in the traditional invisible solid powder and blue gel versions.
A scent raved about as much as this one was just begging to be released in cologne form. It's smells a bit more citrusy and herbal than the deodorant, which works for a cologne, and the scent stays on the skin for about 6 hours. You get 100ml in the bottle for about $5.00 so this comes at really great value.
The Fiji scent is the epitome of refreshing. With notes of juniper, blood orange and sweet musk, this scent is bright, clean and masculine. It really does bring the ocean and palm trees to mind, and the deodorant itself controls odor well without staining clothing.
This blue gel body wash is fresh and revitalizing, and like the deodorant, the smell is amazing and brings to mind islandic goodness. It suds up nicely and cleans thoroughly. The pump dispenser is incredibly convenient and brings to mind Head & Shoulders bottles. No more trying to balance a slippery bottle in one hand while you squeeze out the soap into the other.
This deodorant smells like reaching the summit of North America's tallest mountain. You put this on every day and you can almost taste the fresh mountain air and the adventurous determination to put your mental and physical strength to the test and reach the highest of heights – literally. This is a clear blue gel that applies comfortably, doesn't stain clothing, and fights odor-causing bacteria.
Old Spice Hairwax Review
The Old Spice Hairwax is a pomade with a really fresh scent that won't overpower your cologne or body spray. It features a demi-matte finish, making hair look sleek and well-kept without coming off as dirty or greasy. It also gives a medium-hold. I'd recommend this for styling a more natural, tousled look or to keep longer hair from frizzing up and flying all over the place.
Like all of the Old Spice hair styling products, this putty has a great, but mild, scent. This one gives a matte finish so it won't make hair look too shiny, and it provides a lot of hold. The strong hold makes this product great for spiking up short hair, creating a faux hawk or for any stiffer styling needs.
Is Old Spice Cruelty Free? Does Old Spice Test on Animals?
Proctor and Gamble is Old Spice's holding company, so their animal practice policies are dictated by P&G's. P&G is one of the better of the large conglomerates in terms of animal practices, contributing substantial sums of money to alternative testing research and choosing not to test their products on animals.
However, they do sell their products in China where all products sold are tested on animals by Chinese research facilities. Companies who continue to sell their products in China are not considered to be cruelty-free because they are inadvertently supporting animal testing.
Old Spice vs. Axe Breakdown
Axe is targeted towards younger guys, with bold, fist pumping at the club scents. They are great and refreshing, but Old Spice is generally more complex with their fragrances, mixing complementing notes and creating a product for a more sophisticated man. These scents are masculine and smooth, and not at all overwhelming which the AXE sprays sometimes can be. The newer Wild Collection is particularly designed to appeal to the older end of their demographic spectrum, and the men in its ad campaign are well-groomed and have a powerful air about them, while AXE ads generally showcase a young guy getting girls by the power of AXE. Check out our AXE review to learn more about a great brand!
DIY Deodorant Explained
For those who don't realize, most of the conventional deodorants that we use are loaded with seriously harmful chemicals. Everything from industrial-grade alcohols to parabens, phthalates and various preservatives all combine to form a rather toxic concoction that so many are only happy to spray on their skin everyday. Ever wonder why some people who don't smoke and lead otherwise health lives develop cancer unexpectedly? I'm starting to think it has something to do with this.
It's important to remember that whatever winds up on our skin, is going to wind up in our systems at some point. This is because our skin is porous, much like a sponge and that it absorbs things in a likewise manner. So it would only make sense to think that anything you would put on your skin, should be safe enough to consume orally, right? Well that's the holistic approach anyway and it's generally a lot cheaper and a lot healthier too.
So to help you out, here's a really quick and simple DIY Deodorant recipe that you can try at home. I've been using it for a while and haven't had any issues regarding the scent or the effects – definitely a worthy investment. You will need:
6x Tablespoons Coconut Oil.
4x Tablespoons Baking Soda.
4x Tablespoon (Organic) Corn Starch.
8x drops of Lavender Essential oil.
6x drops of Eucalyptus Essential oil.
4x drops of Orange or Bergamot Essential oil.
Making the deodorant is as easy as mixing the baking soda and corn starch into a bowl or glass jar. Then mash the coconut oil into the mixture with a fork so that it blends well with the existing ingredients. Now add the essential oils and keep stirring the mixture so that they're absorbed into the blend.
Using the deodorant is as simple applying a fingertips worth to your armpits once or twice a day. It's a little different in texture from the deodorants you're used to, but it won't dry out your skin, cause rashes or lead to stained clothes.
DIY Deodorant vs. Axe Deodorant – Pros & Cons
While Axe is a pretty popular brand that is favored among men of all ages, it's something I'd try and convince you to avoid using on a regular basis. While there are some pros to this product such as it's ease of use, relatively low price and unique scents – the truth is that as a brand, Axes' products tend to contain a lot of highly volatile chemical ingredients. These can wreak havoc on your entire system, from hormone production and regulation, to speeding up the aging process.
So, as alternative, I'd recommend trying the DIY deodorant recipe I listed above as it's definitely a lot healthier and cheaper over time than Axe deodorant or any of it's other products. While it may not have the same consistency as Axe deodorant or the scent and ease of use that we're used to, it's definitely just as effective at eliminating odors, keeping your skin fresh and is way better at nourishing your skin too.
If you care about your health and exercise often, but don't want to give up deodorant's entirely (for fear of foul odors), be sure to try out a DIY deodorant recipe and see how different your skin feels in a short space of time. Plus, you'll be able to save a lot more money on doctors bills or additional deodorants in future!
Conclusion
A lot of guys underestimate the power of a great scent, and I've been seeing a bunch of reviewers talk about how these products helped them with their odor. While not smelling bad is important, it's not the be-all end-all. To me it's about smelling super dope, and I happen to think you get that with Old Spice! Of course, you could always opt for DIY Hair solutions.