Olaplex Reviews: Get The Lowdown On Olaplex For Damaged Hair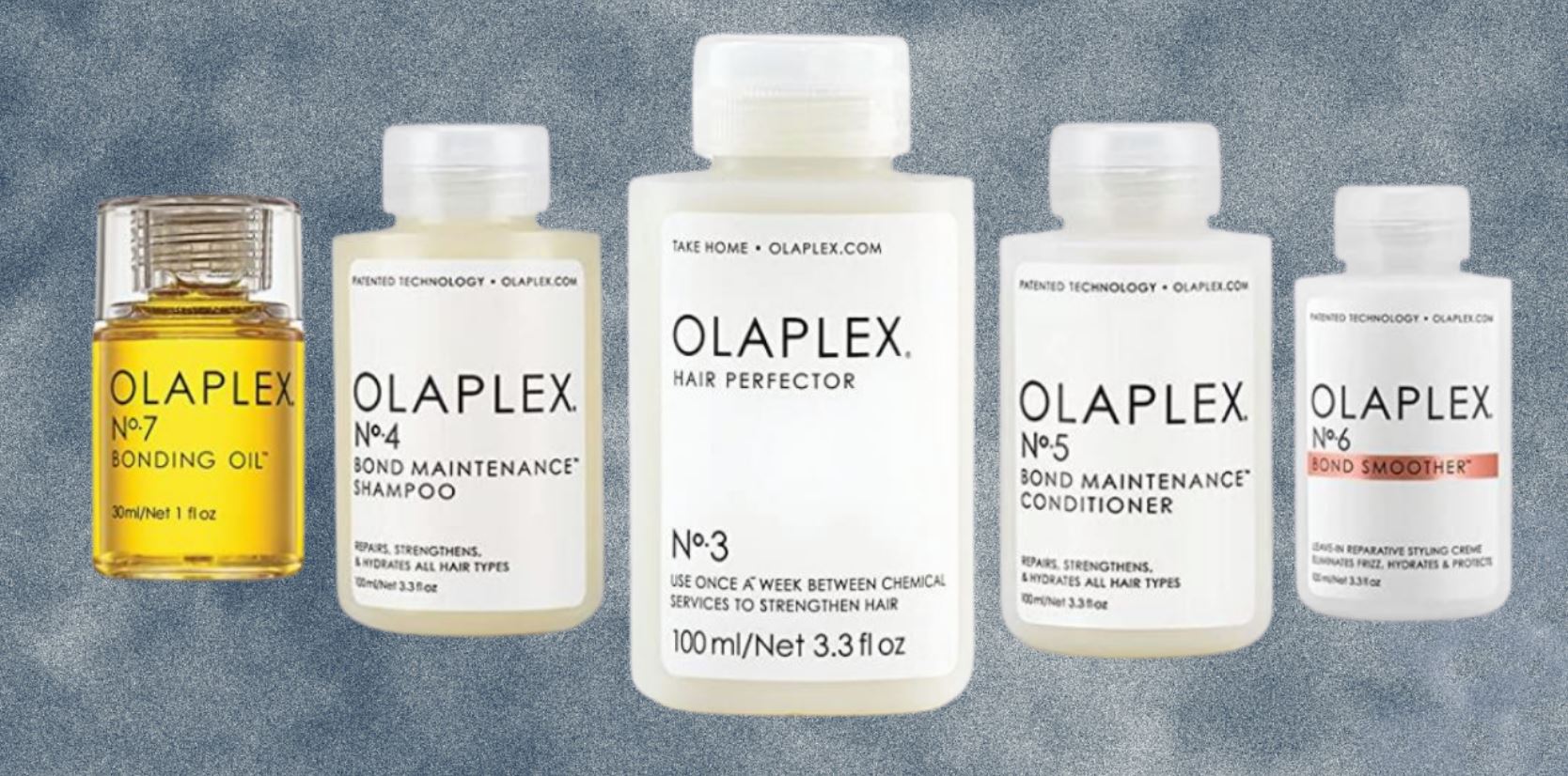 Damage doesn't happen to our hair for no reason. Unless you go around with your hair under a hat all day, it's exposed to the elements and to pollutants that can harm it. Actually, even being under a cap isn't great for your hair, as it keeps it away from sunlight and doesn't give it room to breathe. 
The list of potential damage-inducing activities includes styling your hair. Now, I'm not talking about simple brushing and combing, which yes, done the wrong way can cause damage. Another threat to your hair is heat. But also up there on the damage scale are chemical treatments, especially coloring hair. With these procedures, what you're essentially doing to your hair is inundating it with harsh chemicals that change its makeup and appearance. Well, how could you not expect damage after all that?? 
Enter Olaplex. Olaplex understands life and all of the hair wear and tear that comes with it. Check out the line of Olaplex products in order to bring your hair back to its healthiest, bounciest, fullest, and happiest self. 
In A Hurry? Find What You Need
What Is Olaplex? What Does Olaplex Do? 
What is Olaplex treatment? The Olaplex System calls itself "The Original Bond Builder". The company uses its patented technology to repair broken and damaged bonds on a molecular level. It addresses thermal, chemical, and mechanical damage, based on your hair's needs. You can incorporate it into your routine in addition to other products, or you can use it as an Olaplex stand-alone treatment.
Take Me Straight To Buy The Olaplex System!
Olaplex hair products help address hair that has become weakened and compromised over time. The Olaplex set will make your dry, brittle hair turn silky, smooth, and vibrant. While you can technically use the products individually, they work best as part of an Olaplex kit. After all, the company has designed these products in order to complement one another, which is both a clever marketing tactic as well as a practical way to create hair care products.
Olaplex Hair Perfector No 3 Review 
Although it might seem a bit odd, we're going to start with Olaplex Number 3. The company seems to jump from 0 to 3 in their product list, but it's really because the first few products are for salon use only. 
According to the site, this is the product that made the company famous. The Olaplex hair perfector is not a conditioner, it's an at-home treatment that minimizes breakages while noticeably strengthening hair. This makes your hair look and feel better. 
Check it out on Amazon: Olaplex No 3
The Olaplex No 3 not only protects your hair's structure but also repairs damage along the way. Sounds pretty great, no? So, if you're wondering how to use Olaplex 3, I'll break it down for you. Start off with dampening your hair and applying the product generously from the roots to the ends. You can use it once a week, or 2-3 times a week if your hair has suffered more damage. The Olaplex hair treatment is good for all hair types, especially if you notice that yours is damaged. 
Some added perks of the Olaplex treatment are that it's vegan, cruelty free, pH balanced, DEA-free, aldehyde-free, and formaldehyde-free. Basically, it seems to keep all the bad stuff out and all the good stuff in.
Olaplex No 4 Bond Maintenance Shampoo Review 
As you might expect, Olaplex 4 is next in the lineup. This product is actually an Olaplex shampoo, and it promises to repair, strengthen, and hydrate all hair types. This nourishing and reparative shampoo protects your hair from everyday woes such as frizz, damaged hair, and split ends. And it does all this by relinking broken bonds. (Is it just me, or is this sounding like some hair family therapy?) 
Shop now: Olaplex No 4
The Olaplex shampoo is for all hair types and is great for those who need clarifying or oil control. You can use it as often as your hair needs shampoo, just make sure to concentrate on the roots! 
Olaplex No 5 Review 
Heard of Mambo Number Five? Well, now we have Olaplex No 5. It's the Olaplex conditioner, designed to repair, strengthen, and hydrate all hair types. It will make your hair easier to manage while also making it shinier and healthier. 
The Olaplex 5 will protect and repair hair that is damaged, split ends, and frizz by relinking broken bonds. It's also safe to use on color-treated hair.
In order to use it, just apply a nice amount from your scalp to the tips of your hair. Let it sit on your hair and head for three minutes before rinsing it off. 
Check it out: Olaplex No 5
Olaplex No 6 Bond Smoother Review
The Olaplex Bond Smoother is a leave-in, reparative styling cream that reduces frizz while nourishing and protecting your hair. It's essentially a highly concentrated smoothing cream that strengthens, moisturizes, and makes blow-drying quicker. It's perfect for all types of hair, including hair that's been color-treated or that's undergone other chemical treatments. It will eliminate frizz and flyaways for up to three days!
Take me to Amazon: Olaplex No 6
You can use Olaplex Number 6 after each wash or whenever you need it for styling. Simply apply it from midway on your strands to the ends. When applying it, your hair should be damp or dry and you'll only need a small amount of the product. It will hydrate your hair while delivering vitamin E and coconut oil to keep it deeply nourished. 
Olaplex No 7 Bonding Oil Review 
Is it a coincidence that this 007 – errr, I mean, Olaplex 7 – is called bonding oil? Probably, but I couldn't resist. The Olaplex bonding oil is a highly concentrated, weightless, reparative styling oil. It promises to dramatically increase shine, softness, and the vibrancy of your color. 
With this Olaplex oil you'll experience less frizz and fewer flyaways. It will also give you heat protection of up to 450º F! All you need is a few drops to restore the appearance and the texture of your hair. You can use it as needed or daily on both wet and dry hair. 
I want it: Olaplex No 7
The Bis-aminopropyl Diglycol Dimaleate works to relink bonds that were broken due to chemical, heat, or mechanical damage. It thereby strengthens hair and gives it anti-breakage properties. The fermented green tea oil improves hair's feel, absorption, and compatibility, and the vitis vinifera seed oil has plenty of anti-aging compounds including beta-carotene, vitamins D, C, and E, essential fatty acids, and polyphenols.
Does Olaplex Work? Olaplex Before And After Results 
So, the big question- does Olaplex work? The overall consensus seems to be that yes, it does. It's popular amongst celebrities and regular people alike. After The Olaplex shampoo and conditioner (Olaplex 4 and 5) as well as other products in the line, people notice silkier, stronger, and more manageable hair.
People are also thrilled about the Olaplex 3 before and after results. Reviews claim an instant reduction in frizz, an increase in bounce, stronger coils, and fewer flyaways. It seems that the longer you leave it on the better, FYI.
Some more good news is that you can use Olaplex as much as you want without risking damaging your hair. Your hair's tolerance for the products might go up as time goes on, but this truly varies based on the person.


Are Olaplex Ingredients Natural? 
The Olaplex products are free of DEA, aldehydes, and formaldehyde. They are also pH balanced and cruelty-free. In addition, the products contain no nuts, no gluten, no parabens or phthalates, and they are vegan. You wanna stay away from parabens, as research shows that they can affect hormones and even cause skin irritation. Phthalates too can interfere with hormones, potentially leading to reproductive, developmental, and other health-related issues. 
The active ingredient in Olaplex is Bis-Aminopropyl Diglycol Dimaleate. This reduces porosity so that color will last longer for color-treated hair, and it also works to relink bonds and increase elasticity. The line also contains healthy ingredients such as essential vitamins, natural oils, and fruit extracts. 
Conclusion 
Usually, products are a bit more up in the air, but there seems to be a consensus about Olaplex. Now, I'm not saying that it's 100% guaranteed to work on everyone, but the reviews seem pretty overwhelmingly positive. 
The nice thing about this line is that it includes a bunch of products, but you don't have to use every single one in order to reap the benefits. You might want to start off small, trying just one or two products in order to get your feet wet. Or, you might want to dive in headfirst and get on the Olaplex bandwagon asap. 
Up Next: Oribe Haircare Company And Products Review
Before You Go! Shop Our Picks on Amazon Now