Make Up For Ever Water Blend Foundation Review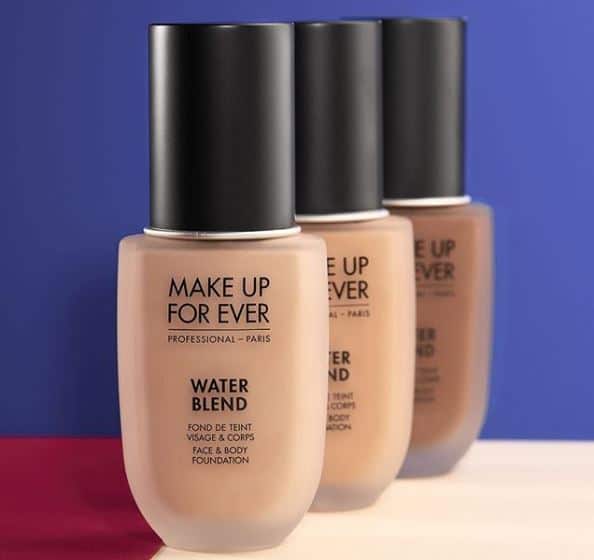 The first rule of Makeup 101: Avoid the caked-up look at all costs. The problem with foundations is that you want that flawless finish but without the layers. And that's not usually going to happen. So, we grab our powders and setting sprays to help our skin look like those airbrushed models on the billboards. Foundations are used to even out the skin and give you a glowing complexion. It's only in recent years that this has taken on a whole new meaning and now we're literally expected to look like porcelain dolls. Foundation should be just that: a foundation for the rest of your makeup.
Makeup Forever is a brand that has taken the 'flawless finish' non-figuratively. Their makeup is designed for professional makeup artists to provide an air-brushed HD look. The revolution is in the fact that this makeup is not available solely for makeup artists. The brand allows access to all, granting even the average plebeian (I speak for myself here) the chance to look like an unblemished movie star. Founder Danny Sanz believes that life is a stage, and everyone has a story, or performance, to tell. Because the makeup is meant for performers it has that full but natural coverage of every girls' dreams. This is specifically true when it comes to their foundation line.
This Matte Velvet foundation mattifies your skin with a non-oily, dry powder finish. The formula is water-resistant which means it should last you all day. Whether you want to try the Skin Liquid or the powder this is an easy-to-apply, full coverage foundation. Apply it lightly to mattify your complexion or use several layers to conceal those more obvious blemishes. This is a great oil-free formula for sensitive or acne-prone skin.
If you have oily skin that just won't stay matte, then try Makeup Forever's Pro Finish powder. It's a multi-use powder foundation created with a lightweight formula to build coverage without the chalky effect. It easily blends so you don't need to worry about that flaky residue or dry skin!
The Ultra HD range is created for the highest definition of technology in the film industry. Designed to look invisible on 4K cameras it's perfect for makeup pros. Skin looks immaculate and feels moisturized. This one's great for all skin types and has over 40 shades to choose from! Whether you want an Invisible Cover or a stick for a quick touch up the Ultra HD has you looking flawless in no time.
This isn't a range per se but the Water Bend Foundation has replaced Makeup Forever's infamous Face and Body Foundation. It gives you that dewy finish with an 80% water-based formula. If you want something quick and easy without the heaviness, then you've come to the right place. It basically just evens out your skin tone for a natural finish.
Make Up For Ever Water Blend Foundation Ingredients Breakdown
Oil-based formulas aren't usually ideal for sensitive or acne prone skin. Skin care companies are becoming increasingly aware of this, so it's refreshing to see a makeup brand follow suit. If you suffer from oily or sensitive skin you're probably all too familiar with the need to stick to powder rather than a liquid foundation to keep your skin at bay. Makeup Forever's Water Blend Foundation is a liquid formula that is 80% water-based. It's non-irritating for the skin and highly hydrating (obviously) as well as conditioning. This conditioning comes from the Hydrogenated Polyisobutene in the formula.
Another ingredient that helps hydrate the skin is Methylpropanediol. This is an absorbing aide which helps along that HD non-caked finish. Glycerin which locks in moisture and Glyceryl Caprylate, a monoester of caprylic acid to enhance skin absorption, are also included in this formula.  
The fact that Mangifera Indica Seed Butter (better known as mango butter) is on the ingredients label at first had me all excited. I love a good natural ingredient as much as the next vegan, but I soon realized that it wasn't as great as it sounded. It's a skin conditioning agent so it gives your skin that dewy glow but it's also an occlusive. This means yes, your skin stays hydrated, but it also has no breathability. Because of this, and the fact that this formula obviously contains coloring agent's, I'd be wary of using this foundation daily. And if I did, I'd be extra cautious to fully remove it every night. Despite the fact that it's infused with Vitamin B5 you don't want this sinking into your bloodstream on a regular basis.
Make Up For Ever Water Blend Foundation Review
Foundation is there to complement your skin. Makeup Forever's Water Blend Foundation does exactly that. With a light, dewy formula the finish is very 'skin-like'; simply evening out your complexion. This formula replaced the Face and Body Foundation which was the first of its kind to give skin an even finish without the visibility on the skin. The coverage is low to medium, but you can easily build it up without getting any residue. It's got a gel-like consistency that applies smoothly over those dry patches.
There are 20 shades to choose from so finding the right match for you becomes a breeze. The only thing is that it applies lighter and then dries darker so be wary of that when picking a shade. I'd also recommend using a sponge or beauty blender when applying it because of the watery consistency of the formula. You don't want any streaky lines showing up. If applied correctly (two pumps for a healthy coverage) this foundation really follows through on that HD promise.
Up close your skin looks au naturale. My favorite aspect of this foundation is no transfer quality. The fact that it's also used on the body means that it's designed to prevent those dreaded foundation lines you sometimes get on the neck of your favorite t-shirt. No thank you. With this Water Blend foundation that's one less thing to worry about when applying a full face of makeup.
Conclusion
Here's the deal, you don't have to wear a foundation if you have clear skin. But if you want to get that extra even complexion, filling in lines and smoothing skin, then Makeup Forever Water Blend is the way forward. It's pricey but you're getting what you're paying for. When it comes to foundations, drugstore products usually won't give you the results you want. It's best to pay a little extra for noticeable results. The countless times I've heard my friends complaining about how their $7 foundation isn't doing its job is exasperating. That being said, even a high-end foundation can lead to clogged pores over extended use so make sure to remove it and cleanse every night religiously.
Whether you want the Ultra HD or a subtler finish, Makeup Forever has got the coverage for you. The Water Blend foundation will have your complexion looking like a natural porcelain doll in no time. With ingredients like Mango Butter and 80% water, how could it not? There's nothing worse than a cosmetic product that looks good for five seconds but leaves your skin worse for wear. That's something you don't have to worry about with Makeup Forever's Water Blend foundation. Looking flawless has never been easier.