Lush Lip Scrub Review: Safe For Lips?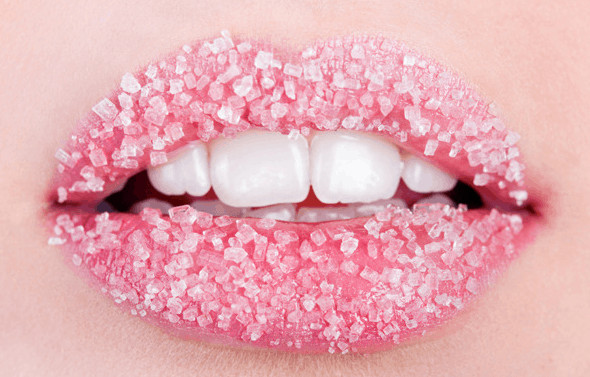 I'm one of those people who believes that less is more. If my lips are happy with a regular lip balm then why go complicating things by adding a lip scrub to my routine? However, this is one of those rare occasions where I'm wrong. It's important to get rid of any excess dead skin cells on your lips. In fact, continuously reapplying lip balm without removing the dry skin can mean that your lip balm isn't really able to sink in properly. So, you could be using lip balm endlessly without reaping its true effects.
Besides for your eyes, the second feature of your face that people notice is your lips. (If you're the type of person that wears red lipstick every day then scratch that – the main feature of your face is your lips). They're not only the focal point of your face but they're also particularly sensitive. Have you ever noticed that if you have cracked or chapped lips then everything is affected? Eating, talking, excessive licking. Licking dry lips or using a moisturizing lip balm only does so much. In fact, sometimes it can even do more harm than good as it's not really solving the root of the problem.
That's where lip scrubs come in. Lip scrubs really rub away all those extra-flaky dead cells so that the skin underneath can renew.  They're the same as body scrubs but for your lips. When you want to get rid of dead skin on your body you use an exfoliator to get it all off. Lip scrub does the same but for your lips.
What Is Lip Scrub?
Lip scrubs usually contain two main components: exfoliants and emollients (I know, it's a bit of a mouthful). The exfoliant used in most lip scrubs is sugar granules. Sugar is a natural and effective ingredient in scrubbing away those dry flakes. Emollients, on the other hand, provide the moisturizing base for the exfoliant. You don't want to just be aggressively scrubbing away at the most sensitive part of your face without having a gentle base first.
Like with any scrubs, lip scrubs are quite rough to the touch because they contain those sugary exfoliant grains. This means they really get into those dry, course cracks in your lips. Once the dead cells are removed, softer, newer skin is revealed underneath. Lip scrubs are especially ideal as a sort of 'primer' before applying lipstick as they prep your lips as well as soften them. I've started using a scrub specifically before applying any matte lipsticks as I find those dry out my lips significantly.
The primary reason why I added exfoliating scrubs to my lip care routine is because they provide a natural way to remove dead skin cells – as opposed to chemicals. This means your lips are less exposed to any harmful substances and can allow moisturizing agents to be more thoroughly absorbed.
Honestly, this stuff smells like cotton candy. Although the container says bubblegum flavor, the main ingredient in this lip scrub is jojoba oil. This oil is a great moisturizer and emollient. It's readily absorbed by the surface of our skin and helps balance our sebum production. My first thought was that I wanted to eat this scrub (because..yum). I held myself back though and just took a little on my wet fingertip and rubbed it into my lips. I let it sit for like thirty seconds and then washed it off with warm water. (You can technically just lick it off because the ingredients are natural but I controlled myself on this occasion). My lips were noticeably more hydrated and felt ready for a coat of my favorite matte lipstick.
If you want something a little minty to get that freshness then you have to try Mint Julips. Peppermint oil is the kicker in this lip scrub. It gives that cooling sensation while rejuvenating your lips. I personally love the slight chocolate chip flavor you get coming through. It leaves your breath smelling fresh but not as though you just brushed your teeth.
I think my favorite thing about Lush's lip scrubs is how dry they are and I especially noticed that with the Mint Julips lip scrub. You literally just rub a little sugar on your lips. I don't like lip flavors that are too minty so the fact that this just tastes like a slightly damp sugar cane is right up my street. If you feel the same way then this one's for you. I like putting it on right before bed so I feel super clean and refreshed in the morning. And my lips get a nice pampering too.
I'm a chocoholic. So, when I heard that Lush has a chocolate flavored lip scrub I thought "great, another thing to add to my addiction collection!". First off, it smells amazing! Secondly, chocolate has been used for decades as a skin softener and sensory stimulator. Chocolate itself contains phenylethylamine which is a chemical produced by our brain when we're happy – or in love. Basically, this explains everything you needed to know in order to understand your chocolate obsession. And justify it!
I have to say though – and I can't believe I'm saying it – but this lip scrub could get a little too chocolatey. After extended use the flavor becomes sickly-sweet. I think that's due to the fact that the scrub contains some real chunks of dark chocolate – which for some people is a dream come true! I've been using it more as my sugar kick than as my regular lip scrub. It tastes so good – and if it's safe to eat then I'm going to. Guilty as charged.
Where do I even begin when it comes to anything honey flavored. Honey is renowned for its antiseptic qualities. This particular Lush lip scrub also contains sweet wild orange oil which incidentally is also well known for its antiseptic properties. This makes this lip scrub a great boost for those really worn down chapped lips that needed some extra love. Both these substances are not only delicious but are especially suited for the delicate skin on our lips.
The thing I noticed most with this lip scrub was how full and plump my lips felt after use. It gently exfoliated while leaving my lips feeling softer and more hydrated. I didn't really feel the need to follow up with a lip balm – but I did because I prefer to err on the side of caution.
Lush Popcorn Lip Scrub Review
I don't go to the movies unless I'm also getting a nice big tub of popcorn. This is my commitment to the fluffy kernels. So, when I saw this lip scrub on the shelves I knew I had to get it. To be honest, I'm not sure if I can get it again because I used it more for eating than for scrubbing. (And that's a hefty price for a tiny tub of popcorn).
The intense hydration you get from this lip scrub comes from the jojoba and coconut oils. The benefits of coconut oil are endless but it's especially good for that moisture boost. The oil traps moisture in your skin so your lips get super hydrated. And I can testify that you will not be disappointed in that department when it comes to Lush's Popcorn lip scrub.
DIY Natural Lip Scrub Recipe And Guide
Lush's lip scrubs contain natural ingredients so it's pretty much as 'straight-from-the-source' as it gets. To me, this means that I can easily make it at home – and maybe even better! You can personalize it to your lips specific needs and the recipe is ridiculously simple.
Mix together 2 teaspoons of white sugar (or you can use unrefined brown sugar if you want something a little coarser), 1 tablespoon of agave oil and ¼ teaspoon of coconut oil. In this lip scrub, the coconut oil provides the moisture and antioxidants you want for your lips, as well as being an emulsifier for the mixture.
Once it's all mashed together put in a ¼ teaspoon of vanilla extract and add in five drops of whatever essential oils you like. Get creative but if you don't know where to start I like to use Wild Orange essential oils for a citrus pick-me-up or Eucalyptus if you need a little immunity boost.
You can even add in some spices if you want that added kick. Cinnamon is a great start because it restores your skin's suppleness which is exactly what your neglected lips crave! Store your lip balm in a small jar and use within around 3 weeks. That's the only downside of home-made products. They contain no preservatives which is great, but it also means they have a shorter shelf life.
Conclusion
Bottom line, if you haven't been using a lip scrub up until now it's probably time to start. Excess dead skin on your lips can lead to signs of premature aging, as well as the obvious discomfort that comes with dry lips. There's only so much that regular lip balms can do – so really getting into those dry cracks is crucial for your lip care. (Having said that, after scrubbing it's important to follow up with a repairing lip balm to soothe and rehydrate the skins outer layer).
If you're looking for a tasty way to treat your lips, then Lush has got you covered in that department (as usual). Whether you want that minty freshness or just edible goodness Lush's lip scrubs provide the results you want. If you have a little more patience and want to make your own concoction suited to your lips specifically then have a go at the DIY. There are many factors that would affect the kind of attention your lips need – weather, hormones, etc – so it's great to be able to cater to your unique needs. Either way, your lips will finally get the attention they deserve. The only thing I'd mention is that the sugary scrub itself can get kind of messy. But that's a small price to pay for the results your lips get!