Joico Blonde Life Complete Line Review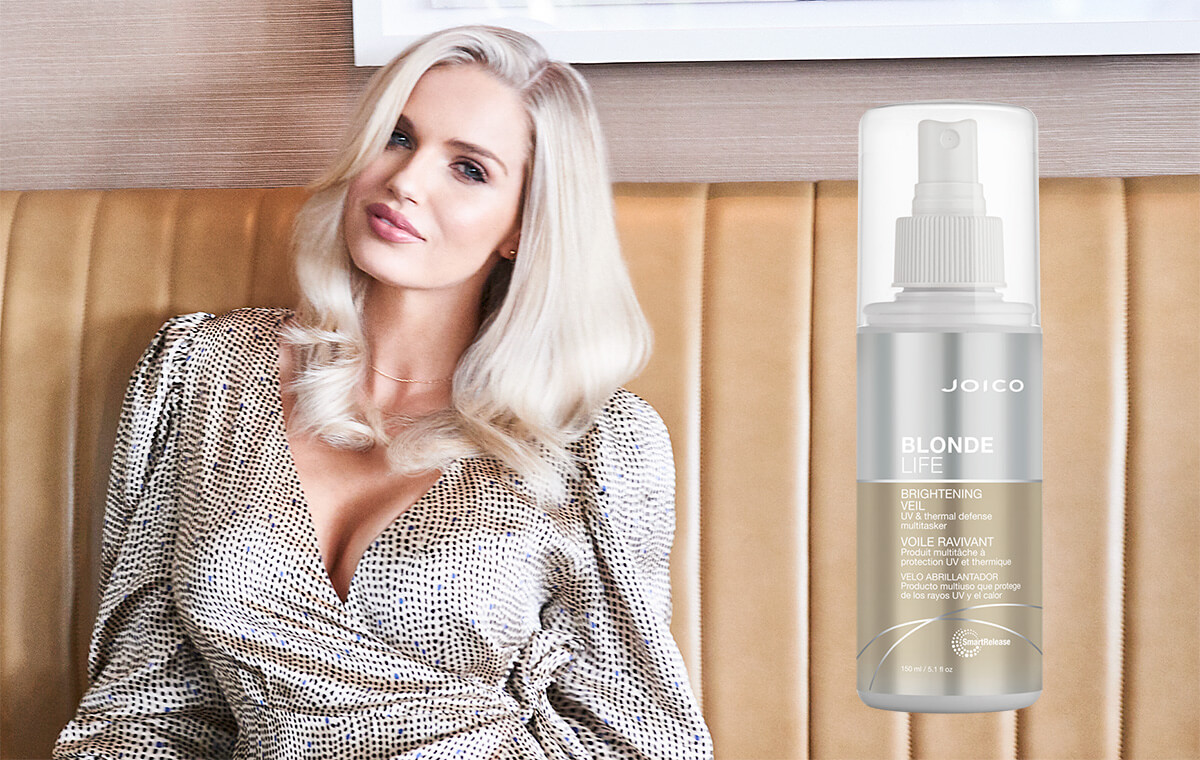 Here's a fact: not everyone cares how their hair looks and acts. Not everyone has a specialized hair care beauty routine. We each have our own priorities, and for some people, hair is not one of them. This Joico Blonde Life Line review is aimed at both: those who care, and those who simply want a product or two in the shower that will help their hair out and give it what it needs.
Many times, caring for blonde hair means keeping it lighter, brighter, smoother, and most importantly – healthy. This is especially true for colored hair, since it is more prone to damage and breakage. Caring for blonde hair is important, even if it is only occasionally.
The Importance Of Caring For Blonde Hair Explained
Shades of platinum, gold, ash (and others) can easily turn to orange or yellow or some other undesired shade. Balancing your tones, intensifying the right colors, and keeping the hair looking and feeling healthy – it sounds like a lot of work. It doesn't have to be, although it certainly can be. If you ask me, it comes down to the products that you use, more than anything else.
It is of the utmost importance that you find products that work for you. It's not an exact science, but there is some science behind it. The same science that gave us different blonde hair-coloring kits and purple shampoos of all sorts. It's not necessarily that caring for blonde hair is more important than caring for any other hair color, but blondes are more susceptible to damage and changes due to their hair's appearance.
This is why Joico – and many other hair care companies – launched products specifically designed for blondes. They recognized the importance of caring for blonde hair and decided to deliver. 
Joico Blonde Life Series Overview
The Joico Blonde Life series consists of:
Care
Brightening shampoo

Brightening conditioner

Violet shampoo

Violet conditioner
Treatment
Brightening masque

Brightening veil
Styling
Brilliant glow brightening oil

Brilliant tone violet smoothing foam
Simply put, the Joico Blonde Life range of products celebrates the joy of blonde hair. Maybe natural blondes don't "get" this as much, but those of us who have dyed their hair know how exciting it can be to turn into a blonde for a while. Anything exciting can eventually fade and become routine, but if you are interested in keeping that excitement and blonde-infused fun in your life (and your hair!), then these products are here to help.
Could you use other products, like a cheapo $4 drugstore shampoo? Obviously. Will it yield the same results? There is a good chance that no, it will not. Too often, drugstore products are a one-size-fits-all kind of deal. Joico did the right thing by splitting up their Blonde Life products into care, treatment, and style items. It gives the prospective blonde customer that much more freedom to choose what is right for them.
Joico Blonde Life Brightening Shampoo Review
In my opinion, the Joico Blonde Life Brightening Shampoo is not for daily use. Once or maybe twice a week is good enough, especially if you use the twin-product conditioner afterward. But there are those who wash every day, so you will have to experiment and see how your hair reacts. 
A small amount of this shampoo lathers up nicely, and thankfully there are no sulfates in the formula. Not to say there are no "iffy" ingredients, but sulfates are not one of them. This is targeted at highlighted blondes, and for natural ones, it may prove to be too drying. But, again, if you use the conditioner and regain the lost moisture, you can exit that shower feeling, and looking, like a million bucks.
Joico Blonde Life Brightening Conditioner Review
I condition once or twice a week, max. Sometimes I will condition first, if I feel the hair requires it. Normally, it's done the other way around. The Joico Blonde Life Brightening Conditioner managed to make my hair soft and full of life, without weighing it down. In fact, of the two conditioners (there is also the violet conditioner), this was the lighter one. For some reason, the violet one felt heavier and very "product-like", though it could also have been my doing by using too much or something.
This conditioner acts as you would expect. It detangles with no problems, and it leaves you ready for any kind of styling or treating which you want to do. Or, of course, you can leave it as is. It's not like you need to follow this conditioner up with anything extra. It is a fine product on its own, and it is gentle enough to use more than once or twice a week. Some people wash every day, although it is not recommended for most. 
Joico Blonde Life Brightening Masque Review
I usually don't use professional hair masks, and I almost always prefer the natural route: essential oils, eggs, avocado, yogurt, etc. But I must give credit where it is due.
The Joico Blonde Life Brightening Masque is a product meant more for those who have colored and highlighted their hair, but it will work for natural blondes as well. This mask brings with it healing and softness to potentially damaged and dry hair. It is a quick-rinse type of treatment, and it manages to do a lot even after a single application (although, better results can be seen with regular use). And what's more, it gets this done without making the hair feel like it is full of wax,  oil, or product gunk. When it rinses out, it rinses out.
Brightening simply means adding shine and luster. Those two elements can be lost for a variety of reasons, and reintroducing moisture and nutrients is key in recovering both of them. Whether thick or fine, your hair could use this type of quick on-and-off treatment whenever you feel it is lacking in the shine department.
Joico Blonde Life Brightening Veil Review
This is a product that is specifically meant for those with bleached hair. Bleach can be one of the toughest elements that hair will ever encounter. It does a real number on your natural strands, and getting them back on track after the bleaching or coloring process can take some time. After all, you don't want to overload your locks with product.
The Joico Blonde Life Brightening Veil not only serves to lighten your hair in a healthy way, but it also acts as a heat protectant and UV sun ray protectant. It enhances the shiny aspects of blondeness and combats frizz, in order to provide you with the best hair to work with and style. This is a product that I definitely did feel in my hair, which is something I do not like. But it made the hair more manageable, and for that, it has my gratitude.
Not worth the money, in my opinion, but if you can get it on sale – do it.
Joico Blonde Life Brilliant Glow Brightening Oil Review
I enjoy hair oils only sometimes. I will usually go for something else which contains oils but is not a hair oil in and of itself. But, for the purposes of this review, I went for it.
This was a reminder of why I don't particularly care for hair oils. I feel I get enough oil and hydration in my usual products. Essential oil spritz bottles are my go-to DIY, and this is why I feel I don't need a specific hair oil product. But as far as hair oils go, the Joico Blonde Life Brilliant Glow Brightening Oil is nice!
Sometimes you will actually feel your strands crying out for moisture and care. If you have no time for a deep-condition session or a leave-in of some kind, hair oil is a great solution. Giving your hair the attention it craves can be as easy as a single pump or two from this Joico product. A little goes a long way, and I have grown quite fond of it.
Joico Blonde Life Brilliant Tone Violet Smoothing Foam Review
This is a violet (read: purple) product, which targets "cool blondes", as it were. First off – in my experience, many products with a foam consistency tend to be great ones if they are made by a capable cosmetics or hair care company. There is something about the foam which helps it feel lighter than other products when being applied.
The Joico Blonde Life Brilliant Tone Violet Smoothing Foam is meant to ease the frizz, hydrate the strands, and cool down any brassy tones which are a-creeping. This product indeed makes hair smooth and softens things up, and it does this without interfering with the hair's natural flow and movement in any noticeable way. This is quite an achievement, or so I think, but it also has to do with other products which may be in your hair. 
Remember, do not overdo it, no matter what. There is such a concept as getting too much of a good thing. You need to handle your hair with care and due caution, especially if it is colored, bleached, damaged, etc.
Conclusion
This line should be tried out by blondes, natural or synthetic. Its promise is one which it delivers, which is why it is worth purchasing and trying out. The prices are not outrageous by any means, and you don't need to purchase the entire line. Get the travel sizes if you can grab hold of them, and experiment as you will.
There are many lines dedicated to blondes out there, and it is hard to think of a time when series' of products for blonde hair was not part of the hair care landscape. But in fact, blonde hair care only emerged towards the end of the 1990s. It has really taken off since then, and rightly so. The formulas which make up the Blonde Life line of products include the usual potentially harmful ingredients. But they also have arginine, tamanu oil, monoi oil, proteins, and other elements that serve and protect.
One other thing: diversion. Joico products are usually really good, and because of that, they are targeted by charlatans and counterfeiters of all kinds. Sometimes you think you're buying the real deal, but you quickly find out that you've been swindled or otherwise misled. Buying Joico products from reputable businesses and salons is the best way to avoid unhappiness and frustration.