Garnier Whole Blends Review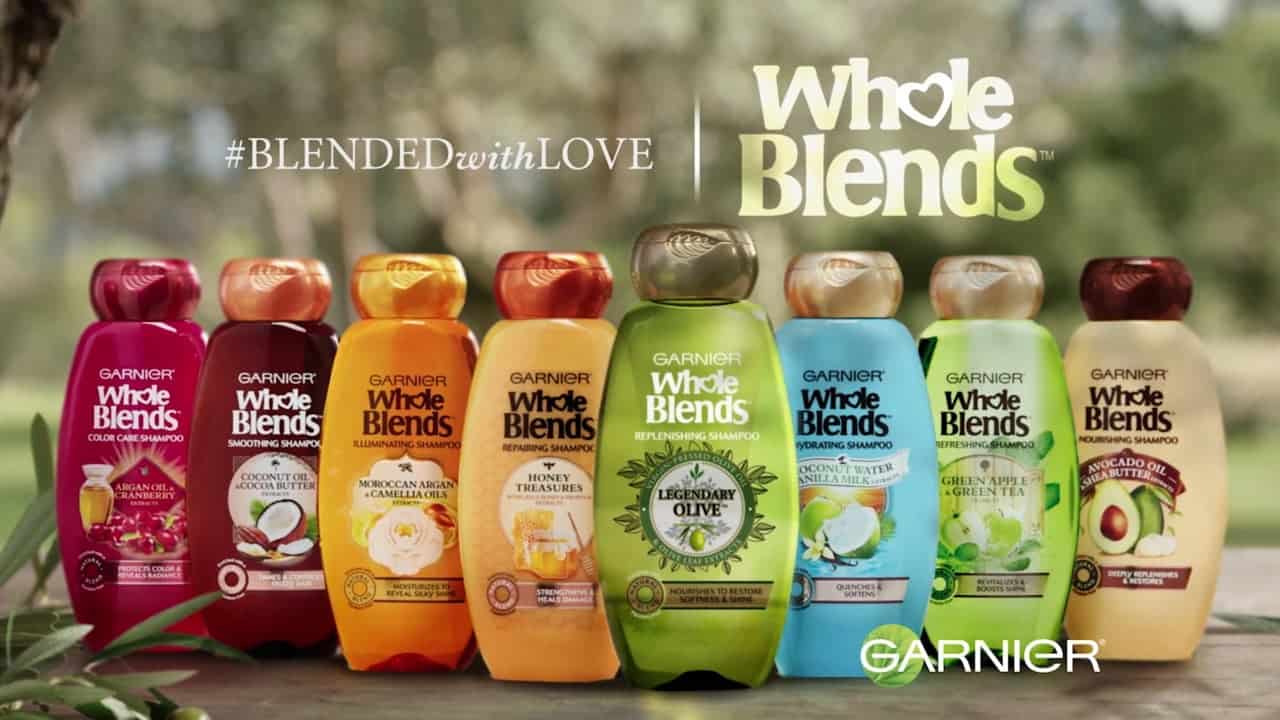 When it comes to taking care of my hair the requirements are ever changing. I limbo between color protecting, hydrating and just a 'normal' shampoo weekly. Rarely do I buy the same shampoo (or hair product in general) twice in a row. It's expected for your locks to have varying needs depending on external factors as well as internal factors.
The weather and your hormone levels could result in greasy or dry hair all within the same week. Garnier is renowned for its extensive hair care range, tailored to nourish whatever your hair is going through on any given week. Garnier Whole Blends is armed for the natural flow of hair being dry one minute and greasy the next.
Speaking of natural, I'm pretty particular about what I put on my hair. A little-known fact is that our hair follicles are open and ready to absorb the chemicals often found in hair products. When I first realized this I visibly shuddered. Flashbacks of the paraben-filled and synthetic fragrance-ridden products I'd lathered into my scalp filled my mind.
If this is a foreign concept to you then Garnier's Whole Blends range might be the baby step you need in the right direction.
In A Hurry? Find What You Need
Garnier Whole Blends Line Explained
I've developed a soft spot for any product that contains from-the-earth ingredients. I'm not talking about fruity fragrances here, but real fruits and natural oils. There's something truly satisfying about not coating your tresses in toxic substances (which are then absorbed into your bloodstream). Call me old fashioned but I'd rather not harm myself just by shampooing my hair.
To this end, Garnier's Whole Blends range is paraben-free. Although parabens are used as a preservative in most skin-care products, they're not a great substance to see on your ingredient list. They disrupt the normal function of your hormone system and also contain carcinogens.
Garnier's Whole Blends offers all-around care for your luscious strands. The formulas are gentle and deeply nourishing. I put this down to the natural ingredients used. And there's something for every hair type. Whether you're looking for something to repair, restore or soothe your hair you've come to the right place.
If you want your hair to shine, be protected or hydrated Garnier has you covered. The best part is that, for the product your getting, it's beyond reasonably priced. Finally, you don't have to splash out exorbitant amounts of money for a product that gives you a guilt-free wash.
See Garnier's Collection on Amazon
Top 5 Garnier Whole Blends Products Reviewed
1. Repairing Shampoo Honey Treasures
This shampoo and the Honey Treasures set in general is probably the go-to collection in the Whole Blends range. It's mainly aimed at treating damaged hair because of the benefits of honey, but if your hair needs some loving care you've come to the right place. Honey is a humectant which attracts and retains moisture. It nourishes your hair and your strands feel softer from the first wash.
Royal jelly (a sibling of honey) is also used in this shampoo and contains healing properties to repair your hair just like Garnier promises. The formula itself is pretty thin and runny but you really don't need much to work up a lather. My hair felt cleaner and not oiled-up as you get from some overly moisturizing 'repairing' shampoos.
Get it now: Repairing Shampoo Honey Treasures
2. Illuminating Oil Moroccan Argan And Camellia Oils Extracts
This product is one of my favorites from the Whole Blends range. It's great for when my hair is looking a little dull and needs that extra shine. Formulated specifically for dull locks this illuminating oil contains Argan and Camellia oils aimed to add shine to your locks.
Argan oil is packed with Omega fatty acids to tame frizzy hair. It also contains antioxidants which means it has the ability to strengthen hair, adding natural shine.
Meanwhile, the Camellia oil is infused into the hair structure to replenish hydration.  It prevents the loss of nourishing proteins ensuring your shine will last. The fact that it really works itself into the hair strands means it doesn't coat your hair with that greasy layer.
I just took a tiny drop into the palm of my hand – you don't want a lot because although it's not made to grease up your hair, it's still oil. You've been warned. Our hair produces its own oils, so you just want this to add an extra shine not to replace any of your natural oils. Run it through your hair with your fingertips to control those fly-aways giving dull hair a healthy glow.
Learn more: Illuminating Oil Moroccan Argan And Camellia Oils Extracts
3. Smoothing Leave-In Conditioner With Coconut Oil And Cocoa Butter Extracts
With any leave-in conditioner, you're looking to get frizz control. The problem is you usually get a lot of buildup when it comes to these heavy leave-ins. Not with Whole Blends' leave-in! Coconut oil has a high moisture retaining capacity that means it's absorbed into the hair and doesn't let moisture escape.
It does build-up over time, but it comes out easily in your next wash and your hair doesn't feel coated. The Cocoa Butter is also used to seal in any moisture. Better yet it really penetrates the hair cuticle and strengthens it from the inside. That's due to its high saturated fat content.
Whenever you style your hair it needs to be wet. After my shower, I use a detangler to just gently work through my strands and then I run the product through my hair. I use a lot, but it really depends on your hair length. It should coat your hair and be applied just like a regular conditioner. Work it into the ends and then anything leftover, run through the scalp. My curls look more defined and smell lightly like coconuts. Yum.
Order now on Amazon: Smoothing Leave-In Conditioner With Coconut Oil And Cocoa Butter Extracts
4. Gentle Detangling Hair Milk Oat Delicacy
Who knew that oats were the secret detangling ingredient? But Garnier is onto something. Oats are gentle to the skin and can soak up excess oils without drying the scalp. They're also rich in Vitamin B which increases blood circulation. This, in turn, strengthens the hair follicles making them susceptible to breakage.
That's why it's a great detangling agent – it's gentle enough to the hair while still restoring the follicles from their root. It's perfect for everyday use.
I just sprayed a little onto my post-wash damp hair and combed a brush through it. The texture of the spray was light and worked almost instantly. The best part is it didn't leave a sticky residue like some other detanglers I've tried. My hair stayed smooth all day – and tangle free!
Check it out: Gentle Detangling Hair Milk Oat Delicacy 
5. Color Care Mask With Argan Oil And Cranberry Extracts
I'm a big fan of a good hair mask. Especially after coloring my hair, I know it needs some extra attention. The Argan oil in this Whole Blends Color Care Mask moisturizes color treated hair. Although I have to admit that it was the Cranberry extracts that caught my attention.
Vitamin C in cranberry juice is a prominent nutrient to treat damaged hair. Cranberries also contain tocopherol which prevents oxidative stress, improving hairs overall health. As if that wasn't enough, nutrients like zinc and iron in cranberries improve the general condition of the scalp and hair follicles.
This is a lightweight conditioner that helps your colored hair recover from the chemical attack it just went through (aka your color appointment at the salon).
I will say that it takes quite a lot of product to fully coat my hair but that will depend on whether your hair is thin or thick. If you just need that once in a while TLC to boost your color-treated hair, then this Color Care Whole Blends mask is what you're looking for.
Conclusion
If you want natural products without your heart skipping a beat at the price tag, then Garnier is the brand for you. Their wide variety of products are gentle and fragrance-filled. Whether you need the nourishing Honey Treasures shampoo or an oaty detangling mist you've come to the right place.
My favorite feature of this range is that it's sustain-ably sourced. Selected ingredients are purchased to support local farmers – I'm a sucker for giving back to the community. I think it says a lot about a company who cares about the environment, and those within it.
The fact that the whole collection is free of parabens only adds to my excitement. Reading a recent study conducted at the University of California was enough to convince me of the importance of going paraben-free. The study showed that short breaks from shampoos containing chemical ingredients resulted in a drop in teenagers' hormone-disruption.
I have enough hormone-disrupting drama going on in my life, I don't need added chemicals to make me seem crazier than I already am. The famous saying that "Beauty comes at a price" should be taken very literally. You should be spending more on quality products, not sacrificing your actual hair! With that being said, Garnier's Whole Blends ensures you don't even need to pay the price. What are you waiting for? I know I'm sold.
Up Next: Garnier Nutrisse Hair Color Review
Before You Go! Shop Our Picks on Amazon Now