All-Natural Hair Lightening Spray DIY Guide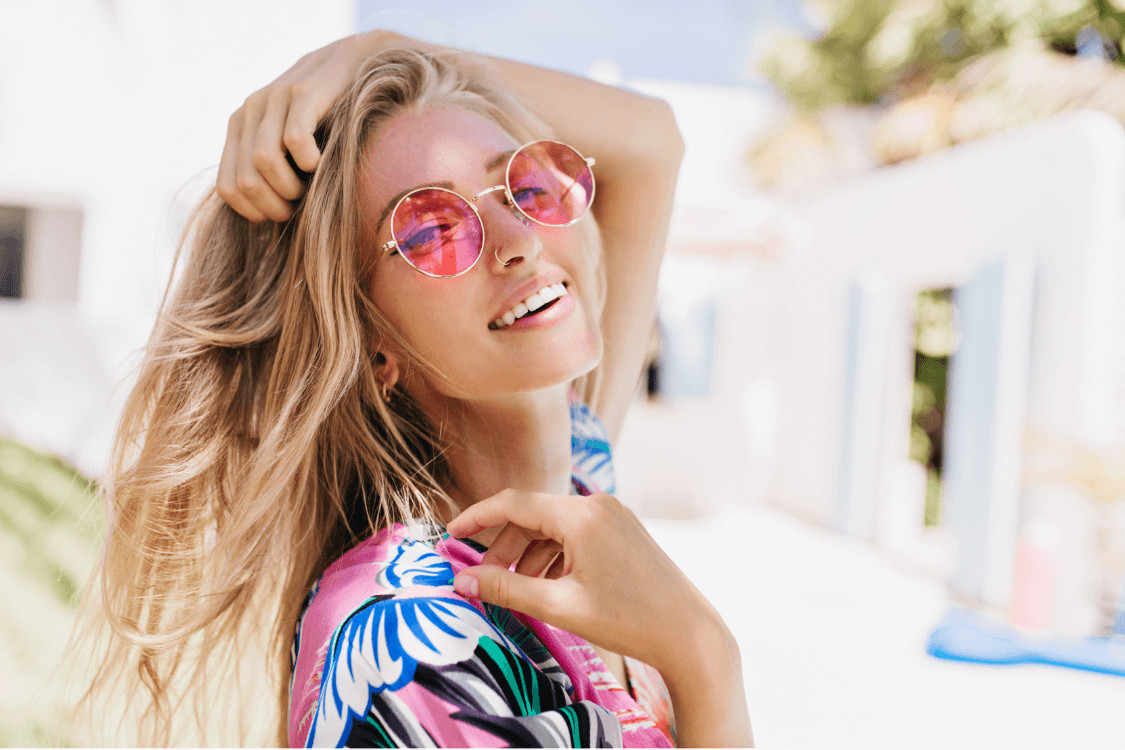 The summer months always provide a good opportunity to make your hair lighter.  Everyone's hair simultaneously seems to go up a shade, whether it be through sitting out in the sun or getting a stylish balayage at the salon. Everyone is on the prowl for that light-haired, tan skinned, sun-kissed look. For some people, getting lighter hair may be time consuming and expensive.  That is why many rely on drug-store products to lighten their hair without spending money at the salon.
Read the name carefully. It says go blond-er…not blonde. So, all of you blondes who are reading this article, pay attention, this product could help enhance your natural hair color. As for the brunettes, like me, out there, this article may interest you but is most likely not worth your time.  Unless you are interested in having discolored red hair, just go to a salon and get your hair lightened professionally.
How To Naturally Lighten Your Hair
Let's talk about how you can naturally lighten your hair.
Lemons
The first and most well-known way to naturally lighten your hair is with lemons!  You may or may not have tried this one before. But be honest; your inquisitive middle school-self would be all over this idea.  "Dying" my hair without my mom's notice was all I ever wanted as a 14-year-old girl. To start this method, mix two parts squeezed lemon with one part warm water and combine in a spray bottle.  If you have very dry hair, to begin with, substitute the water with a leave-in conditioner.  Spray the mixture into your hair and sit in the sun for 1-2 hours. After about 2 rounds of using the spray, your hair should be noticeably lighter.  Keep in mind that using a lot of lemon in your hair may make it dry. Be aware of this, and only use this method a maximum of 4 times.  After use, wash your hair well with a hydrating shampoo and conditioner.
Chamomile
This common tea flower is surprisingly a great way to naturally lighten your hair! You can make a chamomile tea rinse by steeping 5 tea bags in a few cups of hot water.  Let the bags sit until they are cool. In the meantime, you can wash your hair with shampoo and conditioner. Once your hair is washed you can apply the tea bag mix to your damp hair strands. Let your hair dry with the chamomile in it.  Continue to rinse with this mixture every couple of days and your hair will slowly become lighter. Of course, this method varies per person. Brunettes may notice a slight change in their hair color but blondes can expect their hair to get lighter by half a shade.  This method will brighten salon highlights without damaging professional jobs!
Raw Honey Mix
If you are a frequent Pinterest user, you may have heard about the concept of natural hair masks before. This hair mask is great because it makes hair soft and lightens it. To begin, combine ¼ cup of raw honey, ½ cup water, 1 tbsp cinnamon, and 1 tbsp of olive oil.  Mix all of these ingredients together and apply to damp hair. Once hair is saturated, put it in a bun for at least 2 hours, or just sleep with it overnight. After the time has passed, wash out your hair and you are good to go!  This method will take more time to notice a difference in hair color, however, this is the best way to go if you are looking to make your hair softer and healthier.
Benefits Of Natural Lightening
So, what are the benefits of using a natural method of hair lightening?  Besides knowing exactly what you are putting onto your body, there are plenty of benefits to using the natural ingredients listed above.  First off, let's talk about honey. Honey reduces breakage in your hair, ultimately making one's hair grow healthier and faster. Honey also strengthens the hair follicles which reduces hair fallout. 
Moving on to your favorite tea flower, Chamomile is fantastic at making one's hair shinier, less dry, and overall much healthier. Definitely, consider using chamomile if your scalp is dry or if you have dandruff.  Lastly, let's discuss lemons. When used in moderation, lemons can improve the rate at which your hair grows because of the Vitamin C content. The only reason I suggest using lemon in moderation is that overuse has been shown to dry out hair, leading the way to unhealthy, brittle hair.  
Achieving these benefits from a lightening spray is unlikely.  A lightening spray like the John Frieda Go Blonder Spray uses chemicals as a quick way to change hair color.  In the long run, using a natural lightening method will give similar results but with healthier hair. 
What Is Lightening Spray?
Lightening spray is exactly what it sounds like… a spray that lightens your hair.  This type of product has been popular ever since the release of Sun-In, a popular hair lightening product.  Products like Sun-In have become so widely used because they are cheap, easy-to-use, and effective. As I mentioned above, lightening sprays are typically used with those who have naturally blonde hair, to begin with. The products are mainly used to enhance light hair or light highlights.  Any other hair-type the results can be well… iffy. If you are a brunette, I would not recommend using a lightening spray. As I previously mentioned, the spray will lighten your hair but not in a way you may expect it to. 
DIY Lightening Spray Recipe
I, for one, am always up for a little DIY project, especially when it comes to my beauty routine. So without further ado, let's dive straight into this DIY lightening spray recipe. The first step is quite simple. All you have to do is add 40 drops of chamomile oil to a cup of freshly boiled water. The water has to have literally just boiled for this to be really effective. Then cover the pan or pot with a lid and let it steep for 30 minutes. Once the time has elapsed, add 30 drops of lemon oil, cinnamon oil, and tea tree oil respectively to the pot and stir well for roughly 2-5 minutes. The oils should blend well with the water.  Then add the teaspoon of lemon juice and stir again for roughly a minute.

To use the spray, simply spray your hair. Just enough to feel like you've reached all the places you need to. Once this is done, expose your hair to sunlight – but not for more than an hour or two at a time, as you can damage your skin and hair with too much sun exposure.  And voila! Your own DIY lightening hair spray is complete. It works on darker shades, but will really be most effective on lighter shades of hair. Enjoy!
Conclusion
To the people out there with blonde hair, I would recommend you try the John Frieda Go Blonder Spray.  As with any product or assignment, directions must be read in order to avoid an unfortunate catastrophe.  If you are genuinely scared of harming your hair, remember the natural ways of lightening the hair. Not only are they effective, but they are a much healthier way of changing one's hair color. 
As much as you may want to change your hair color, it is important to embrace your natural hair color. We always want what we don't have, so try to appreciate your current hair color as it is before trying to change it.  Cherish what you have been given, and you will never be disappointed. Best of luck on your hair journey, whether it be on coloring or just learning to adore it!