bareMinerals Cosmetics Review: bare And Beautiful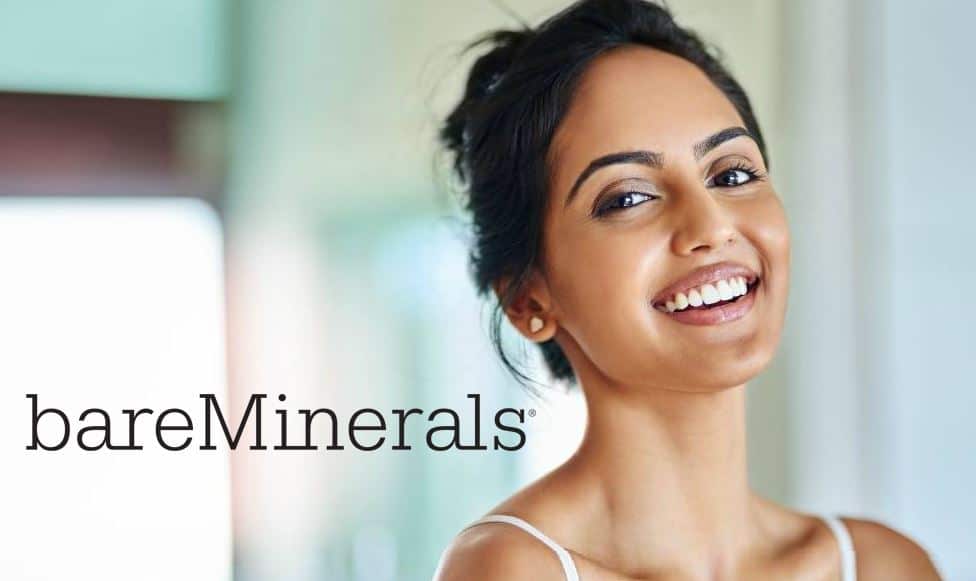 If you're into researching cosmetics, there's a 1,000% chance that you've heard of bareMinerals. The San Francisco-based company was started in 1995 with the goal of creating natural makeup that was less harsh on the skin. The first products were even sold as a loose mineral powder in order to avoid the need for added chemicals in the makeup. Since then, the brand's line has grown and developed to include a variety of products for all your makeup needs.
The formation of bareMinerals was spearheaded by Leslie Blodgett, the CEO of Bare Escentuals. The brand took off two years later when it was featured on QVC. BareMinerals educated customers on how to get the perfect complexion for their skin. Shiseido is now the owner of bareMinerals.
Since the acquisition, the bareMinerals product list has continued to expand. BareMinerals places a strong emphasis on connecting to and empowering women. It aims to create natural products so that your skin stays as healthy as possible.
bareMinerals Products Overview
The brand has come a long way in terms of making a variety of products to make us feel more beautiful and glow. In fact, every three seconds someone buys a bareMinerals foundation!
Aside from the original powder and foundation, the beauty line now also carries lip, eye, and cheek makeup items, basically covering all of your needs. It's a one-stop-shop for concealers, bronzers, highlighters, primers, eyeshadows, mascaras, lip glosses, lipsticks, lip liners, and makeup brushes. And don't forget the skincare products as well, such as face masks, moisturizers, serums, and cleansers.
BareMinerals was doing clean makeup before clean makeup was even a thing. Their goal is to make products that are pure from their formulation and their feel. They continue to enrich all of their products with skin-loving minerals and without any harmful ingredients.
As a consumer, it's important to choose clean beauty products because that means you're being good to your skin as well as the environment. Every single person's decision has an effect, which is why bareMinerals strives to be amazing.
The flagship beauty item of bareMinerals is their Original Foundation Broad Spectrum SPF 15. It is designed to leave you glowing, although there is also a matte version for those who prefer to be out and about sans shine. The Original Foundation comes as a loose powder and does not contain added scents, waxes, preservatives, oils or talc, so you can be confident that you are using natural products while also getting quality coverage.
bareMinerals Original Foundation is best applied with a smaller makeup brush so that you can spread it while really focusing on each area.  It's known to feel very light on your skin, so your skin will be able to breathe and you shouldn't get as many breakouts or acne blemishes.
A great thing about the Original Foundation is that it's good for a variety of skin types. Plus, there are thirty different shades, so you can find the best fit for your skin. It lasts for a good portion of the day, so no need to constantly be reapplying, wasting your precious time and foundation! But don't worry, once you do want the foundation off, it will wash off easily without you having to irritate your face because of intense scrubbing.
Similar to some of the foundations, bareMinerals carries eyeshadows that come as loose powders and can be used either wet or dry. They, of course, come in a bunch of different colors, and you can choose if you want a velvet, sheen, matte or shimmery finish. BareMinerals' Ready makeup line includes pressed eyeshadows which can be bought in differently-sized palettes.
BareMinerals used to only stick with loose powders but have recently made a shift to include pressed powders. Loose powders are wonderful, but let's be honest, the pressed ones are way easier to work with. This eyeshadow palette comes with a mirror, which I think is a must with any makeup palettes.
BareMinerals Eyeshadow Palette also comes with a dual-sided brush for application. This palette is full of mostly natural and nude hues. There are four metallic shades. If you're looking for a ton of metallic shades, this is not the palette for you.
In case you need a quick fix for your skin, bareMinerals planned ahead and created their Touch Up Veil Broad Spectrum SPF 15. This item contains the bareMinerals special antioxidant-rich minerals and ingredients derived from grapeseed oil. Designed to minimize blemishes and decrease shine, the Touch Up Veil also protects your skin from sun damage and combats signs of aging. It's lightweight and can help shrink your pores, cover up circles and cover up redness. It's a great product if you want an airbrushed look without actually going through the airbrushing process.
Even though bareMinerals Touch Up Veil is a pressed powder, it goes onto the skin like butter, so smoothly and so easily. It stayed on my skin for about four hours until I felt I needed a touch-up.  It's exactly what it says it is- a touch-up veil. It sits lightly over your face like a veil would and covers any of your imperfections. It had a weird smell, but I can get past that.
If you're in the market for full-coverage products, check out bareMinerals' 24-hour full coverage foundation and their long-lasting concealer stick. The barePRO® Performance Wear Liquid Foundation SPF 20 feels light on your skin and also protects your skin from the sun. It comes in thirty different shades so that you can find the right color based on your skin tone.
bareMinerals' 24-Hour Full Coverage Foundation will cover up imperfections and leave you with a matte finish. Therefore there's no need to worry about being too shiny. It works by combining bareMinerals' special minerals with the fats in your skin, giving you full protection.
So how exactly does bareMinerals liquid foundation work? Bamboo stem extract helps achieve the soft matte look that this product promises, and the inclusion of papaya enzymes helps your skin soften both immediately and as time passes. Although the golden rule is to always take your makeup off before you go to bed, the natural products in this item lead bareMinerals to insist that you can even sleep in this foundation! And your foundation might just last that long, as it's sweat, heat, water, and humidity-resistant.
BAREPRO® 16-Hour Full Coverage Concealer comes in fifteen different shades. It is waterproof, humidity-proof and crease-proof. It's designed to be used under your eyes and it too will give you a soft matte finish. And it doesn't just serve to cover up bags or spots for sixteen (yes, sixteen!) hours, but it will actually help boost your skin.
The usage of bamboo stem extract helps to smooth lines and pores in your skin, while blackcurrant seed oil, sea lavender and raspberry seed oil moisturize your skin and protect it from toxins.    
When feeling like your skin is getting dull, bareMinerals' Well-Rested Face and Eye Brightener might just do the trick. With light-reflecting minerals, it brightens skin and evens out complexions. As you use it, it can also help reduce wrinkles, discoloration, fine lines, and dark spots.
bareMinerals Well-Rested Face and Eye Brightener are great if you're low on sleep and need an extra boost to look and feel fresh, and it works with all skin tones. bareMinerals' brightener is made without chemicals and salts that can irritate your skin, so it's great for sensitive skin types as well.
bareMinerals Well Rested Correcting Concealer Review
BareMinerals' Correcting Concealer SPF 20 is also a creamy, lightweight product which will help protect your skin from sun damage. It's good to use in covering up regular blemishes and dark circles under your eyes. It comes in eight different shades to help you even out your complexion. Made without synthetic oils, parabens or artificial fragrances, it's a natural and healthy way to care for your skin.
bareMinerals Well Rested Luminizer Review
Most of us don't get enough sleep each night, which leads to puffy eyes, dark circles and an overall look of tiredness. bareMinerals Well-Rested Under Eye Brightener SPF 20 combats this very issue and makes it seem like you did actually get the eight hours of rest that you were supposed to. It blends into your skin extremely well for a natural look and won't cause acne or clog your pores.
This is a great product to give you that bright glow under your eyes without that overdone look.
Is bareMinerals Cruelty Free? Vegan?
bareMinerals products are not tested on animals. bareMinerals also doesn't do business with manufacturers or countries who conduct testing on animals, like China. 
Parent company Shiseido, however, does engage in some animal testing. BareMinerals, however, is PETA cruelty-free certified. In addition, the bareMinerals line carries a huge amount of vegan products, including creams, cleansers, serums, primer, concealer, and lipstick.
Conclusion
To avoid the sun, get a full night's rest, and have perfect skin is just too unrealistic as we try to balance work, family and having a social life. In order to look and feel our best, we sometimes need a little extra help. BareMinerals products are a safe, healthy and easy way to protect and replenish your skin.
They can cover up your imperfections to improve your confidence so that you can rock your day. The company's reputation as a cruelty-free brand ensures that you can feel good about supporting this line while also feeling good about yourself.