Aveeno Absolutely Ageless Collection Review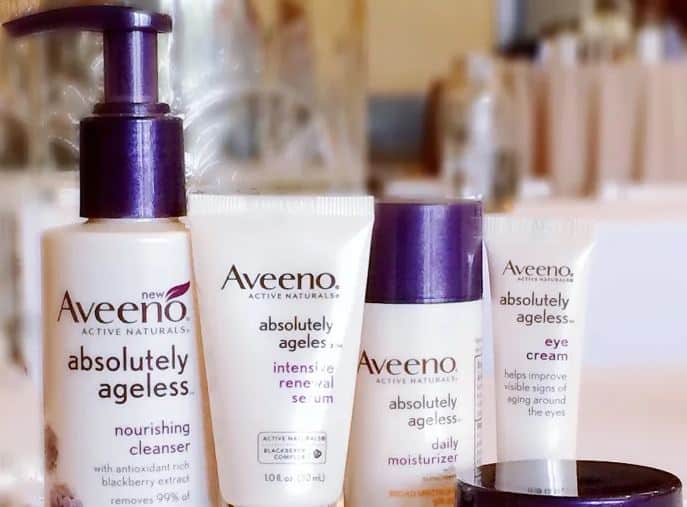 We want to look our youngest and healthiest for the longest time possible. There is nothing vain about that statement, or so I feel. There are many people who share that sentiment, and it's only natural that we want to stay younger-looking. Aveeno wants us to allow that youthfulness to stick around longer, which is why they made their Aveeno Absolutely Ageless collection.
So many companies have an anti-aging line, and rightly so. Women and men alike are interested in prolonging their youthful appearance. This should not be confused with any kind of Peter Pan or Tinkerbell complex. This is about the way that we look, the way that we feel, and about putting our best foot (and face?) forward.
Aveeno Absolutely Ageless Collection Explained
Launched in 2016, Aveeno's Absolutely Ageless Collection is a series of products for night and day. The collection includes six items: the nourishing cleanser, night cream, leave-on mask, daily moisturizer, eye cream, and a peel-off mask. When it first appeared, Jennifer Aniston did the TV spots and commercials (of course). She and Aveeno have a good thing going on, and as I said in the beginning – we all want to stay healthy and young for as long as we can. 
The Absolutely Ageless products are all infused (for lack of a better term) with a blackberry complex, and that ingredient is part of what makes this line unique. It has this restorative quality to it, and it might suit those who have been disappointed by similar products or other brands. Not to say that a hint of blackberry will solve all of your issues, but it certainly is a good way to go about it. Berries are truly a superfood, in my opinion.
Not all of these products will fit everyone. Depending on your complexion and skin type, and also depending on your hormones and physical health, you may find that there is a product that doesn't do it for you and vice versa. Don't shy away from experimenting, and this is actually doable since Aveeno's products are relatively inexpensive.
Alright, let's get into the nitty-gritty here. And speaking of grit, here's one suggestion on how to get it off of your mug!
Aveeno Absolutely Ageless Nourishing Cleanser Review
Keeping your face clean is job number one. This is true regardless of whether you use cosmetics or not. It is best to keep the face hydrated. And using a cleanser can provide you with a fresh face to start your day with (and maybe apply makeup to), and a clean face to fall asleep with (after you use it to take makeup off).
The Aveeno Absolutely Ageless Nourishing Cleanser is pretty gentle, does a good job, and doesn't dry you out. After you use this cleanser, you can be safe in the knowledge that when you crawl into bed or head out into the street, your skin is going to have an easier time and be better protected. 
This cleanser claims to remove 99% of the impurities which cause skin to age prematurely. The presence of makeup residue, oil, dirt, and other elements is a contributing factor. Obviously, change will happen regardless of our finest efforts. But there is to age, and then there is age prematurely. That is the keyword here, and that is why I have such faith in products like these. Cleansers are fairly simple, as far as cosmetics go, but they can do a lot for you if you use them wisely.
Aveeno Absolutely Ageless Restorative Night Cream Review
The company claims that with the Aveeno Absolutely Ageless Restorative Night Cream, you can start seeing results within a week. That's quite a statement, but it's also risky. I mean, we all have a different type of skin, different dietary habits, and different genetic makeup. How does this night cream manage to restore the skin's elasticity and looks?
It's all about moisture. Keep that skin hydrated and full of goodness, and it will thank you. I don't know if every single person who uses this product will see results after seven days, but I do know that it has all the makings of a quality product. It's got its share of potentially harmful ingredients, like many similar night creams. But basically the formula is one that yields positive results with many of its users.
It's not greasy, it won't clog your pores, and it comes recommended by dermatologists. Night cream, like so many cosmetics products, is a matter of preference. If it works for you and helps you wake up with smoother, fresher, brighter skin, then do it!
Aveeno Absolutely Ageless Leave-On Day Mask Lotion Review
A day mask is protection that you wear on your face, literally, and leave it on. Sounds simple? It can be, but there is more to it than that. Aveeno's Absolutely Ageless Leave-On Day Mask Lotion is designed to fight pollution which threatens your face, reduce the effects of our sun, and help your skin stay younger for longer. Again, the blackberry rears its delicious and antioxidantal head and finds its way into this product as well.
Blackberry, moringa seeds, green tea – these are some of the more wholesome ingredients inside of this lotion. As always, there are also less-friendly ingredients, but overall it is a product that acts as a real lifesaver throughout your day. Along with 30 SPF, it comes with Aveeno's near-guarantee that pollution and the elements will have as little negative effect on your face as possible.
Should your skin be lacking moisture or nutrients, this mask can help to enrich your face and improve the looks of it. The different ingredients work together to provide the mask with real strength.
But hey, before you go and pick one up ($14.36 for 1.3 fl. oz. on Amazon), remember what Fezzik said in The Princess Bride: "people in masks cannot be trusted". Go on, then. It's time to prove him wrong!
Aveeno Absolutely Ageless Eye Cream Review
The area around the eyes is particularly sensitive, and wouldn't you know it? There are beauty and skin care companies who are also aware of this very thing. They want to help you and your eyes! Aveeno's Absolutely Ageless Eye Cream is rich and tender. That's what I thought of at the time: rich and tender. It helps with any morning puffiness – you know the kind – and it gets your eye region ready for bed if you choose to apply at night.
Thankfully, I don't have such a terrible time with baggy eyes or crow's feet. I get them sometimes if I make an effort of some kind to acquire them, but it's never anything too serious. Chalk that one up to good genes, I guess? Either way, this Aveeno eye cream has the classic tells of a solid product: vitamins, antioxidants, and blackberry complex! These team up in order to hydrate, nourish, and keep up collagen and elastin production.
It's nice to have a product that works for you while you are sleeping. I enjoy the fact that I can be unconscious and still striving to look better. There aren't many things you can do in your sleep, but – providing you put the cream on before you fell asleep – this eye cream can work for you while you're counting those sheep.
Coincidentally, sleep itself can do wonders for your mind and body, and it is also an element that can keep symptoms of aging at bay. I recently watched a TED talk on the power of sleep, and I am so happy that it is – and will probably always be – considered a real game-changer in the health, wellness, and beauty game. I would love to implement better sleep in my life in general. It really is a superpower!
Aveeno Absolutely Ageless Pretox Peel Off Mask Review
Like the rest of this series of items, this product is also infused with fatty acids, berry complex, and vitamins. The major difference between the masks is that this one is meant to be peeled off, whereas the leave-on mask is meant to be – say it with me now – left on.
Another difference is that the Aveeno Absolutely Ageless Pretox Peel Off Mask exfoliates the skin, and it lifts it right off without involving any rinsing. When you peel off that mask after about 15 or 20 minutes, you reveal a fresh layer of yourself. In that sense, it resembles many similar exfoliating and nourishing masks. Also, I love the bluish-purple color, but that's beside the point since it doesn't really help out (as an ingredient, I mean).
It has some great ingredients in it, but I could do without the additional fragrance and color. I understand there is more appeal that way, but I hope that sometime they will take those out and let the better ingredients speak for themselves.
Conclusion
Aveeno was founded in 1945, by Albert and Sydney Musher. For over 70 years, the company has been providing the residents of planet Earth with some grade-A beauty products. The company's slogan "better ingredients, better skincare, Aveeno" is pretty self-explanatory. 
And there is something to that, of course. Aveeno is now synonymous with oat extract, which is a staple in many of their products.
Nowadays, the company has rallied under the banner of Johnson & Johnson. The Big Pharma company (which is over 130 years old!) bought Aveeno in 1999. Thankfully – from a consumer standpoint, anyway – it seems that the parent company is letting Aveeno do its thing, without too much interference. Their various collections (Positively Radiant, Ultra Calming, Absolutely Ageless, etc.) are all successful, and this is certainly indicative of the company's quality and its end results.
The market doesn't lie. There is only so much that advertisements and commercials (and even the lovely Jennifer Aniston!) can pull off. If the products were no good, if the items were low quality, Aveeno would not be where it is today. Also, their prices are highly affordable, and this doesn't hurt their sales either, I'm sure.