Urban Decay Moondust Eyeshadow Review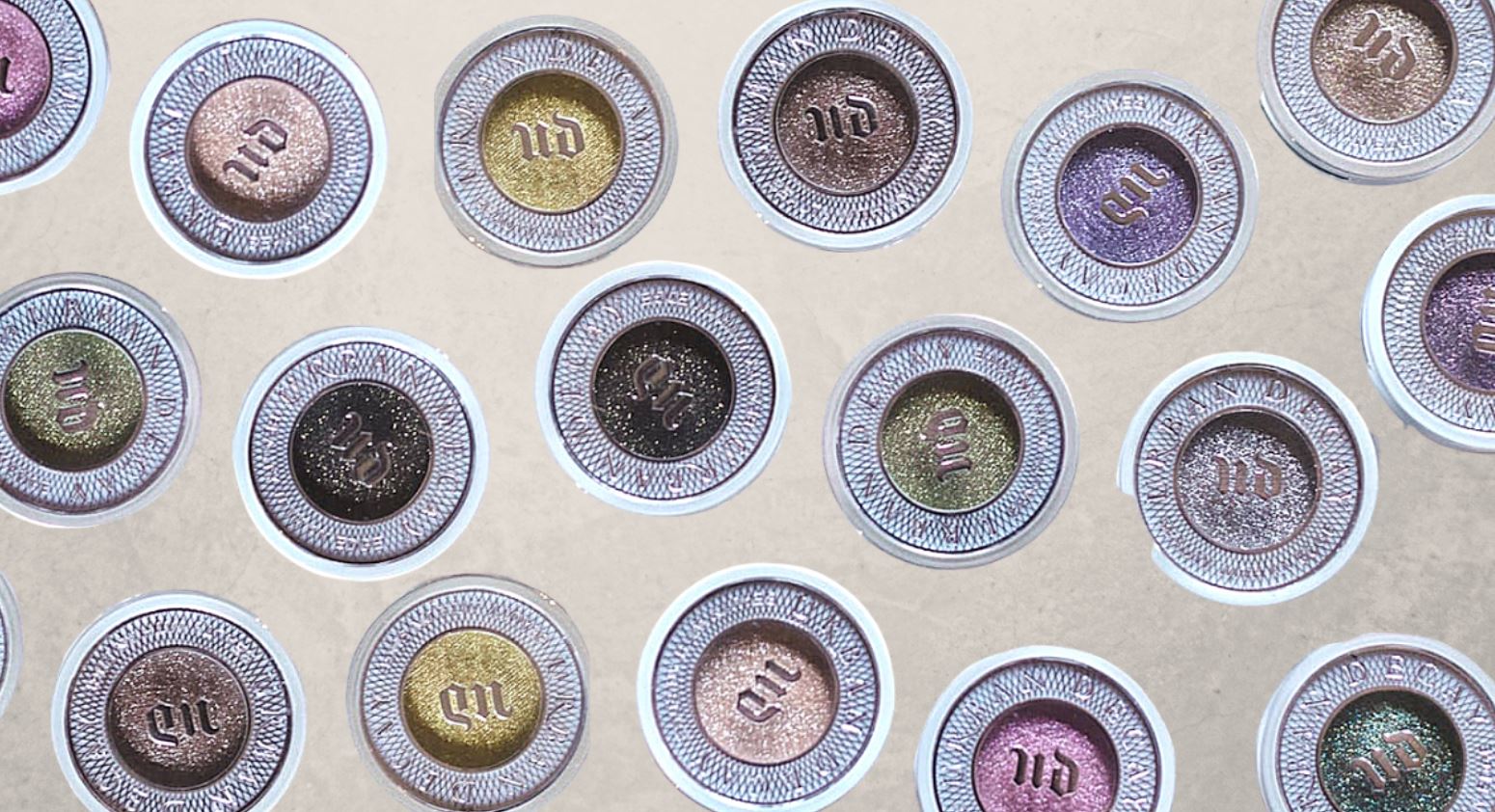 Who doesn't love glitter? Even if glittery makeup doesn't speak to you on a daily basis, there are certain occasions that simply warrant glitter. For instance, costume, stage, and evening makeup can all do with some glitter to glam it up. And if you love to experiment with glitzy eye makeup, there's no reason why you can't pile on the glitter on an ordinary day. It certainly turns makeup application into an exciting adventure.
Whatever the occasion, if you're looking for glitter, you've got it in the Urban Decay Moondust Eyeshadow Palette…
Urban Decay Moondust Eyeshadow Review
Urban Decay's Moondust Eyeshadow Palette contains eight sparkly shades: Specter (soft pink with tonal sparkle), Element (peach with pink shift and sparkle), Magnetic (purple with blue sparkle), Lightyear (vivid, saturated green), Granite (black with multicolored sparkle), Lithium (brown with iridescent 3-D sparkle), Vega (bright blue with tonal sparkle), and Galaxy (smoky blue-gray with iridescent 3-D sparkle).
The pressed glitter powder can be applied with a dry brush for a more sheer glittery finish or with a wet brush for intense, pigmented color. To leave a concentrated layer of glitter on your eyelid, spray your eyeshadow brush with setting spray before dipping it into the eyeshadow.  If you experience glitter fallout when using a brush, try dabbing on the shadow with your finger because fingers often do a better job at delivering intense pigmentation to your eyelids.
I would recommend blending the glitter shadows with matte or soft shimmery shadows if all that glitter is a little too much for you. A hint of glitter in the center or outer corner of your eyelid over a soft shimmery or matte shadow gives a lovely glow to neutral eye makeup. Perfect for everyday makeup.
Pros And Cons
The highly pigmented Urban Decay Moondust Eyeshadows have a creamy texture that goes on smoothly and blends easily with other colors. The only downside I see with the Moondust Eyeshadow Palette is that it contains glittery shades only. It would be convenient if the palette included a combination of glittery, matte, and shimmery eyeshadows. This way you could create more makeup looks with the one palette.
I'd probably reserve the Moondust Palette for special occasions, like weddings or evening parties, because I prefer natural looking makeup for every day. Whereas, if it contained neutral tones as well, I could use it more regularly. But then again, Urban Decay probably specifically created the vibrant, glitter eyeshadow range for those out there who love glam makeup every day or for those special occasions when glitter is needed.
Top 3 Eyeshadows That Are Similar To Urban Decay Moondust Eyeshadow
Stila Glitter And Glow Eyeshadow
Stila's Glitter and Glow eyeshadows are available in 15 gorgeous shades. The colors are slightly more neutral than Urban Decay's vibrant Moondust eyeshadows, making them great for sparkly daytime makeup. The liquid eyeshadows come in small compact bottles which are convenient for travel and easy to use. You can use the glitter eyeshadows on their own or layer them over matte shadows – they look gorgeous both ways. In addition, they look good as glittery eyeliner. Simply draw a line with your favorite colored eyeshadow close to your upper lash line to create a glittery eyeliner look. You can buy the eyeshadows at stilacosmetics.com or sephora.com for $24 per bottle.
Ciate London Glitter Storm Palette Review 
The Ciate London Glitter Storm Palette has created quite a storm in the beauty industry. The palette includes a combination of pigmented glittery shades and soft shimmery shades in rose, purple silver, pink champagne, dusky rose, cranberry, medium eggplant, soft cream, deep bronze, and deep brown. The colors blend easily to create a variety of gorgeous eye makeup looks for every eye color. The product sells for $30 in Sephora. Bonus: it comes in a beautiful snow globe packaging.
Huda Beauty Obsessions Eyeshadow Palette Review
The Obsessions Eyeshadow Palettes contain a combination of highly pigmented matte and shimmery tones. There are eleven different palette variations: warm brown, mauve, smokey, coral, amethyst, topaz, emerald, ruby, electric, gemstone, and sapphire. Each palette contains nine colors. The nice thing about the Obsessions Eyeshadows is that you can create multiple makeup looks – neutral, glamorous, smokey etc – with a single palette because you've got the matte and shimmer shades in one compact palette. An Obsessions Eyeshadow Palette sells for $27 at shophudabeauty.com or sephora.com.
Conclusion
We hope you gained some eye makeup inspiration for your next special occasion, or for everyday glam. You don't need an excuse to play with glitter, nor do you need permission to dig into Mum's makeup bag ; ) Having the liberty to buy and wear whichever makeup you want is one of the perks of adulthood. And let's face it, the child in us loves to wear glitter! Decorating your eyelids with glitter is a fun thing to do on any day. And an awesome way to spice up your everyday look and to brighten your day!