Rebundance For Women: Wear Your Crown!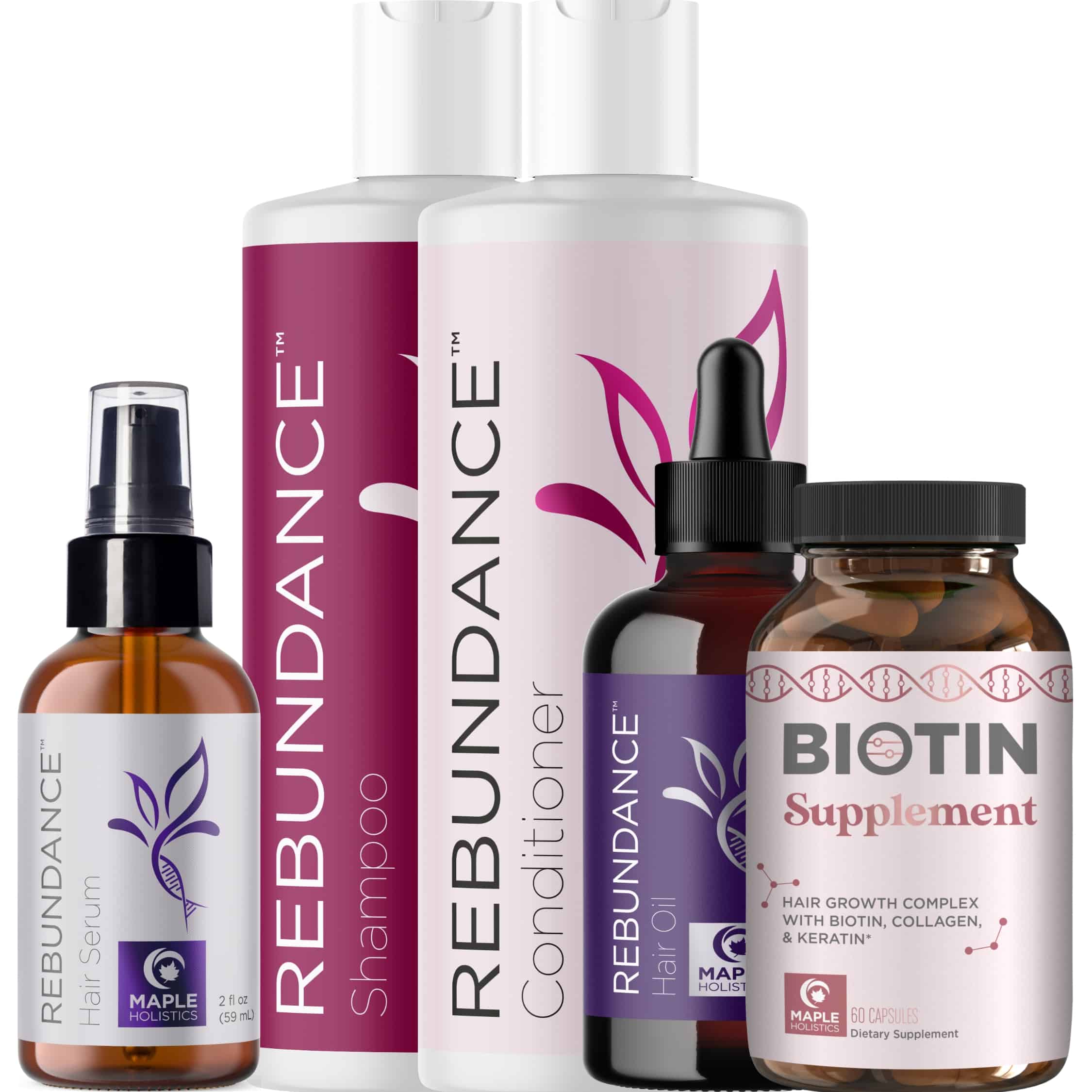 It starts small. At first, it may barely be noticeable. But at some point, you look in the mirror and see that your hairline is looking thinner than you're used to. Although pattern baldness (androgenetic alopecia) is more closely associated with men, there are plenty of women who experience it as well. It's approximated that 49% of all women will undergo hair loss throughout their lives, and female pattern hair loss is always the most common cause. Introducing: Rebundance for Women – our revolutionary product line designed to combat female hair loss and thinning.
Unlike men, women's pattern baldness is often manifested not with actual baldness, but more with noticeable hair thinning, particularly around the crown and top of the head. This condition may be reversible, though, depending on the nature and origin of the hair loss. When it comes to ordinary hair thinning, there are numerous factors that may trigger it, with the chief one being straight-up hormones and genetics, just like men's pattern hair loss.
Hair Loss and Wellbeing
Speaking of genetics, there is a personality trait that seems to be more prevalent in women – neuroticism. That is, the tendency or proclivity towards experiencing negative and distressing emotion. Numerous studies have shown that women tend to score higher than men in terms of neuroticism (Costa et. al., 2000), which is why hair thinning and hair loss in women can be highly damaging to their self-esteem and emotional state.
This isn't to say that men aren't affected negatively by their own brand of androgenetic alopecia. Far from it. Whether male or female, losing your hair can have a profound impact on your appearance, your self-perception, your confidence, and your general state of wellbeing. As prevalent and widespread as it is, androgenetic alopecia is not something that should be taken lightly. This is why we've created Women's Rebundance.
This new collection is unlike any other hair loss system. Rebundance provides real solutions for women of all ages and hair types. It manages to bring together the finest naturally-derived ingredients for amazing results. Grow your hair and fill it out with this hair loss bundle. We want women to look better and feel better, and this collection can make it happen!
Combating Hair Loss
Despite the strong genetic and hormonal component, there are different options available for battling hair loss and hair thinning. There are substances like minoxidil (aka Rogaine) or finasteride, and these have certainly earned their place in the hair loss pantheon. Many men and women use them every day (since using it daily is a must), and some see success with this sort of treatment. These substances have undergone the different clinical trials, and are generally considered safe to use.
If, however, you're interested in a more down-to-earth, holistic approach – our Rebundance Bundle is exactly what you need! This unique 5-product collection features over 20 oils and botanical extracts, alongside amino acids, collagen and vitamins. The results? Hair that is thicker, longer, stronger, softer and much more manageable. The biotin supplement, especially, delivers head-to-toe care for your hair, skin and nails, and is considered particularly beneficial for those who might be deficient in biotin (vitamin B7).
Rebundance includes a long list of hair-friendly ingredients, but not all scalps, roots and circumstances are the same. Positive effects can often be seen after 3-6 months of regular use, though at times results can be seen much sooner. Proper diet, adequate sleep, exercise, and practicing good hygiene – these factors can all contribute significantly to your body and mind's wellbeing, which in turn will invariably play a role in your hair's positive development.
Rebundance Bundle Breakdown
The shampoo and conditioner in this bundle are designed for everyday use, though daily washing is not recommended. Give your scalp and hair some time to adjust and find their balance. Consider shampooing and conditioning your hair a couple of times a week, while using weekly oil treatments. Combined with a daily biotin supplement, what Women's Rebundance offers is a real solution which can noticeably improve the condition of your scalp and hair.
Rosemary essential oil in particular is an inclusion worthy of noting. It has shown great promise in clinical research, even rivaling (or surpassing) the positive effects of mainstream pharmaceutical solutions.
Another ingredient which merits highlighting is vitamin B7 aka biotin, an essential component of the shampoo and conditioner. Biotin gained significant attention for its role in promoting healthy growth of hair, skin, and nails, especially with pre-existing conditions. It is a water-soluble vitamin that belongs to the B-complex group, playing a vital role in various metabolic processes within the body. Biotin is often referred to as the "hair-friendly" vitamin due to its potential benefits for hair health and growth.
You can discover fuller, thicker and more nourished hair with Rebundance for Women. This remains true whether you suffer from alopecia or not! Use our lightweight aromatherapeutic hair oil on wet or dry hair, to assist in providing moisture and better styling. The hair serum can be applied directly to the scalp to increase blood flow to the roots. Likewise, the serum can be used on the hair strands themselves for extra volume and care. The serum can be rinsed out after a short time, or it can be left in overnight.
Conclusion
Rebundance starts working at the roots, and benefits the hair from the inside out. It provides your follicles with everything they need to get back to life and continue thriving. Take care of your scalp and allow your hairs to become more manageable, thanks to this revolutionary collection.
Hair thinning and hair loss can be highly disconcerting, but it doesn't necessarily have to be a permanent condition. Give your scalp and strands a boost of wellness, and discover a new kind of routine with Rebundance for Women.