Proactiv Skin Purifying Mask Review: Pure Proactiv Skin?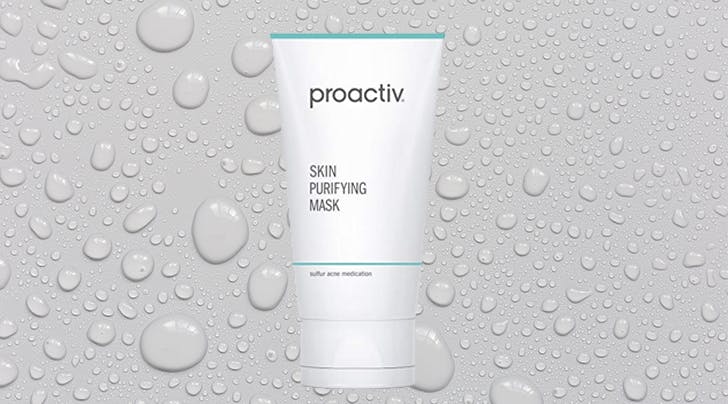 I for one have a skin type that leans to the more oily and sensitive side of the spectrum which has always been a challenge for me to maintain. This was especially true during my teenage years. This basically means that I have highly acne prone skin. When not treated correctly it winds up resulting in breakouts almost overnight. Because of this, I've always had to take extra precautions when treating my skin. I've been through a lot of different products and treatments in the hopes of finding a few that really work. More often than not though, I find myself disappointed by the results. Over time, I've managed to select a few of the best that I use in my daily and weekly facial routine. I've found that there are a few tried and trusted products that will always be in my arsenal.

Recently though, I had to make a new addition when a friend of mine suggested that I try the Proactiv Purifying Facial Mask. I've used a lot of facial masks over the course of my life and was excited to hear about a new recommendation. Once your skin becomes dry, it tends to produce excess amounts of sebum oil to make up for the lack of protection, and in turn, winds up making your skin oilier than usual. I've found that most facial masks that I use on a regular basis tend to do this so let's take a look at why the Proactiv Purifying Mask is different!
Proactiv Skin Purifying Mask Ingredients Break Down
With most skincare products I find that I tend to agree with only a handful of the ingredients contained in the recipe. More often than not, conventional skincare products contain a number of unhealthy ingredients. When used on a regular basis they can have some pretty nasty side-effects on our overall health. The FDA doesn't regulate the cosmetics industry as closely as you might think. This is especially true when it comes to harmful chemicals. It pays to be aware of the types of chemicals that you should avoid in general in order to keep your skin and general health in good condition.The most important three to keep you eyes out for are phthalates, sulfates and other parabens. 
While perusing the list of ingredients of the Proactiv Purifying Mask, I was surprised to find that the good ingredients outnumbered the harmful ones. There are still a few that might raise eyebrows, but overall it's a pretty well-balanced product. I really love that sulfur is the main active ingredient in the mask. Sulfur is well known as a strong antibacterial agent. It will help to kill off any germs that lead to the rise of acne and breakouts in the first place. On top of this, the mask is rich in kaolin clay. This is a natural product that is known to help reduce pore size. It gently, yet effectively, pulls dirt and grime out of pores. The mask also contains geranial extract and linoleic acid, two powerful natural anti-inflammatory agents. They also have natural antibacterial qualities which helps to reduce redness and inflamed sores quickly!
Proactiv Skin Purifying Mask Review And Results
Let's dive right into the Proactiv Purifying Mask review and results. All you need to do is squeeze out a small amount into the palm of your hand and rub it between both hands. Then apply the cream to your face making sure to spread it evenly. Try to pay especially close attention to your forehead, cheeks, the sides of your nose and chin. Now allow the mask to dry over the course of 10 minutes. This mask dries quite quickly so I wouldn't recommend leaving it on for more than 15 minutes max. You don't want to risk drying your skin out.

When it comes to removing the mask, be sure to use warm or lukewarm water. If you have a particularly acne prone or sensitive skin type, giving your face a wipe down with a few drops of tea tree oil applied to a cotton swab soaked in coconut oil is always a good idea. This removes all the bacteria on your face and leaves your skin balanced. Otherwise, this is really all that's to it. I prefer using the mask as a skin tightener and pore cleanser after exfoliating. The results have thus far been great!  
DIY Purifying Mask Recipe And Guide
While the Proactiv Purifying Mask is a great product and one that I would highly recommend, I also believe in the power of DIY. I simply love the satisfaction that comes with successfully creating your own homemade products. Besides the obvious benefit of being able to save a great deal of money, you also have the benefit of deciding what you put into your own product. This means that you can craft a product that's perfectly suited to your own skin type. It's therefore healthier and free of the harmful products that we find in conventional skincare products.

Making this recipe is pretty simple and shouldn't take more than 10 minutes to prepare. This makes it the perfect skincare treat for the weekend! Mix 2 tablespoons of gram flour with 3 tablespoons of milk into a bowl. Then, add five drops of lemon juice and half a teaspoon of turmeric powder while stirring. You'll want to add a few drops of water during this process as well.
The ideal finished product should be something between a paste and a slightly runny liquid. If you have particularly acne prone skin, try adding 5-10 drops of either lavender or tea tree essential oil. These are great natural antibacterial agents and add extra toning effects to the mask. Allow the mask to rest for at least 20 minutes so that the natural ingredients can really absorb into the skin. Rinse with lukewarm water and enjoy softer smoother skin!
Conclusion
Since first trying the Proactiv Purifying Mask, I've really fallen in love with this product. It's definitely going on my top 10 list and will always have a place in my bathroom cabinet. I often look forward to a night where I can have a warm bath and then apply the mask. My skin feels really great the next day. Plus it's just such a relaxing experience, it's almost like going to a spa in the middle of the week – and for a fraction of the price!

I would definitely recommend getting this product if you have sensitive, oily or acne-prone skin as it does a lot to help prevent the onset of breakouts or the spread of acne. This is especially useful during those sweaty, humid summer months. So you can look your best without worrying about sticky oily skin or breakouts.