Review Of Most Popular Kiehl's Products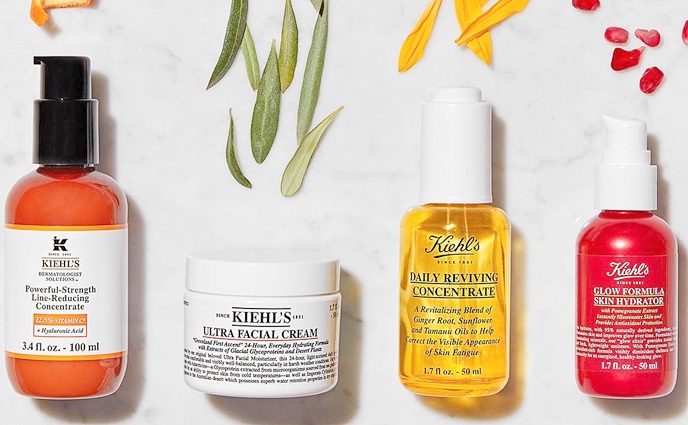 Pampering your skin? Reviving your hair? Moisturizing your face? Go no further than your bathroom sink for a full-spa treatment. Since 1851, Kiehl's products are crafted with naturally derived ingredients that are effective and suitable for all skin types. As you rejoice in your revived, nourished skin, rest assured that your environment feels the same. With their focus on sustainable sourcing, recycled materials and responsible packaging, Kiehl's is devoted to nourishing our planet as well. Beauty extends beyond the surface.
What Is Kiehl's?
Among Kiehl's variety of skin care products, body treatments, and hair solutions for both men and women, you will surely fall in love with your perfect match. Kiehl's prides itself on using natural ingredients, being sustainably sourced, and supporting community causes.
As one of the first companies to display ingredient lists on product labels, Kiehl's endorses educated and satisfied consumers. Each product is crafted from scientifically tested formulas to ensure safety and efficiency while enhancing skin conditions overall. Kiehl's uses natural ingredients to formulate products suitable for all skin types. To date, 95% of Kiehl's formulas have at least one natural, or natural origin, raw material. From squalane to lavender essential oil, you can be confident your product is loaded with nature.
What is Kiehl's all about? As a core value, Kiehl's promotes sustainably sourced ingredients. Through working closely with farmers and producers, Kiehl's derives its ingredients from methods that support communities and the planet. For example, the ginger leaf used in Kiehl's ginger leaf & hibiscus firming mask is obtained from a community of women farmers. Kiehl's provides these farmers with education on eco-friendly farming methods. Additionally, they teach them tools for increasing their productivity and practices to improve their conditions.
Kiehl's places great attention on creating and participating in civic and eco-friendly initiatives. Particularly, they focus on contributing to four movements: children's wellness, the environment, LGBTQ, and HIV/AIDS awareness. For instance, in 2019, Kiehl's formed a limited-edition holiday collection. It promised 100% of its net profits from the collection (up to $100,000) to Feeding America (a domestic hunger relief charity). In addition, since 2001 Kiehl's has raised around $3,580,000 for HIV/AIDS organizations. So, everyone can benefit from your beauty.
Kiehl's Crème de Corps
When you need a stay-cation, Kiehl's Crème de Corps body lotion is your haven. As part of Kiehl's Crème de Corps collection, this lush, non-greasy body lotion is thoughtfully crafted with cocoa butter and beta carotene. Cocoa butter comes from the roasted seeds of the cocoa plant. Although solid at room temperature, it melts when it meets your warm skin. This produces a lubricating and softening effect. Further, the fat content in cocoa butter allows it to form a coating over the skin. This provides hydration and retains moisture.
Beta carotene is a natural antioxidant and prevents UVA-light damage from developing. It is a component of Vitamin A production in orange and red vegetables. Beta carotene can provide a glowing color in skincare products as well. This blend improves skin's texture, moisture and color. Keep it glowing.
To apply Crème de Corps body lotion, softly massage it onto dry areas of your skin. Let it soak in a few minutes before covering. You can apply the lotion after bathing, or anytime as needed. This body lotion rejuvenates all skin types, especially dry skin. On cold winter days, say hello to your new skin-mate.
Kiehl's Ultra Facial Cream
As every skin care routine needs a solid base to start, Kiehl's ultra facial cream comes in first place. With its delicately designed lightweight texture, the ultra facial cream easily absorbs into the skin and lasts for 24 hours. This facial moisturizer hydrates all skin types, especially sensitive, dry skin.
The all-natural ingredients in the ultra facial cream contributes to its non-greasy, lightweight, moisturizing effects. These properties leave the skin 2.3 times more hydrated, even in the driest parts of your skin.
One of the key players in this facial cream is glacial glycoprotein, a macromolecule that originates from sea glaciers. These glycoproteins flourish in extreme climates and fight against dry conditions. This property allows glycoproteins to fully hydrate the skin while shielding it from extremely cold conditions. This retains moisture and maintains skin's natural water retention, particularly in cold temperatures. Bundle in.
Squalane, the other crucial component of the ultra facial cream, is a refined oil originating from olives. This antioxidant mimics your skin's natural moisturizing effects and strengthens your skin.
For optimal application, first clean your face and remove all makeup. Then, apply a dollop to your fingers and massage the cream onto your face in a round motion. You can enjoy Kiehl's ultra facial cream day or night as the perfect balance for your skincare routine.
Kiehl's Midnight Recovery
For effortless beauty, Kiehl's midnight recovery concentrate radiates and refreshes your face as you sleep. As part of the midnight recovery collection, this nighttime facial oil contains squalane. It also contains botanical oils (lavender essential oil and evening primrose oil). Overnight, midnight recovery will limit fine lines and will imbue a radiating glow. The natural composition allows it to absorb easily and gently, leaving a lightweight feel.
Leave behind your exhaustion and step into a soothing oasis with lavender essential oil. This oil is among the all-natural ingredients in Kiehl's midnight recovery concentrate. It is extracted through steamed lavender (plants used in herbal medicine). It contributes to the relaxing, calming properties as it infuses a luxurious scent that soothes the senses and prepares for a pleasant sleep.
Evening primrose is another key element that contributes to skin hydration and suppleness. This oil comes from the ripe seeds of the evening primrose, a blooming plant that flourishes every other year.
As in many of Kiehl's products, squalane is another key feature in the midnight recovery. Squalane, a refined botanical lipid extracted from olives, is easily absorbable to skin. With its moisturizing properties, squalane rejuvenates skin's barrier and results in soft, supple skin.
After cleansing your skin, place 2-3 drops of midnight recovery oil on your fingers. Then softly and evenly distribute the oil throughout your cheeks, forehead and chin. You can apply this treatment by itself or under a moisturizer.
Kiehl's midnight recovery concentrate performs the best at night. This is when the skin repairs itself from the daily offenders which contribute to early aging. This oil co-works with skin's nocturnal powers to help rejuvenate, replenish and repair skin with a heavenly scent. You can rest assured.
Kiehl's Creamy Eye Treatment With Avocado
Rejuvenation starts by brightening the skin under your eyes with Kiehl's creamy eye treatment with avocado. This luscious moisturizer creates a creamy hydration without migrating into the eyes. Composed of natural ingredients, this eye cream is optimal to use beneath eye makeup. It will leave the skin around your eyes with a supple and youthful look.
This delicate formula is infused with natural products including avocado oil, beta carotene, and shea butter. Extracted from the pulp of fresh avocados, avocado oil is loaded with omega essential fatty acids and vitamin E. Fatty acids help build new skin cells, strengthen the skin's surface and provide a healthier look. Vitamin E, which naturally occurs in plant leaves and skin, has anti-inflammatory properties and helps moisturize.
As a natural antioxidant, beta carotene plays a key part in nourishing the skin. It's found in many orange and red vegetables and can present an orange tint when used in skincare products. This produces a natural glow.
The third main natural ingredient in the creamy eye treatment with avocado is shea butter. It is a natural fat derived from the fruit of the African karate tree. Shea butter helps prevent dehydration, improves softness and enhances the overall appearance of dry skin. Smooth as butter.
To apply, place the eye cream around the orbital bone with your fingertip. Next, gently dab the cream around the eye area until your skin completely absorbs it. You can apply the creamy eye treatment with avocado during the day or at night. Kiehl's recommends applying the cream for 5 minutes as an under-eye mask and then wipe off the remaining residue.
This product is ophthalmologist and dermatologist-tested to ensure safety and efficacy. Even doctors approve of such beauty.
Kiehl's Facial Fuel Energizing Moisture Treatment For Men
Get energized from a bottle (the legal way) with Kiehl's facial fuel energizing moisture treatment for men. With this invigorating moisturizer, tired and dull skin can be refreshed and refreshed. As the cream absorbs quickly into the skin, it leaves no residue behind. Cover the evidence.
Men usually neglect moisturizer, since their skin has more sebum (the oily substance secreted by the glands to keep the skin moisturized). Yet this formula is essential for all skin types. Moisturizers can also help irritated skin resulting from shaving, which can rid the skin of natural oils. Men's skin can also look tired as they tend to get less sleep. Kiehl's facial fuel energizing moisture treatment for men replenishes skin with a soft, hydrated feel and a healthy appearance.
The key natural ingredients in this moisturizer include chestnut extract, soy, caffeine and Vitamin E. Chestnut extract contains a soothing effect on the skin and has anti-inflammatory properties. Soy benefits the skin with its phytoestrogen content, which lowers the appearance of fine lines and wrinkles. Caffeine helps rejuvenate the skin and prevent puffiness. Lastly, vitamin E, which occurs naturally in plant leaves and skin, helps reduce harmful free radicals. It contributes to a moisturized feel.
For optimal use, apply Kiehl's facial fuel energizing moisture treatment for men to clean skin. You can use it during the day or at night. 
Are Kiehl's Products Cruelty-Free? Vegan?
Make choices that feel good on your body and appease your mind. Are Kiehl's products cruelty-free? Kiehl's pledges to be a cruelty-free brand with no animal testing. They do not test their products on animals or allow others to test for them. Suppliers must show that the raw materials they use to produce their Kiehl's items are not animal-tested as well. Both PETA and The Leaping Bunny Program (CCIC) accredit Kiehl's as a cruelty-free company.
Although not exclusively, a vast majority of Kiehl's products are vegan with no animal components. They have progressive actions in place in their laboratories to convert all non-vegan products to be 100% vegan. And they ensure that all new products are vegan from the get-go. They are constantly looking for ways to convert animal-derived ingredients to plant-based or synthetic substitutes. Kiehl's upholds a high-quality status with robust color and texture. Therefore, they are continually incorporating 100% vegan ingredients into their products. Let all creatures receive good care.
Conclusion
Kiehl's has a plethora of products ranging from skin care to hair treatments to body lotions. So you are sure to find the Kiehl's product that best fits your needs. Since Kiehl's cares for the environment, community and its customers, you can feel satisfied that their natural products are effective and safe. To simplify your beauty care experience, Kiehl's created a personalized beauty-shopper tool in just a few clicks. Here is a quick quiz to help you pick the perfect product! Let your skin find its perfect soulmate.