Nivea Deodorant Review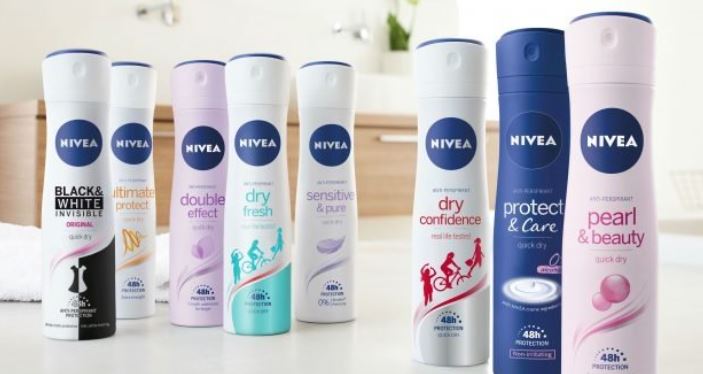 I'm sure you've come across the brand Nivea as you've scrolled through Amazon, searching for a new deodorant. Nivea is a great choice, because their deodorants are gentle, effective, and affordable, and you can choose a spray or roll-on, depending on your preference. If you've been unhappy with your most recent deodorant purchase, then it might be time to start thinking about another brand: Nivea!
Nivea Deodorant Line Overview
Nivea produces a few different types of deodorants, in both roll-on and spray form (though not all their deodorants are available in both forms). The Nivea deodorant line has antiperspirants for both men and women, in a range of different scents and which target different issues.
Nivea Whitening Deodorant Explained
If you prefer roll-on deodorants to sprays, you might like to try out the Nivea Whitening Deodorant. It's only available in roll-on form, and comes in two sizes: 50 ml and 25ml, which is perfect for bringing along on an overnight trip or an airplane. 
It's called whitening deodorant because it whitens and smooths your skin, which can start to turn dark after a while. According to Nivea, this deodorant keeps you dry and fresh all day, and fights off sweat for 48 hours.
Besides the Whitening deodorant, Nivea also has an Extra Whitening version. Extra Whitening is available in both roll-on and spray versions, and offers even stronger whitening abilities (if darkened underarms is really a problem for you). The scent, like most of Nivea's deodorants, is clean and fresh.
In general, Nivea deodorants are awesome at combatting sweat and leave you feeling and smelling as clean and fresh as possible. The one downside to the Whitening (or Extra Whitening, for that matter) is that it really does what it says – and unfortunately, this means it also tends to leave white stains on clothing. If you find this to be an issue, try waiting until the deodorant is fully dry (around a minute or two) before putting on your clothes. This should hopefully allow you to enjoy the product's whitening effects on your skin, without having to worry about it discolouring your favourite t-shirt.
Nivea Top 3 Spray Deodorant Line Review
For women, Nivea offers a few different deodorant options. The best one depends on what your needs are, and what you expect of a good deodorant. I'm personally a spray fan – I've never really been into roll-on deodorant. Sprays are generally less likely to stain your clothing, and also dry faster than roll-ons do. 
Nivea Invisible For Black And White Spray Deodorant  Review
Personally, this would be the one I would go for because I really dislike when deodorants stain my clothing. (Although after a really long time, I suppose this is inevitable.) I prefer sprays over roll-ons, which is why I would pick the spray version of this deodorant, although it comes in a roll-on version, too. If you are sick of throwing out dark clothes due to white deodorant stains and white clothes due to yellow stains, it might be worth your while to give this deodorant a try.
Nivea Pearl & Beauty Spray Review
Not that it reflects on the product, but I have to say that of all the Nivea deodorants, this one might have the nicest packaging. It's a soft, pale pink, with pink bubbles – and come on, it's called Pearl & Beauty! It just makes you want to buy it before even hearing why.
The best part about Pearl & Beauty is its soft, feminine scent. If the scent of a deodorant is what's most important to you, then you'll probably opt for this one over Nivea's other sprays. Take care, though – this deodorant can leave marks on clothing, so be sure to let the deodorant dry fully before putting on your clothes.
Nivea Dry Comfort Spray Deodorant Review
This deodorant aims at leaving you extremely dry. If you tend to sweat a lot and want to remove or prevent uncomfortable moisture, this deodorant would be your pick. Unfortunately, you can't buy it in stores in the US. Still, you can get it shipped from online stores, and it might just be worth it, considering how effective it is and the fact that it's pretty inexpensive.
Nivea Top 3 Roll-On Deodorant Line Review
The benefits of roll-on deodorant over spray are mainly that they are more suitable for traveling, and that they tend to be more effective than sprays if you're a heavy sweater. They also don't run the risk of flaking like sprays do (super-annoying, am I right?!), and some people simply find them easier to apply and prefer the feel of them over aerosol sprays.
Nivea Double Effect Violet Senses Roll-On Review
This roll-on deodorant has a fresh violet scent and offers protection for most of the day. Unlike most roll-ons, this deodorant doesn't tend to leave yellow or white marks, which is always a plus. It applies clear, and is relatively fast-drying, for a roll-on. All in all, it's a pretty good buy.
Nivea Energy Fresh Roll-On Review
If you're the kind of person with sensitive skin who is often allergic to deodorants, then you need Energy Fresh. This deodorant is gentle and has a fresh, gender-neutral scent. Some might find the glass packaging impractical and on the heavier side; personally, I think it makes for a classier product, which is better for the environment and feels more high-end. 
Nivea Fresh Natural Roll-On Review
This deodorant is exactly as its name suggests: it has a clean, natural and fresh scent. If you don't like overly floral or feminine scents, this is the deodorant for you. It's quite an intense scent, but it's sure to grow on you even if you don't love it the first time you use it. And although the scent lasts a while, there's no sticky residue after you use it, which can be a common problem with roll-ons. So Nivea must be doing something right!
Conclusion
If you're after a budget deodorant brand that eliminates body odour and fights off sweat, look no further than Nivea. Although a lot of their deodorants are not sold locally in the US, they're really easy to find online. It's no wonder that the reviews are pretty positive overall: Nivea products work well smell fresh and clean, and are budget-friendly. What more can you ask for in a beauty brand?