Matrix Total Results Brass Off Shampoo Review 2020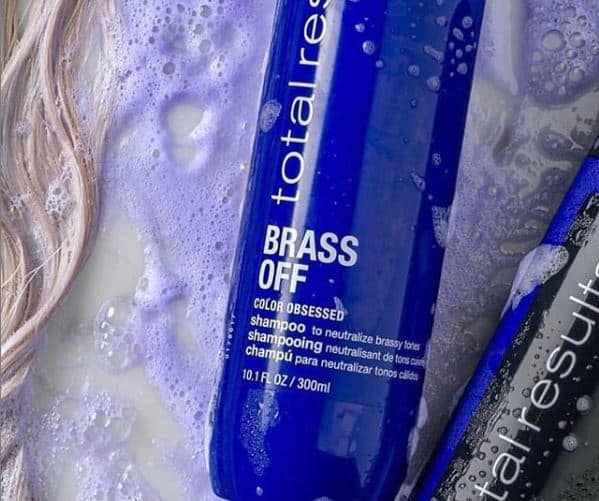 On a sunny day several years ago, I set out on a trip with a mission. My goal was to transform my dull-looking hair that had suffered through too many winters into radiant, sun-kissed hair. (I had traveled from the Southern Hemisphere to the Northern Hemisphere for two summers in a row. Meaning that I was fortunate enough to enjoy about three consecutive winters.)
I scoured my neighborhood for hair salons. And as I was driving down a busy shopping district at a snail's pace, I finally found a place. The hairdressers were nice, the prices were affordable, and they were willing to do it on the spot. The hairdresser had me pick the color I wanted from a chart of all the colors available. I chose a beautiful golden shade, dearly hoping that it wouldn't look utterly off against my rich brunette hair. 
My hair naturally gets highlighted in the sun, so I figured, it should go, right? Wrong. The beautiful golden shade deposited a yellow tone onto my precious tresses which quickly turned orange after spending time in the sun. My brassy hair looked very different than the sun-kissed hair that I had envisioned. 
Several weeks later, I set out on a different mission. My goal was now to revert my highlights back to my original hair color. This time I visited a different hair salon. The hairdresser applied a toner to my hair because she said it wasn't possible to revert my highlights to the same shade of my hair.
Only much later did I discover the Matrix Brass Off shampoo that enables you to treat brassy hair at home – just what I needed at the time!
What Is Brassy Hair?
To put it simply, brassy hair = highlights or color that went wrong. It generally includes unwanted red, yellow or orange warm tones. If you're a darker-haired girl or a medium-to-light brunette and have lightened your hair before, you might be familiar with blonde or gold highlights that turned an unwelcome red, yellow or orange. Brassy hair can occur in dark hair or blonde hair that has been lightened. The process of dying hair includes lifting your natural pigment while depositing a new pigment into your locks. Brassiness occurs when the natural dark pigments, known as melanin, have not been entirely removed in the dying process. 
Purple Shampoo Explained
The Color Obsessed So Silver Purple shampoo "enriches your silver strands". Previously known as Color Care So Silver, Total Results Color Obsessed So Silver is a professional salon clarifying shampoo that cleanses and neutralizes unwanted brassy warmth and eliminates dull, yellow tones. It "illuminates highlights on blondes" and "adds shimmering brightness for color-treated and natural hair ranging from grey to white shades", according to Matrix. 
Purple is opposite to yellow on the color wheel, making it the perfect pigment to neutralize yellow brassy tones on blonde hair that has been lightened. 
Blue Shampoo Explained
On the Matrix website, the Brass Off Blue shampoo is described as "a professional salon clarifying shampoo that neutralizes brassy tones while refreshing your hair with cool tones. Best for brunettes who lighten their hair, this shampoo deposits balancing blue-violet pigments to reduce brassy tones."
Blue is opposite to orange on the color wheel, which makes it the perfect color to neutralize brassy orange tones on dark hair that has been bleached. Unfortunately, the blue color molecules in hair dye are the smallest, which means that they are broken down easily and fade quicker. This makes it necessary to deposit additional blue pigments onto hair. 
Matrix Total Results Brass Off Shampoo Ingredients Breakdown
The Matrix Total Results Brass Off Shampoo contains the following list of ingredients:
Aqua/Water/Eau, Sodium Laureth Sulfate, Coco-Betaine, Glycol Distearate, Sodium Chloride, Cocamide Mipa, Sodium Lauryl Sulfate, Parfum /Fragrance, Amodimethicone, Sodium Benzoate, Hexylene Glycol, Polyquaternium-7, Polyquaternium-10, Peg-40 Hydrogenated Castor Oil, Ci 60730/Ext. Violet 2, Alicylic Acid, Carbomer, Bht, Trideceth-6, Limonene, Hexyl Cinnamal, Linalool, Benzyl Salicylate, Benzyl Alcohol, Cetrimonium Chloride, Ethylhexyl Methoxycinnamate, Glycine Soja Oil/Soybean Oil, Tocopherol, Sodium Acetate, Isopropyl Alcohol, Sodium Hydroxide, and Citric Acid.
Being that I am not a scientist, most of the ingredient names in the list are meaningless to me. Aqua/Water seems harmless. However, I was slightly disappointed to see that the shampoo contains sulfates, which are cleansing agents that have become less popular recently because they are believed to be harsh on hair. Perhaps the hydrating essential oils in the formula, such as the castor oil and the soybean oil, counteract the sulfates' potential drying effects. 
Matrix Total Results Brass Off Shampoo Review
Matrix Total Results Brass Off shampoo delivers salon results, except you do it yourself at home for half the price it would cost at a salon. Simply leave on blue or purple shampoo for 3-5 minutes before rinsing and enjoy gorgeous neutralized color on your hair! Leaving the shampoo on for any longer could leave purple or blue pigments on your hair. Several reviewers complained that the shampoo left purple or blue pigment on their hair and darkened all their hair, even the parts that weren't bleached. To avoid this problem, it might be a good idea to test patch the shampoo on your hair when using it for the first time. 
While some Matrix customers found that the shampoo dried their hair, other customers felt that, in addition to neutralizing brassy tones, the shampoo nourished their hair. I imagine results will depend on your hair type. If you find that the shampoo has a drying effect on your hair, follow with a deep conditioning and use it only once or twice a week. Or consider switching to a different neutralizing shampoo that doesn't dry out your hair. Joico's Purple shampoo or Redken's Color Extend Blondage are other color neutralizing shampoos to try. 
How To Naturally Fight Brassy Hair
There are several ways to naturally fight brassy hair, including the following five:
1. Avoid Sun Exposure
How exactly is it possible to avoid sun exposure? I know, completely avoiding the sun is a little unrealistic, especially if you're living in a humid climate like me. You don't want to avoid the outdoors altogether. Fresh air is good for us, and our bodies need the precious vitamin D we get from the sun. However, if your hair is lightened and you'd like to avoid the brassy tones, you will benefit greatly from wearing a hat when you're directly under the sun for long periods of time. Trust me, your hair will thank you! So will your skin, for protecting it from harmful UV rays. Colored hair is dryer and more sensitive to the sun, which means that it changes color more quickly in the sun.
I learned this the hard way. I used to pile on the sunscreen, alright, but a hat? No ways. For some reason, Hat was my enemy. Probably because of my lingering negative associations with sun hats that started in elementary school. Wearing a sun hat outdoors was compulsory according to the school rules. This rule was kept so sacredly that the outdoor playground was off limits to any unfortunate child who left their sun hat at home. Alas, the trauma of spending miserable recess breaks indoors on gorgeous sunny days does not fade from one's memory too quickly.
2. Do Not Overwash Your Hair
It's a little hard to give a blanket statement about the number of times you should wash your hair in a week. Usually, it will vary according to your hair type. Straight hair, which is naturally oilier, may need to be washed more frequently than curly or wavy hair, which is naturally dryer. Yet the best piece of advice is: do not overwash your hair. The general recommendation is to wash hair approximately two to three times a week. This should be frequent enough to cleanse hair without fading color applied to hair. It also allows for you to clean your hair without stripping it of its natural moisture, which would make it dry and prone to brassiness.
3. Use Gentle, Sulfate-Free Shampoos
Sulfates are used in shampoos to create the lathering effect that gives your hair a good clean. Except, they can work a little too well to remove dirt and oil from hair. Sulfates are known to dry hair, fade dye and strip hair of the natural moisture that keeps it healthy. Using gentle, sulfate-free shampoos keeps your hair hydrated and less prone to sun or heat damage and resulting brassiness.
4. Get Your Hair Professionally Toned
Lastly (this one is not exactly natural, so it is cheating, but it will deliver quick results), get your hair professionally toned at a hair salon. This will successfully remove brassiness fast. I've done this once, when my supposed-to-be golden highlights turned a distinct and unwelcome orange shade way too quickly. I walked into a salon intending to have my highlights dyed back to my original hair color, until the hairdresser kindly informed my that, unfortunately, the odds that she'd succeed to revert the highlights back to the exact brown color of my hair was nil. Instead of bleaching my entire head a different color, I opted to get a toner applied to my hair. The toner didn't change the color dramatically; it simply darkened my highlights, making them blend a lot better into my natural hair color. 
5. DIY Toner
The good news is that you don't even need to step into a salon to get your hair toned. With this simple DIY toner recipe, you can tone your hair yourself at home. 
Ingredients
Violet or purple food coloring. If this is not available, you will need three other food colorings – blue, green and red.

Any regular shampoo or conditioner that you use to wash your hair.

White distilled vinegar or apple cider vinegar.

A clean, dry cloth or towel.
Directions
Add 2 to 3 drops of violet or purple food coloring to the shampoo or conditioner and mix. If the shampoo turns a reddish tinge, add a drop of blue food coloring. When the shampoo turns a bluish violet color, lather it into your hair. Leave the shampoo on for a few minutes before rinsing off. Gently pat your hair dry and let it air dry. 
(Recipe credit: https://www.pickupbeauty.com/how-to-get-rid-of-brassy-hair/)
Conclusion
Brassy hair is not the worst thing that could happen to someone. Although ashy tones are more popular today, some people suit warmer tones and prefer having some brassiness in their hair. Even so, it's comforting to know that there are affordable solutions and products available for highlights that went wrong. You don't need to scale mountains to fight brassy hair, all you need is a bottle of the Matrix Brass Off shampoo and you're good to go!