L'Oréal Infallable Total Cover Foundation Review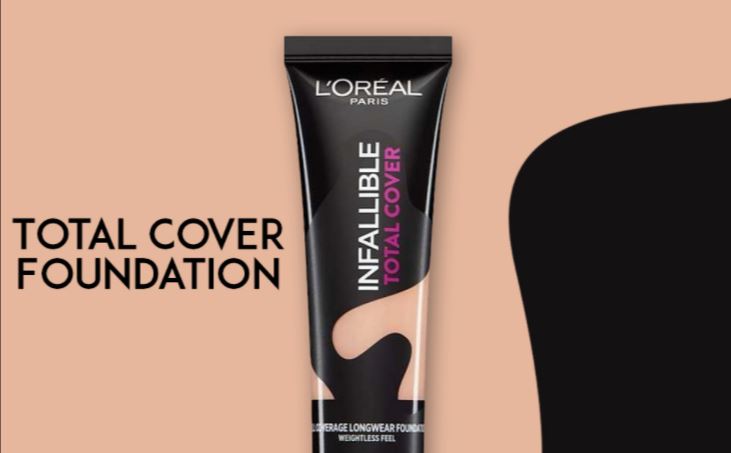 One of the worst feelings is having skin imperfections on your face and thinking that the whole world is looking at you. Suddenly that red spot that's barely visible starts making you feel like one of Santa's reindeers. It's absolutely all you can think about. Covering up those spots are possible, but you need to find a foundation with the right feel and coloring for you. So, if you're in the market for a foundation, consider Loreal's Total Cover Foundation. Or, if you feel that it's not the right fit for you, look into Urban Decay's All Nighter Liquid Foundation. 
Loreal's Total Coverage Foundation can give your skin full coverage for up to 24 hours. And with 12 shades, this line has something for a variety of people with different skin tones. The shades range from the lightest one, Classic Ivory, to the darkest one, Cocoa. Also included are Creamy Natural, Nude Beige, Natural Buff, Natural Beige, Buff Beige, Sand Beige, Sun Beige, Caramel Beige, Classic Tan, and Crème Café.
L'Oréal Total Cover Foundation Review
Loreal's foundation will feel light on your face and give you a natural yet professional look. It blends easily to help you hide uneven skin tone, blemishes, acne, dark spots and scars to make you glow. It contains highload pigments in order to give you proper coverage. And the foundation utilizes the special Alliagel technology, which helps enhance the effectiveness of other ingredients and can largely improve the appearance of improvements to skin imperfections. It's designed to work well as a base for any other makeup you want to use. And according to Loreal, use the Infallible Blend Artist Foundation Blender sponge for the best results. 
However, although Loreal is a trusted name in the cosmetics world and they aim to create quality products, the reviews of the Total Coverage Foundation are somewhat underwhelming. The product has 3.4 out of 5 stars on Ulta Beauty, 3.8 out of 5 stars on Amazon, and only 2.9 out of 5 lipsticks on makeupalley.com. 
So when you are considering foundation from two major name brands, how do you decide between them? You read this article to get more information, that's how! The lines actually have a few major differences, so it shouldn't be too difficult for you to make your final decision. 
First, Urban Decay's All Nighter foundation comes in 24 shades versus Loreal's 12. If you are very specific about what shade you need, Urban Decay gives you more of a selection. However, with great choice comes a great price. Compared with Loreal's $12.99 foundation, Urban Decay's will set you back 40 buckaroos. Urban Decay's foundation also promises full coverage. Rather than a natural look, the foundation will leave you with a matte finish. And last but not least, the product design is very different. Loreal's Total Coverage Foundation comes in a plastic tube with a simple and clean design. Meanwhile, Urban Decay's All Nighter Liquid Foundation comes in a chic, metallic-effect tube with an edgy look.   
Urban Decay's All Nighter Liquid Foundation is jam-packed with pigment, so you only need a small amount of it to give you the coverage you need and you don't need to apply more than one layer. The foundation is waterproof, so you know it is long-lasting. Urban Decay recommends applying the foundation with one of their Pro foundation brushes to get the best effect. For an even more enduring look, set the foundation with their makeup setting spray. 
Conclusion
Blemishes can be annoying and embarrassing, so having a handy product that slips right into your bag is a must-have for whenever a situation arises. And when deciding on which foundation to select as your go-to problem solver, Loreal's Total Coverage is definitely worth considering. Its variety of shades and long-lasting effect can give you amazing coverage all day so that you are not constantly thinking about how you look. However, based on customer feedback, it's also worth it to check out Urban Decay's All Nighter Liquid Foundation. The price tag is certainly heftier, but it might be worth it in the long run since you can't put a price on peace of mind.