John Frieda Sheer Blonde Review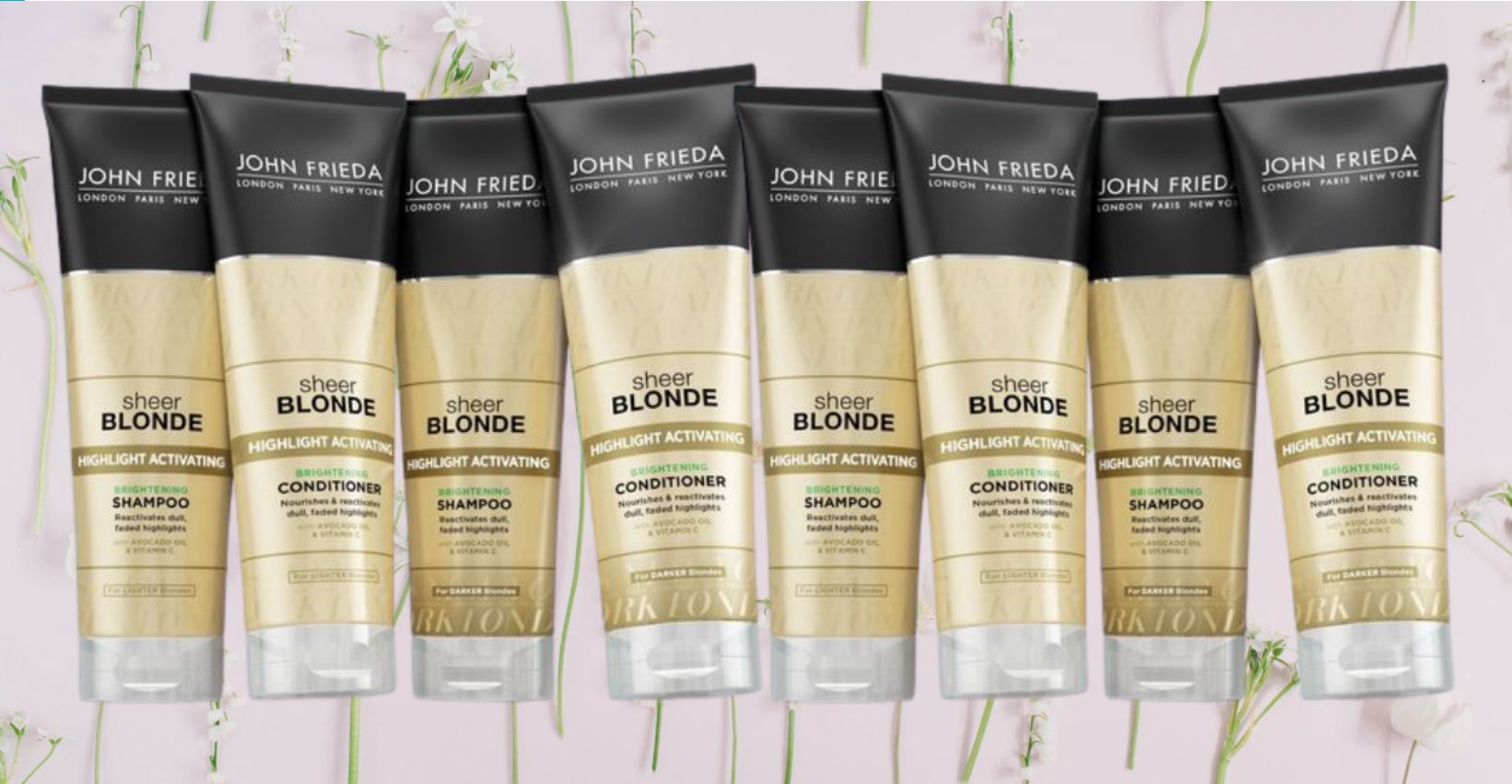 Yes yes, blondes have a special way about them, or so the saying goes. It's a fun color, there is no doubt about that. And whether you are a natural or dyed blonde, there is a good chance you are interested in keeping that fun going. Here we go with our John Frieda Sheer Blonde review. Don't worry, there won't be any blonde jokes here!
Speaking of which, you know what isn't a joke? Hair care. It seems trivial to some, but the fact of the matter is that men and women all over the world are busying themselves at this very moment, taking care of their hair. Not necessarily in a vain way, but in a way which says that they care about how they present themselves. Nothing wrong with that.
And this is precisely where John Frieda comes into the picture. This company wants you to look good. Yes, they want to sell products and make money, but there is a real vision and drive behind it. Or so I feel. John Frieda wants people to want to use these products, not because of the marketing department, but because they work and because they deliver a great deal of value.
John Frieda Sheer Blonde Line Explained
In 1998, John Frieda launched the Sheer Blonde collection, with seven products. After a few years, following the success of the collection, more items were added to the line. It was the very first line of hair care products specifically aimed at the blonde community, and it was very well-received. Over 20 years later, it is still going strong and rolling along, gathering not moss but hordes of blonde admirers!
Nowadays, there are about 20 products in the John Frieda Sheer Blonde line. From masks to shampoos to styling sprays, this is probably the blondest thing to hit the market since Madonna in the "Material Girl" music video. 
In this post, we will be outlining 10 of the best Sheer Blonde products. All of these products have their pros and cons, and obviously they won't comply with every blonde's wants and needs. But overall it is a real tour de force, and not just from a sales perspective. Like I said, John Frieda cares about providing value to their customers, and this line in no exception.
Top 10 John Frieda Sheer Blonde Products Reviewed
1. Brilliantly Brighter Ultra Illuminating Conditioner
For use after the shampoo sister-product, the Brilliantly Brighter Ultra Illuminating Conditioner picks up where that shampoo left off. It is safe to use with color-treated hair, and I would venture to say that it is meant for use with color-treated hair, rather than natural blonde hair. I didn't particularly like the consistency of this product, but that is not really all that important to me. 
I'll say this: my hair did indeed seem brighter, and I have a hunch it was not all purely placebo effect or otherwise psychological. I think my hair actually got a shade lighter, and this added to the overall blondeness which I love. There is this thin line for me, where it goes from great to meh. This conditioner was able to boost shine and provide softness on top of it. I'm very happy with this product!
2. Brilliantly Brighter Shampoo
When it comes to any shampoo, I always start with the question "does it clean my hair and scalp?" since that is what shampoo is meant to do. Anything else that is written on the label is secondary since the main purpose of shampoo is to clear out debris, excess oil, and dirt. The Brilliantly Brighter Shampoo can be used daily, but actually using it daily is not recommended. Only those with particularly oily hair or those who have dirt-intensive or high humidity days should wash their hair every day. This shampoo does act as a fine precursor to the aforementioned conditioner. It manages to enhance brightness and calm down brass.
3. Brilliantly Brighter Treatment
Every few washes, the company recommends using this Brillianttly Brighter Treatment instead of the conditioner. Honestly? I didn't notice much of a difference. In my case, the results were pretty much the same as with the conditioner. There was a smoothness and a shimmer, but perhaps the greater effects will only show themselves with continued use. Either way, this is a product that I could take or leave.
There are those who will find that it works even better than the conditioner but do not be tempted to use it every time you wash your hair. I think the formula is not meant for daily use, and it makes sense to perform this treatment only about once every week or two. Although your experience may differ.
4. Colour Renew Tone Correcting Conditioner
The benefits of purple (shampoo and) conditioner for blondes has been well-established. For many years, blondes have been using purple products to neutralize brassy tones and calm that harsher yellow. Although some actually enjoy that mixed blonde look and do not require correction, it is the bane of many golden- or icy-haired people's existence.
The Colour Renew Tone Correcting Conditioner is another twin-product, meant to be used after shampooing with the Colour Renew Tone Correcting Shampoo. When things begin to look "orange-like", this conditioner can provide softness and nourishment without sacrificing your dye or highlights. In fact, there is a good chance that a solid conditioner such as this may reverse the damage that is done by bleaching and coloring.
5. Colour Renew Tone Correcting Shampoo
As far as purple shampoos go, this one was actually alright. The Colour Renew Tone Correcting Shampoo didn't weigh the hair down, and there was no problem rinsing it out. I took precautions so that nothing would be stained (a very important step when engaging with any purple products), and I was happy with the results. Remember, this is not meant to dye your hair, but to neutralize existing brassy tones.
For the money you pay, you get a lot of value. Because this is a purple product, it is not recommended for daily use. Using it once a week, along with the conditioner, will probably be enough for most people. But don't be afraid to experiment. Just keep the amounts in check so you don't end up with unwanted colors and splotchy strands.
6. Crystal Clear Hairspray
Generally speaking, the purpose of any styling hairspray is to provide a finishing touch on the hair. This hairspray helps your style last longer and have a firmer hold, without compromising your shimmery, light-reflecting blondeness. The Crystal Clear Hairspray was formulated with blondes in mind, and it provides protection for natural or dyed blondes without bringing any yellowing ingredients into the mix.
Like other products in the Sheer Blonde series, it does not weigh down the hair, nor does it cause any damage or flakes. The ingredients are meant to coat the hair strand yet remain clear and invisible, and in that task, I can say that this spray has succeeded. No whiteness, no flaking, no visible coating, But you need to make sure to follow the instructions and not over-use.
7. Everlasting Blonde Conditioner
Along with the Everlasting Blonde Shampoo, this is actually a duo-set of products which did not do it for me. It's not that the Everlasting Blonde Conditioner did anything wrong or bad to my hair, but I didn't see any significant improvement in the longevity of the dye job. Obviously, this also depends highly on the quality of the dye job to begin with, and with your routine/products, etc.
This conditioner does keep the hair blonde and soft, but as far as I am concerned it didn't do anything different or unique. There are many conditioners for blondes – natural and colored alike – which can achieve the same results. For me, anyway, it was not as advertised. I loved the scent, I loved the softness, I loved the color – but this is not something I would try again.
8. Everlasting Blonde Shampoo
Again, just as with the conditioner sister-product, the Everlasting Blonde Shampoo is fine. John Frieda claim it slows down the process of pigmentation loss, and maybe that's the case with other people. But due to my personal circumstances – I assume – this wasn't the case and it was not what I experienced.
Like I said about the conditioner: it's fine, but that's where it ends. It didn't do anything that other products do not do. Just to be clear: if you went through a dye job and you're looking for a product to help your stands remain as blonde as can be, then try this product out. John Frieda has a lot going for them, and just because I didn't vibe with this product does not mean you won't!
9. Highlight Activating Brightening Conditioner Darker Blondes
Conditioners are there to nourish, hydrate, repair, and revitalize the hair. The Highlight Activating Brightening Conditioner Darker Blondes is not a product that harbors any pigmentation-changing properties. Rather, it is there for those who wish to enhance certain colors which they already possess, to some degree or another. In that sense, the mechanism of operation is one that builds off what your hair already has to offer. Hence the separation of conditioner for lighter and darker blondes.
Unlike other conditioners, which are usually meant to be applied around the midpoint of the strand to the tips (or sometimes just at the ends), the two conditioners in the "highlight activating" series are meant to be applied from the root to the tip. Well, the conditioner did a fine job with the colors, but I was a little disappointed with the actual conditioning effects.
10. Highlight Activating Brightening Conditioner Lighter Blondes
This probably has to do with my routine or diet more than anything else, but I actually saw a difference in the conditioning effects here. I am honestly surprised since I thought it would not be any different from the other conditioner in the series. But for some reason, I was wrong.  Funny how stuff like that happens, and I am not sure why.
With the Highlight Activating Brightening Conditioner, I was paying less attention to the color spectrum. It made my hair shinier, smoother, and easily manageable. I was able to brush with no problems whatsoever, and I even got a compliment from my partner (something which happens once in a blonde moon).
Conclusion
John Frieda opened up his first salon in London in the 1970s. All throughout the 1980s, he made quite a name for himself in the industry and outside of it, and he gained a loyal following in the process. The late Princess of Wales, Diana, and baby-faced Beatle, Sir Paul McCartney, were among the patrons of his salons.
With the introduction of his Sheer Blonde collection in 1998, John Frieda solidified his place among the greats, and his products achieved new heights of success. He saw a glaring hole in the hair market, and he took advantage of it. But it wasn't just a sound business move done to continue capitalizing on the ever-intricate and ever-expanding micro-niches of hair care. It was done, I feel, with a real nod towards blondes everywhere.
Nowadays, Frieda is enjoying retirement (or so I hear), having sold the business long ago. Though he still keeps five salons: two in New York, two in London, and one in L.A.