Jergens Natural Glow Face Moisturizer Review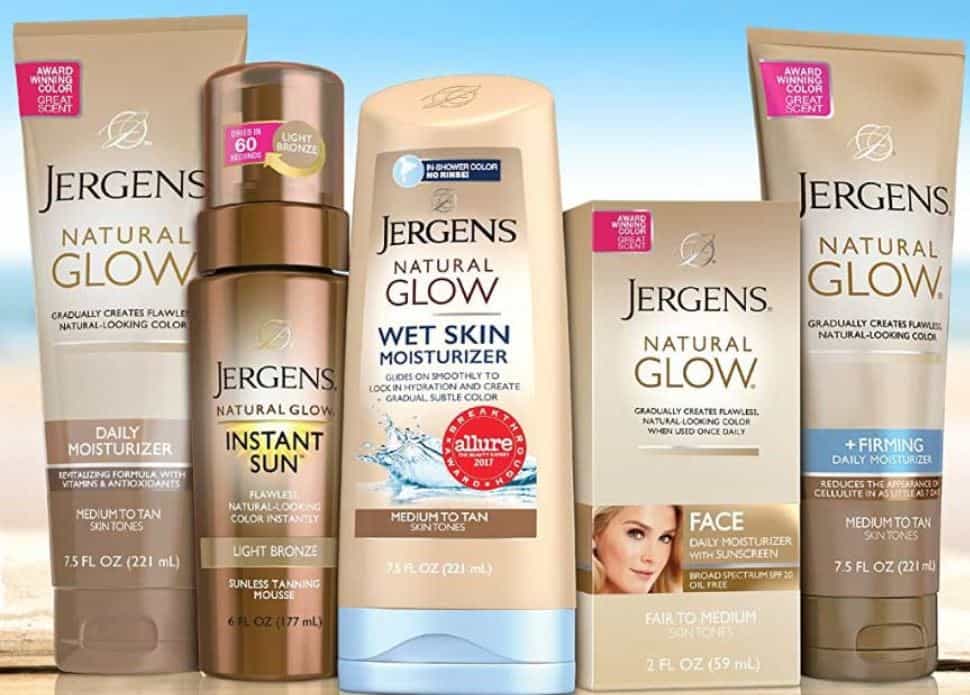 UV rays are dangerous, making unprotected sun exposure a big no-no. Indoor tanning beds are even worse, and spray tans so commonly deliver an unnatural orange tinge or uneven streaks. But tans are still in!  How can we achieve a natural-looking glow in the summer without compromising our safety?  
Enter Jergens' natural glow face moisturizer, the moisturizing lotion that hydrates your skin while gradually creating a natural-looking tan at the same time.
Why Does Skin Become Dried Out?
Dry skin is one of those things that happens gradually. But why does skin become dried out? Sometimes we notice it when our skin becomes flaky and starts to peel. Other times we only notice it when someone else kindly points it out to us. Dry skin may be uncomfortable, but it's no reason to fret. It could happen to any of us. And luckily there are plenty of ways to combat dry skin, starting with products like Jergens' natural glow face moisturizer. Plus, if you're aware of the causes of dry skin, you might be able to prevent dry skin from occurring in the first place.
Dehydration is one of the most obvious causes for dry skin. It is well known that what we feed our bodies impacts our appearance and our skin. If our body isn't getting enough hydration, chances are that our skin will show it by looking dry and dehydrated. So, drink up and make sure to include plenty of hydrating fruits and vegetables in your diet.
Even if you love the winter (yep, not all of us are summer folks), you probably don't love the dry skin that commonly goes hand in hand with cold weather. Icy winds blowing against your face and a lack of humidity in the air might not be the kindest to your skin. And if you leave your gloves at home, your hands will suffer too. Of course, staying indoors the entire winter is not exactly a solution. So your best bet to keep your skin soft and hydrated? Bundle up! No, you don't need to cover your entire face with a mask. But a scarf and a hat can help to protect parts of your face. And applying a daily moisturizing lotion to your skin could do wonders to keep your skin hydrated in the winter and all year round.
Washing Your Skin
It's always good to stay clean and germ free. But overwashing your skin might do more harm than good. Washing your skin too frequently strips it of its much-needed moisture, resulting in skin that is dry and irritated.
There's no avoiding washing your skin altogether (and we wouldn't recommend that either). However, when we do need to wash our skin, it's important to us gentle soaps- preferably products made with natural ingredients, such as hydrating essential oils. Chemical-laden products can be harsh on the skin, stripping it of its natural moisture.
Skin Conditions
Sometimes topical or oral acne medications work too well. They effectively strip the skin of all its oils, including the natural oils the skin produces to keep itself hydrated. If you're using an acne medication and are having a reaction, it's a good idea to consult a medical practitioner for alternative treatments that are gentler on the skin.
Dry skin might result from a skin condition such as eczema. If this is the case, consult a doctor for a treatment plan. Jergens' natural glow moisturizer won't heal dryness cause by a skin condition.
Jergens Natural Glow Face Ingredients
This is the ingredient list you'll find on the back of a Jergens' natural glow face moisturizer:
Water, Glycerin, Aluminum Starch Octenylsuccinate, C12 15 Alkyl Benzoate, C13 14 Isoparaffin, Glyceryl Stearate, Polyacrylamide, Behenyl Alcohol, Dimethicone, Phenyltrimethicone, PEG 100 Stearate, Tocopheryl Acetate, Steareth 2, Cetearyl Alcohol, Xanthan Gum, Laureth 7, Citric Acid, Methylparaben, Propylparaben, DMDM Hydrantoin, Fragrance (Parfum), Caramel, Dihydroxyacetone, Erythrulose
For many of us (myself included), other than the first ingredient – water – the ingredients won't be familiar. So, I've decided to do some research to discover a little more about some of these ingredients. Here goes…
Ingredients Breakdown
Glycerin is a colorless and odorless liquid derived from a plant or animal source. It helps lock moisture into the skin, making it the ideal ingredient for moisturizing products. 

Aluminum starch octenylsuccinate stops lotions from looking cakey and shiny on the skin. 

C12 15 alkyl benzoate is a synthetic emollient that makes skin soft and smooth and enhances the texture of cosmetics.
C13 14 isoparaffin is a mix of mineral oils used as a thickening agent and emollient. 

Glyceryl stearate is a naturally derived fatty acid that makes skin appear soft and smooth. 

I was a little disappointed to see polyacrylamide on the ingredients list, as polyacrylamide is made up of acrylamide- a suspected carcinogen. Cosmetics companies use it to stabilize products and to bind ingredients in cosmetics.

Behenyl alcohol keeps the oil and liquid parts of a solution from separating. It is also used as a thickening and foaming agent, and as an emollient which softens skin and helps lock in moisture.

Dimethicone is a silicone that works as a skin protectant and as an anti-foaming agent. It can fill in lines and wrinkles on the skin. However, it can also block pores, which isn't good for acne-prone skin.  

Phenyltrimethicone is a silicone fluid that works as an anti-foaming agent and helps slow loss of water from the skin.

Tocopheryl acetate is a form of vitamin E and a natural skin-conditioning agent and antioxidant. It helps fight free-radical damage and reduce signs of aging.
Natural Or Not?
I was a little let down to see the synthetic ingredients contained in the Jergens moisturizer. Unfortunately, it's hard to come by a cosmetic product that's 100% natural. It's probably best to patch test the moisturizer on a small part of your skin before using it in larger areas and on your face. Jergens' natural glow moisturizer might not be ideal for acne-prone skin or sensitive skin. 
If you're concerned about the unnatural ingredients in the moisturizer, you might want to avoid using it daily. Instead, apply it for special occasions or whenever you want some extra color. The product does deliver a beautiful, natural-looking tan! I can't imagine sunless tanners are any better for the skin than Jergens' natural glow face moisturizer. 
Jergens Natural Glow Face Moisturizer Review
Jergens' natural glow face moisturizer nourishes the skin while creating a gradual, natural-looking tan. It works pretty well, according to most reviewers. The lotion comes in a transportable, squeezable bottle, which is super convenient. And the lightweight formula makes the lotion a translucent white color coating the skin with a sheer layer. You don't get the dark streaks or uneven lines that so often go hand-in-hand with sunless tanners. You may not notice any change in skin tone at first. But somehow, over several days of using the moisturizer, your skin will develop a tan. It's worth the wait – it ends up looking flawless and natural.
You may want to patch test this product first, especially if you've got acne-prone skin, as it could cause breakouts. A 2-ounce bottle sells for approximately $10, which is pretty reasonable for a product that goes a long way. 
Top 3 Natural Face Moisturizers Ranked
1. 3 Days To Glow
This one's ideal for a special occasion or concert. The moisturizer is designed to make your skin one shade darker in just three days! But if you're pale, be careful- you may only need to apply the moisturizer for one of two days. If you have lighter skin, using it for three days might deliver a slightly unnatural tan with an orange tinge.
The 3 days to glow moisturizer does a fast job, which is great. However, streaks may be more obvious than with the gradual tanning moisturizer. Oh, and I forgot to mention that it actually does moisturize and hydrate the skin in addition to delivering a tan. If you're after a short-term tan, this is a good choice – the color fades several days after discontinuing its use. 
2. Jergens Natural Glow Daily Moisturizer
Infused with antioxidants and vitamin E, Jergens' natural glow daily moisturizer nourishes the skin while creating gradual, natural-looking color. The product is available in two shades: fair to medium and medium to tan skin tones. It's designed to be used daily as a body lotion; within several days a tan should develop.
3. Jergens Natural Glow Face Daily Moisturizer With Sunscreen Broad Spectrum SPF 20
This moisturizer is specifically formulated for the face. The Jergens natural glow face daily moisturizer with sunscreen broad spectrum SPF 20 contains SPF to protect against everyday sun exposure (although SPF 20 is fairly low, it's better than nothing). The lightweight formula is oil-free and non-comedogenic, meaning that it doesn't block pores. It is available in fair to medium and medium to tan skin tones. Jergens recommends applying the moisturizer daily after cleansing the face, avoiding eyebrows (the product could discolor eyebrows). A gradual, natural-looking tan should develop within about a week. You can use the moisturizer less frequently if the color is too intense for you. 
Conclusion
It's hard to say no to a product that hydrates your skin and delivers a beautiful glow at the same time! It's perfect for the summer. You can get that sun-kissed look while using sunscreen to stay safe from harmful UV rays.