Garnier Fructis Sleek And Shine Review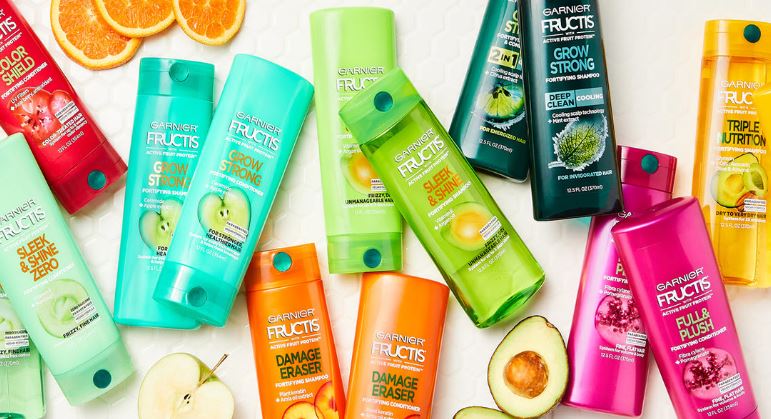 Garnier has long been one of my favorite brands when it comes to shampoo. I love the scents their products have, and they work really well, despite my having dandruff and my skin being pretty dry. Plus, a little bit goes a long way with Garnier – their shampoos leave your hair smelling delicious even a couple days later. 
But it isn't only their delicious smells that make Garnier shampoos awesome (though admittedly, that's what drew me to them in the first place). This company also cares about what they put in their products, which is probably what makes them so gentle and refreshing. 
Garnier Fructis Sleek And Shine Ingredients Breakdown
Sleek And Shine is available as both a shampoo and a conditioner, as well as an anti-frizz serum, and its ingredients are the bomb!
Firstly, the Sleek And Shine line is paraben free – and if you've read our article on the dangers of parabens, then you'll know why this is a serious plus.
The main ingredient that makes this shampoo, conditioner, and serum so great is argan oil. Here at MH, we love argan oil, and all the wonderful benefits it can have for your hair. In fact, it's one of my all-time favorite hair care products (speaking as someone who has dry, frizzy, thick hair).
Argan oil is known for its high levels of vitamins, particularly Vitamins A, C, and E. It also contains omega-6 fatty acids, besides other nutrients. Because it's so moisturizing, it's great for people who suffer from dandruff or a dry scalp, and whose hair is frizzy and lacking in moisture.
Argan oil has also been known to promote healthy hair growth and prevent hair loss, which is more common than you might think. And as the product's name suggests, it helps you to achieve shinier and sleeker hair. This is both due to its moisturizing abilities as well as the fact that it naturally defines and gives life to your curls, if you're a curly-top.
The other ingredient you'll love in Sleek And Shine is active fruit concentrate, which is found in many of Garnier's Fructis products. You know how they say you should be eating 5 pieces of fruit a day? That's because fruit is loaded with antioxidants, vitamins, and minerals. When a shampoo or conditioner contains fruit extracts, its passing all those nutrients into your hair and scalp. This helps your hair to grow strong and healthy, which is something we're all after.
Garnier Fructis Sleek And Shine Review And Results
Garnier recommends using first the shampoo and then the conditioner. This should be followed by the anti-frizz serum once your hair is damp or dry.
The Sleek And Shine shampoo is nourishing, moisturizing, and works especially well if your hair is thick, coarse, frizzy, or dry. The conditioner, as well, enhances these benefits. However, if your hair tends to be on the oilier side, this may not be the shampoo for you. I'm not quite sure why, but it apparently exacerbates the oil in your hair – which is great if your hair doesn't have enough oil (like mine), but not so great if your hair tends to be oily to begin with.
Like the shampoo and conditioner, the serum is also designed for people with dry, frizzy, and damaged hair. In fact, it's advertised as working to combat frizz even in very humid environments. This makes it especially perfect for the summer. A little goes a long way with this product. One or two pumps is all you need for frizz taming, even for long hair. Considering the price, Garnier's Sleek And Shine line works really well and is great value for money.
Garnier Fructis Sleek And Shine Alternatives
If your roots are naturally oily, you might want to stay away from the Sleek And Shine shampoo and conditioner. Instead, why not try out Garnier's Fructis Coconut Water shampoo and conditioner? This line of products is designed specifically for those of you who struggle with oily roots, but have dry ends. Like the Sleek And Shine products, Coconut Water is paraben free. And anything that contains coconut water should automatically alert you to the fact that the product is a winner. After all, coconut water contains high amounts of Vitamin K and iron, both of which are essential for healthy hair growth, and prevent hair from becoming weak or falling out.
If you suffer from frizzy or dry hair, but you're not a Garnier fan in general, there are other budget brands that also cater to your needs. One such brand is Herbal Essences, which also offers an argan oil shampoo and conditioner. The Argan Oil of Morocco shampoo and conditioner are both great for dry, frizzy or damaged hair. They aren't too different in price from the Garnier version. And like Garnier, Herbal Essences products have delicious scents which also last for a long time.
Is Garnier Fructis Sleek And Shine Discontinued?
The Garnier Fructis Sleek And Shine Smoothing Regimen Hair Kit, which included the shampoo, conditioner, and hairspray in one package, is no longer available. Thankfully, though, you can still purchase the shampoo and conditioner, as well as the anti-frizz serum.
There also used to be a Sleek And Shine hair primer, which has since been discontinued. Faithful fans are pushing to restore it, though. Here's hoping that Garnier will soon see fit to bring it back!
Conclusion
Some suffer from dandruff, or dry, frizzy, damaged and/or thick hair. If you relate, then chances are you have given argan oil a shot – and likely, with successful results. If your hair loves argan oil, then Garnier Sleek And Shine is definitely a great place to start. It's affordable, easily available and works wonders on dry and coarse hair. And need I mention Garnier's knack for getting delicious scents into their products? You'll be in love with your new hair in no time at all!