Aromatherapy Body Massage Oils & Their Benefits!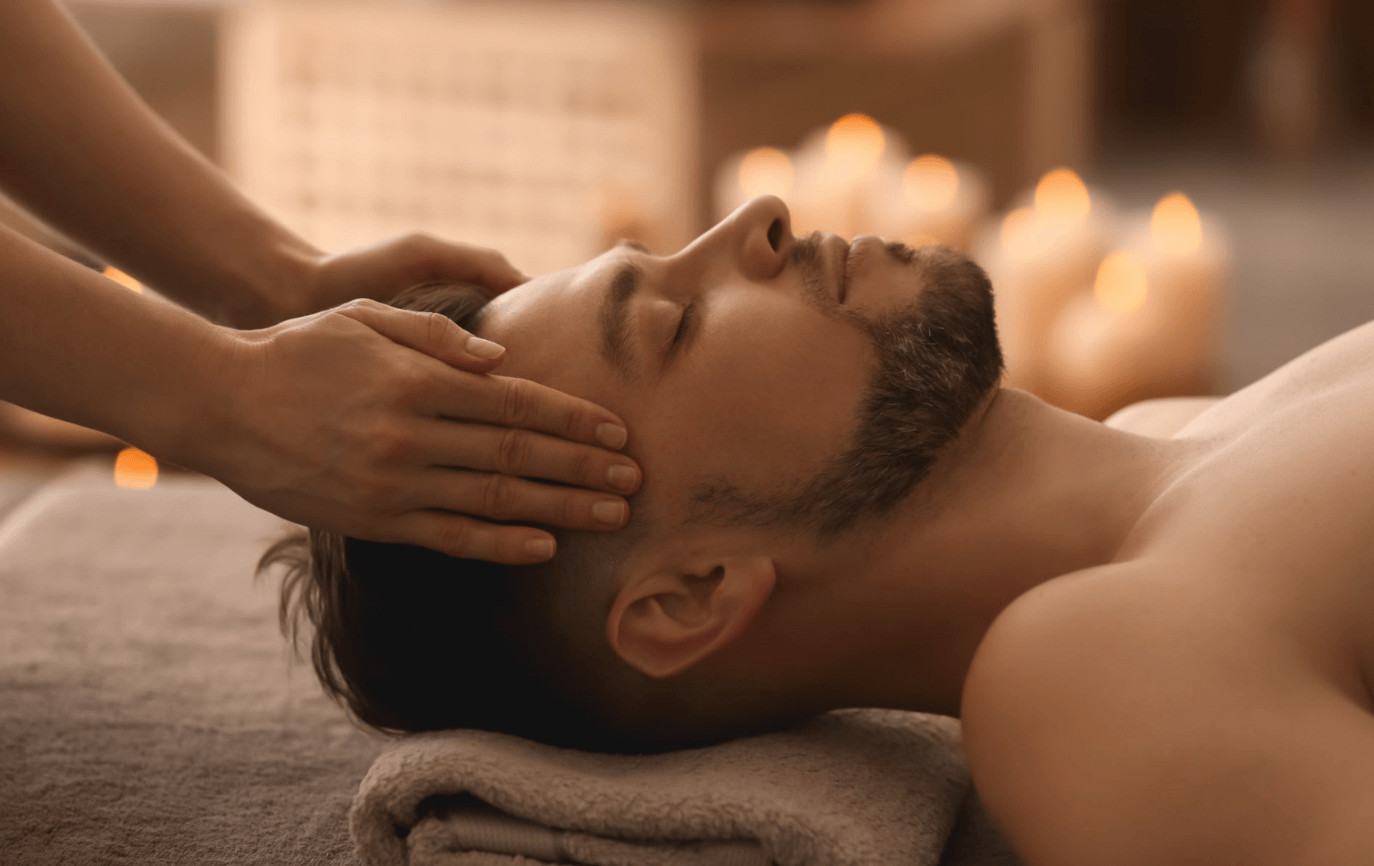 There's very little that can relieve your tension after a stressful day at the office like a massage can. When your muscles are tight and your back is sore, you'll want nothing more than some soothing music, a nice scent and a massage to work out all the kinks.
A massage is usually about health and relaxation. In other words, it is a kind of therapy. To that end, many massage oils are a combination of plant-based carrier oils and essential oils. Some blends are better and more popular than others, depending on their main ingredients. There are massage oils that contain mineral oils and other substances which may be technically natural, but are not recommended – especially when you compare them to other types of oil. So, what is the best massage oil? That depends.
The human body is a resilient but nonetheless gentle and frail frame. And we ought to treat it as such. Since you presumably want the best therapeutic experience, you'll want to use the finest oils for massaging the skin and for getting deep into the tissues. This means that you'll be using plant extracts rather than the leftovers of distilled crude oil.
Ingredients like ylang-ylang, lavender, rosemary, sweet almond, and argan – these are considered to be some of the very best massage oil ingredients out there. Those – and others like them – are much less likely to cause irritation or harm. They're more likely to yield positive results in the short and long term.
The quality of a massage oil is subjective, at least to some extent. Too many cooks spoil the broth, as the saying goes. If you put too many ingredients into a formula, it might turn on you, so to speak. The KISS principle applies for body massage oil too; keeping it simple is your best bet for positive results.
Health Benefits Of Massage Explained
Massage has been considered a form of complementary and alternative medicine for hundreds, if not thousands of years. Going as far back as the ancient Ayurveda traditions over 3000 years ago, massage as a form of healing and therapy has been an integral part of human healing ever since.
In more recent times, massage has seen a more central return to the world of medicine and has been used to treat a wide variety of ailments and injuries. Having a deep therapeutic massage has been known to reduce stress levels, promote blood flow, stimulate the release of healing hormones such as dopamine and melatonin which help to relieve pain and allow you to sleep better. By controlling these simple aspects of your body with a homeopathic, natural massage is the best way to create an environment in your body that is suitable for it to heal itself.
However, many have also turned to different forms of massage as a form of preventative medicine – which is still the best variety if you ask me. By going for a massage once every two weeks or even once a month, you can bring those cortisol levels right down and prevent the onset of infection or inflammation more efficiently. So if you have a stressful job or a hectic home-life, taking 30 minutes or an hour out your time to treat yourself to a natural remedy is definitely a worthwhile way to relax, not to mention being healthy too.
If you shop around, you can most likely find a reasonably priced masseuse close to you. While the cost may seem high at first, it generally winds up being cheaper than having to go to the doctor regularly, have surgery or take various forms of medication. If you're an athlete who works out often or tends to practice on a regular basis – massages are a must-have.
Massages help to prevent muscle spasms, will loosen your tendons and can help an injury heal quickly. Professional athletes have them on a regular basis and if you're not professional, or semi-professional, it's still a good idea to have one at least once a month to ensure that your body is always ready for the strains of exercise.
Edible Massage Oil Explained
Just like ordinary massage oil, edible massage oils can be simple or complicated. On a practical level, you can use cooking oils like coconut oil or olive oil as massage oils. Those can be – and are – used for cooking, spicing, and preparing foods of all kinds. They are technically edible, though they might not taste the best when consumed as a standalone massage product. On the other hand, there are edible oils which are blended specifically for massages and which come in a wide variety of flavors.
Oils that can be eaten have been used for thousands of years, but designated edible massage oils are more of a recent invention. What you want to avoid when choosing an edible oil are over-the-top blends. They may have natural oils in them, but they also carry undesirable ingredients. An edible oil which is organic is often the ideal option, but it is not a necessity. The term "organic" has been blown out of proportion in some cases. It's not as if ingredients that are not organic are that inferior to other, natural ones.
If a product is too sweet for your taste, its scent is too strong, and it basically has too many familiar or unfamiliar ingredients alike – this could all be a sign that it may not be the one for you. That said, this doesn't apply across the board. Since formulas are constantly changing, you need to figure out what feels good to you and which oils are best to work within your specific environment. Also, you should always test massage oils first, whether edible or not.
Technically speaking, you could use simple olive oil and add an edible food coloring and flavoring to it in order to counter the bitterness of the olives and make it more "massage worthy". But just because something is technically doable, doesn't mean that you should do it. It's a judgment call, and there are many commercial products available to choose from. Edible massage oil can be some of the most fun to work with, whether mainstream or DIY.
Warming Massage Oil Explained
The idea behind a hot oil massage is twofold. First, it creates a more intimate experience for those involved, as heat is a very basic human need. Second, using warming massage oil physically creates a better massage, seeing as heat is better for joints and muscles in most cases. The heat expands the blood vessels and quickens the arrival of blood to the affected areas. For relaxation and tension release, heat can be a big help.
Many oils get hotter when you massage them into the skin. But some oils and substances are ones which seriously warm-up and accelerate blood flow. We can see this with camphor, for instance. It is a main constituent of Tiger Balm and is a popular ingredient in many massage oils for that precise purpose.
Warming massage oils – including oils which can be warmed up with a microwave – are often of the scented variety. It's best to choose the scent which is right for you, since not every smell will be a good fit for you or your massage partner. The heat, the flow of blood, the sensation of touch, and the aroma all come together to provide one of the finest therapeutic experiences there is. Even those who only occasionally get a massage can attest to the fact that it makes it much more special.
Coconut Oil Massage Benefits
Truly, this is one of the most beneficial oils in existence, whether for cooking or cosmetics. And when it comes to massage therapy, it shines just as much – providing it is fractionated (liquid at room temperature). One of the main coconut oil massage benefits is that the skin absorbs the oil of the coconut easily. The oil is rich in Vitamin E, and it's one of the best oils for sore or tight muscles. This is what makes it perfect for rubbing those aches and pains away. This oil possesses antimicrobial properties, which provide the body with an extra layer of protection against infections of different kinds.
It goes on smoothly, and it's great for a full-on massage. Anywhere you choose to place it, or however you choose to consume it, it will be beneficial for the human body inside and out. It will fight infection and inflammation. The oil can also provide relief from day-to-day "wear and tear" which the body experiences. Just keep it in proper measure, like any other substance.
It's a seriously hydrating oil, and it's nourishing and lubricating. Another great advantage is that it leaves no residue. Whether it's for upper or lower back, feet, shoulders, or any other part of the human frame, coconut oil is one of the best to use. Also, because it's mild and easy to work with, it's recommended for use on those who suffer from skin conditions or irritations. Gentleness is key, even when you're massaging with vigor.
Massage Oil Candle Explained
Ordinary candles usually consist of ordinary wax or paraffin wax. Massage oil candles include other substances, ones that melt at lower temperatures. That's the main distinction between them. It makes a big difference, especially when the candle's substance comes into contact with human skin. Hot waxes can potentially cause discomfort and even burn the body because their melting point is significantly higher. Unless you're into that kind of pain, it could be something which turns what ought to be a nice and warm massage into a terrible – not to mention scathing – experience.
Massage oil candles are ones that you can melt and then use as regular oils for a massage. The candles are made up of solid body oil and an assortment of essential oils. They become warm but not hot. And this makes them that much more enjoyable when interacting with the human skin. The aroma which these herbal candles spread adds to the holistic experience, as many of them include essential oils. Put together, it creates an experience that unifies the body and the mind. Many spas and treatment centers offer candle massage therapy specifically because of this unique approach.
If you want to make your own massage oil candles at home, follow this DIY recipe:
You'll need 40 grams each of cocoa butter, sweet almond oil, and soy wax. You'll also need 45 grams of shea butter. Additionally, you'll also want to include ¼ teaspoon each of rose geranium essential oil and high IU vitamin E oil, as well as half a teaspoon of palmarosa essential oil.
Melt the butters, soy wax, and sweet almond oil and then let the mixture cool to about 130°F. While it's cooling, prepare the wicks in the candle containers or tins. Then combine the essential oils and the vitamin E into the mixture and mix everything well. Pour the blend into the tins, making sure that the wicks are placed properly. Give the candles at least 12 hours to cool and harden.
Erotic Oil Massage
A couples massage can be one of two very different things. First, there is getting a traditional and professional couples massage at a spa, with one bed or table next to the other. It's called a couples massage because two therapists are working on you individually, simultaneously, together, side by side. It's a pleasant experience which you can both find relaxing at the same time.
The second kind of couples massage is one which often takes place in the comfort of one's own home (or hotel room, etc.). It's the type of massage that takes place between lovers, not patrons of a business. You're not being worked on – you're being worked up. Big difference, however you choose to look at it.
Eros was the Greek god of desire. An erotic couples massage usually involves less clothing, more touching, less professionalism, but a lot more passion. When it's a spa massage, it's more of a clinical mindset and setting. When it's a lovers' massage, the sexual tension is (hopefully) very much an ongoing part of it. And the use of a sensual massage oil exacerbates it by feeling good, tasting good, smelling good, and adding to the sense of play and excitement.
Feeling the hot oil as it is poured on, sensing the touch, the energies, the skin-on-skin pleasures, the kind of fun experience that you share with those whom you desire. A lovers' massage is one of the best activities a couple can engage in, and oil is a big part of it. If you and your partner have never tried an erotic oil massage, now is the time to start.
DIY Massage Oil Recipe
The basis for a good massage oil is precisely this: a skin-friendly vegetable oil, coupled with herbal infusions and/or essential oils. You do that right, and it's (almost) all there is to it. You could add all kinds of things, bells and whistles galore, but that's probably the best way to start things off.
It's all about using the wonders of nature in order to help the body release those feel-good chemicals we know and love. We're talking endorphins, oxytocin, dopamine, serotonin, and others. Furthermore, using a good massage oil can help to lower the levels of hormones that are associated with negative emotions. The best of both worlds.
Now, it's not only about the oil, of course. Obviously, you also need to use it properly, but the basis is just as important. If you use oils that are not good for your skin and which don't provide relief for the joints and muscles, your technique is not going to matter as much. In fact, you might end up causing more harm than good. Nobody wants to feel bad during or after a massage.
Here's a basic recipe for a DIY massage oil:
Cold-pressed coconut oil (fractionated)

As mentioned, the oil of the

Cocos nucifera

is considered one of the most useful and beneficial plant extracts there is, and it is perfect as a base for a body massage oil

Rose essential oil

The scent of roses is well-known for its healing qualities. Rose oil (often made of

Rosa damascena

and

Rosa centifolia

) has a relaxing and aphrodisiac quality to it

Patchouli essential oil

Used as an antidepressant, a sedative, and also as a general tonic for the body,

Pogostemon cablin

oil can also provide relief from pain and inflammation
In a small bowl, mix coconut oil with 10 drops of rose oil and 5 drops of patchouli oil. You can experiment with different amounts and oils, but remember that eventually it's all about what does your body good. Those with ultra-sensitive skin could definitely use other types of ingredients in their DIY massage oil recipe, and there are no hard rules. The end result differs from one massage to the next. But in general, your massage should be relaxing, healing, therapeutic, and energizing.
Conclusion
It's no wonder that massages are so popular. With their calming (or arousing!) effects and a long list of other benefits, why would anyone turn down a massage?
The best massage oils come from the plant kingdom, period. The best plant-based massage oils are the ones which have undergone as little intervention and manipulation as possible, from the time they were produced or manufactured. By the time they end up on your body or on someone else's body, they could have gone through a lot. Make sure to buy oil which has a clear list of ingredients.
Whether regular or edible, flavored or natural, in the form of a liquid or a candle – oils are the best way to start off a nice, relaxing massage. Not only will they allow the one giving the massage to roam more freely and with less friction, but they will often also provide the one getting the massage with some of the plant-based benefits (depending on the type of oil involved). That said, you could also massage someone without these ingredients. And in fact, some techniques don't involve oils to begin with, due to the nature of the massage.
As a side note – a good body massage oil is a wonderful thing to buy or DIY, but all the 100% Grade-A oil in the world will not make up for the lousy technique. If you are going to use these oils, take a 5-minute (or 50-minute) YouTube course on giving a proper massage. Remember to warm up and avoid putting too much pressure in the wrong areas. Make sure the recipient has a way to let you know if anything is causing pain or discomfort. Ask for feedback along the way so that you can get to know the person's individual needs. This will really take the massage to the next level.