DIY Castile Soap Shampoo Recipes: A Healthier You And A Healthier Pet!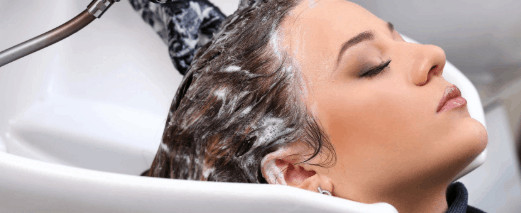 I'm always searching for a shampoo that can make my hair vibrant, healthy, and beautiful. I've spent hours searching for the perfect product in grocery stores, Sephora, and Ulta, and I usually leave disappointed. Often, the shampoos contain ingredients that I can barely pronounce, much less understand what they mean or what they do to help my hair. My philosophy is: if you can't pronounce the ingredient, it's probably not helpful to your well-being. Massaging phalates, parabens, sulfates, ammonium chloride and sodium lauroamphoacetate into my hair isn't a pleasurable experience. That's why I've started researching how to make my own shampoo with ingredients I can understand and trust. After lots of trial and error, here's my tried and true DIY castile soap shampoo recipe. Safe and easy to make, it will keep your tresses healthy and beautiful.
Castile Soap Dangers Explained
Before I offer the recipe, here are a few cautionary notes:
1. Don't use castile soap on dyed hair. It's too alkaline and will strip hair color.
By the way, if your hair was bleached first – that is, before the dye was applied – you can also expect structural integrity of the hair to be compromised, not just its color. In a 2016 study published in the Journal of Cosmetic Science, the team was looking into oxidative damage caused by cycles of coloring and shampooing. The study found that "if a pre-bleach process is conducted prior to the hair dyeing process, (it) reveals that the fiber's internal structure is severely damaged. Cracks and holes are observed in the cuticle and cortex." Therefore, the shampoos you use must be up to the task of being gentle with bleached and colored hair, and (ideally) functioning in a way which benefits the process of hair reconstruction.
2. Homemade shampoo made with castile soap looks watery after you make it. However, pour a small amount into your hand and rub together. You'll quickly see just how much lather it makes. A little bit goes a long way!
A DIY attitude towards hair care doesn't only help you as an individual, but can also help others in engineering and implementing new methodology and technology. A 2016 case study published in the Journal of Mechanical Design used the hair care industry as an example, citing DIY and non-DIY practitioners. The team noted that there is "a connection between these two groups of customers and (the study) demonstrates how the insights of DIY practitioners, which manifest as latent needs for knowledge, can inspire research for the development of new technologies."
Castile Soap Shampoo Recipe
Ingredients
1/4 cup Liquid Castille Soap (like Dr. Bronners)
20-40 drops of essential oils of choice
½ cup water
½ tsp of carrier oils (i.e. avocado oil, olive oil, argan oil, jojoba oil, sweet almond oil)
Method
Pour all ingredients into a bottle (I like using a small glass bottle). Shake well before use.
Use a quarter size amount whenever you wash your hair. Remember to be patient when switching your hair care from commercial to a natural DIY shampoo. There is often a "detox" period where you hair may feel stiff, sticky, oily, heavy, or dry.
But what about the days when you don't even have time to wash your hair? Or perhaps you're camping and you would rather not jump into a freezing lake to clean your hair? Or the days when your hair really needs a pick-me up to look fresh and fine but you just don't have the time to shower? I have the perfect solution: Dry shampoo.
Dry Shampoo Recipe
Dry shampoo is the best option for a grab-and-go lifestyle. It only works on dry hair, it can take excess oils out of your hair, and can be used at any point, night or day.
Dry shampoo can also offer lots of excess volume and body to your hair in a manner of minutes. After a heavy workout with no time to shower, dry shampoo can be a lifesaver, making your hair look fresh and clean, even after sweating through a 5K run. Instead of washing and rinsing, you just need to spray and go!
Here's my DIY dry shampoo recipe. Easy, natural ingredients, and pocket sized!
Ingredients
For light hair:
1/4 cup cornstarch
1 tablespoon baking soda
Method
Combine the cornstarch and baking soda in a small container and shake well.
Ingredients
For dark hair: You can add more or less cocoa powder as needed – I use two tablespoons every time:
1/4 cup cornstarch
1 tablespoon baking soda
2 tablespoons cocoa powder
Method
Mix everything together in a small jar and you're ready to go. Special bonus with this one: your hair ends up smelling like delicious chocolate.
You need to keep the amount of cocoa powder less than the amount of cornstarch and baking soda, otherwise the heat from your hands and head can warm the cocoa powder and create a mess.
DIY Dog Shampoo Recipe
I know that as much as I love natural products on my body and in my home, it's just as important for me that my animals can also live a healthy and happy life. With as much time as I've spent seeking out shampoos that feel safe for my hair use, I've also spent far too much time looking for a shampoo for my beautiful black lab, Charlie.
Charlie needs a bath every so often, especially when we go hiking together and he gets into the mud! I don't feel ethical using a product on Charlie that contains all of the ingredients that I try and avoid, but there are very few options for a safe, natural, and effective dog shampoo. Charlie will often start lapping up his bathwater and the chemicals that the shampoos contain are so harmful for his digestive system. Some shampoos can even cause allergic reactions to a dog's skin! So, I created my own shampoo to keep Charlie happy and healthy:
Ingredients
2-3 tablespoons of liquid unscented castile soap
4 cups of hot water
1 cup of white or apple cider vinegar
Method
Using a spoon or whisk, mix the soap together with the hot water until the soap solids are dissolved.
Pour ingredients into a bottle for storage. Shake well before each use.
Conclusion
"Doing It Yourself", or DIY, has becomes a super-craze recently, with recipes to DIY everything from butter to dresses. With so many things to DIY, it can be challenging to decide what to make for yourself and what to buy. When it comes to creating shampoos for you and your pets, though, the myriad of benefits offered are too compelling to pass up. There's the extremely cheap cost of creating your own shampoo, the ease of knowing what the ingredients contain and the fact that the safety and health risks are nil.
Next time you take a shower, enjoy the rich, sweet lather of your own shampoo. When you're running out the door, spritz and brush some dry shampoo of your own making into your hair. And, next time you and your pup are out hiking, there will be no after-bath worries since you'll be bathing him in a safe, gentle shampoo. Trust me, you'll be sharing bottles of your special DIY shampoos with your friends in no time!